Fishing Report
March 20 – 27, 2022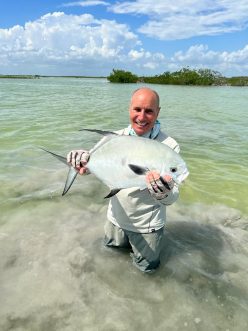 We've concluded another great week here in the jungle.  We're enjoying the early spring fishing in the Yucatan, and it was our pleasure hosting 7 returning friends and one new guest.  This a fun group and we were joined by the rowdy Cleveland gang who dub themselves as "Bangers and Hookers".  The second part of the group is close friends Joe Checchio, Bill Ingram, Len Checchio, and Chris Daly.  One of the things that we find special here or with most fishing operations is the ability to reunite with friends and also a chance to meet some great new friends.  It's a great dynamic shared amongst the group, and I expect to see the gang next year, same time, same place.
FISHING:
A whirlwind of weather patterns resulted in another week of tug a war from varying wind directions.  We appropriately covered the compass and experienced wind from all directions even a weird west wind one morning.  It's early spring here and much like the conditions you might find back home in degrees of unpredictability.  A couple days before the group got here, I was looking at a forecast that ended up being far from the final outcome and perhaps I should just teach myself to ignore forecasts until hurricane season is upon us.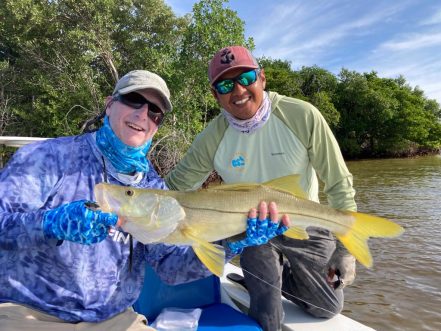 I'm always bragging about the diversity here and when we conditions are not in favor for one species, we seek out another.  It was well rounded in terms of targeted species, and I was happy to see us get a chance at more tarpon and snook for the week.  A partial low tide allowed us to target them in the river systems on the north side, mostly river three and part of an area we call Rio Locos or river 3.5.  Guide Victor slid the skiff through a tiny river inlet on the southside that opens to a small, protected cove we call "Flamingo".  The fish were moody and not always cooperating which is nothing unusual due to varying weather conditions.  There were some days more than 20 shots were thrown and we just couldn't get them to eat and got only some halfhearted follows.  The following day someone else would get shots and they were more than happy to eat our baitfish patterns.  Such is the nature of things, and we take what we can get!
John Rathbun enjoyed his first tarpon landed with guide Victor and landed his first permit.  The team hunted down a bonefish and completed a slam, a first on three counts for John.  Bill Ingram and Chris Daly were able to also land some nice snook.
Permit fishing is still strong and we're working hard to chase them around the bay.  Deep southwest back east almost to red buoy is still the stronghold for the most fish being found.  A little way inside river three and river four we have groups of smaller fish and some bigger singles scattered in the mix.  The Tabasquenos stretch down to a big cenote (blue hole) is covered up with stingrays and we have been seeing a fair number of fishing following them and feeding hard.  If you execute a decent shot with a permit on a ray it can be close to a guarantee that the permit will eat your crab.
Our guide Alex has been on fire with permit fishing.  He finds them and they seem to appear everywhere he goes.  There's a joke amongst the staff he has sold his soul to "El diablo" in exchange for permit.  Who knows the truth behind his success and we're all happy he is enjoying himself immensely putting guests on incredible amounts of fish almost every day.  Harry Singer caught a monster permit, a personal best with Alex and the fish was 20 + pounds.  Chris Daly and Len headed out Monday morning and knocked back 4 permit found on the southside with Alex.  Mike Sieber enjoyed his largest permit to date later in the week on Alex's boat as well.  Bill, Len, and Chris held the high counts for the week with 3 permit each.  Len Checchio has made it an annual tradition to celebrate his birthday here with us at ESBL.  For a second year in a row on his birthday he's managed to land permit and topped it this year with adding to a slam to celebrate.
We're on a roll here with permit and the group collectively landed 13 with 8 guests.  This brings our season totals to 149 permit with 69 guests.  This is a remarkable feat so far for 2022 and we do not anticipate any slowing down as long as the weather cooperates.
George Klein, who I had mentioned in the last newsletter celebrated his arrival on Sunday turning 80 years old.  Every day it seems like I grow fonder of George.  There's not a place in this world he hasn't wet a line.  Story after story pours from this guy and I immensely enjoyed listening to him every night reliving some experience around the dinner table.  He's not loud, but reserved, well-traveled and an avid outdoorsman who's had the fortunate blessing to accumulate decades of fishing travel I can only hope to come close to.  He played around with some tarpon, had shots at permit, and tore into bonefish.  Harry and George enjoyed a wonderful morning wading around and targeting schools of nice size bonefish.  I've always said I can't think of a better scenario when we have a high tide, and the bones are tailing on picturesque white sand.  You're completely out of your mind to turn these opportunities down and I graciously applaud George for setting the record straight.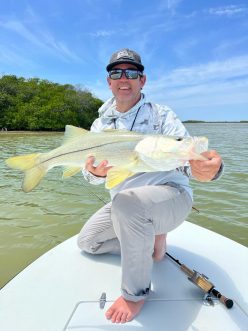 Cuda's enjoyed the spotlight this week and most boats were equipped to chase these toothy apex predators.  Three feet long, swimming speeds to 30 mph, found in 2 feet of water, and of course has teeth!  Why wouldn't you rig for them?  Seems like a perfect recipe for an unforgettable fight and a wonderful aversion to standing on the bow chasing permit and questioning your sanity.  Mike Sieber is ecstatic about cuda and I'm ecstatic he shares the enthusiasm.  Just the take alone is worth the effort regardless if you land them or not.  Most of the time they will hit the fly so hard they seem to miss it or ripping through shallows and clearing 10–20-foot horizontal leaps, will toss the hook.  Who cares, and the beautiful part is our fishery is loaded with Cudas.  I beg you if you haven't tried chasing these fish to bring some needlefish flies or my favorite, big poppers to entice these wonderful gamefish.
FLIES:
Flexo variations are still working for permit.  The normal set up with ragheads with and without yellow eyes still remains strong but we need to acknowledge the Alphonse variation of flexo and this should perhaps make its way into your fly box…
Tarpon and snook when they decided to commit ate EP baitfish, and toad variations.  You need to have a nice variety of color combos for the different water clarity we chase these fish.  White, grey, yellow/white, chartreuse, black, black/purple, pinfish, everglade, tan, red/white are all staples for us and each color plays a role.
Bonefish happily ate most shrimp offerings sizes #2 – #8
Cuda's attacked large needlefish flies and big flashy poppers, or flashy flies one might associate with tuna fishing!
WEATHER/TIDES:
We had tides in the beginning of the week with a fall that started late afternoon.  After a wind change on Thursday, we started the day with slack after coming off a hard fall and incoming the rest of the day.  A good amount of sun throughout the week and winds from every direction clipping at 15-20+ MPH.  This is a lot of wind but have faith we will get you into protection somewhere in the bay.  That is a huge advantage of where we launch from and how small the fishery is.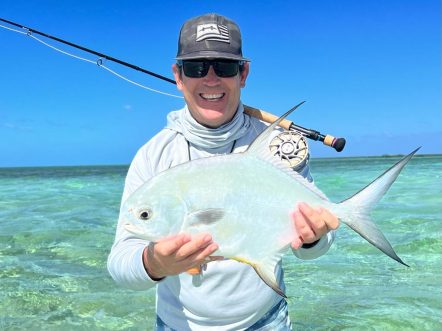 Carlos and the kitchen crew overfed the group again and we all enjoyed a couple nights of birthday cake in addition to the delicious Mexican dishes.  Emmanuel and the grounds crew worked hard and kept us comfortable, and a well-maintained operation was enjoyed by all.
We've got an exciting week ahead of us with some returning guests.  I am also happy to have along Erik Argotti who works as a travel agent over at The Fly Shop.  He has yet to experience ESB and we're happy to have him.  David and Catherine McCann fished with us back in 2018 and it's wonderful to see them retuning for another week.  I'm trying not to look at the forecast due to inconsistencies and I suggest you do the same in your neck of the woods.  Spring is unpredictable, wonderful, and should be enjoyed to its fullest.  Please shoot a call to check in on our friends over at The Fly Shop.  They're standing by and will keep you up to date about us or any other destination you might be curious about.  Please enjoy your week and stay tuned for the next fishing report.
Saludos desde el Caribe Mexicana
Dane & Chiara and the entire ESBL crew