Fishing Report
October 24 – 31, 2021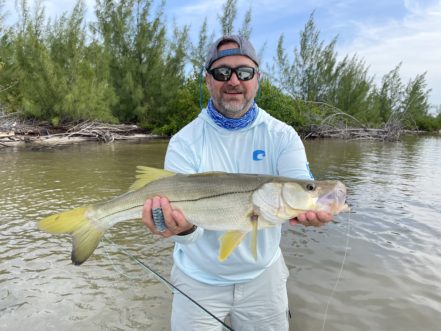 The 2021 season is slowly slipping away for ESB Lodge, and we've concluded another wonderful week here in the Yucatan.  We had the pleasure of hosting 6 guests for the week, 2 of which were single anglers who opted to maximize time on the bow and accomplish almost 50 hours of solo fishing time.  A couple newcomers to our program left happy with the chance to fish such a special place.  Occasionally we get anglers from the other side of the Atlantic, and not nearly enough.  Roberto Schmidl made a long trip from his hometown of Munich plagued with all too familiar haunting desire to catch a permit.  Fun was had by all, we had good weather, a peaceful atmosphere, and the group was rewarded with great fishing.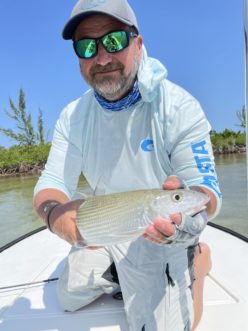 FISHING:
We're working hard to shake these east winds which has been an unusual occurrence for this time of year.  We're normally into steady north winds by this point in the season and we haven't really settled into a normal fall pattern.  There have been false alarms with a few days of a north wind only to trick us and return to a late spring early summer pattern.  I'll take it though, given where we were a year ago.  The other night I was scanning some of the older newsletters of 2020 in the fall.  It was hellish, incredible rains, and weekly occurrence of storms and a constant threat of hurricanes.  I looked at a picture of my guides performing a death march up the road to grab the boats, wading through waist deep water each day before logging hours on the platform in less-than-ideal conditions.  I should be appreciative with the grace Mother Nature has shown us for 2021 and perhaps the various weather conditions and patterns are subject to another matter, and one that has become increasingly obvious in my eyes.  I really don't recall in 7 years of fishing this area, such warm water temperatures and so many dramatic changes in weather patterns.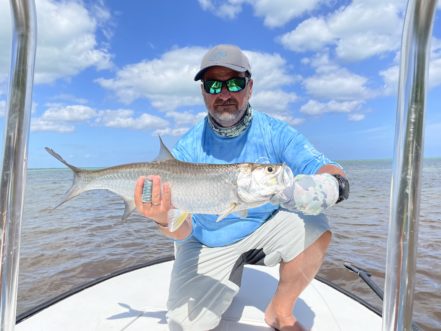 The last few days the weather patterns truly started to remind me of the familiar characteristics of our typical fall fishery.  Despite warm water temps, we saw a much-needed change in wind direction that softly came from the north.  Evenings are buggy, much cooler, and dare I say one might even call mornings at 5:00 AM a little chilly hovering in the low 70s.
An upside to warmer temps in the bay is we seem to be hanging onto a fair number of permit.  The big schools are dropping in size and quantity, but a good number of fish are still around.  We're seeing some small schools of smaller fish in river systems 1 and 2 at the mouth to the main part of the bay.  The southwest shoreline around "red buoy" had a school as well as tight to the shoreline in a small bay we call Ensenada.  Bigger singles are hard to come by with numbers seen but they're patrolling shallow water far west in our system and reside in the deeper water when the wind starts blowing.  With a strong east wind, the first four days of our fishing week proved hard to settle in with numbers of permit.  They do not favor shallow water when conditions are rough and opt to hunker down.  It's a little misleading and it lends us to believe there's not fish in the system, which is not true, they school up in 20 feet of water in the middle of the bay and makes it very hard to spot them and get decent shots.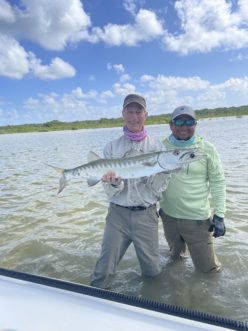 Neil Johnson made his first trip to ESB and is relatively new to saltwater fishing with a few trips under his belt.  He's been bitten by the fishing bug and spends his time in Telluride Colorado where he fishes with a close friend of mine that guides in the area.  Neil is a very relaxed individual, eager to absorb what's thrown at him and enjoy each opportunity as it comes his way.  He was paired with guide Alex his first day out and anyone that has fished with Alex knows what a treat and special experience that is.  Neil was able to land his first two permit that day and was off to a great start for the week.  He concluded his permit fishing for 6 days with 3 landed, an absolute milestone for any budding saltwater guru.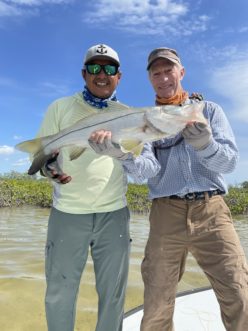 ESB veterans Mike Hostetler and Ed Chamerlain each contributed a couple permit a piece for the groups tally for the week.  John Braafladt had a solid first week with ESBL and landed a couple nice permit also with guide Alex.  One of the days he landed a permit, he and Alex went on the hunt and succeeded in catching a grand slam.  I might add guide Alex had the hot boat and all permit caught for the week were with him.  He truly is one of the best permit fishing guides I have ever had the pleasure to fish with and we're beyond lucky to have him on our team.  Roberto as mentioned before made the long trip from Germany in hopes of landing his first permit on a fly.  He had visited other locations around Mexico chasing permit and I'm happy to say he finally got a beautiful first permit on an ESB crab with yellow eyes.  There's a lot of preparation and planning making a long trip like that, and I hope the plane ride back home was easier than arrival having caught what you worked so hard to catch!
The group of 6 landed 10 permit for the week and our totals are now at 750 permit with 226 guests.
This has been by far one of the most productive years for permit fishing we've seen.  Espiritu Santo Bay is easily one of the best locations around the globe to chase permit and we're fortunate to have this at our fingertips.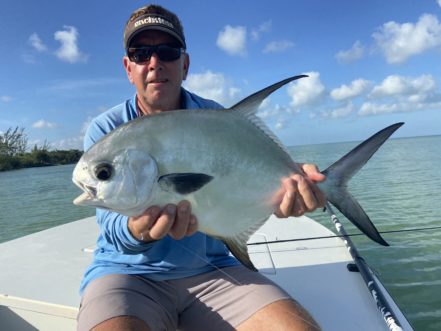 To be labeled as only a permit fishery would be ridiculous, I'm happy guests had the chance at some fantastic tarpon and snook fishing.  With the abrupt wind change late Thursday we saw lower tides and calm conditions on the north side.  We can almost call it the night before when everyone's in the palapa getting chewed on by bugs.  When it's calm and buggy the night before, it means tarpon and snook the following day.  The bay completely had a different look and feel Friday morning and all the boats immediately headed across to fish for tarpon along the northern shoreline and back west towards the river systems.  Mike and Ed saw easily 100 tarpon moving through and landed a couple with guide Pepe.  Roberto was able his land his first tarpon the last day along with boatmate John Samuels who landed a couple more.  Snook fishing arrived in full force and Neil had probably one of the best snook days any guest has had here in a while.  He landed 9 snook for the day with Alex and lost count of the numbers of fish seen.  They chose to target 2nd river system and with an outgoing tide and snook were piled up at the mouth.  They had an interesting situation when Neil was playing a snook and medium sized croc came over to claim the prize.  A small blacktip shark also decided the hooked snook seemed like a good idea and there was a three-way mess of chaotic churned up water, scales, teeth, and mayhem.  I've never witnessed a standoff between a shark and a croc, and the result was a checkmate between the two predators.  The snook was somehow landed and released unharmed.  The last day out Neil fished with Marcos and landed another 3 for a total of 12 snook for the week.  I suspect the snook fishing will remain strong as the conditions have stayed the same the last few days and the weather patterns will hold for much of the week.  My theory that fish like consistent weather holds true and everyday can be better and better.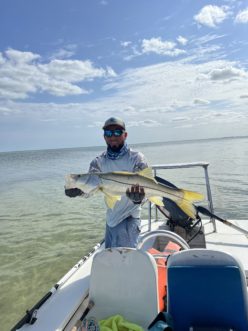 WEATHER AND TIDES:
The beginning of the week we had stronger winds from the east and partly sunny skies.  The tides Monday through Thursday was lower in the morning but rising fast and never saw a low while we were on the water.  Friday and Saturday were the nicest days by far with lights winds from the north and sunny skies.  With the wind change we saw a tide change that resulted in a high tide in the am but dropping all day.  Overall, it was a very pleasant and mild week weather wise with very comfortable temperatures which I greatly appreciated while working outside around the lodge.
FLIES:
ESB crab with yellow eyes still holds dominance for permit along with EP spawning shrimp tied on a #4 hook.  Colors of the shrimp that worked were white and tan.
Tarpon flies that worked well was mainly EP style peanut butter's in Blk/purple as well chartreuse and White.
Snook attacked EP baitfish in color schemes: white/grey, white/olive, and chartreuse/white, white/red.  If you are heading down this way in the next few weeks make sure you pay close attention to these proven colors and flies.  It's consistent with what we've seen before and continues to be prove winners.
Chef Carlos did an amazing job in the kitchen with helping hand Luis.  These guys have had a long year almost tallying 9 months working here and I can't thank them enough for the enthusiasm and work ethic they've evenly displayed as the season winds down.  The comments from guests have been more than complimentary towards the cuisine and I find myself fortunate to have so much talent with our crew.  Emmanuel and the house staff worked hard keeping the grounds clean, and everything up and running to a high standard insuring comfort for all our guests.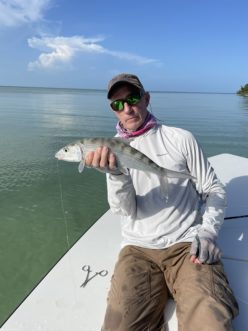 The wind is light from the north and the sun is shining as I conclude the weekly report.  We're joined for the week by some returning friends and a couple new faces as well.  Mike Matus is one of the six here for the next 6 days and he's enjoying his fourth trip in 2021.  After this week he will have logged almost 200 hours of bow time in our bay.  I am very jealous and happy for Mike who's come to love this place so much.  I hope this weather holds and judging by the forecast it seems to be finally locked into fall which is a special time to be here.  "Catching" will play out in its own manner with guests for the week and they have a wonderful plate of different species to target, a strong advantage our place has over others.
I hope everyone had a great Halloween and is enjoying a surplus of sweets from the holiday.  I was thinking about setting up a joke here at the lodge and having guests pass me candy as I "Trick or treated" from room to room.  Chiara told me she'll pick up a bag of candy for me Monday and call it good…
Enjoy the first week of November and whatever adventure that may lead to next.  Please remember to get outside, enjoy nature, conserve, and spend time with family and friends.  As always, our friends at The Fly Shop are patiently standing by to answer any questions or give you information about this wonderful place.  Take care and stand by for the next report!
Saludos desde el Caribe Mexicana
Dane & Chiara and the entire ESB crew