Fishing Report
April 16 – 23, 2023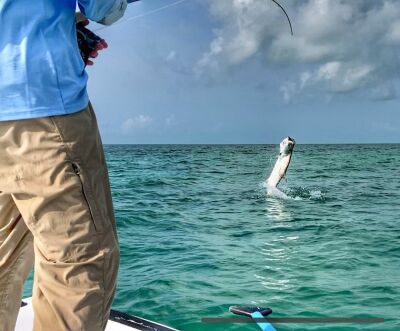 Welcome to the Caribbean!
What a great week we have had the good weather continued to accompany us with some more wind, but without reaching the speeds of the first weeks of March, some clouds, overall, very good weather to sail the bay in comfort.
We received the always awaited visit of fellow adventurers Vinny who with his great organizational skills made my job much easier by scheduling the group rotation in advance, thanks for that Vinny!  Steve and his millions of anecdotes, Mike renowned chef who, with his highly trained palate, put every dish out of our kitchen to the test. Rob, an excellent person who, with his calm and kind character, was always attentive to the whole group. Everett, who visited us for the first time and saw firsthand the goodness of the bay. Rich and his always cheerful spirit kept us all smiling. Mike, excellent fishing partner, every fisherman in the world needs a Mike in his life. Last but not least, Rick, a very good angler who didn't miss any of the fishing opportunities that the bay put within his reach.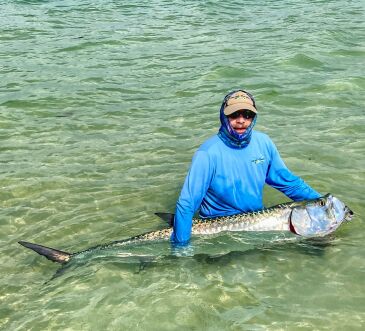 FISHING
On Monday, with very good weather, Vinny broke the ice, quickly removing the combative Tarpons from his list with very good-sized specimens. Practically everyone had a chance with this legendary species, taking advantage of the good conditions to look for them in deeper waters, such as the channel of the island that since last week has been showing signs of the treasures it harbors in its depths.
On Tuesday, looking for this same species, Everett felt a strong pull from the other side of his line that immediately took him to his backing reserve, in a titanic battle in which his opponent did not stop searching the depths without giving him a chance to identify it, creating the most colorful conjectures, "The way it pulls down, it must be a giant tarpon or a shark", "no, maybe it's a mermaid angry for ruining her hairdo with your hook", finally the mystery was solved when the complex beauty of a huge Cubera, weighing no less than 60 lbs., finally showed her toothy smile to Everett and his fellow fishermen. The joy of the day was complete when several of our anglers placed a check mark in the Permit box on their business cards.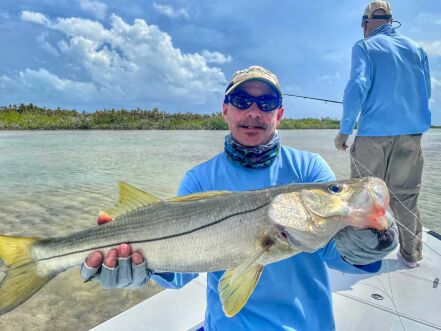 Wednesday's 9 hours of fishing left us with new Permit and Tarpon giving us an excellent excuse to celebrate at happy hour because everyone had one more Permit on their weekly tally, it wouldn't be strictly true if I told you there was confetti and limbo dancing.
Thursday presented itself with a great deal of shooting opportunities for Permit, but they seem to be endowed with more gadgets and evasion stratagems than Tom Cruise in the entire Mission Impossible saga, systematically evading our fishermen's attempts at deception, Fortunately, the other species in the bay are not so well educated in the arts of escapism and gave some good joys to our hardy anglers who faced Friday with new strategies that paid off with new catches of Permit, Tarpon and bonefish. Only the whims of fishing denied the Grand Slam to Rob, who managed to battle with the three species, but at the last second a very good tarpon denied him the joy.
On the last fishing day of the week for our guests, far from feeling tired or showing signs of having satiated that hunger for catches that all anglers carry inside, they continued chasing the species they had chosen as their target this week and added more Permit and Tarpons to finish the week with a flourish, besides encountering some big snook, They commented that they would have at least 20 lbs., but as the maxim of popular fisherman's wisdom says, "big fish don't reach those sizes because they are stupid", so when they felt observed they executed an act worthy of David Copperfield's best show and disappeared among the mangroves to leave our anglers with rod in hand without knowing very well what had happened.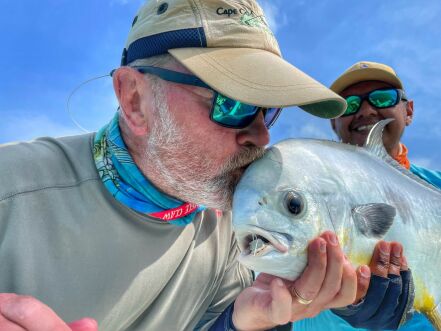 As you can see, it was another great week at ESB, where all of us, fishermen, guides and staff, prepared ourselves to welcome our new guests with the satisfaction of having done our duty and the commitment to repeat it again this week.
WEATHER
Although we had a few more miles of wind than last week, it always remained in a comfortable range of between 8 and 15 mph, with occasional gusts that reached 18 or 20. The cloud cover was a little more consistent this week, but not so dense as to affect the super view of our guides.
The tides were more affected by the wind, but they were still quite noticeable during the week, especially if we consider that the difference between high and low tide is not more than one foot.
FLIES
Most of our anglers this week are great tiers and brought their own creations and versions of the classics for bay fishing.
For permit, the immortal ESB Yellow Eyes Raghead and Casa Blanca flies are still the most reliable options, but we won't say they're the only ones that work. There are plenty of examples of flies, like the tequila twister crab, that have proven to be worthy of the attack of the permit in my two seasons here.
Tarpon showed a more than acquired taste for flies with the characteristics of the Puglisi Baitfish Pinfish or Mangrove Baitfish, without leaving aside the traditional black and purple EP or completely chartreuse.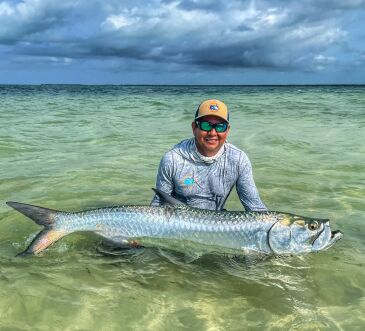 The bonefish this week were not at all shy attacking without fear or embarrassment crabs, shrimp of the same size used for permit, you can see they were hungry.
I am pleased to announce that finally an intrepid fisherman and lover of high risk activities has accepted the challenge of tempting the "ghosts of the Caribbean" with a woolly bugger, so I am anxious for his arrival in a few weeks to elucidate the unknown, of course he has earned the greatest of my respect for accepting the challenge.
Our head Chef Luis and Sous Chef Angel have passed the test of our guest and renowned Chef Mike. or at least he never mentioned to me that he did not like any of the dishes prepared by Luis and Angel, so if we apply the language of logic where a double negative becomes an affirmation, not saying that he did not like the dishes or the execution of culinary techniques for the preparation of the same is automatically transformed into an affirmation therefore, he liked them and passed the test!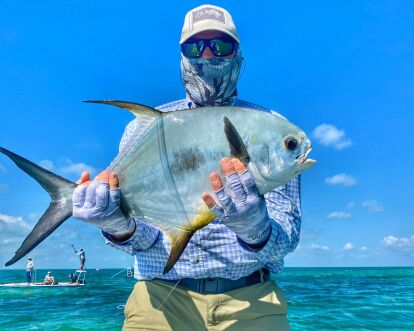 Our staff also passed the test, but of time, we have 12 weeks of this season with everything running on rails, it may not seem significant, but when you are in a highly aggressive environment for buildings and mechanisms such as the combination of sea air with the jungle, believe me it is quite an achievement and demonstrates the high level of commitment and experience of Emanuel, Poncho and Freddy.
See you next week with a new report and do not hesitate to contact our friends at The Fly Shop® so they can tell you first-hand what life is like in Espiritu Santo Bay, the Sian Ka'an biosphere reserve (which means "Where the sky begins", in the Mayan language).
Taak ulak k'iin and Ka xi'ik teech utsil!!(See you later and good luck! in Mayan language)
Martin Ferreyra González and the entire ESB family.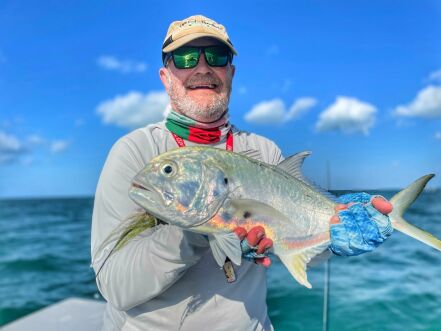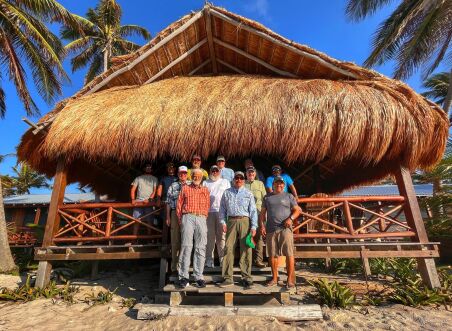 CHECK IT OUT!