Fishing Report
March 07 – 14, 2021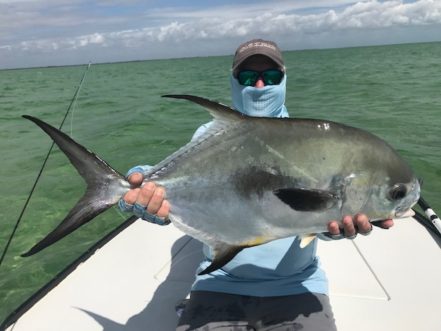 Another wonderful week has gone by at ESB Lodge, and we are in the midst of some fantastic early spring fishing here in the southern Yucatan. We had the pleasure of having some familiar faces returning last week for their annual trip as well as a couple new guests. It's always a wonderful feeling seeing so many returning guests. As I scan our 37 week season calendar, every week is filled with familiar names that have been here before. We have been lucky to help facilitate a wonderful family around the ESB Lodge culture and we remain steadfast in our commitment to help angling enthusiasts experience a special fishery. We had some good fishing for the week and every angler was able to capitalize on moments of individualized glory, the highs and lows of anticipated shots intermingled with blessings from the fish gods.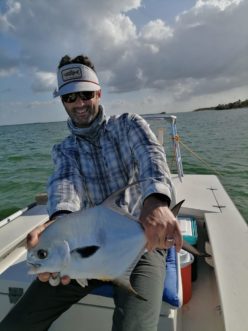 FISHING:
When one mentally designs an ideal weather forecast for a week of fishing it usually consists of light winds, cloudless skies, and calm seas. As with every week here at ESB Lodge our common denominator of success starts specifically with weather. I was happy with our fishing the last 6 days although much of the week it was less than ideal conditions with wind and some rain. Hard east winds made seeking protection a must and we had to make long runs to corners of our bay to find suitable conditions. Our first day with guests was a great start for the week with 7 permit landed between 4 of the 5 guests. We saw permit along the southern shoreline, far west towards the end of the bay, as well as a few smaller schools between river system 1 and the permit flat called Ensenada. Newcomer to ESB Lodge, Chris Hayes kicked his week off well with landing his first permit with guide Fernando and guest Eric Kern. Peter Ellman joined us as well for his first trip down here and was close to landing a slam the first day out with guide Marcos. Tuesday through Thursday proved to be tough with minimal light although we were able to stay off permit flats and focus on chasing bonefish in shallow water. The last two days of the week permit fishing picked back up and we were back into fish with good visibility in the afternoons. Friday guest Bob Francis landed his largest permit to date, a beautiful fish well over 15 lbs. with guide Victor. It was unfortunate that Bob had also hooked another fish roughly the same size and a faulty fluorocarbon leader broke a few feet from where the fly was tied off.  Permit fisherman are constantly placed at the mercy of unfavorable odds that stack against them and we will continue to find ways of how to "lose" a permit. A simple mantra of excuses, failures, and mishaps weave a web of despair that leads us to believe a higher source truly rules our level of success. Victor kept his momentum going on the platform the next day with our close friend Steve Cart. Steve is an awesome stick, well-traveled, and a cowboy of many angling pursuits coupled with self-induced witticisms that leave me rolling on the floor. Steve managed to hook and lose a few permit which aided in a slight meltdown. Whatever the reasons Steve I know it wasn't your fault……..  He finally lined up a beautiful permit following a ray, delivered the fly, solid hook up, and landed the permit. Well done Steve and kudos on your other landed permit for the week. Pete Ellman was able to close his week with the guide Pepe and the team succeeded in landing a grand slam. Although there weren't as many permit landed for the week, I do not take that as a slip in productivity, merely less days with ideal "permit" conditions. Simply put when weather was right, we landed fish.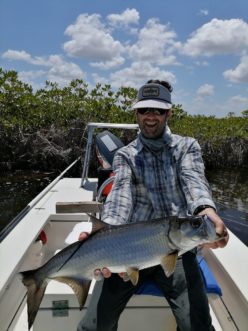 The total for the group for the week was a solid 12 permit with 5 guests. A very respectful number, by far more than one might see in other locations.  ESB Lodge is riding a high rate of success for permit so far with the season and this has been the most productive first 6 weeks we've had.  Season totals sit at 97 permit with 38 guests.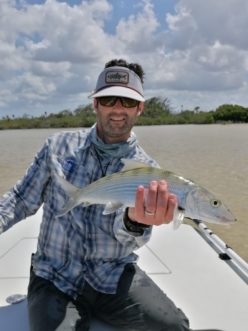 Tarpon fishing was slower for the week with stacked tides from a strong eastern breeze. This wind will prevent water levels from dropping which draws resident fish from the mangroves.  Peter Ellman, Bob Francis, and Steve Cart all were able to land a tarpon or two throughout the week. We chased them mostly on the northern shore back in our river systems. Snook fishing seems to parallel tarpon fishing due to the environment they both share. Majority of the group was able to chase snook and land a couple. We did see some large fish at 15 pounds which always feeds to the excitement. Steve Cart is part of small group of dedicated snook enthusiasts that visit ESB Lodge. This group is growing, and more and more guests are beginning to realize how great these fish are, and one should never pass an opportunity to play darts in the mangroves for these ambush predators.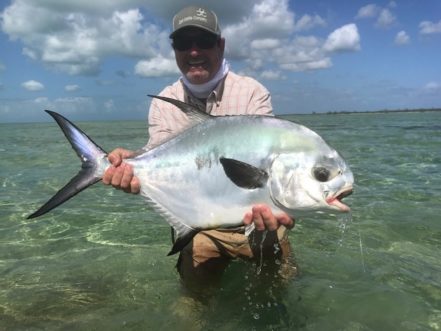 Bonefish, the true heroes of our fishery were available throughout the system and all guests enjoyed quality fishing whether it was schools, singles, or pairs. We encounter them everywhere here, soft bottom outside mangroves, sandy flats, and deeper water with a mixed bottom. I beg any guests coming here dedicate time for these sizeable fish. They are so healthy, vibrant, and perfect missiles for any self-claimed saltwater angler. I have been pondering an incentive and perhaps a reward for guests where we can tally up the largest bonefish by the end of the 2021 season. I am confident we will land a 10-pound fish out of our bay and this truly would establish a milestone for proof of conservation efforts.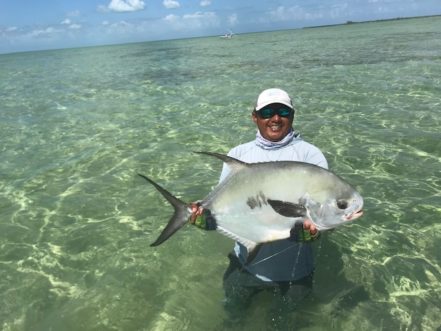 WEATHER/TIDES:
Pretty typical spring weather patterns here for last week. We had high winds 10 – 20 mph from the east. Partly sunny days were replaced with fast moving cloud cover intermittent with rain showers. The end of the week we saw pleasant conditions with better visibility and good sun.  Tides remain largely high due to strong eastern pushes of wind.
FLIES:
Permit were landed on the classic raghead style crabs, tied with yellow eyes and color scheme white. We also used small EP shrimp and a Squimp contributed to a fish or two. Check and double check your permit selections before you come down here. We don't use a lot of different patterns (roughly 6) but it's important to be well stocked in all our suggested color schemes and sizes. This would easily translate to having 30 or so flies dedicated to permit for ESB Lodge. Tarpon and Snook chased EP style baitfish in color schemes black/purple, chartreuse/white, tan/white, Everglade special. We also landed snook on Dave Merritt's ESB snook fly in tan/white, and chartreuse/white.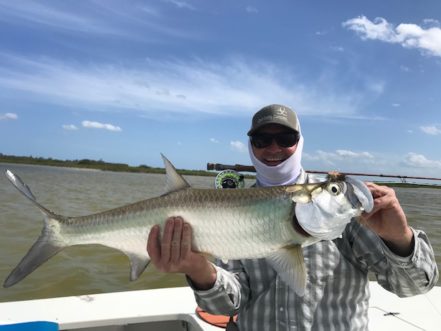 Bonefish simply ate any well-presented fly. Every week we seem to catch a handful on our tarpon and snook set ups!
Chef Carlos and the kitchen crew worked hard for the week, putting out delicious meals, and providing a clean and comfortable environment for all of our guests. It's been weekly, our compliments from guests regarding the cuisine. I sent the last guests out with small packets of achiote paste to try some of our dishes in their own homes.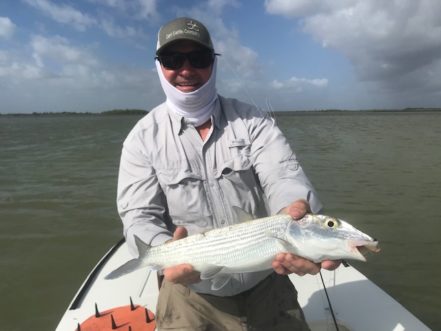 We've got a great group of returning guests here this upcoming week hosted by Captain Ben Paschal. Ben is a sought-after redfish guide on the Texas coast and chases huge reds for a few months in Louisiana. He tows with him wonderful guests and we are also excited to have his wife Lizzie make the trip down for her first visit to ESB. Our dear friend Kevin Vincent was able to sneak into the group for the week and we have lost count of how many weeks, drinks, permit, and laughs we've enjoyed with Kevin. It becomes engrained into our identity with those that have come 2, 3, and even 4 times in one season. I am expected big things for the group, and they have always done well for their annual week here. Returning guest John Thomas thanked me repeatedly last night for another highly anticipated week of fishing with our operation. The feeling is mutual John, I and sincerely thank you for your love and loyalty to the fantastic operation we have been able to build. Guests are friends, friends are family, and this has been the outline of our mission statement since 2017.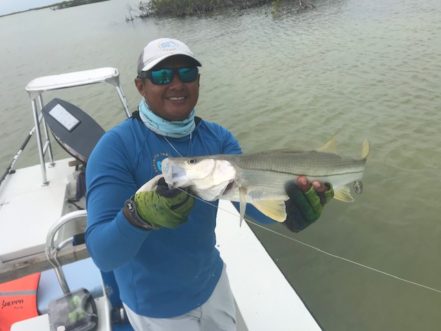 If you got an upcoming trip with us or you'd like to learn more about ESB Lodge give our friends over at The Fly Shop® a call. They'll provide you with current conditions, suggestions, and love to just chat fishing with you.  Please have a safe week, get outside, and stay tuned for our next report!
Saludos desde el Caribe Mexicana
Dane & Chiara and the entire ESB Lodge crew