Fishing Report
August 15 – 22, 2021
Another week has gone by us here at ESB Lodge.  We were accompanied by an awesome group of guests that were excited to come back after having a great time in 2019 and missing 2020 due to pandemic led closures.  I couldn't appreciate Chet Wood and company more with their enthusiasm, patience, and undeniable desire to have fun no matter what was in the cards.  We made it through the week with each day crafting its own plans and leaving us to absorb the outcome.  A brightening part of the week was again still highlighted with the diversity and amazement our bay has to offer anglers.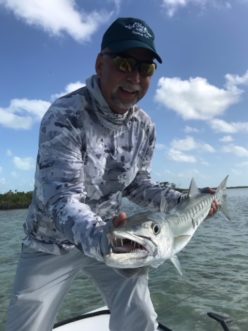 FISHING:
I write up these reports to keep our angling friends informed with week-to-week updates regarding base line conditions, things we observe, patterns, and general overview of life in the jungle.  We kicked off our week with solid weather as I was anxiously watching storm development track its way into our corner of the Yucatán.  I felt fishing was good the first couple days as they usually are before storm conditions take over.  Stepping aside from fishing we were informed on Tuesday that our local gas station – two hours away had mistakenly refueled the station's gas reservoir with diesel..  This becomes a big problem very quickly for us.  For those of you that know some of our already tough logistics can relate to the increasingly difficult situation this puts the lodge in.  I was in such awe with the seriousness of this mistake I couldn't do anything but find it somewhat comic.  After getting over the shock, we addressed the 8 vehicles we have, and 4 boat motors currently being used.  A couple motors quickly choked up and were smoking, sputtering, and failing.  We had to swap alternative gasoline, quickly clean lines, change out carburetors and purge the contaminated gas.  The guides knocked this out and we were off to the races for the time being.  Storm development headed our way also became a sizable threat and later named "Grace".  Emergency evacuations were in place throughout the entire coastline, especially small fishing communities in the outlying edges.  Our small, sleepy, lobster village transformed into a zone of storm preparation with a normal dose of chaos.  Hurricane Grace was set to make landfall in the wee hours of Thursday morning.  I voiced we fish for a quick half day and assess further development.  This also gets our boats out of the town's way while they pull up their commercial sized pangas and get everything ready.  Guests returned to the launch to see a quiet, deserted village, and I mentioned we're heading out to Mahahual for the night.  I left the guides to button down the hatches and pull our boats to safety as we got guests back to the lodge.  One hour later Chiara, Mia, and guests evacuated in SUVS choking on diesel.  The rest of the staff and myself went through all the normal lodge procedures of storm prep.  We were increasingly nervous due to the track of the storm which was moving south much closer to us.  Chiara, Mia, and guests were all safe in Mahahual and I settled down for a night punctuated by hourly checks with wifi availability.  The storm moved a little to the north and finally made landfall at 4:00 AM around Tulum.  I was relieved and then we were met with the remnants of the storm in the form of heavy rain and lots of wind.  We quickly put the lodge back together and guests came back Thursday for a midday lunch and to wait out the last bit of weather.  We were not cleared by authorities until noon on Friday to head out despite the weather still not looking great.  I was hopeful in terms of the forecast and was hoping it cleared out a bit, which it did.  We still had strong winds, but sun was coming through the clouds and Saturday also proved decent.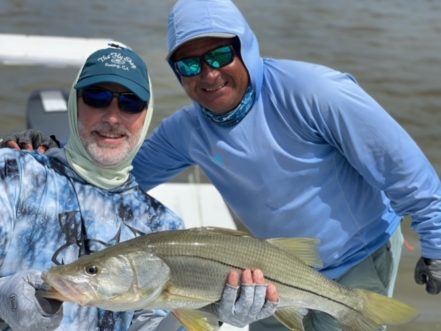 Before and after the storm we focused on fishing the southern shoreline to the far western end of the bay and checked out our river systems 1 and 2 on the northern shoreline.  We had lots of tarpon and snook around due to an impressive low tide.  This happens around storm cycles and its incredible to watch mother nature empty the bay of water only to return with a storm surge and then recede again.  Guest Troy Short joined us for the week for his first trip to the salt and was able to work one on one with guide Victor his first day out.  He caught plenty of bonefish, smaller jacks, snappers, and became comfortable with the program.  He later was able to land his first snook.  John Albright was able to button up his first tarpon at the end of the week.  Chet Wood, who is perhaps one of the most optimistic and enthusiastic guests we have had joined Pepe for a great solo half day mission chasing snook in an undisclosed location.  We loved Chet's mantra of "if I could have any more fun, I simply couldn't stand myself".
Patrick Griffin joined his father Michael who had fished with us in 2019.  Patrick wasn't originally coming on the trip, but fate got him here and he was able to land plenty of bonefish and got his first nice snook and tarpon to the boat.  Glen Storer had a fun week and I feel that his monster cuda made the trip and it's a great fish to recognize.  Collectively this group made sure that all boats had rigged cuda rods and were very excited to chase these fish.  I find it inexcusable to ignore such an apex predator.  Any 20 lb. fish with a nice set of teeth that just thrashes anything moving in shallow water and covers ground quicker than any flats fish I know of is more than worthy of attention.  Glen and I were talking last Saturday night about the chaotic mayhem you experience when you're an open book to multiple species.  He and Troy joined Nando for a busy last day chasing everything they saw.  It got to the point where Nando demanded all 5 of their rods be pulled out and laid in the back of the boat for a quicker draw when another species appeared.  The wild part of this was it happened all in small area where they spent most of the day.  This is the anthem and definition of our fishery.  Diversity is there and chances are you will see multiple species poling along any given flat.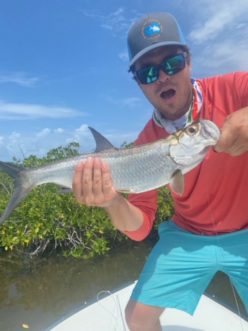 Permit weren't in the cards for us for the week.  There was no reason to pursue them if conditions weren't right.  We are lucky with so many options here and you optimize what you have in front of you.  We did see some fish deep in the southwest corner of the bay as well as outside, tight to the marine lighthouse shoreline.  They were acting flighty, unsettled, and generally not interested for the most part.  Most of the group got a decent shot or so each for the week.  We concluded with our permit count at 392 permit for the season with 163 guests.
WEATHER/TIDES:
Pick a weather pattern or tide and we experienced it with Hurricane Grace this week.  Huge lows, big surge, wind from all directions, sun, rain, wind, semi calm was all had.  We did conclude the week with a nice outgoing tide which is a great indication of the bay system purging itself and resuming normal tidal cycles.
FlIES:
We used toads, EP style Baitfish mostly for our tarpon and snook.  The snook generally seemed interested in natural colors and Tarpon liked more bright and classic color schemes.  Combos that all caught fish were tan/white, green/white, everglade (olive, tan, green, white all together) yellow, blk/red, blk/purple, chartreuse.  Hook sizes used were 1/0 to 2/0
Bonefish ate any lighter weighted shrimp pattern in sizes 2 – 8.
Cuda's were destroying Umpqua's needlefish fly, articulated with two hooks.  We threw poppers and this week but they weren't as interested.
*NOTE* For incoming cuda enthusiasts you must have at least 6 of these needlefish flies as well as a nice assortment of poppers with larger hook gaps.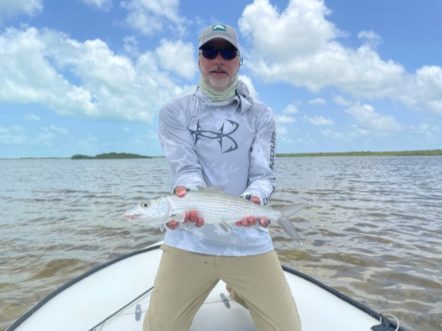 I thought Chef Carlos was going to kill me this week.  I was calling audibles everyday with the changing situations.  He at one point asked me if he should just pull everything out and cook all our meat, veggies, and fruit together.  I damn near said yes.  Nonetheless he gracefully adapted, and the team outdid themselves for the week with the food.  It just doesn't stop, and our kitchen is a machine for cranking out phenomenal cuisine.  Wednesday night when guests and everyone had evacuated Chef Carlos brought me a small plate of homemade lobster raviolis to my office.  I laughed and asked what's the occasion.  He jokingly said, "possible your last meal boss".  I laughed again, thanked him, and returned to staring at various storm tracking sites.
I will also note Emmanuel (Manny) and Freddy did a great job staying light on their feet and buttoned up the lodge and made it client ready quickly in less than 12 hours.  Kudos to the team.
We've a got a week of familiar faces with us here now and returning guest Ryan Fields towed his brother Dan down for his trip with ESBL.  Tom Blailock is here with us for the week.  We dearly appreciate and love Tom for his dedication to us and the fishery.  There's some weather in the forecast and it looks like middle of the week should be good.  We are also currently watching a recent storm development that might make an appearance this weekend.
If you'd like more information about this wonderful operation, or perhaps learn how to remove diesel from your tanks and engines please drop a line to our friends over at The Fly Shop.  They're up to date with the happenings around here and provide support for all ESBL guests and us at the lodge as well.
I hope everyone has a wonderful week and please stay tuned for the next report.
Saludos desde el Caribe Mexicana
Dane & Chiara and the entire ESB crew