Fishing Report
September 29 – October 06, 2019
Good morning Esb Lodge Anglers & Fans,
We've had another wonderful week here at ESB Lodge. Last week there were 8 guests with us and two familiar faces Vinny Foti and Michael Gerrity. These guys hail from Cape Cod and have been close with us and are always welcome sights getting off the plane at our airstrip. Our fishing was tough this week with periods of very heavy rain and cloud cover. We were still able to capitalize on optimal moments and occasional breaks of weather to catch a few fish!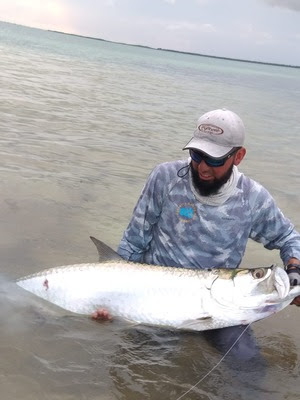 FISHING
Our permit fishing has remained relatively slow compared to months past. These fish seem to be sensitive to weather changes and are not being found consistently. With wind direction constantly changing and storm fronts rolling through we are seeing these fish tentatively inhabit the flats somewhat skittish and not willing to commit to a fly. The first day one boat found some nice schools of fish outside of the bay further along the northern coast. Towards the end of the week on Friday Guia Tony took his clients to our famed permit flat Ensenada. There were no permit landed but the guys were happy to announce the number of schools they saw.  It's interesting to see this when these flats seem to be void of fish for almost a week and then see large schools of fish move in. Saturday, three boats headed to Ensenada to fish these schools and it seemed that more fish were piling on the large flat.  Vinny Foti and Michael Gerrity each were able to land two nice permit a piece and guest Bruce Depriester succeeded in landing a beautiful fish that went 20 lbs.!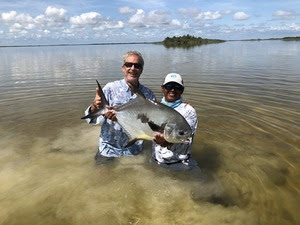 Our total number permit landed for the season is 312 and number of guests is 205.
Our Tarpon fishing remains strong and I am encouraging guests to spend time each day chasing our resident fish. They are located consistently in our river systems on the north side of the bay as well as on some flats outside the river systems. We are also still finding larger tarpon on calmer days in the entrance of the bay. I am continuing to believe that these larger fish are year-round residents to our reef system and deeper cuts of the bay. We have seen and landed fish over 80 lbs anywhere from March through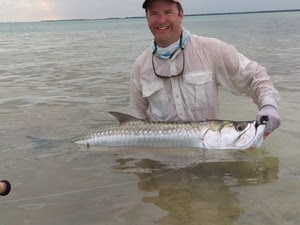 November when wind conditions are light and schools of sardines are prevalent.  It was fun to watch from the lodge last week a couple boats working the shoreline as conditions were relatively calm.  Tarpon were found rolling as well as large snook. Guest Vinny Foti was able to tie into a big tarpon as well as guest Chris Wiesinger who's first tarpon on the fly went 80 lbs.!
Our snook fishing remains consistent and we have been targeting these fish on a low tide. We were able to land some big fish and guest Carl Sparks was able to enjoy his first snook on the fly.
Bonefish remain strong in numbers and a couple guests enjoyed spending time chasing them in skinny water located in the back bays.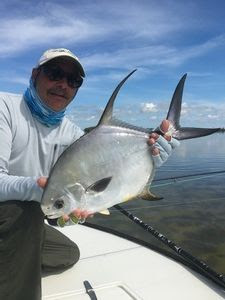 WEATHER/TIDES
Weather for the week was light wind out of the northeast and an outgoing tide in the morning with a rising tide in the afternoon.  We had periods of heavy rain and mostly cloudy skies for much of the week.
FLIES:
Permit were landed this week on a Supreme Hair Shrimp #2 and white Casa Blanca raghead #2.
Tarpon and Snook were landed on all manner of toads and EP style baitfish #2/0 in color schemes blk/purple, chartreuse/white, white/tan, silver/white.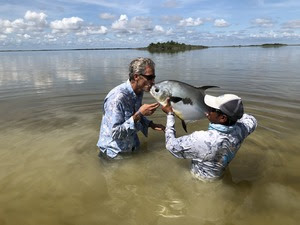 Our house staff was on point for the week cooking wonderful meals for our guests and ensuring that the lodge was in working order to comfortably accommodate our guests.
This upcoming week we are hosting a nice group of fishermen from our friends at Yellow Dog Travel.  Well known traveler/tier Doug McKnight brought down 7 other guests to come check out fishing in ESB and we are excited to show everyone our special fishery.  Rain is in the forecast, but it seems wind will be very light and from the southwest which will make the bay calm for much of the week.  This morning before I took guests to the boats, we watched a couple permit tailing in front of our palapa feeding on small crabs.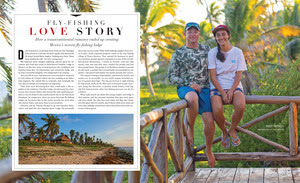 Be sure to check out Fly Fisherman Magazines latest "Destinations" featuring an article on Dane & Chiara Emerson's love story – the story behind Esb Lodge. Available at newstands and your local fly shop.
We hope everyone is enjoying their October so far and do yourself a favor and call The Fly Shop to get recent updates on this wonderful fishery or prepare yourself for your upcoming trip.
All our best from ESBL and please stay tuned for next week's report!
Saludos desde el Caribe Mexicana
Dane & Chiara