Fishing Report
 May 01 – 08, 2022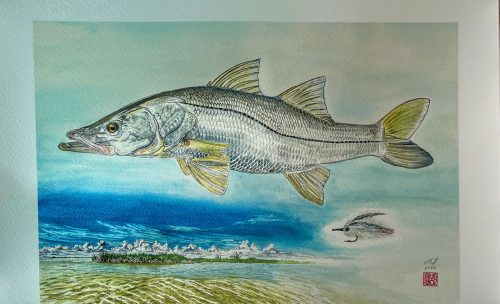 Welcome to the Caribbean!!
We had a great week at ESB, spring weather, good temperatures, and little to no rain, but the easterly wind is still a bit uncomfortable for our anglers.
This week we had the pleasant visit of good friends such as Kean Oh, Tom Peterson, Rodney Neil, Charlie Mohr, Jim Strife and Noemi Bertulessi along with her husband Tom Stoddard who is visiting us for the first time.
The week started very well with Kean landing his first permit of the week on day one, guided by Marcos Neri. Tom Peterson also landed a permit on his first day with the assistance of Alex.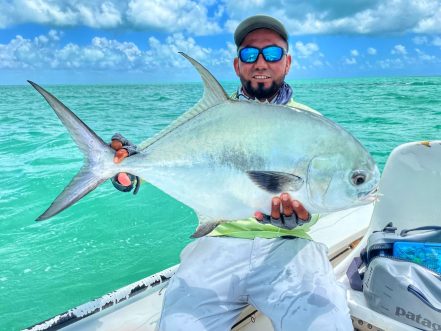 Rodney, also accompanied by Marcos Neri, started his week very well landing a permit on the second day.
Kean, under Alex's watchful guidance, hit the first Super Grand Slam of his life, which we celebrated over dinner.
Kean, in addition to demonstrating his extraordinary skills as a fisherman this week, he is also an excellent painter and as proof of this I am attaching the photo of the incredible Snook that he painted for us and that is the exact reproduction of the one that he landed last year with Victor, believe me that the level of detail that the whole work has in itself is amazing.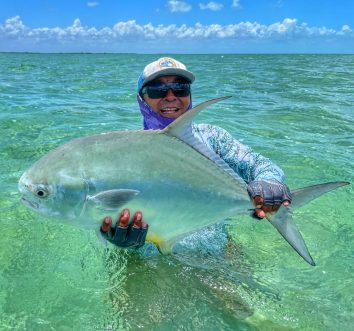 Rodney pulled off another Super Grand Slam with Alex's help keeping the week's festivities in style.
Charlie managed to land his palometa (permit) with the assistance of Pepe, despite the wind and wave conditions that made it difficult to make accurate shots in water that was a little deeper than usual.
For their part, Noemi and Tom Stoddard had a great week catching countless bonefish, the first tarpon of her life for Noemi, a triple tail with Pepe, and they really were great participants at the dinners with their funny stories. Proof of this was Noemi's shirt she wore to dinner that said "keep calm and don`t trout set" – the graphic representation of the story of my life.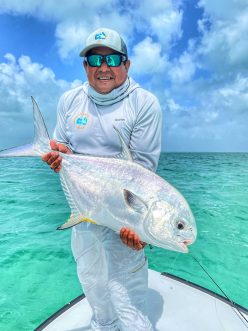 We closed the week with a total of 8 permit with 7 anglers, which brings our season numbers to 248 permit with 104 guests!
In search of an answer, I tried to find out how much information was available about this species and in particular about those that inhabit this bay.  It was not easy finding scientific studies or treatises that spoke clearly about them, but from what I have managed to discover, in theory, May is the time when the Permit begin their spawning season and begin to move away from the shallow water to deeper waters of the bay. That was demonstrated this week where most of the captures, sightings and shots occurred in waters ranging from 2 feet deep to 6 feet deep.
The classic more protected areas with easterly winds such as buoy red, little houses, the pines, lagoon, red, Tabasqueños, el arenal, Rio Cinco y Rio Tres they were very productive.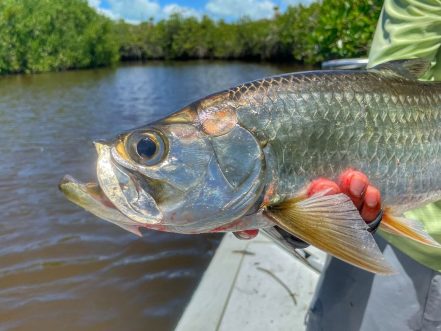 FLIES:
This week we did not have great variations with respect to previous weeks in terms of the flies chosen by the fish.
Bonefish continue to eat shrimp and small crab patterns on #2 through #8 hooks.
Permit, continue to choose the usual flexo-crabs in small and medium sizes, Casa Blanca with and without yellow eyes (really the discussions about the little or much effectiveness of yellow eyes is far from over), shrimp and this week what really called me my attention was that he saw a permit attacking a Popper on the surface. The guides told me that it's not uncommon, and I think the game has a new variant that should be thoroughly investigated, it can be very fun.
The tarpon and snook I suspect are buying shares of the EP company.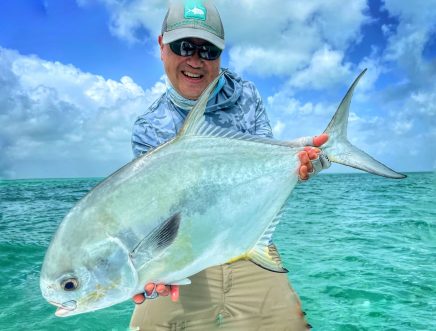 Barracudas are happily attacking not only bright poppers but almost entirely flash laced streamers, they seem to be blinded by the lights of fame.
WEATHER:
This week the easterly wind was predominant at speeds ranging from 9 mph to 19 mph within the bay, which affected the tides making them somewhat erratic, varying between high and low throughout the day.
We had some cloudy periods during the week, but no rain.
Very nice spring temperatures that are making us break a little sweat.
This week, guides Marcos and Freddy will take a few days of well-deserved rest. Carlos and Luis continue to set high standards for both the quality and presentation of the dishes, without ever losing sight of the preferences of our guests.
Pancho and Emanuel never cease to amaze me with their predisposition and excellent performance to make everything work correctly.
I have come to the conclusion that the people at Google call Isabel and Carlo every time someone searches for something in this remote area of ​​the Caribbean because they know it better than anyone and they know how, when and where to find everything, we need.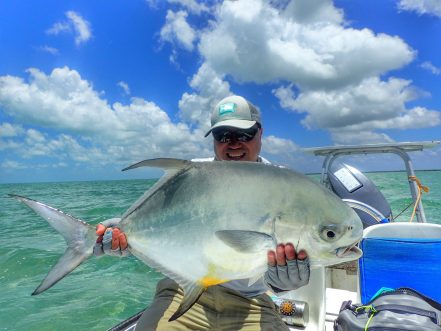 Look for my report from this next week from our next seven guests and their exciting adventures. As my grandfather said "fishing is not just about catching fish".
Do not hesitate to contact our friends at The Fly Shop so they can tell you first-hand what life is like in Espiritu Santo Bay, the Sian Ka'an Biosphere Reserve (which means "Where the sky begins", in the language Maya)
Taak ulak k'iin and Ka xi'ik teech utsil!!
(See you later and good luck! in Mayan language)
Martin Ferreyra Gonzalez and the entire ESB Family