Fishing Report
April 04 – 11, 2021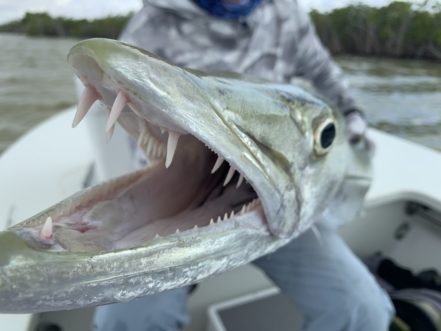 We had another fun filled week here at ESB Lodge. Four single anglers joined us for 6 days of fishing, an incredibly option that allows guests to opt for their own boat, guide and room. As a single angler you have the opportunity to enjoy almost 50 hours of bow time, a serious amount of fishing that usually leaves you exhausted by the end of the week. We had three guests join us for their return trips and welcomed Gary Forster, a new angler to our wonderful operation.  Fish were caught by all, and an overall solid 6 days that revolved around eating, drinking, and fishing hard.
FISHING:
We're in the thick of our spring fishery here and that means wind. I was happy to see that we were able to have a tide change that allowed lower water conditions and gave guests the opportunity to chase tarpon and snook in the backcountry. Permit fishing was decent, but proved difficult standing in the bow in rougher water. With the lower tide we had to chase them in deeper water which meant exposed spots that can be tough to negotiate with wind and varying degrees of visibility. We found smaller permit in the river systems on the northern shoreline, and hunted some larger fish along the south shore, and further west in a spot we call "Tabascanos". Guest Gary Forster was able to land his first 3 permit the last day with guia Victor from the second river, and guest John Pyne landed a smaller permit from a river his first day out with Fernando.
Reed Bumgarner had a fantastic week of permit fishing. His first day out with Alex he managed two smaller permit. Later in the week with guide Pepe, they landed a beautiful fish over 12 pounds. This was Reed's largest fish to date. They spotted another permit, hooked it and fought the fish close to 45 minutes. This was our largest permit of the year and resulted in being the largest permit Reed landed. This fish was more than 30 pounds, an absolute monster.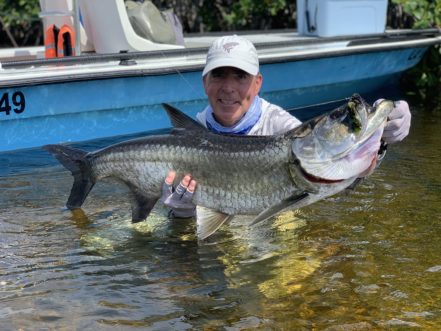 Collectively the group of four guests landed an impressive 11 fish for the week.  This brings our season totals to 200 permit with 65 guests.
Anglers were able to enjoy our tarpon and snook fishing much more than previous weeks and everyone had opportunities at both. River 5 system and the entrance to 4 were hit hard every day and there were plenty of tarpon that were moving out from the mangroves. River 5 is an incredible place and when you're back in the river you truly feel remote. Casting as our guests saw, can be tricky. No longer was it a game of throwing as far as you can into a 15 mph headwind, instead it's navigating a mangrove lined shoreline that has an overhead canopy. We fish ahead of the boat or "skip" our flies under low hanging branches, easier said than done. I deem and eat and a jump sufficient in these given conditions. Accurately working a 1 foot opening with a low back hand cast, that pulls a tarpon out is quite an accomplishment and more of our guests experienced jumps rather landing multiple fish. A couple small creeks that feed into the back of the 2nd river and 1st also had a handful of snook.  I felt as if these fish were nonexistent that last few weeks and it was a welcome sight to have this part of our fishery available. John Pyne had a fun day jumping 8 and landing 4. Gary Forster landed 6 Tarpon for the week.  Jim Rector tallied up 3 snook landed for his week.
We are all about diversity here with our bay, it's the last frontier for incredible fishing in an unmolested environment. We have been always targeted as a permit destination. I don't mind, and we are respectively one of the top producing permit fisheries in the world. There's also some underappreciated fish we have. The bay holds an impressive population of Barracuda.  I struggle to understand the low level of desire to chase these apex predators. The formula and characteristics these fish have make up for a more than worthy adversary. A fish that hits burst speeds at 30 mph, found in shallow water, insane takes, and is topped off with a row of menacing teeth should be convincing enough to have a rod rigged. Most of guests last week had additional rods in the boats to throw at cuda. John Pyne had some fantastic poppers and larger baitfish imitations preloaded with wire to go after them. Reed and the rest of the group also chased cudas and collectively the group landed a good number of cudas, more than any other week this season so far. I can't emphasize enough to guests these fish will put up a fight that can easily translate to a high light of their week. With a great population of these fish, they should be a staple adversary to chase. Cuda's can have funny attitudes when it comes time to hitting our flies. They seem to be very forgiving with some presentations missing their mark by 20 feet, and they'll close the gap and explode on your fly before you have considered a recast.  We also see them stare down a properly presented fly and not move an inch or express any interest at all. It seems like after a couple casts and the fish doesn't eat, it becomes a waste of time for guests as they watch the fish swim away annoyed or spooked. If you're headed down here, do yourself a favor and bring some wire and big crease flies, or flies that displace water when stripped. The lodge also has some house rods and if you wish to chase cudas for a day we're happy to loan out the needed equipment.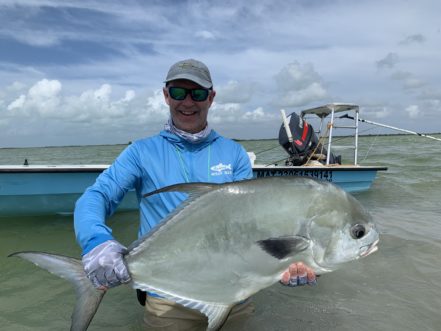 Bonefish were readily available as always and are the heart of our fishery. All the guests that chose to chase bonefish were rewarded with plenty of fish. They're forgiving here, easy to catch, and everywhere we fish, we find them. Our backcountry held larger bonefish, more solitary cruisers, patrolling edges or inside mangroves. Outside the river systems we found more fish but they were generally smaller. These fish will average 2 -3 pounds, a fun fight on a light 7 weight or 8 weight depending on wind.
FLIES:
Our smaller permit were landed on spawning shrimp tied EP style on #4 hook. Color schemes that worked were white or tan.  Our standby #2 Tan Squimp was responsible for landing a permit. The larger permit succumbed to white Casa Blanca ragheads tied with yellow eyes.  Guests get confused with name labeling of this fly and various companies rename essentially the same fly. When you are load up with crabs to fish here, make sure you have tan and white raghead style flies that have medium yellow eyes. We are also using more traditional ragheads that have the normal lead colored dumbbell eyes.
Toads, EP baitfish, and traditional seducers worked well for tarpon and snook.  Black/purple, chartreuse/white, olive/white, and solid white were all solid color schemes that worked well.  We put suggestions in our travel tackle planner that outlines a selection of different colors or patterns that work really well for tarpon and snook.  The list will look something like this: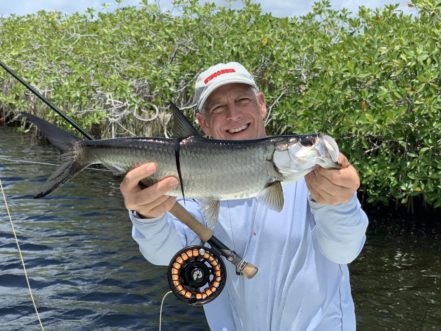 Tarpon and Snook:
EP Peanut Butter series 2/0 Hook
You need to have color schemes: Black/Purple, Black/Red, White/Chartreuse, Everglade Special, White/Grey I would suggest 4 of each color
Tarpon toads tied on 2/0 Hook
You need to have color schemes: Black/Purple, White/Chartreuse, Black/Red   I would suggest 4 of each color
Bonefish were enthusiastic to eat any shrimp offering tied on a #8 through #2 hook
Cudas were landed on large poppers and 4 – 6" baitfish with 20 – 40 lb. wire.
WEATHER/TIDES:
Weather for the week was mostly cloudy with the last couple days showing more sun. Our wind was predominately from the east and stayed consistent at 15 mph with some stronger gusts upwards to 20 mph.
Tides for the week were coming in the am and we had a high around 10 am.  Shortly after a quick slack, water moved out and we had dropping tides between 11 – 4 with the tide circling back to incoming as guests finished their day.
Chef Carlos continued his magic in the kitchen and along with sous chef Louis, they provided delicious meals throughout each day. Freddy and the house staff worked hard to keep the grounds and lodge in a neat and orderly manner, creating comfortable accommodations for everyone.
We've got a fun week ahead of us.  Close friend Mike Thompson is hosting his third trip down to ESB Lodge. Mike is always accompanied by wonderful guests who have in turned become close with us here at ESB. It's always a highly anticipated week, and our guides and staff look forward to seeing them return annually. I am also a part of their group chat, and email group.  It's been fun reading the banter between the group starting weeks ago, with them excited and preparing for the week. We'll have some mixed weather and by the middle of the week it seems like full sun will be upon us. Either way this crew of fishing enthusiasts will have a fantastic week as always chasing whatever they have an opportunity to catch.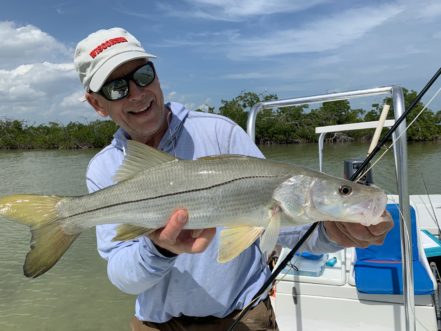 I will be departing with the group this Sunday as I make my way back to the states for a quick break and will pass the reins to our close friend Sam Gigliotti. Sam managed for us in 2019, did a wonderful job, and I very happy to have him back for the next couple months. He will also be crating our weekly newsletters and reports and keeping our group of ESB Lodge enthusiasts informed with fishing, weather, and general up to date info.
If you are curious or would like to have more information about this special operation, please don't hesitate to call our dear friends at The Fly Shop® a call. The travel department is ready to help set up a trip here or any other destination you might be considering.
I hope everyone has a safe week, gets outside, and enjoys some spring weather. Hopefully you have some fishing in your personal schedule. Take care and stay tuned for the next report!
Saludos desde el Caribe Mexicano,
Dane & Chiara and the entire staff of ESBL