Fishing Report
March 17 – 24, 2019
Hello Esb Lodge Anglers & Fans,
We've enjoyed another a wonderful week here at Esb Lodge meeting new friends, sharing our fishery, and of course great food.  Captain Ben Paschal brought a great group of guests/friends that he guides on his home waters of Laguna Madre and Louisiana.  Ben is probably one of the most sought out guides on the southwest coast of Texas.  I hope if his schedule allows, I can get a chance to spend some time on the boat with him chasing redfish.  It was the group's first time down here with us and for most; it was their first time fishing the famed waters Bahia Espiritu Santo.
FISHING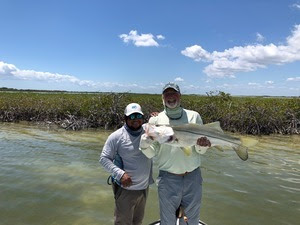 Our week of fishing was fantastic, and if I were to summarize the entire outcome for the week it would be best described as "textbook", a classic representation of what our amazing fishery has to offer.  It's hard to paint these pictures of success and I am really glad this group got to experience the bay at its full potential.  It seemed to me if you could create a dream trip of endless fish, awesome food, good friends, and unbelievable weather that was all instore for last weeks guests.  Obviously, it's hard to plan around the inevitable, especially with weather being the common denominator for successful fishing.  We lucked out with glass like conditions, slight breezes hailing from southeast to northeast and minimal cloud cover.
To start things off after the group arrived last Sunday, we sat down and enjoyed a nice lunch.  After lunch and orientation everyone took advantage of the calm beach in front of the lodge and went fishing.  By 5:30 cocktail hour three tarpon were landed along with triggerfish, bonefish, large Jacks, and a couple permit were sighted.  It's incredible to watch our oceanside fishery come alive with adversaries we normally target in the bay.  Well off to a good start for the week Monday's productivity was high with permit, tarpon, snook, bonefish, and a big cuda.  Every day of the fishing week all four of our four targeted species were landed collectively by the group.  The list of personal accomplishments by individual anglers would require an additional page of recognition.  More than half our anglers landed their first permit ever on fly and succeeded in catching their 2nd, 3rd, 4th, and even 5th permit.  Four out of the eight anglers also landed their first grand slams and even super slam.  Guia Fernando Ortiz outdid himself for the week by putting guest Mark Gascamp on his first grand slam on Monday.  This was also Mark's first permit, and first tarpon.  Mark reunited with Fernando later in the week and shared the boat with guest Dan Shuler and they each proceeded to land a super slam for the day!   Many other guests also were able to land their first tarpon and five out of the eight anglers landed their first snook.
It seemed to us the fishery came alive after few weeks of hard spring winds that were hitting the bay from the east.  We saw an abundance of fish on both north and south shores. With wind direction changing southernly to northernly we were able to explore much of the bay and also fish some flats that we haven't been able to see for a while.  Tarpon seemed to show up overnight and with a favorable tide there were a couple hours each day dedicated to chasing these fish along with snook.  Our healthy resident population of snook seemed to grow overnight and we found multiple schools of 10+ pound fish.  Dan Schuler landed a beautiful fish that went easily 15 pounds.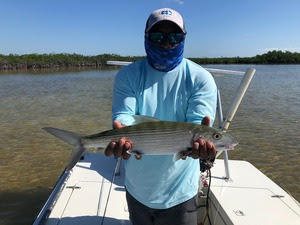 Our deeper flats held good numbers of permit and we saw big schools of fish deep west towards the end of our bay.  This is a great sign and it means the fishery is slowly shaking the grips of winter water temps.  Things are beginning to warm up and most of the freshwater that was holdover from a couple months ago has purged itself from our backcountry.  Permit and large numbers of bonefish are arriving on these flats that have been void of fish that past 7 weeks.  Ben Paschal and Jim Vick enjoyed a day with Guia Jorge exploring Rio Cinco deep in the western part of the bay.  After Jim was able to land his first tarpon they explored the flats of the 4th river and ended on a flat close to our morning launching spot.  It was noted that more than 200 permit were spotted between these two locations.
The entire group was able to land 22 permit for the week which brings our season total to 70 landed with 50 guests.
Our bonefish numbers stayed strong and I appreciated guest John Thomas immensely enjoying himself each day by wading some flats to pick out single bonefish tailing and working shallow flats.  This place has endless opportunities to catch bonefish in skinny water and for one to embrace this fishery you must put your time and enjoy an hour or two minimum of this style of fishing.  John also informed me that he has been on more than 25 saltwater trips over the years and couldn't be more ecstatic on the numbers of fish seen in ESB as well as obvious lack of pressure.  To top things of for John he succeeded in landing his first grand slam on fly!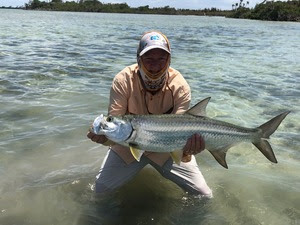 One important thing I noticed about the group was their willingness to work with the guides in terms of what species to target.  Being on the water everyday our guides know this fishery far better than anyone else.  Keeping an open mind to multiple species, and having rods rigged and equipped to handle each encounter keeps you as an angler on your toes.  It will also pleasantly surprise you that most of your "bucket list" fish seem to fall in place with this attitude.  It's something I can't stress enough about regarding our fishery.  This place has variety, holds good numbers of every desirable flats fish, and everything is in reasonable proximity.  ESBL boasts a true "grand slam" theme where you are liable to see multiple species on a single flat.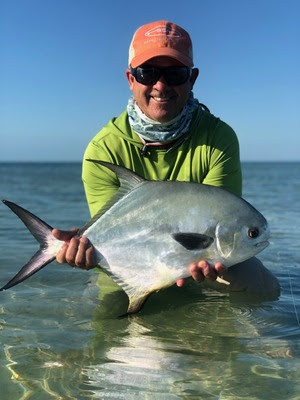 WEATHER/TIDES
Weather for the week was fantastic with sunny skies, minimal cloud cover, and light breezes out of the southeast and northeast.
Tide for much of the week was higher in the morning but gradually falling for most of the day.  We only experienced one tide during our hours on the water.
FLIES:
We had a variety of flies that were responsible for permit this last week.  Tan #2 Squimp, Spawning Shrimp in white or tan #4 with lead dumbbell eyes and yellow painted eyes worked well.  Some smaller permit were landed on Ragheads in tan sizes #2 and #4.
Tarpon were landed on toads in color schemes Chartreuse/White and Blk/Purple.  EP style baitfish worked well in similar color schemes.  The group also had some baitfish tied up Blk/Purple with larger baitfish eyes, hence "Big-eyed Purple".  This is a productive fly tied with larger eyes that seems to work better in stained water and to my belief represents our local Horse Eye Jacks well.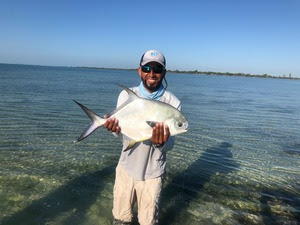 Snook were landed on more natural color schemes: White/Pearl, White/Grey, White/Green
Bonefish were happy to hit any smaller shrimp tied in sizes #4-#8.  We even had a couple Bonefish eat our Tarpon flies tied off on 50+lb. tippet!
Chef Felipe continued to dazzle guests with delicious food and treat us to exquisite deserts that left little to the imagination.  Each day guests were happily complimenting the high level of cuisine we offer.  Emmanuel and the house staff worked hard to insure everything on the grounds was in working order and all our guests' needs and requests were met.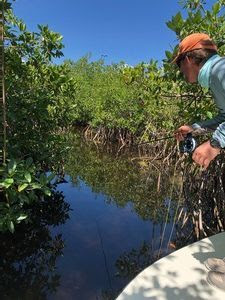 We're looking forward to this up coming week with some new guests that are excited to try out this great operation.  Anglers Joe Checchio and Bill Ingram are returning guests from the 2018 season and they are also returning the first week of November 2019.  Joe was kind enough to contact us and see if we needed anything at the lodge and offered to "mule" a couple items to us.  We truly appreciate the consideration and thoughtfulness of reaching out.  I would also like to thank everyone that has purchased FRONTLINE or similar dog collars and tick, flea, deterring items.  The support of this has been amazing and we must always lend a hand to our four-legged companions.  All things donated have been graciously received by our friends with their dog rescue and they are treating more dogs more than before!
Swing by or give our friends at The Fly Shop a call to check in on us or inquire about this special place.
Enjoy your week, try to wet a line somewhere, and of course stay tuned for next week's report!
From a special corner of the Yucatan,
Ciao,
Saludos desde el Caribe Mexicana
Dane & Chiara