Fishing Report
September 05 – 12, 2021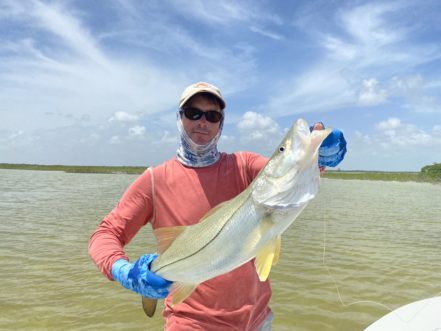 We've wrapped up another great week here at ESB Lodge as we enjoy the last days of summer.  It's been a great season thus far and we're feeling strong as we close in on the last couple months of 2021. It was our pleasure to have Billy Trimble host his second week with us and he was accompanied by wonderful friends who we've annually become attached to.  It's so much fun for us to be greeted by familiar faces each week. I never tire seeing everyone come down for their yearly trip with us.  It's a mutual relationship that balances with an importance emphasized on pure enjoyment in such a wonderous place. With every trip here one will experience highs and lows of fishing, productive days (some not), and a roller coaster of "the good, the bad, and the ugly".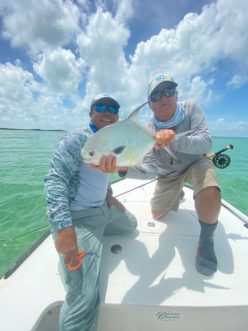 FISHING:
We had a mix of fishing for the week. This historically is an incredible week for weather and fishing for the group. I think given some of conditions we made out ok, although it was not up to par with previous years. Perhaps the week we had was somewhat normal and the group's previous years/weeks were off the charts incredible? Nonetheless we caught some fish, endured a stiff easterly wind, and even had to succumb to a bad weather day that left all of us wondering what we did to deserve such a punishment. The first two days were the best days we had on the water, and this was conducive to nice weather. Jerry and Terri, a very dear couple, started out with a bang on Monday alongside guide Fernando. They caught several tarpon and a few snook. We were able to find a handful of tarpon and snook inside river one the first couple days and then it became difficult to cross the bay. Inside red lagoon held a few tarpon and David Phillips landed a very nice snook Tuesday with guide Alex. With such strong winds from the east, we had very stacked water which as you all may know, puts the snook and tarpon deep in the mangroves. It's exasperating seeing these fish laid up comfortably 5 feet deep in heavy mangrove cover. Fly placement becomes impossible and you become laughingstock for all the shore birds that reside in the foliage. I feel they seem to squawk and shriek their disapproval with each whack of a misplaced tarpon toad.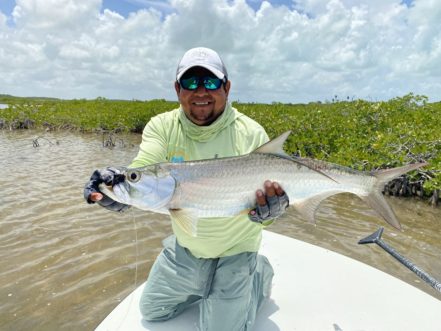 Permit fishing was different this week and a little off compared to the last couple weeks. Nothing really alarming, just puzzling for us. We are once again reminded about how little is really understood about these fish. Theories are created by guides and anglers and I think it only pacifies a desire to define everything. We only found permit in the southern part of the bay closer to our boat launch. They were in deep water for the most part and this made for some entertaining balancing acts on the bow for those willing to perform. Our top permit guide Alex scouted all parts of the bay looking for fish and came up empty handed. He fished far southwest in the bay, and also wrapped his route around an area called Tabasquenos. He checked outside of river 4 and touched briefly at the mouth of Ensenada. We struck out every time and this left us wishing we wore mouthguards and more supportive undergarments that keep our anatomy in one place from rough boat rides.  It was the same thing every day, hit the permit schools in the morning that were close, then patrol the bay, only to return to the same place we started. My "theory" is the fish were schooled up tight to meet the onslaught of weather that greeted us Thursday afternoon. This turned into an ugly front that unleased torrents of rain and wind all Friday. I was surprised our last morning out that we finally saw some fish, big fish at that, starting to appear deeper in our bay system. We didn't land anything the last day, but I was happy to hear Wes McNew relay to me that they saw consistent fish popping up in singles and doubles for about 45 minutes before altogether disappearing for the rest of the day.
Billy was able to carry the group with number of fish caught and got 5 permit for the week. Wes decided to land all three of his fish the second day and his boat partner Brent Marcental also got one. David landed two total and Jerry added one to the final count.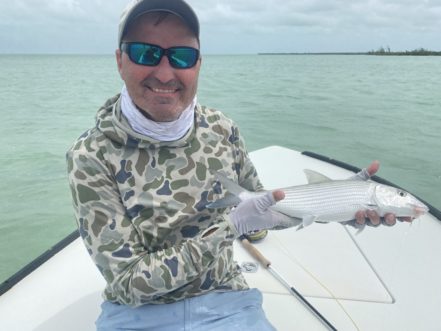 We collectively landed 12 permit for the week and we've landed 507 permit with 184 guests for the 2021 season.
Billy was also completed a super slam on Tuesday with guide Victor and David Phillips also got a super slam on Wednesday with the addition of a big Barracuda.
We found bonefish everywhere and guests were able to land as many as they wished to pursue.
I will note, a couple guests witnessed a remarkable phenomenon in red lagoon. There were hundreds of small puffer fish in shallow water, and it seemed they were spawning and made small circular nests I would associate with a panfish from my home waters of Michigan.
FLIES:
Smaller tan spawning shrimp were the ticket for permit and a couple ate the white crab tied with yellow eyes.
Our normal toads and EP Baitfish worked for snook and tarpon
Bonefish happily ate any small shrimp sizes #2-#8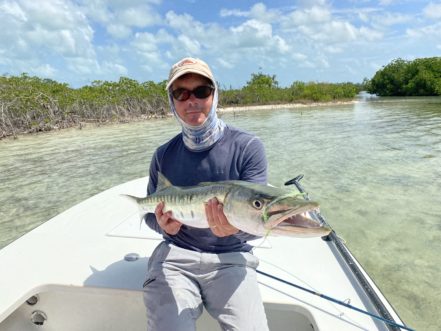 WEATHER/TIDES:
The week started out with decent sun and strong wind from the east. As the week progressed the lights went out and we were forced to fish with stronger winds through heavy rain and thunderstorms. Tide was high for much of the week, and it seemed to be coming in for much of the day. There really wasn't a significant fall and water was stacked and pushed hard along the southern and western end of the bay.
Carlos and the dream team cooked up more delicious food for us and the ground crew kept us up and running ensuring comfort for all the guests.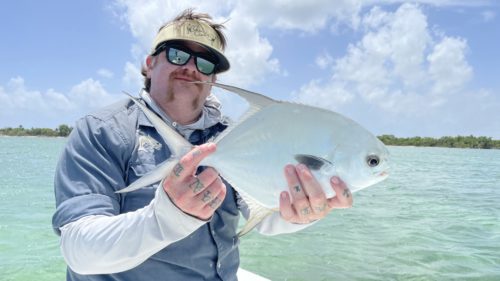 Our weather looks great for the start of this new week.  We're joined once again with familiar faces and a couple of newcomers that were able to take advantage of some last-minute cancellations.  I hope we find fish more spread out throughout the system and have a more balanced fishery the next 6 days. I have close friend Don Morris with us for the next couple weeks as well as permit guru Sebastian Jance for a few days. I have plans to possibly fish tomorrow and even Wednesday if I can escape daily tasks and chores around the lodge. Jon Wheat is also with us for his second trip of the year and he's brought along angler friend Jim Lyons.  We love Jon and he's really grown on us, a mountain of wisdom and experience in the outdoors.
Saludos desde el Caribe Mexicana
Dane & Chiara and the entire ESB crew