Fishing Report
September 20 – 27, 2020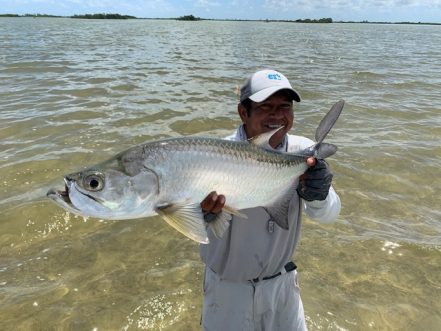 Another wonderful week has passed here at ESB Lodge. We were joined once again by returning guests and it's such a wonderful experience for us to share our special place with friends. It was a week filled with laughter, great food, and of course, some outstanding fishing.  Four out of the five guests had experienced ESB past seasons. Jon Wheat joined the group after waiting almost 2 years for availability. We welcomed Jon and he left this week becoming a close friend and a fellow ESB Lodge enthusiast.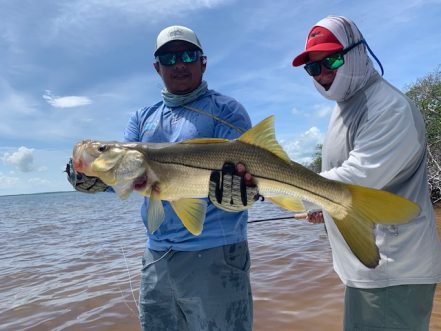 FISHING:
We had great fishing throughout the week. Excellent weather for majority of the week made for prime conditions on the water. Our tides were optimal, complimenting days with both a high in the morning and low in the afternoon. Mid-week we saw a reversal with tides which works well and maintains current that becomes the lifeline of our fishery. We chased and caught all our normal flats species and most days were spent devoted to targeting fish given specific conditions.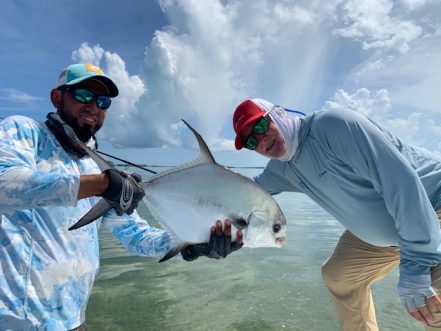 Our first day out was a success and guest Larry Jones aka "Lorenzo from Pacific Grove" had the best day of fishing he has ever experienced in the salt. He and guide Alex Martinez were able to land two grand slams. This is a remarkable accomplishment for the both and saludos! It has become an ongoing joke here about Monday mornings with guide Alex Martinez. This is the fourth week in a row he has helped anglers get slams on Monday. We love this trend and hope everyone gets to experience a Monday such as this. Lorenzo fished well the rest of the week and was able to land some smaller tarpon, a couple larger fish 50 – 60 lbs., as well as 9 permit for the week. It was fun catching up in the palapa bar after his fishing day and listening to his excitement. The joy was infectious. Lorenzo confidently informed me this was his best week he has ever experienced in the salt. This says a lot with an individual who has been flats fishing for more seasons than one needs to know. Newcomer Jon Wheat had similar experiences with a remarkable week. Jon caught a super slam with Alex and a grand slam with Victor.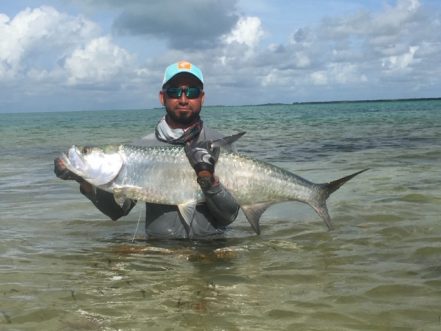 He landed an impressive 17 tarpon, 6 permit, and a couple snook. He also had a great day with guide Fernando landing 7 tarpon. We were happy to enjoy Jon's company and I sincerely look forward to seeing him again in the future. I joined close friend Don Morris last Tuesday for day on the boat. It's great to get out with guests when time allows, and I can be temporarily relieved of the daily duties of lodge life. We worked our "northern cut" for big tarpon and had some big fish periodically rolling around us. This can be tiresome, throwing heavy sink tips into the abyss and hoping to connect with a big fish. After more than an hour my line went tight and we witnessed a massive tarpon (well over 100lbs.) try to go airborne. Unfortunately, things were short lived and after a quick gill plate rattle, my sardine imitation was thrown. Later that day Don was able to connect on smaller tarpon and land his first snook. Don became a serious tarpon fisherman by the end of the week and worked hard connecting with fish. He hooked and jumped all sizes of tarpon throughout the week and finally landed his largest fish of the week approaching 50 lbs.  Don also added 1 permit landed to the group's weekly tally. Longtime friend Kurt Zumwalt alongside his friend Larry Born joined us for their 2nd trip to ESB Lodge. I have guided and fished with Kurt for almost 10 years now and its special to continue our friendship and love for chasing fish. These guys worked hard and had some spectacular sight fishing for bonefish the first couple days. On Wednesday along with guide Pepe they fished to big schools or permit that were mixed with bonefish and jacks along the northern shoreline toward the entrance to the bay.  It is encouraging to see permit of all sizes in this type of water and it usually translates to fresh schools of fish moving into the system. They landed two small permit. These were not your trophy permit but we were happy to land them. The next day Kurt and Larry joined guide Alex and had a memorable day chasing permit. The landed 6 permit for the day and truly were able to dub these as their first permit on the fly. It was fun listening to Kurt relate the story. They saw a single more than 200 feet away, feeding in shallow water. Alex set up Kurt for the shot and he delivered his crab perfectly and the rest was history. These are moments and days that will live with you forever. Kurt was also able to connect with a very large snook well over 10 lbs.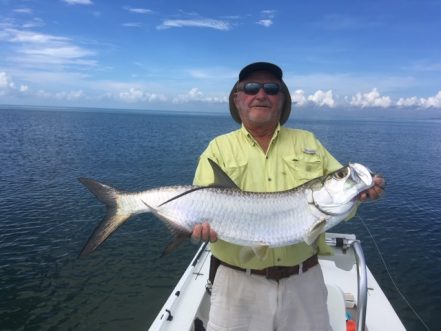 Our group total for the week with permit was 24 landed with 5 guests.  This brings our season totals to 181 permit with 68 guests
It is encouraging to see so many fish moving around in our system and we relate this entirely to good weather conditions. Huge schools of sardines and smaller bait keep the tarpon and snook moving around and make them aggressive. High tides makes our backcountry fishery around the river systems productive for all species. Outgoing tides or a strong falling tide, move fish closer to the river openings and around the outside on large flats. After seeing so many mixed schools of fish towards the northern entrance of the bay we opted to fish our northern permit bay called Ensenada. Beginning of the week Don and I poled around and didn't see much.  Middle to the end of the week the flat was teeming with permit and guide Pepe even found some schools of tarpon moving west, deeper into our fishery. We stuck around the northern shore and really didn't go much further west than our 4th river system for the week. It wasn't until Saturday a couple boats headed onto the flats located in the southwest part of the bay. We saw fish but held faith in the numbers we saw along the northern shoreline. I hope this trend continues and it should with the fall season. Bonefish were readily available when chased and I apologize for sounding like a broken record about these awesome fish. We have the best bonefishing in the entire Yucatan. This includes extending down throughout Belize as well. With zero pressure from fisherman and an undesirable table fare amongst locals these fish are strong, big, and aggressive. Their numbers had gone down 10 years ago being victims of "by – catch" from netting within the park boundaries. The last 5 years we have seen an unbelievable rebound with bonefish. Every season gets better and better. It is hard for guests to focus time on these fish with some many other "slam" options in our fishery. Do yourself a favor, buy a quality 7 weight rod and enjoy a day or two chasing these fish in shallow water in our river systems. I am confident we will land a bonefish close to the magical 10 Lb. mark in the near future.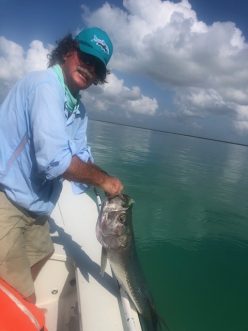 WEATHER & TIDES
Weather was mostly pleasant for the week with light winds mostly form the north and northeast.  We had some scattered rain showers show up in the system and were short lived. A couple mornings' guests woke to glass like conditions in front of the lodge and it gave our bay an "aquarium" feel. We had some impressive electric storms end of the week that fortunately stayed on the horizon but provided for quite a light show. Tides were incoming in the morning and falling in the afternoon in the beginning of the week. End of the week we saw a complete reversal in tides.
FLIES:
Our Casa Blanca Raghead (white with yellow eyes) Squimp, and spawning shrimp #4 tan all produced for the majority of our permit.
Bigger Tarpon that were chased ate sardine imitations tied on larger 3/0 hooks.
Resident tarpon and snook ate a variety of Toads, and EP style baitfish flies. Color schemes that are consistently working for us are: black/purple, white/chartreuse, white/grey, chartreuse, and Everglade (olive, white, and tan on one fly)
Bonefish were happy to eat any shrimp imitation sizes #2 – #8
Chef Carlos outdid himself again in the kitchen and our guests and crew were well fed with wonderful Mexican cuisine, accented with a Mayan touch. I was happy to hear Jon Wheat mention this was the best food he has had at any lodge he has fished at. Glad to hear such a great compliment and it is rewarding to have our kitchen deliver on the caliber they do. Our house staff did well keeping things orderly and clean with sanitation protocols we have in place at our lodge. I would like to also thank everyone that takes the time and respects our safety measures to ensure a healthy environment.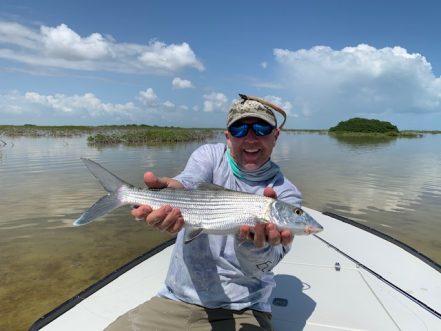 We're looking forward to this upcoming week.  We have four new anglers that arrived yesterday, and all are eager to get a chance to fish Espiritu Santo Bay. Don Morris is staying with us for a second week and has become ingrained in our ESB Lodge culture. It's fun to have guests stay consecutive weeks when the opportunity is available. We hope everyone is enjoying their fall season so far and are able to get outside in your local area. Give our friends at The Fly Shop a call to inquire about this special place or to get ready for your next fishing adventure. New seasons mean new destinations and The Fly Shop has got an impressive menu of angling destinations that will aid in enduring the winter months. Enjoy your week, and stay tuned for next week's report.
From your loving friends at ESB Lodge
Saludos desde el Caribe Mexicana
Dane & Chiara