Fishing Report
August 30 – September 06, 2020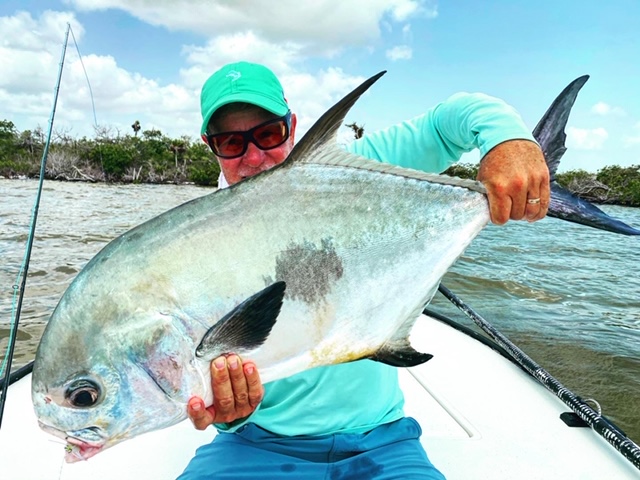 We are very excited to announce ESB Lodge has completed our first week of receiving guests since our closure last March due to the outbreak of Covid-19. There was a lot of uncertainty at that time and it's been a long 5 months trying to determine an unforeseeable future. Situations for us in Mexico have improved. We are educated, cautious, and have been granted permission to once again open our doors and host anglers to one of the most sought out saltwater destinations on the planet. We have implemented safety measures and have become confident that we will have a prosperous and successful remainder of the 2020 season. To say that I am excited writing this report is an understatement and once again we have laughter filling our palapa, anglers catching fish, and wonderful cuisine coming from our kitchen.
Leading the charge for the week was close friend Kevin Vincent who put together a group of friends to kick start our opening for the second half. Kevin has been here multiple times over the last couple years, adopted a local rescue dog, and we are excited to have him and his wife joining us again this upcoming October.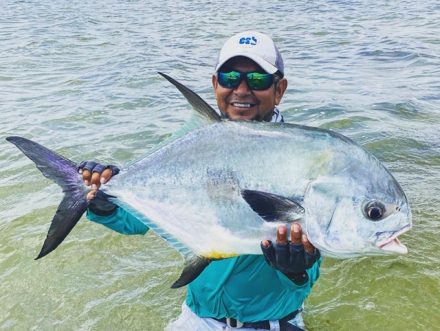 Fishing:
After closing last March our fishery has yet to see another fisherman. It was highly anticipated, and guests and guides were eager to see what the bay had in store. I was happy with the outcome and results. We had mixed weather conditions but there were definite moments where anglers were able to have good opportunities at all our targeted species. Our first day resulted with guest Clinton Bybee landing two permit, one of them a large fish around 20 lbs. a personal best for him. We saw good numbers of permit throughout the bay and a few good-sized schools located along the southern shoreline. We had high tide for much of the week and also saw pushes of bigger permit in our river systems along the northern shore when wind allowed us to access the backcountry. Guest John Boatwright had a week of fishing most saltwater anglers dream about. John is an avid saltwater fisherman chasing redfish and trout along the coast of Texas and had not yet made a trip to the Caribbean for fishing. He succeeded in catching all four of our targeted species for the first time. On Wednesday he headed out with guide Pepe and succeeded in landing a super slam which translated to him landing his first permit. The following day he and guide Alex completed a grand slam. For your first time fishing these waters this is a great accomplishment and we congratulated John with some needed celebratory drinks in the palapa each day! Returning guest Andre Feucht joined us this week and is also returning again in October. He had a personal best landing 4 permit for the week and jumped a handful tarpon as well landing nice fish at 50 lbs. Clinton Bybee had the most permit landed for the week with 6 and succeeded in landing a fish larger than the one his first day. This was a true trophy permit that was over 25 lbs. Kudos Clinton on catching your two personal best permit!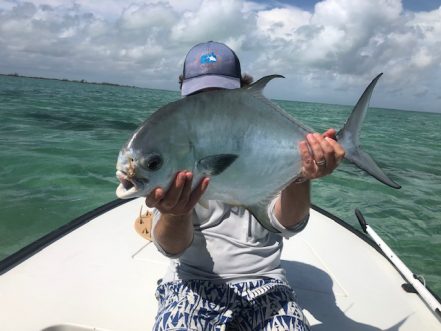 Kevin Vincent was successful in landing all the species throughout the week and added 4 permit to the total for the group. I was lucky enough to have Kevin invite me out last Wednesday with Fernando. I have been busy and working hard to get things open and graciously accepted the offer. We fished hard most of the day with tough conditions and settled on targeting big bonefish tailing in our first river system. In the last few minutes of the fishing day I was on the bow and we watched a couple groups of permit slide in and create some hair-raising pushes. Kevin was rightfully at turn on the bow to cast but he insisted I take the shots. It did not take much convincing and after a few casts I connected on a beautiful fish that went a little over 15 lbs. My debt to Kevin will seemingly slide itself into eternity…very much appreciated Kevin! Our total count for the week was 18 permit with 4 guests and myself.  This brings our total count for the season picking up where we left off last March with 108 permit and 53 guests. The tarpon and snook fishing was decent for the week but we had high tides with a weak fall. I believe this was due to a storm system that passed by us a few days before the week started. It will be fun to see when we get a truly low tide how the fish will respond having been unmolested for 5 months. Based on our experience in the bay we see tarpon and snook respond more quickly to angling pressure than bonefish and permit. Our tarpon and snook are resident fish and permit and bonefish are constantly moving with the tides in and out of the bay system.  Guests that opted to chase bonefish in shallow water were not disappointed and they chased and ate a wide assortment of flies.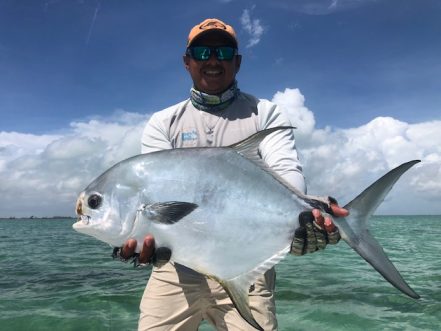 Flies:
Our usual assortment worked well for permit. #2 White Casa Blanca crabs with and without yellow eyes, #2 Tan Squimp, Spawning shrimp #2 and #4 colors both white and tan. It is HIGHLY advisable that you make sure you have these specific flies for permit on your next trip with us. The Fly Shop and ESBL have worked hard to make sure we have a good stock of these flies specifically catering to the permit in our system.
Tarpon and snook succumbed to variety of toads and EP style baitfish. Color combos that work well here are: black/purple, white/chartreuse, red/white, everglade combos, and white/grey. It is important to have a good mix of color patterns for these fish that are bright as well as some natural colors that imitate our local baitfish. Most sizes that we use are #2/0 tied on a quality hook.
Bonefish here are very opportunistic feeders and all manner of Gotchas, Squimps, Clousers, Christmas Charlies, will be productive. We had a couple large bonefish also eat our tarpon and snook flies tied off on 50 Lb.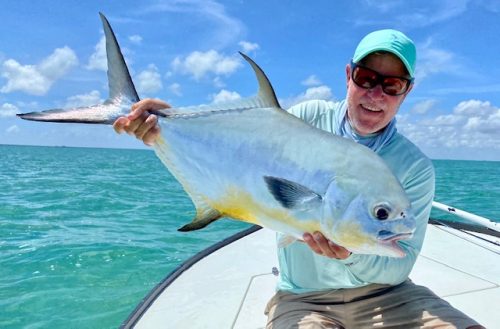 Weather and Tides:
We had every weather condition imaginable for the week and often saw small systems that brought rain and clouds at some point every day. I would say that half the week gave way to open skies and provided good light for locating fish. Wind direction was across the board and we started the week off with a southernly wind that changed mid-week and came from the north and northeast. Tides were mostly high, and we saw a weak fall.
We have a new chef in charge of ESB Lodge this second half of the season and we are looking forward to him working with us for many seasons to come. Chef Carlos worked as a sous chef for us beginning of 2020 and has added his variation with a Mayan influence to our menu.  Guests enjoyed excellent food from breakfast to dinner with tasty appetizers during our happy hour.
Our ground crew and house staff worked hard to provide clean and comfortable accommodations as well as following new protocols of sanitation to ensure a safe environment for everyone.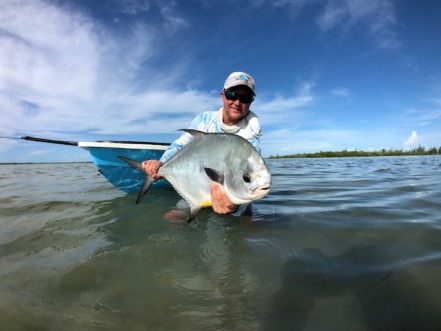 I am very proud of our entire staff, guides, pilots, and shuttle drivers at working hard to follow protocols that will aid in everyone to enjoy their highly anticipated fishing week. We have strategically implemented safety measures and traveling recommendations for everyone coming down to join us. I followed up with Kevin Vincent yesterday after his group departed and he mentioned that everyone felt comfortable and safe for their entire duration of the trip, traveling, flights, and shuttles, as well as simple protocols practiced at the lodge. Please look for additional info to be sent out with your travel literature before your upcoming trip. Everyone will see the new safety measures are nothing out of the ordinary and do not affect your normal routine of a fishing week.
This upcoming week we have longtime friend Captain Billy Trimble hosting a group. Billy has been bringing guests to ESB Lodge since we opened our doors in 2017 and it is an understatement to say we are glad to see him and his group makes the trip. Our weather looks good for much of the week and I am sure guests will have a fun filled trip with plenty of fish, great food, and shared  camaraderie in our open air palapa.
Check in with our friends at The Fly Shop® to inquire about your upcoming trip to ESB Lodge or if you are curious about joining us for a week.  We do have only a few slots open this fall and I suggest guests to inquire about those slots before they are taken.  ESB Lodge is in high demand and these slots will be gone quickly.
Esb Lodge availability as of September 08, 2020
October 04 – 11, 2020 (2 rods)
October 18 – 25, 2020 (3 rods)
October 25 – Nov 01, 2020 (2 rods)
November 1 – 8, 2020 (4 rods)
It feels good to be back and I hope everyone has a safe and fun week.  We are looking forward to the next few months and please stay tuned for next week's report.
From your loving friends at ESB Lodge,
Saludos desde el Caribe Mexicana
Dane & Chiara