Fishing Report
March 15 – 22, 2020
We have finished another week here at ESB Lodge. Unfortunately, this last week was cut short due to raised health advisories and predicted travel bans mandated by both United States and Mexico. We had the pleasure of having a wonderful week of guests hosted by our close friend Captain Ben Paschal. Ben is one of the most sought-after redfish guides on the Texas coast and books himself a year in advance for a shoulder season in the Louisiana marsh. We had fun with the group, were deeply saddened by the shortened week, and can't wait to see the same crew next year, same time, and same wonderful fishery.  Our fishery is adjusting smoothly to seasonal changes and we are settled in with typical spring conditions which offer optimal days on the water for guests.
FISHING:
As mentioned, our week was cut short and guests fished Monday through Thursday before an early departure back home stateside Friday morning. During the four days guests had, fishing was good, with favorable tides, decent visibility, and mixed winds. I appreciated the group's enthusiasm and their choice to chase fish that were optimal given conditions throughout the day. With an incoming tide in the morning and falling tide for the afternoon we were able to experience decent fishing for all our targeted species.  Permit numbers are staying strong and continuing to grow as water temps warm and weather patterns begin to experience a level of consistency. Our river systems on the northside saw good pushes of permit in the afternoon and we worked flats located in the southwest to northwest part of the bay. 6 out of our 7 guests were able to land permit in mixed sizes. Glyn Slay was able to land his first two permit this week and had multiple other shots. I was able to share the boat on two separate occasions, one with Ben and the last day with Mark Gaskamp.  It was fun fishing with both and I cherish my time on the water with both my guides and guests. Mark and I fished our last day along with guia Alex and spent time chasing permit in the morning, bonefish and snook midday, and finished on our permit flat Ensenada. We had yet to get a permit to the boat despite both having a few shots earlier that I thought was going to produce for us.  Mark finished the day with about 5 minutes left of fishing and hooked into a beautiful permit. Alex had spotted a small school of 4 permit hovered over a patch of turtle grass working over debris and food a stingray was kicking up. Alex spotted this out in less than favorable light conditions, against an afternoon glare at 150 feet. Mark hit a perfect cast to the school and was refused. A second cast delivery was rewarded by an eat and the rest was well played out by Mark. Looking back on this moment now I can't really think of a better way to finish due to a temporary closure of ESBL. The last fish landed for now by guests was a 15 lb. permit.Captain Ben also was able to land a grand slam along with Guia Alex.
Collectively the group of 7 landed 11 permit which brings current season totals to 49 guests with 91 permit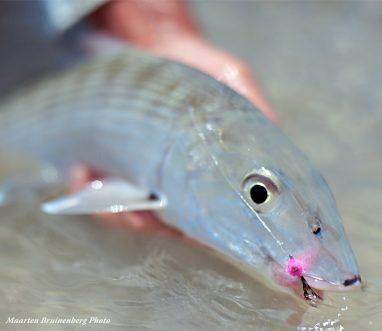 Our bonefishing remained strong with plenty of fish found tailing in shallow water and a few anglers enjoyed wading for both bonefish and permit. Our snook fishing remained consistent as long as light allowed us to visually locate them amongst heavy cover in the mangroves. Some tarpon were found and landed. A couple guides mentioned to me passing over moving tarpon as they were transporting guests to other flats. We have gained enough experience to understand that when we see these fish moving and making transitional movements it means our migratory fish are not far behind.
WEATHER AND TIDES:
Weather for the week was mostly pleasant and sunny with wind picking up significantly midday. Wind average for the week was 15 mph coming from the east. Tides were incoming in the morning and resulted in an early afternoon fall that continued to drop during the rest of the day.
FLIES:
Our top three permit flies continued to produce for guests, #2 tan Squimp, (and modified versions) #2 white raghead crab with and without yellow eyes, EP style spawning shrimp sizes #2 -#4 in color variations of tan and white. Tarpon and snook were landed on EP style baitfish, and chartreuse, blk/purple colored toads. Bonefish were easily landed on all manner of shrimp in sizes #4 – #8 tied with the appropriate weight to accommodate varied water depth.
Our house staff and kitchen did a wonderful job providing guests with delicious meals, and comfortable, clean accommodations.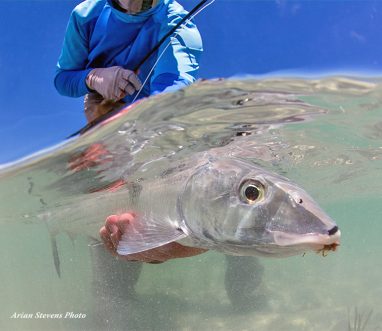 It is with a heavy heart to inform our guests that Esb Lodge will be temporarily closing for now due to the outbreak of COVID – 19. All of our readers and guests are aware of this globally impacted pandemic and its levels of severity and damage that this has created. We have in place temporarily, border closures, stern travel restrictions and various mandated laws to fight the spread of this horrific nightmare. Chiara and I have had to make some quick decisions and have placed the well being of our staff and guides as priority number one. Both Chiara and I have friends and family affected someway by COVID – 19 as I am sure most readers do as well.  Esb Lodge has decided that we will protect and ensure safety for all of its employees and despite closing down will continue the payroll of everyone. We try to lead by example amongst our community and it makes us proud to know that all of our employees are guaranteed safety, shelter, food, and provisions and any needed medical attention for the following weeks of closure. We sat everyone down last Friday and informed our crew what was happening and was to be expected. We executed a soft closure of the lodge and put things in order so in the aftermath of this storm we will re-open and be ready to provide memorable fishing weeks for our guests. I have sent most of our guides and staff home to put their personal lives in order, educate their families, take care of needed measures and prepare for upcoming weeks. We will regroup tentatively speaking in a weeks' time. It is hard to imagine a level of such uncertainty and unknown for my staff. We live and operate in a third world country where the tomorrows of this world are never guaranteed. I feel responsible along with Chiara to do everything we can and use all possible resources to reach out to local communities and provide any form of shelter, guidance, and aid for those in need. It is these communities that have graciously embraced, accepted, and help mold the operation you all know it as today.
This is not the end by any stretch of the imagination, and I will plan on providing readers and guests weekly updates about the "happenings" and events taking place in our special corner of the world.  Esb Lodge shares this journey with everyone and I deeply thank those who have reached out to us in concern. It is also your compassion, loyalty, and reserve that give us strength. When this pandemic has slowed and passed rest assured I and the Esb Lodge crew will be standing at the jungle airstrip waiting to resume what we do best, providing incredible experiences and being ambassadors to some of the best fishing on the planet.
Please be safe, stay educated, trust systems working tirelessly for you, and we will see everyone soon.
All my very best,
Dane, Chiara, and the entire crew of Esb Lodge