Fishing Report
November 07 -14, 2021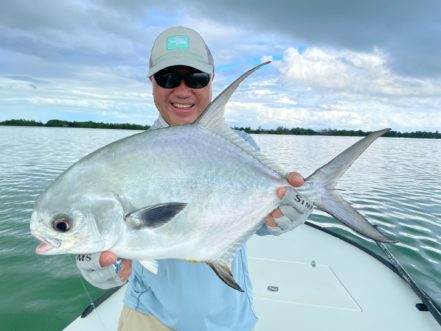 We had a pleasant mid-November week here at the lodge with some great weather and productive fishing.  Six guests joined us for the week and couple guests had to leave early due to previous commitments.   I was happy they had a chance to experience a fishery off the beaten path.  I was appreciative to enjoy a couple days filling their space running solo with the guides and enjoyed myself immensely with the given opportunities.  We had returning guest Austin Herzog who I have known for 7 years now and was scheduled for a week my first time visiting this area when the previous Paradise Lodge held the reins to fishing permits in Espiritu Santo.  It's always fun reflecting on that time when Austin and his father watched me take on a new fishery and meet my wife to be during those ten days.  It was a special time and a moment I'll never forget in more ways than one.  We also had the pleasure of having Ron Hagan join us again for the week.  Ron would be mad for me talking about age, but I have to say he's a young 88-year-old who's continued passion for permit fishing and desire to travel and enjoy wonderful places serves as a benchmark for all of us.  I have the deepest respect for Ron and am very proud to have him every year, more times than once, and will always look forward to his sweet, humorous demeanor that is etched from years of waving a fly rod.  A guest from my hometown of Traverse City made the long journey from the mitten to finally wet a fly after some years of wading through our waitlist, covid cancellations, and other unforeseen obstacles.  Dr. Kean Oh was pumped to say the least and I was also a little nervous for some reason.  I'm not sure if the desire for success for such a wonderful gentleman was haunting me, hometown hopes, or the fact he is a doctor for my dearly loved grandmother.  My grandma is one of the readers of these weekly ramblings and I hope she and Kean have a great laugh over the honorable mentions.  They are both special people.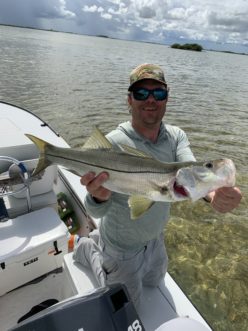 FISHING:
Weather was great, tides were ideal, and we had comfortable weather.  This snowballed into becoming productive on all fronts for our targeted species.  We had an outgoing tide starting in the morning which led to a continuing drop until midafternoon.  Tarpon and snook fishing was excellent with very solid numbers of snook showing up along the northern coast and sliding back northwest towards river systems one through three.  As the week progressed, we saw less snook further to the north as they worked themselves into the heart of our fishery.  I'm happy to have the chance to finally talk about a serious snook week.  Everyday all four boats had an ample number of shots.  The snook did all the things we love and hate them for.  One day they were very aggressive, smashing all manner of baitfish imitations, to staying tightlipped the next day and ignoring everything thrown at them.  When we hooked them on 60 plus mono, we had a serious fight on our hands with close combat chaos thrashing around and it was all some could do to prevent them from busting us in the mangroves.  One early afternoon I was able to fish Rio Locos with guide Alex and we saw roughly 20 snook cruising around a couple mangrove islands.  It seemed the snook that were out in the open were obviously much easier to cast to but in turn much more wary of their exposure and were less likely to hit.  The fish we saw on the mangrove's edge were easier to tease out and much more apt to chase and eat a fly.  Three boats had success fishing snook with different flies all in the same day.  I really am not sure why that is other than perhaps specific bait and the flies that were chosen to represent the various sardines and snappers.  I had success on white, Dr Oh failed to impress with white and went with a productive chartreuse/white, and Austin Herzog failed with both color combos and did well with Black and purple.  Who knows, but it's fun and keeps you on your toes as an angler.  I have said this before and strongly encourage if the anglers can afford to rig two of the 6 allowed rods on the boats towards snook and tarpon you will have a quicker changeover of patterns.  We had some newcomers to flyfishing for the week having never fly fished outside of casting lessons let alone a week in the salt.  This is tough and sight fishing in the salt as you all know is demanding, unforgiving, and excruciatingly difficult at times.  Anglers John Montakab, Jeff Kunitz, and Paul Kudirka, all warmed themselves up casting for bonefish and learning the ropes.  By the end of the week, they were all able to land a snook and added a tarpon to their newfound passion.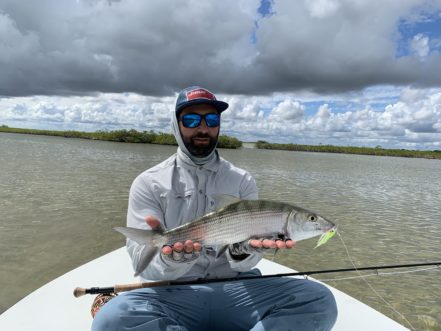 Tarpon were around in good numbers in river one and hanging out by some mangrove islands deep in river two.  River one seemed to be holding the biggest numbers of fish and we have one particular island that for some unknown reason always holds tarpon.  Dr. Oh was able to land his first tarpon there, a fish that went 25 pounds (largest fish for the doc on fly) and wrapped that up with a grand slam under the guidance of Fernando.  Austin Herzog had an incredible day with guide Alex and landed a super slam with the addition of many other species such as snappers, ladyfish, and cudas.  I would appropriately dub this as the National Geographic Slam and top it off with the escort of a couple manatees coming out of Red lagoon.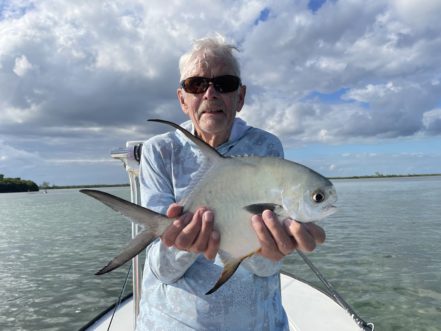 The island that holds an incredible population of tarpon in first river has been bugging me for some years now and when I was with Fernando he expressed the same puzzlement.  We see tarpon in the same spot all year, every year, and it's a staple haunt for smaller silver kings.  I do not understand why the other islands that are 30 yards away don't share the same healthy population of tarpon.  Actually, one island we've never found a tarpon, me with 7 years of fishing and more importantly Fernando's 18 years of guiding the bay.  We both concluded there must be a cenote in the middle of the island providing access and movement from the underworld to the ocean and keeping a nice rhythm of fish around.  I landed a tarpon and then Fernando asked if I want to explore the little island and look for a cenote.  This wasn't about fishing as much as just plain curiosity and burning unanswered questions.  I tentatively gave the ok and I played back "exploratory" missions Fernando and I have embarked on over the years.  We always seem to find trouble and find ways of laughing about it later.  I joined the local rookery of Ibis, spoonbills, herons, and a very angry osprey as we climbed across the low-level mangrove canopy searching for a source of the always present tarpon.  We never found the cenote and after a couple falls in the mangrove limbs I felt I had enough with the mission and became content with facing an unanswered question.  What we did see was fascinating.  The further we climbed into the island the more tarpon we saw and we found hundreds of tarpon that were 10 -15 inches all bunched up and rolling with an impressive number of small colorful baitfish.  We also saw many tiny snook the smallest being less than 10 inches.  I've never seen such small tarpon and snook and am fully aware the obvious notion it's not magic to find them this small.  It was very interesting to say the least and fun watching such a small system harbor a haven for juvenile fish.  They clearly were tucked back and the water was to shallow for larger predatory to harass them providing safety until they reached a size to manage and confront their surroundings in open water.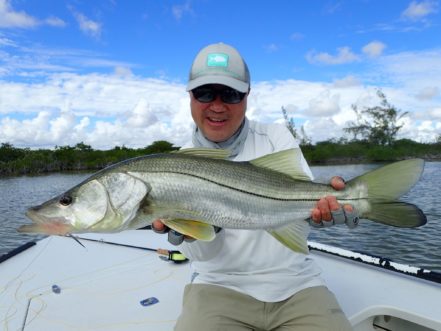 Permit were around but not in big numbers.  We saw a couple nice sized schools outside of Ensenada, the tarpon cut held transitional fishing with tidal movement, and guide Alex harassed a school with Ron outside of Red Lagoon.  River one held the usual small schools at low tide, and we saw an occasional bruiser in the third river.  I chose to pole with Alex deep in the southwestern corner along a protected shoreline to look for permit.  Three hours into looking we came up with nothing more than the odd needlefish.  Permit leave small depressions of "marks" where they feed in soft bottoms while they forage for food.  We never saw a light-colored fresh mark and concluded the water temps were way to cold for permit.  It's weird to think the bay has so many different dynamics with water temps and only a few miles east a couple degrees makes a big difference.  Ron Hagan had great day chasing permit with Alex and succeeded in land five from a school from the north side.  He had some shots the rest of the week but the fish were skittish and tough to approach with the boat.  Dr. Oh as mentioned above got a grand slam his first day out with Fernando and succeeded in landing another slam with Fernando his second day out with him.  Dr. Oh landed his largest permit to date, a little over 12 pounds and also had personal best for numbers of permit caught in a week totaling 4.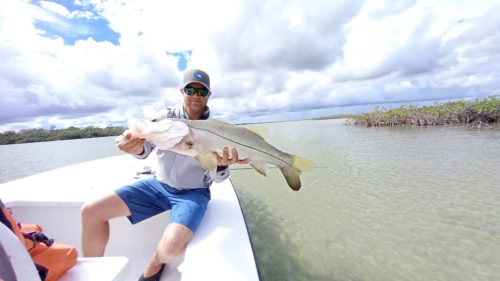 The group collectively landed 10 permit for the week and we have our season totals sitting at 784 landed permit with 238 guests.
There are thousands of bonefish in river systems one and two right now and they are flooding back beautifully with the rise and fall of tides.  We all had great moments of chasing bonefish.  I chose to throw to tailing bonefish for a couple hours with Fernando after a successful morning of chasing snook.  I love this style of fishing and it reminds me of delicately throwing dry flies to rising trout in western rivers or my home waters of Michigan.  The guides push me to the limit of calling shots at 80 feet to the feeding singles and I go down to 10-pound tippet with a leader of almost 11 feet.  Non weighted shrimp land lightly when I hit the mark and I love the challenge of the cast, presentation, and the little V wake of a 4-pound bone coming to inhale the fly.  If you know me, you'll know I'll constantly suggest to fellow anglers the necessity to chase these shallow water fish and it provides such a few fun hours out of your week.
FLIES:
White Crabs with yellow eyes landed 9 out of 10 permit for the week and a spawning shrimp picked off number 10.
A wide variety of baitfish flies worked for snook and tarpon.  There wasn't really a standout pattern as it seemed to change daily but EP style imitations and Dave Merritt's snook fly were all productive at some point during the week.  Color schemes that were productive were Tan, White, Grey/White, Black/Purple, White/Red, Yellow/White, and Chartreuse/white.  I might add the color combos that had a little white in them had a slight edge of productivity.
Bonefish ate the usual smattering of shrimp flies and the shallower the water saw the demand for lighter flies.  The guests and myself also fed a couple enthusiastic fish on our snook flies as they passed by sharing the same shorelines.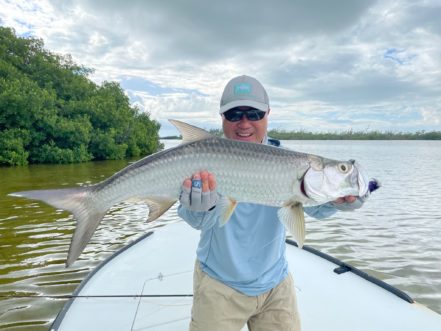 WEATHER/TIDES:
Our weather was mostly pleasant with light winds from the north and partly sunny skies.  Tides were going out in the am and starting to rise roughly at 3 PM at the mouth of the bay.
The kitchen did their usual with cooking up delicious meals and Chef Carlos did a great job utilizing a surplus of fresh fish sourced from our local lobster village.  We finished the week with an impressive lobster dinner and finished with a mouth-watering lava cake topped with homemade coconut ice cream. Emmanuel and the grounds crew kept us comfortable with a smoothly running operation and a distinct attention to detail.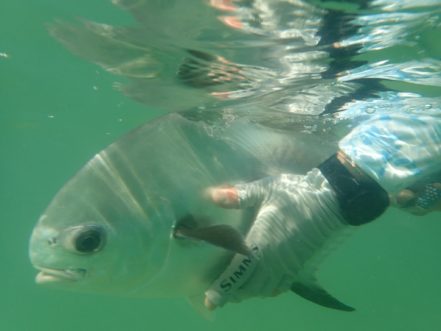 We've got quite the line up this week with returning guests. Most of these guys have been here an average of at least 7 times a piece and it's fun to have so many returning friends.  Unfortunately, we're covered up with rain for the moment and we're all a little soggy for the first half of the new week.  I have faith in our guests and know their knowledge of the bay and experience in the salt will still make for a productive week of fishing.
If you might be interested in this wonderful place, please don't hesitate to call our dear friends at The Fly Shop to get the latest intel or inquire about reserving a week here.  Spots are hard to come by and make sure to regularly check in.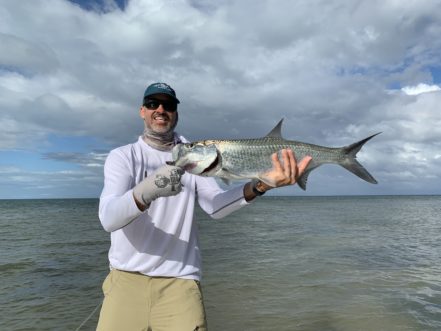 I hope everyone has a safe and fun week with whatever activities you might find yourself enjoying.  November is a great month, and the stillness of leafless trees provide a gateway to a new season.  Please get outside when you can and of course stay tuned for the next report!
Saludos desde el Caribe Mexicana
Dane & Chiara and the entire ESB crew