Fishing Report
June 13 – 20, 2021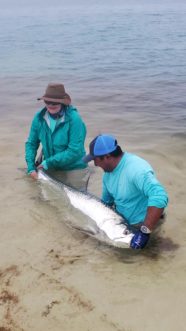 While the weather was certainly a challenge, we have managed to enjoy another full week with six anglers here at Espiritu Santo Bay Lodge. We were still able to endure some substantial storms and land a few great fish, including a massive migratory tarpon. We had a mixed crew of repeat guests, including longtime friends David and Janet Dill, as well as anglers new to this superb operation. Even with one full day lost to inclement weather, anglers remained optimistic and carried through the week with positive attitudes. The kitchen and house staff worked extra hard to ensure delicious meals were ready to enjoy after a long day of dealing with wind and rain on the boats.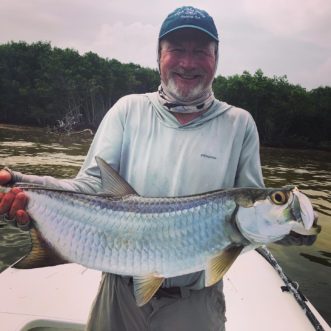 FISHING
After a bit of a bouncy flight to the airstrip, guests found themselves driving through the remote jungle road in pouring rain and giant pools of water. This system continued to dump rain through the night as the ground soaked up more water than we have seen in the last three months combined.  There are some benefits to take advantage of if you're out on the boat and these strong storms come through the bay.  Often times we will see the wind lay down to a minimal breeze for an hour or so after a big squall rips through the system. Mid-day on Monday all four boats took advantage of this scenario and headed out to the main entrance of the bay to search for rolling tarpon. We have had a few encounters with these fish in previous weeks, but the water has always been choppy and rough, making it difficult to spot them even if they are rolling. Kent Hoffman was ready to give these fish a shot if the opportunity presented itself; geared up with a stiff 11 weight and an intermediate sinking line. He managed to feed three fish that first day, but all of them eventually threw the hook. Kent was able to revisit this location later in the week and jumped a few others. While he wasn't able to keep any of the big boys pinned, Kent finished the week with 5 or 6 smaller residential tarpon landed.  Longtime friends of ESB Lodge, David and Janet Dill, found themselves casting to rolling tarpon on Monday when the bay slicked out after a storm busted through.  After making a long blind cast and retrieving the fly all the way to the boat, Janet was rearing up to make another cast as a big fish annihilated her fly only a few feet off the bow. Kent Hoffman was in a separate boat close enough to see the tarpon swirl and break the surface right at Janet's rod tip. After the initial jumps the fish took off and everyone quickly came to the realization that Janet was in it for the long haul with a triple digit tarpon. The relentless game of tug-of-war ensued and Janet went to battle as the other boats watched and at times even had to participate by ducking under her fly line. Close to two hours later the fish was landed and released strongly after a quick photo was taken. David Dill then took the bow and proceeded to jump another 3 of the big migratory tarpon. Everyone couldn't have been more pumped for Janet, as this was certainly her largest tarpon, as well as the biggest landed at the lodge this season.   John Telfer returned for his second trip to the lodge last week, and while he didn't have any luck with the big fish, he landed some nice sized residential tarpon throughout the week. While we still caught a few other species, I would say the tarpon fishing was most definitely the highlight.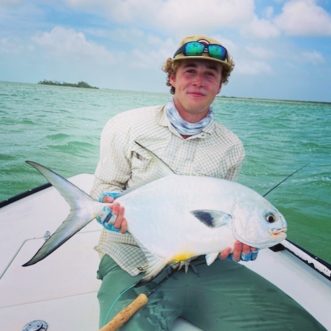 Seventeen year old Charles Birdwell and his father Brian joined us for the first time last week with high hopes of permit, tarpon and bonefish. While Charles is very experienced with redfish on the Texas coast, this was his first time chasing the tropical species that the famed Espiritu Santo Bay holds. After catching a bunch of bonefish and becoming familiar with the differences in this type of fishing, Charles set out on Thursday with guide Victor on the hunt for permit. They found a nice 12 or so pound solitary fish tailing in shallow water. With a solid cast and nice placement, the fish tailed down and inhaled the crab quickly after it landed. Once Victor realized Charles was using only an eight weight, they fired up the motor and chased the fish down. Congrats to Charles on his first permit on the fly! The action didn't stop there as they quickly changed gears and went on the hunt for a tarpon to complete the grand slam. A quick boat ride later and Charles was snapping a photo of his first ever tarpon to complete the slam. With weather conditions being very difficult, we only had a few other shots at permit. Janet Dill landed a nice fish the final day, and it is very important to mention that David's personally tied flies were responsible for both of Janet's tarpon and permit.
The group collectively landed 2 permit this week, bringing our season total to 356 permit with 132 guests.  
WEATHER
As noted above, this was a very difficult weather week. I would say we probably received around 8 inches of rain total, with the majority of this on Thursday morning. With the captain of the port closing the bay down to any vessel under 40 feet, guests found themselves reading books, enjoying each other's company, and breaking into the beer cooler much earlier than a normal day. The rain stopped on Friday and guests even enjoyed a bit of sun and good visibly their final two days.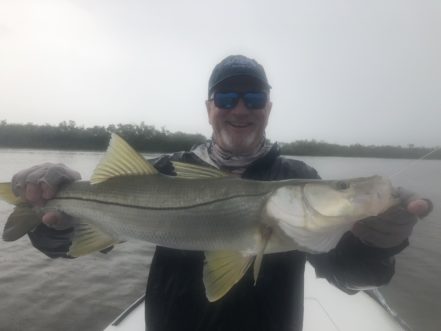 FLIES
A large, mostly black baitfish pattern was responsible for the big tarpon that were jumped and caught. Straight black or black/purple worked well during the overcast days for juvenile tarpon. A chartreuse/white baitfish pattern was the best color for the handful of snook that were landed. Both permit fell victim to a white body crab with yellow eyes, size #2. Bonefish readily ate most shrimp patterns in sizes #4 – #8. A few were even landed on tarpon flies in size #2/0.
STAFF
Carlos and the kitchen staff worked tirelessly to guarantee the guests were well fed with tasty Mexican dishes and decadent deserts. Emmanuel and the house staff made sure everything in the rooms was in proper order, and any requests were met to ensure an enjoyable and comfortable stay.  I can't thank the guests last week enough with their patience and positive attitudes they brought to the table.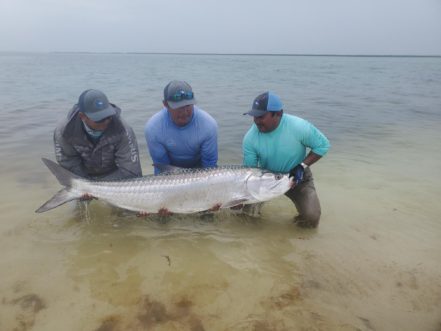 We only have two more weeks of guests left before we close down for a bit and prepare for the second half of the 2021 season. The majority of the group this upcoming week will be returning to ESB Lodge for either their second, third, or fourth trip. We always enjoy looking forward to weeks where there are familiar faces at the dinner table. A few of the guests will be first timers, and we equally enjoy sharing this operation with new, and hopefully return anglers.  The weather is looking much better than last week, with some sun and no rain in the forecast.
Please stop in or drop a line to our friends at The Fly Shop® if you would like to enquire about spending a week at this world-class fly fishing operation. They are always ready to share the most up to date information regarding Espiritu Santo Bay Lodge; as well as dozens of other destinations around the globe. I hope everyone manages to stay cool with high temperatures and even gets the chance to get some fishing in. Stay tuned for next weeks report!
From a special corner in the Yucatan,
Saludos desde el Caribe Mexicano,
Sam and the entire staff of ESB Lodge