Fishing Report
January 31 – February 07, 2021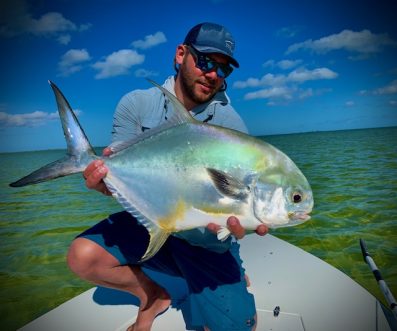 We are excited to announce our reopening for 2021 and the new season is underway here at ESB Lodge. We completed our first week and were joined by some familiar faces and newcomers as well. It's great to see everything up and running and the normal bustle of lodge life resuming with traces of normality. We're enjoying ourselves, staying safe, and checking all the boxes as to why ESB Lodge is a favorite destination for many of our anglers. Chiara and I are both struggling with the realization we are beginning our 5th season. The mantra of "time flies" has settled amongst us and I have no choice but to embrace this reality.
FISHING:
Everyone knows the common denominator for fishing success revolves heavily around weather.  Last week we had sunny skies, light winds, and cooler temps. It was cold….. really cold for this part of the world. The Yucatan experienced a cold front that came off the coast Texas and hung around with us for much of the week. I consider myself educated in the way of cold, being from northern Michigan and residing in Colorado. My morning wakeup call at 4:45 from my three dogs anxiously wanting to inspect the property to sniff out various night visitors required me to wear a Patagonia puffy jacket. This jacket helps me commute from the states in the winter to Mexico and usually stays stashed away for the duration of my time on the beach. I am glad I had it and I can't recall the last time I needed to seek warmth here. Cold air temps and light winds gave way to very cold water temps which led to some sluggish fish. Each day all the boats saw fish but also noticed sometimes fish weren't quite as eager to move quickly or some of our flats were void of fish with very low tides. One of our managers Sam Gigliotti joined us for the week and I was able to fish Tuesday and Wednesday with him. I was bundled up for the commute to the fishing grounds. We fished some mangrove islands deep inside the first river system for tarpon and we saw plenty of fish, perhaps 40 or so total in a couple hours. They were circling the islands slowly and we could only get one to eat a fly. After 5 or six 6 fly changes with nothing standing out we realized the fish were affected by the cooler water. We left the tarpon and went to hunt permit in the southeast corner of the bay. 2 ½ hours later we had seen nothing except the odd smaller barracuda.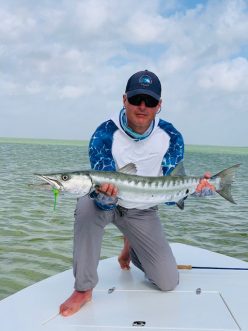 After lunch we headed back to the first river and decided to fish the system where it enters the main part of the bay. Surprisingly we saw school after school of nice size bonefish and we each happily lost count of landed fish. Bonefish were the hero's for the week for many of our guests and I was glad to see so many throughout the system. Permit were hard to find in any numbers, although a couple shots were made each day. As the week progressed we saw a slight wind shift coming from the southeast and some stronger winds.  This changed the chemistry of the fishery and the guides mentioned they were starting to significantly see more fish and some of the tarpon and snook seemed to become a little more active. We had concentrated on the north side with river systems 1 and 2 the first couple days.  River systems 3 to 5 were to low, held fresh water, and the cooler temps. By midweek it seemed that these river systems started to come alive with influx of more saltwater and a much needed tide change. Guests Troy Brazzoni and Jeff Lowe had a fun day chasing tarpon in the fourth river where there seemed to be steady stream of fish for few hours along the west side of the river system. Interestingly enough we immediately revisited the same flat the next day and it was simply void of life. Father and son duo Dave and Conner O'Leary joined us for their first trip to ESB Lodge and were ecstatic to land countless bones some tarpon and a snook for the trip.  Our dear friend Ed Church returned for his second trip to the lodge and his first day out he hooked a nice permit that fell victim to a very large barracuda. Ed was content chasing bones, viewing wildlife, and was excited to land his first tarpon and snook with guide Alex. I invited our manager Sam to come and check out the lodge to start the season and go over some adjustments we have made for the 2021 season so far and to be with our guides and house staff. He will relieve myself starting in April and will oversee the operation through June this year. We missed Sam last season due to Covid closures in March. Sam had his best week saltwater fishing yet.  He carried the group for landed permit and tallied up five. I was with him for the first one, a small fish out of a school at the boca of First River. Friday he went out with Alex and they landed a couple nice permit on a flat in the southeast part of the bay. Sam chose to have a rod ready for barracuda and was able to break up bow time chasing permit with throwing poppers to these apex predators. He was able to land a couple that didn't hesitate to move on the fly. Alex spotted what they thought were two barracuda laid up and after getting into casting range they realized they were enormous snook. With no time to change gear, Sam chucked the popper which is easily the size of a canary, tied of on 40 lb. knotable wire.  The "smaller" snook came unglued and just smashed the offering in a foot of water.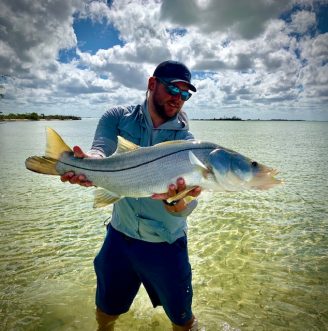 This is not our normal tactic for chasing snook and so much for our theory of a tactical approach. I guess when you're hungry, you're hungry. To say I was a little jealous of Sam makes me feel guilty, but I was! Sam returned the next day moving a little deeper in the southeast corner with Fernando and they found more permit tailing in shallow water. He landed his first by 8:50 and proceeded to land another three.
This brings our numbers of permit for the 2021 season to 5 landed with 6 guests total.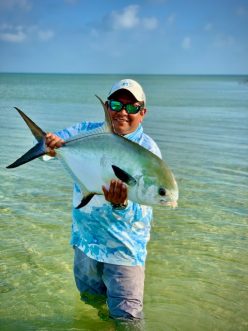 WEATHER:
Weather for the week was cool and sunny with winds from the north and changed to much warmer temps and a wind direction from the southeast. We had low tides in the am with an incoming tide late in the afternoon. Friday and Saturday we saw a tide change correlating with the change of wind direction. We were greeted with a high tide in the morning.
FLIES:
Permit landed were on our Pato's white crab which is essentially a casa balance raghead with yellow eyes on a #2 hook.
Tarpon and snook were landed on the usual assortment of toads, EP bait fish, and gamechangers.  Color schemes were black and red, solid black, black and purple, white and red, and chartreuse.  For good measure a snook were also landed on 6-inch articulated popper with a 3/0 hook…
Our Bonefish per usual, ate every fly we threw at them and any shrimp pattern size #2 to #8 was rewarded with an eat.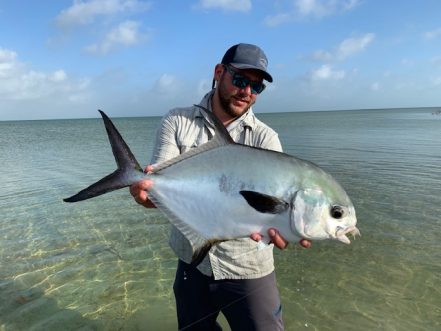 Chef Carlos is back with us again for another season. He and our new sous chef Luis cooked up an array of delicious meals for guests. I usually take the first week and try all the dishes we've been working on to give it a "test" run. Unfortunately, this will be short-lived and I must succumb to an abbreviated menu for the preservation of my waistline in the weeks ahead. Our menu is better than ever with a lot of dishes returning guests will remember with the addition to some new desserts, a couple adjustments to our lunches, and incredible dinners.
We've got a group of returning guests this week, all of which have fished with us in past seasons. I really enjoy this friendly group and most of them hail from Holland Michigan which I have a very close connection with family and the hometown of my parents.  The group is a little apprehensive about some strong winds in the forecast for the week but I think fish numbers will significantly improve with a consistent warm breeze to bring more fish into our system. The positivity and enthusiasm the group portrays is infectious and will translate to another memorable week.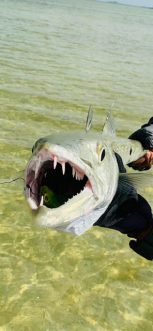 As most of our readers and guests know ESB Lodge is now using a Rapid Antigen Test on Friday afternoons to aid in required health screening and documentation for a return to the US.  Our first week of testing went without at hitch and I'm happy to see we are able to execute this flawlessly.
For guests that are planning on joining us for the 2021 season please see updated travel info, double check your gear and make sure you're prepared. Any questions or concerns shoot a call over to our friends at The Fly Shop® where they are standing by to assist and will aid you in your preparations traveling to ESB Lodge.
We hope everyone has a safe week and gets a chance to get outside and enjoy winter activities offered in your area.  Take care and stay tuned for next week's report.
From your Yucatan friends,
Saludos desde el Caribe Mexicana
Dane & Chiara & the ESB Lodge Team