Fishing Report
August 28 – September 04, 2022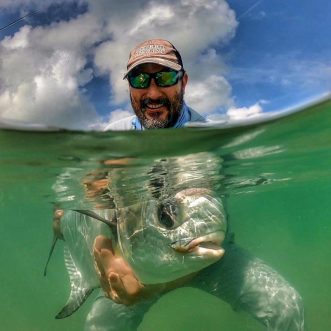 We've enjoyed another great week here at ESB as we chipped away the last few days of August and welcome the upcoming seasonal changes September prepares us for.  I feel as time slips by it has increased its pace and carries a necessity to dig your heels into slowing things down and cherishing every moment.  The 2022 season has flown by for me and it's eerie to think yesterday felt like the new year.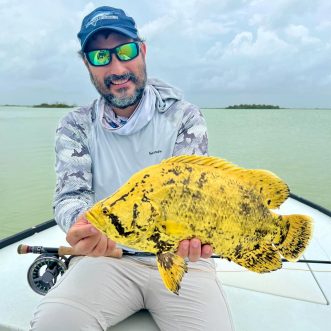 Last week Chiara and I exchanged batons with our managers, and we are now settling in to enjoy the rest of the season at ESB.  Our dear friend Martin Gonzalez blasted off yesterday with outgoing guests to start his journey as head guide at Xingu – a new Amazonian operation.  He starts Tuesday with guests and will ply the waters in search Giant Payara aka Vampire Fish.  Martin joined us in March and quickly embraced the ESB culture as manager, stepping up and by far exceeding what was asked of him.  I cannot thank him enough for his commitment, courage, and willingness to keep the intensity and high-speed tempo this operation demands.  He embraced us and added his own style.  We thoroughly look forward to his speedy return next season and with pride I place as him a predominate face here in the future and guests will enjoy having him again.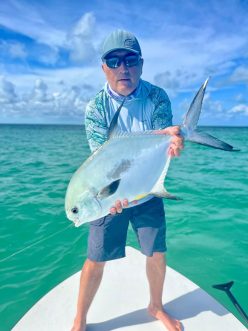 Isabel Bulos took a massive risk selling her business in Mahahaul end of last season to commit herself to ESB and ran full tilt with organizing logistics, wading bureaucratic difficulties, and dealing with some crazy lodge owners.  Having a strong will and a backbone made of iron is crucial as a woman in this jungle culture and it's no easy feat by any stretch of the imagination.  I sincerely salute her and carry an unwavering amount of admiration and respect towards one of the most important positions of the operation.  She will not be full time here on the property in the coming months but has become a year-round employee for us running additional projects, never-ending last-minute runs, and anything that is asked of her.  When Chiara and I step away next season for managers she will once again be present on site and will continue to grace us with her style and demeanor.  She also is the front runner of an incredible group dedicated to conservation called Menos es Plastico Fantastico.  She works with receiving grants, promotions from various global companies, and their war cry demands the need to conserve, protect, and keep our rapidly changing Yucatan coastline pristine.  ESB has a forged a solid partnership and will be working with this group for years to come.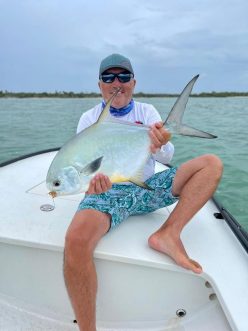 Enough with my obituary style rambling…… Let's talk fishing!
Last week we hosted a fun group of Argentines, a Columbian, and one lonely gringo.  All of these guys are close friends with one another, serious permit hounds, and are led by front man Carlos Cortez.  The week began with decent weather which in turn became progressively more difficult the last couple days.  The whole group was mainly dedicated to catching permit.  Some days led to only a couple shots and the permit became increasingly difficult due to poor visibility and tough conditions.  Nico and Hernan had a stellar day with guide Victor the beginning of the week where a pocket of protection in Ensenada gave a rare opportunity to find a school of permit feeding on the surface.  Forget the heavy dumbbell eyes and fast sinking shrimp, you feel like you're casting a foam hopper to the bank somewhere in Montana.  The two landed 4 permit on a variation of a gurgler, a high floating foam popper of sorts.  Add that to your list of possible permit flies.  It might collect more dust in the box than the other go to patterns we use but when the opportunity arises its life changing to say the least.  Our other permit were caught mainly as singles with the need to cast quickly, accurately, with steady retrieves using crabs.  It's mentally draining standing on the bow staring into dark water for hours only to be rewarded by a chance or two.  The need for complete focus and dedication is demanded to jump at the moment.  Perhaps a healthy dash of insanity in my opinion adds to the recipe as well.  Along with Ensenada, we focused on sporadic schools outside 2nd river, some larger fish tailing in the boca of Rio 3, and returning to fish around the rocky entrance of red lagoon and the north side of Red lagoon.  Patricio tallied 2 well earned fish with Pepe the first day and the second with Victor on Friday with very tough conditions.  Carlos Cortez enjoyed 2 permit with Fernando and his boatmate Kevin McDevitt landed a big fish the last day also with Fernando.  Lizardo fished single for the week and got one the last day and also landed his first tripletail. The tripletail here are much more vibrant in color in this neck of the woods and one the coolest fish to see.  Their mannerisms can be comic and when we occasionally find them, they almost always eat after a little prompting.  In the world of table fare the triple is a high-ranking delicacy.  C&R took great effort after that catch.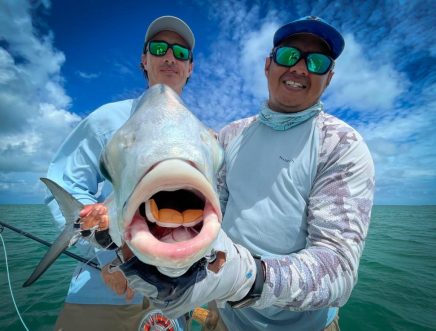 The group of 6 tallied out at 10 permit for the week and I congratulate their efforts.  Our season numbers stand at an impressive 403 permit with 178 guests.
The short window given to our other species was rewarded with some large snook caught by Nico and Hernan with guide Alex stalking that lateral black stripe back in river two.  Some bonefish were landed whenever they were desired off the north shore further tucked away from permit flats.  Inside river 4 we have a couple feeder streams that are holding small tarpon and Lizardo played with them an afternoon and was able to jump a few and land one.  Hernan picked one off on his snook day with Alex back in river 2 at low tide.  Nico also decided to harass barracuda's and landed a couple.  I will save everyone my rant about the importance of chasing these apex predators.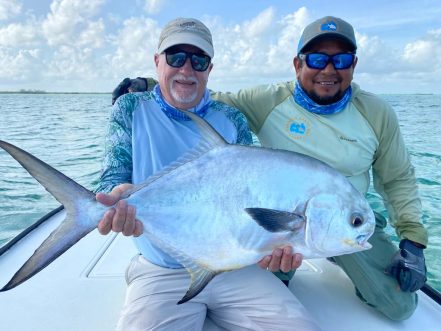 FLIES:
Permit for the week were landed on yellow and white gurglers, smaller Raghead style crabs #4 in both tan and white.  We also used a variation of a Squimp that was quickly stripped through a school of smaller permit.
Snook were landed on a white EP peanut butter with a 2/0 for hook size.
Tarpon were landed on black and red toads and a black and purple toad, both on a 1/0 hook.
The few bonefish that were landed quickly ate any decently presented shrimp pattern tied by Nico's son!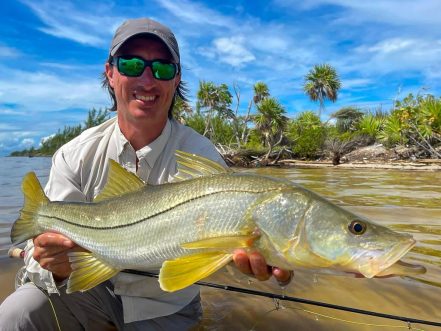 WEATHER/TIDES:
Weather for the week started out with partly cloudy most of the day and as the it fishing days continued guests had strong winds from the east with heavy clouds and scattered rain showers.
Our kitchen and grounds crew did an exceptional job whipping up a week of delicious cuisine and keeping things running in top shape for our guests.
As I'm pounding this report out on my laptop the sun is out, light northeast winds at 5 mph, with an air temp hovering in the low 80's.  A recipe for an incredible day on the water enjoyed by this week's guests.  We have Captain Billy Trimble here with us again.  A dear old friend of ESB that totes along with him some familiar faces that we have had the upmost pleasure hosting.  I've lost track of the number of weeks Billy has been here and it's hard for me to think about this place without him coming to mind.  We love Billy like family and will forever look forward to his returns.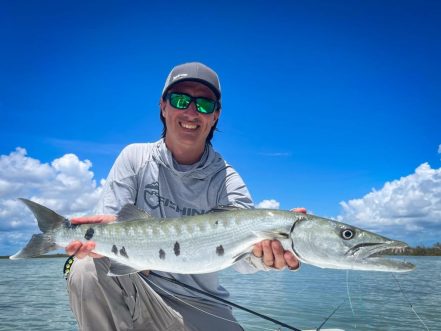 Speaking of family, check in with our crew over at The Fly Shop.  Their up-to-date intel and desire to share fishing locations around the world will give you access to limitless possibilities.  I also sincerely thank them for their dedication to helping to create ESB what it is today.
Enjoy your Labor Day wherever you may find yourself.  Get outside and engage yourself with whatever natural wonders are in your backyard.  Never forget to practice conservation and hold yourself responsible.  Take care, and of course check back with the next ESB fishing report!
Saludos desde el Caribe Mexicano,
Dane & Chiara