Fishing Report
April 11 – 18, 2021
Another full week of fishing, stories and laughter was enjoyed here at ESB Lodge. We were excited for the return of host Mike Thompson and a full crew of eight anglers. Dane has officially left the salt inundated air of the southern Yucatan, and is inevitably planning out his approach to catch a trout out of a river as soon as possible. I, Sam Gigliotti, have returned for another round of managing this incredible operation while Dane and China take some much needed time off. I am honored to be able to work at this unbelievable lodge that Dane and Chiara have built in this remote region of the Southern Yucatan.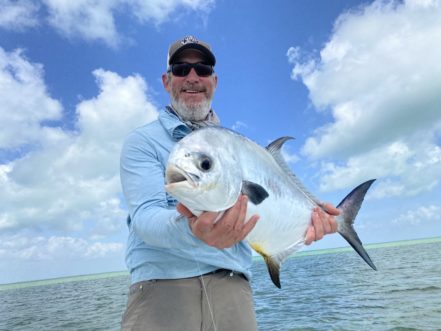 FISHING
As a heavy southeast wind typically dominates our fishery this time of year, we were happy to have a few days in the middle of the week with winds that somewhat laid down. By no means did we experience glass like conditions, but had a few days that were conducive to fishing for permit in open water. With a southeast wind direction, we spent most of our time looking for permit on the southern shore. This area provides some protection compared to the northwestern portion of the bay where the water was much rougher. We ended the week with some great numbers of permit, with seven out of eight anglers bringing at least one fish to the boat. With the wind pushing water into much of our backcountry fishery, water levels remained high which in turn made it difficult to find any snook for the duration of the week. Only a handful of snook were spotted, with no fish landed. Even with these higher water levels, guests were able to have an incredible week with juvenile tarpon in the five to twenty pound range. All eight anglers were successful in landing small tarpon in tight quarters deep in the mangroves.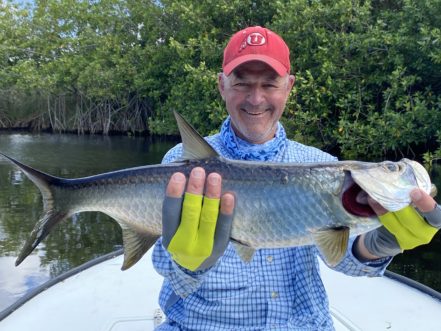 Ben Ellis and David Cohen both enjoyed a great week of permit fishing, and capped it off with two doubles in the afternoon of the final day. Ben managed to coax a beautiful 25 pound permit earlier in the week to eat with guia Alex. This brought his total to 7 permit landed for the week.  After an unfortunate break off earlier in the week, Ben Thompson was ready to make it happen on Friday when a nice permit was sighted following a large stingray. Ben made a perfect cast leading the fish by a few feet. After letting the fly sink for a couple of seconds and a slow strip or two Ben's line went tight and a stiff strip set was conducted. It was evident something was off when the permit went to the left and Ben's fly line went to the right with the sting ray. In an uncommon scenario the ray got to the fly first and managed to eat it before the permit. The ray was not foul hooked, but truly had eaten the fly. With excitement turning into disappointment, Ben intentionally broke the ray off and continued to look for permit. Ben had shots at permit every day, and was finally able to make it happen late in the week landing his first two nice smaller sized permit. John Williams returned to ESB for his second time with aspirations to bring a big permit to hand. On his previous trip here, John had caught a few smaller sized fish and was able to match that in the begging of the week of this trip. He then proceeded to land two beautiful permit in one day around the 15 – 20 pound range. With large schools of smaller fish located and some larger solo fish in shallow water, a successful week of permit fishing was had for seven out of eight of our guests.
Collectively the group of eight landed an impressive 25 permit for the week.  This brings our season total to 225 permit with 73 guests. 
In addition to a great week of permit fishing, guests also enjoyed some incredible opportunities to target juvenile tarpon in our river systems. As David Cohen organized his equipment Sunday afternoon, he pulled out a few home tied tarpon patterns that he wanted to give a shot at some point in the week. It didn't take long to put these to use, as David was pursuing tarpon outside of the fifth river with guide Pepe on the first day. Not only was David able to land a nice juvenile on his own tied fly, but was able to do so on foot. Not too often are we able to get out of the boat and fish for tarpon. Similar to last week, the river 5 system was the go to location for these aggressive and entertaining sized tarpon. At some point during the week, most of the guests were able to experience this intimate and intense location in the bay. Ken Williams was fortunate enough to join us for his first ever saltwater fishing trip. He spent Monday on the boat with Mike Thompson learning how to battle the wind and some of the ins and outs of saltwater fly fishing.  Ken managed to land some nice bonefish his first day out. On Wednesday Mike and Ken reunited for round two and headed deep into the fifth river system. They experienced an incredible day with amazing numbers of smaller tarpon. Collectively Ken and Mike jumped at least 25 fish in a single day. Pulling a tarpon out of thick cover in extremely tight quarters is an accomplishment, and we see many more fish jumped than landed in these situations.  Regardless, the duo was able to land multiple fish, with Ken being in charge of 4 of those on his first day ever fishing for tarpon. Needless to say, Ken was ecstatic and enjoyed replaying it to the group over a cold margarita on the palapa that evening.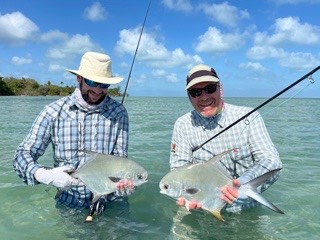 David Cohen was able to return to 5th river for a second day with Mike Menghini later in the week. The two explored deep into the system with guide Marcos and were able to get multiple tarpon in hand, some without using a fly. The boat went so far back into one of the fingers of the system to eventually find a dead end. At this point the fish that had been pushed back in there had nowhere to go and tried to escape any way possible. A few of them ended up in the boat after chaos ensued when the finger came to a close. Mike and David had a laugh as one particular fish jumped in the boat, was released and immediately jumped back in.
Bonefish were readily available in large numbers as usual. If the wind allows, a seven or even six weight is an absolute blast on the smaller tailing bonefish. Larger, solitary bones were spotted in the backcountry cruising the edges of the mangroves.
FLIES
All permit this week were landed on either a white or tan ragged style crab. Most had the medium sized yellow eyes. Traditional lead colored eyes were also responsible for a few of the weeks permit. No permit were caught on shrimp patterns this week. When permit fishing at ESB you always want to have a few white and tan crabs patterns, but never get on the boat without a few of our standby #2 Tan Squimps.
Tarpon were caught mostly on a Black/Purple EP style baitfish patterns.  Black/Purple and Chartreuse tarpon toads also worked well.
Bonefish readily ate any shrimp pattern tied in size #4 – #8.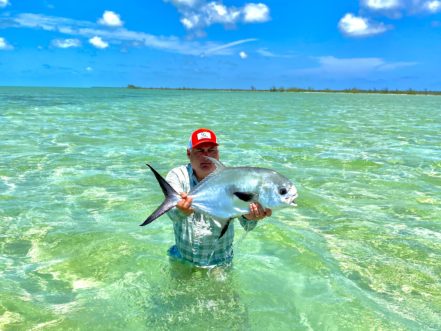 WEATHER/TIDES
Weather for the week was typically a bit cloudy in the morning with difficult visibility turning into mostly full sun. Wind stayed at a constant direction through the week, coming predominately from the East at 15 – 20 mph. A few days midweek it dropped to around 10 or so mph. We finished the week with heavy winds on Saturday.
We experienced a high tide at around 10 in the morning. Water began moving out at 11 a.m. and continued to fall for the rest of the day.
Return and new guests enjoyed a week full of delicious cuisine here at ESB. Chef Carlos, along with help from sous chef Luis, cooked up incredible Mexican meals with a Mayan flair.  Decadent deserts always followed dinner, with beautiful plating arrangements meant to impress.  The house staff worked hard to ensure guests had a comfortable and enjoyable stay.
We are looking forward to a full house next week with some returning guests as well as some new to ESB. Winds out of the southeast will continue to be a challenge for anglers, but it looks like we may start the week with some much calmer conditions.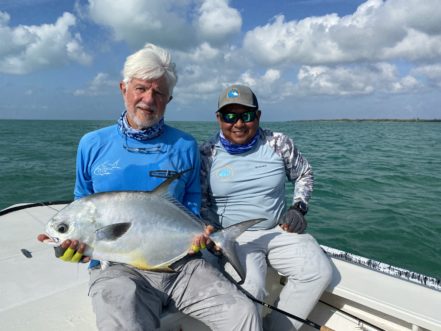 If you are curious or would like to have more information about this special operation, please don't hesitate to call our dear friends at The Fly Shop®. The travel department is ready to help set up a trip here or any other destination you might be considering. I am very excited to have the opportunity to work again for such an amazing operation and be surrounded by die-hard fly anglers. I hope everyone has the opportunity to spend some time outside this week and enjoy some spring weather.  Stay tuned for next week's report!
From a special corner in the Yucatan,
Saludos desde el Caribe Mexicano,
Sam Gigliotti and the entire staff of ESB Lodge