Fishing Report
September 18 – 25, 2022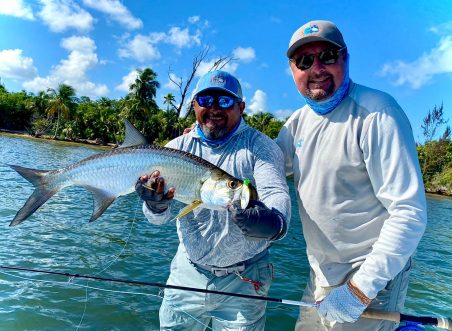 We've had another pleasant week at ESB.  Summer has finally passed and we're welcoming the first days of the fall season.  It's hot and sticky here with little to no wind, occasional rain showers that are accented by hordes of mosquitos and no-see-ums.  I felt like I've lost a liter of blood to these little savages during the workdays around the property.  Oceanside isn't bad, but when you're on the west side of the lodge you become a buffet with two legs.  It happens every year around this time and it's not the worst thing to deal with because I know it means good fishing.  My evening nightcap on my porch listening to the stillness is armed with a proper cigar to ward of the bugs as I lull myself to a tranquil state of mind.  I'm a connoisseur of varying forms of bug repellent and can be seen covered head to toe with a glowing sheen of DEET.  If you have some powerful bug dope, you'd like to put to the test I know just the place….  Maybe I just use the bugs as an excuse to uptick a bad habit?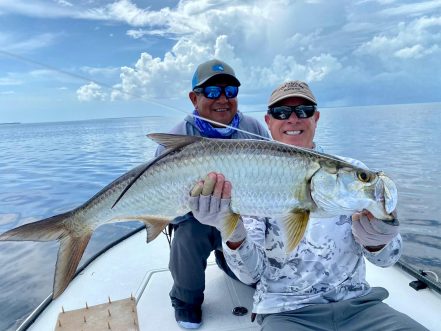 8 guests all who have been here multiple times, year after year joined us for the annual ESB pilgrimage.  Some are joining us for their second annual 2022 trip.  Don Morris is joining us for his 2 week back to back trip.  The Sellmeyer's joined us and under Sabrina's watchful eye the week went off without a hitch.  Close friends Ivar and Carl were back and it's always fun to have these two add a fun dynamic to the group.  I love Ivar, great guy, and even better fisherman.  He collects trophies from fishing tournaments like a kid used to collect matchbox cars.  He's a Florida Key's loyalist and brought me up to date on a local drink/shot from his neck of the woods.  Dubbed as a "speedball" a wicked combination of fireball whiskey mixed with 5 hour energy shots.  Not for the faint hearted (or one with a bad heart) and perhaps after a proper dosage of Prilosec and tums I'll become brave.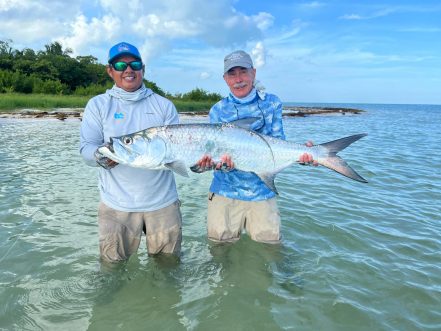 FISHING:
Biting flies and no wind means tarpon.  Every boat enjoyed mornings chasing rolling tarpon at the cut and other east side bocas.  House schools of tarpon are back on the beach roughly a quarter mile north of the lodge right now.  A few days my mornings consisted of dropping guests off and walking the stained water and fishing rolling tarpon on foot.  A cup of coffee and couple tarpon, within a couple hours before my true workday began.  What a life!  The oceanside arrival of theses tarpon is the result of our fall run of sardines.  We dub them as sardines, but the truth is you find 4 different sized baitfish ranging from tiny glass minnows to a 5 inch light olive/white sardine.  It's a condensed circle of life with each weight class preying on the ones smaller.  The final part is tarpon coming in along with schools of jacks that slash through and leave carnage for their brethren to clean up.  Snook are starting to run and this will become better as we transition into a full blown fall fishery.  It's a hodgepodge of species at the bocas and we're also seeing tarpon outside the bay closer to the marine based lighthouse just south of the fishing village.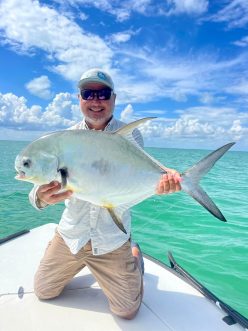 We're in the middle of a massive tide swing right now that goes from high to even higher.  Ocean swells are leading the charge with a big hurricane roughly a couple hundred miles east of us.  We're warily watching the storm which is supposedly moving north, and the wrath felt here is a little extra water in our system.  I'll take that any day versus the alternative, and I have put in place every superstitious article in the necessary corners of our property.  It's a yearly ritual, my practices become more outlandish after each successful outcome.  High water translates to tough shots for the backcountry tarpon and snook as they ride the floodplain to the last inches of water deep inside the biosphere.  Some one asked a guide "where are the tarpon and snook in the mangroves"?.  "They are all the way back to Chetumal" was the response.  It's ok though and when we have this happen, we hit them in front.  Jeff Sellmeyer landed a proper tarpon in the cut with guide Victor and his lovely boat partner, Sabrina.  Speaking of superstitions, an inside fact between the three of us revolves around a "lucky" beer for those two each day in the cooler.  I messed up mightily and gave them the wrong beer a couple days.  If you go the corner of our bar, you will see one lone Pacifico beer covered with ESB stickers and a rusted cap.  This was a Sellmeyer beer from a couple years ago and it was baptized as lucky, and we now keep it safe from coolers and thirsty hands.  Ivar landed a few nice tarpon which he also moved towards hitting a couple grand slams for the week.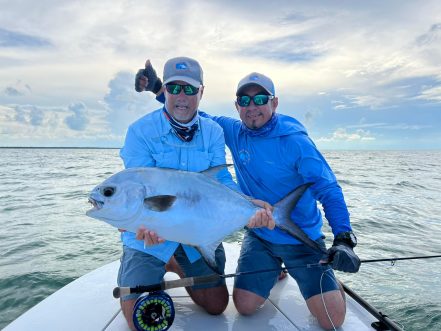 Permit were around some days better than others and our tried-and-true southside haunts have fish.  I hate the phrase "permit are permit" with their painful inconsistencies.  Red buoy held schools and the following day you couldn't find anything.  Rocky points off of Red Lagoon held some tailing fish and two days later it was crickets.  We had 100 permit seen by a boat south of red buoy, only to have them vanish.  It's a healthy ebb and flow of found permit in the system right now but you better be on your guard and ready to put some effort in.  I never felt like we really tied into them locked in one area where we rack up high numbers.  Carl and Ivar came back one day after fishing with Pepe and excellent numbers of permit.  Big singles, schools of larger fish traveling in 2-3 packs, and fleeting smaller fish.  No fish landed but more than 20 shots, multiple follows, multiple refusals, multiple fly changes gave way to nothing.  They were encouraged and were ecstatic and still excited with the action and this in a game of chasing permit is dubbed "a good day".  Permit hounds know the anthem.  We are a little off in the head at times but that's what brings us all together as angling fanatics.  River systems on the northside held plenty of smaller permit mixed in with every other species and Sellmeyer's grabbed two permit with Fernando one day out of Rio 2.  Bob Styz landed two with Pepe one day also from schools.  Jesus (guide) gifted Don Morris and Bill Bergan a permit a piece the last day.  Team ESB went big the bottom of the ninth for the last day of fishing and Carl landed a solid 20-pound fish with Victor at 3:00 PM.  Ivar broke off a big permit beginning of the week landed a couple smaller ones and tapped out a monster with guide Jesus.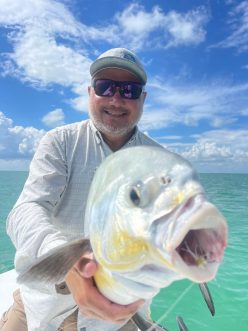 Our group of eight anglers landed a healthy 10 permit for the week with season totals at 429 landed permit and 200 guests.
Someone claimed the bonefish are getting bigger….  I know and have been preaching this religiously to those that are willing to listen.  It's an incredible fishery for bones and they are more than worth their weight in gold.  A 3-pound bone out of flamingo lagoon with it's back out of the water?  Yes please, and I'll take more of that any day.  High tides will give way to bigger bones riding the front end of the push and are found in mere inches of water.  They're aggressive and voraciously feeding on the advancing flood plain.  Think of a small dry fly presented to a 15-inch trout with a 3 weight.  Light tackle fun, you simply can not ignore this fish.  Bring a 7 weight (or borrow mine) and give it a shot.
FLIES:
Permit were landed on all manner of crabs and shrimp.  Smaller permit in schools ate ESB spawning shrimp.  Bigger permit ate ragheads, and our largest permit were landed on ESB ragheads tied white with yellow eyes. Aphlexo crab also was productive much to my disappointment.  I'm old school I guess in that sense.
Tarpon ate a smorgasbord of various EP baitfish, toads, gurglers, and lighter colored sardine flies.  Make sure you have a healthy representation of the above with all the basic colors if you're heading this way.
Bonefish chomped everything in their path and shallow water feeders ate lighter gotchas with moments where 5-6 bones raced each other to eat the fly.  Come to ESB to find fish fighting amongst themselves to eat your fly…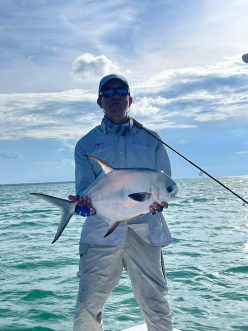 TIDES/WEATHER:
Hot and humid, partly cloudy, with a little wind from the east and northeast.  Occasional rain showers blasted through and added an additional layer of humidity.  Big tides for most of the week with a weak fall in the afternoons.
House staff with front man Luis as our Chef continues to fatten us up with delicious cuisine.  I swear I will begin my annual purge/diet soon and Chiara informed me I've been saying this for three weeks now.  What's the rush?  Emmanuel kept banging away in all the right places with the exact amount of duct tape to keep the lodge running in top shape.  Our A/Cs are cold, beds comfortable, showers tolerable, and bottomless pitchers of afternoon margs followed by three course gluttony and evening shenanigans is the recipe of ESB.
We picked up 6 anglers yesterday at the airstrip with Don Morris already at the lodge.  Returning guests, smiling faces, introductions to new friends was all in order upon arrival.  Skies are semi clear, dead calm seas and the smell of Mondongo (Menudo) soup being prepared is wafting its way to my office.  I expect I'll have a bowl of my favorite soup for lunch and a painfully cold beer and lime.  I'm ignoring the rolling beach tarpon for now with a busy few days in front of me.  I'm giddy with the anticipation of slipping out later in the week with Don and placed all the appropriate reasoning in front of my wonderful wife.  I've exhausted excuses after 6 seasons now of why I need to be on the boat for a day or so.  Skies the limit with my imagination but it's succumbed to a pathetic pleading look I wear that exasperates Chiara to the point of giving in.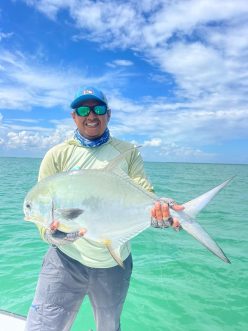 I mentioned hurricane Ian is east of us with a track north and I sincerely appreciate all those who have reached out to me.  Keep whatever superstitious rituals you're doing rolling forward and help us insure longevity and safety.  Drop a line to our friends over at The Fly Shop to check in or inquire about this special place.  I hope everyone is enjoying their first week of fall and spending some time in a pumpkin patch or two.  Make sure to get outside and enjoy the color change and embrace Mother Nature's seasonal changes.  Take care and stay tuned for our next report.
Saludos desde el Caribe Mexicano,
Dane & Chiara