Fishing Report
August 18 – 25, 2019
Good morning Esb Lodge Anglers & Fans,
We've enjoyed another wonderful week at Esb Lodge. Great friends, good food, nice weather and of course lots of fish contributed to another wonderful experience for our guests.  We had returning guest Tom Blailock and had the pleasure of hosting some new friends as well.
FISHING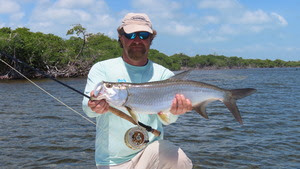 Last week's fishing was diverse with all of our flat's species caught.  We noticed some of the water temps started to decline with the aid of a much-needed tide change.  Some of our backcountry fishing for tarpon and snook was very productive in areas that seemed void of fish the week before.  Tom Blailock kicked off the week heading out first thing with guia, Fernando.  Conditions were perfect for finding rolling migratory tarpon in a deeper cut located on the northern side of the bay.  Tom hooked, fought, and landed a beautiful tarpon with an estimated weight over 80 lbs.!  For the remainder of the summer and into early fall we should be seeing these fish in the opening of the bay.  Our river systems located in the farthest west region also held solid numbers of snook and some tarpon.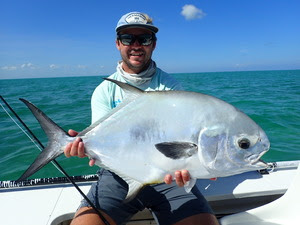 Permit fishing was consistent throughout the week with the good weather. We did have two days where the guides thought fish were scattered and harder to find due to permit heading to deeper water.  Guest John Snipes had a great week and was able to land his largest and most permit landed per week.  John landed 8 permit totals for the week and I am personally impressed they were all caught on a squimp variation I've been working on and have had good success with.  Guest Chip Thor was able to land a permit and had multiple shots.  Chip enjoyed himself chasing fish to what the conditions offered.  When it was windy guides took him into the backcountry for tarpon and snook.  When things calmed down and looked favorable, he was poled over our permit flats on the southern shore.  This is a great approach to our diverse fishery.
We have brought on a new guide this second half of the season and I am excited to have Jose (Pepe) Ernesto on our team.  Years ago, he was guiding guest Tom Blailock out of Punta Allen.  Tom was able to land his largest tarpon at 100 lbs.  Fast forward some years and Tom and Pepe were reunited at ESBL.  Coincidentally Tom was able to land his largest Permit yet with Pepe.  What a great reunion and well-done Pepe.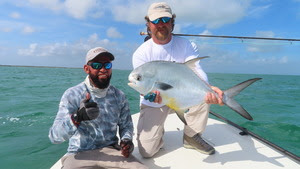 ESBL was also honored to host a fun couple that traveled from Italy to ride Harley Davidsons around Texas for a month before a week of fishing with us.  Robert Vrcon has traveled and fished many saltwater destinations but had not yet landed a permit.  We loaded him up with Squimps and sent him off the first day with guide Pepe and he returned Monday evening having landed his first permit!  He followed up landing another one with guia Alex later in the week and was able to complete a grand slam on Friday with guide Pepe.
Our total permit landed for the week was 15 and this brings season totals to 166 guests with 279 permit landed.
WEATHER/TIDES
Tides were favorable this week with an incoming tide in the morning that resulted with a high around 9:00 AM.  Due to a steady east wind we had a slow fall that started 1:30. Weather was mostly sunny with an average wind speed at 10 MPH with occasional gusts exceeding 10 MPH.
FLIES:
Permit were landed mostly on Squimps and variations of this pattern, all size #2 color scheme Tan.  Tarpon and snook responded well to our EP baitfish color schemes Black/Purple, Red/Black, White/Grey, White/Blue.  We can't stress enough the importance of having 4 – 5 color schemes in your box when you come here.  Using more bright colors work well for when we target fish in the mangroves, and we move to more natural colors for fish found on flats.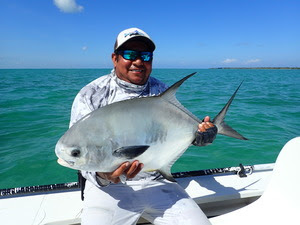 Bonefish readily ate any shrimp pattern (even tarpon flies!) in sizes #2 – #8.
Our kitchen and staff worked hard to provide us wonderful meals and a clean, working, operation.
We're excited for this upcoming week, hosting a great group of Argentinians that travel the world chasing permit.  This will be their third trip with us so far. They are all very accomplished anglers and I am confident many permit will be caught. Weather seems to be good with ample amounts of sunshine.
We hope everyone has a great week and please contact our friends at The Fly Shop to inquire about this wonderful fishery.  We look forward to seeing you!  Stay tuned for next week's report.
All our best,
Saludos desde el Caribe Mexicana
Dane & Chiara