Fishing Report
February 10 – 17, 2019
Hi Everyone,
We've completed our second week here at ESBL for the 2019 season. It was great to reunite with old friends and had the pleasure of having some new guests come stay with us for the week. Weather was decent with wind at the beginning of the week and eventually tapered off to some of those nice calm glassy days we dream about.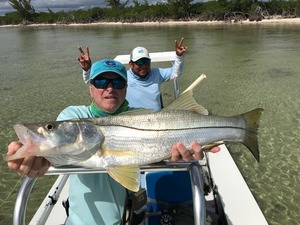 FISHING
Due to the strong winds our fishing was a bit challenging for a few days.  An unfortunate theme that I have seen for two weeks straight is strong wind from the north to start the day.  After a couple hours on the water guides pick up on a distinct wind change that moves in from the east and finishes from the southeast.  This unusual wind pattern is something we are not used to and some of the guides that have guided in the bay for the better part of 15+ years said they have never seen it be so consistent with multiple wind directions.  We always choose which side of the bay we want to work based first on wind direction.  Wind directions coming from east to southeast has us focusing on the lee side or in this case, hugging the southern shore for protection.  With southern winds carrying across the bay we see the northern shore become churned up with wind and see large amounts of Sargasso build up and turn the flats into a dark brown color. This applies vice versa with a northern wind and we find ourselves hugging the northern shore due to a "blown out" southside.  When we have dominate wind directions (north and south) all in one day it can be difficult to settle in and focus hard on one side of the bay.  It also makes for the tides to be inconsistent as we see wind dominate our tides since we have such a minor fluctuation.
Despite some of these setbacks we were able to still experience some good days and our guides worked hard against unfavorable conditions.  Permit fishing was mediocre at best and we had glimpses of decent schools on the northside in the morning and some schools located less than 5 minutes from our launch.  With winds as they are permit tend to run to deeper water and when weather clears up, we find them still in deeper water but in the southern entrance of the bay and the large flat to the north we call Ensenada.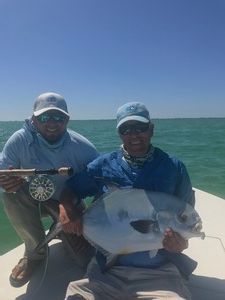 Out of seven guests for the week three were able to land their first permit.  Larry Williams was able to land his first, second, third, and fourth permit with head guide Fernando.  Preston Stone and Tom Craddock were also able to land their first permit and hook multiple others.  Permit guru Henry Haizlip caught 2 beautiful fish with guide Jorge.  Last Friday our bay was calm with minimal wind, Henry and Tom shared the boat together and it was brought to my attention that they saw over 200 permit easily throughout the day!  These were smaller schools moving through and seemed to be more actively feeding in the afternoon.  The group collectively landed 13 permit for the week and this brings our new season total to 17 landed with 14 guests thus far!
Tarpon fishing was minimal with only one landed for the week and couple others that were jumped.  We located these small schools deep in the second river system located on the north side.  Snook were located in their usual haunts both in our river systems and a big bay system on the south side we refer to as "Red Lagoon".  Our close friend Frank Stow was posted up in the mouth of river one chasing bonefish and picked up his first Snook on fly.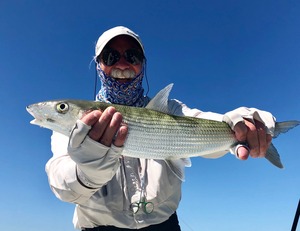 Bonefish were as plentiful as ever and collectively the group landed close to 700 fish for the week.  This is all done by sight fishing which is incredible and I can't stop mentioning these wonderful fish.  Our biggest bone for the week hit almost 7 pounds!
WEATHER/TIDES
The weather as mentioned was partly cloudy with heavy winds from all directions for the first part of the week with Thursday thru Saturday clearing up nicely with good amounts of sunshine and lighter winds.
Tides were going out in the morning hitting low tide around 10:00 AM and began to return and rise throughout the afternoon.
We do not have an actual read on water temps, but the guides did notice a significant difference with warmer temps compared to a couple weeks ago.  As we move closer to spring, we will see these temps rise and will see fish following and locating warmer water on the flats.
FLIES:
We threw lots of different shrimp and crab patterns for permit and the Tan #2 Squimp accounted for almost all the permit.  I had a guest question the hype and productivity behind this pattern and that our success rate with this fly is due to the fact that we throw the Squimp more than 70% of the time for permit.  The answer behind this is very simple, we throw what's worked in the past and what we see working currently!  Why change and experiment with something that is so concrete and productive.  I lent a dozen very productive flies to Henry to try for the day when we saw conditions turn calm with lots of permit seen.  He went through my patterns and landed his fish on the Squimp…….enough said!
I also mentioned in the last newsletter the importance of having yellow dumbbell eyes with our Squimp, Spawning Shrimp, and Raghead crabs.  This week we have returning guest Terry Lim who modified a lot of his flies with dumbbell eyes by simply buying yellow nail polish, touching up his flies and marking pupils with black permanent marker.  This is a very resourceful way to utilize what you have in your box and helps change things a bit.
A blk/purple toad resulted in our single landed tarpon and snook were landed more so with chartruse/white toads and grey/white EP baitfish.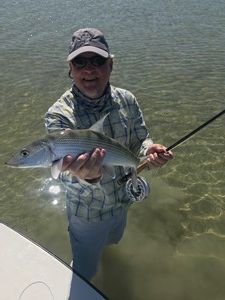 Bonefish were landed on all manner of shrimp patterns 4-8.
Chef Felipe and the kitchen staff delivered excellent dishes for our guests and everyone is very excited with the quality and consistency.  After already eating two years' worth of unbelievable food from our chef I've started to notice a difference personally and unfortunately am passing my portion of the dessert course of to one of our guests!  We are extremely lucky to have such a talented team here that works around the clock to insure quality and top shelf service.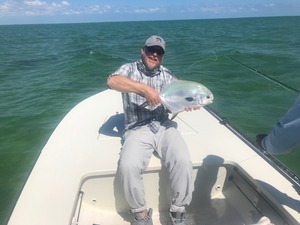 This week is going to fun with a group of guys that fished with us last year.  Part of the group hails from Holland Michigan which is where both of my parents were raised so it's been great to reminisce about northern Michigan and hits home for me personally.  Peter Petruzzi fished with the old Paradise lodge operation and is excited to finally try his hands with a week's worth of ESB.  Terry Lim made the trip down from Calgary and is joined by close friend Brian Whitestone who couldn't make the trip last year.   Hopefully the weather holds, and it looks to be very windy for much of the week, so everyone has their work cut out for them!
I advise you to check in with our friends at The Fly Shop to inquire about this special place and see if you can't treat yourself to a week fishing with us.  Please be safe, enjoy your week, and look for us next time with our fishing report.
All our best,
Saludos desde el Caribe Mexicana
Dane & Chiara