Fishing Report
June 09 – 16, 2019
Hello Esb Lodge Anglers & Fans,
We have had another wonderful week here at Espiritu Santo Bay Lodge filled with great fishing and an awesome group of guests.  Six anglers joined us for the week, exploring the famed flats of our bay and enjoying the comfortable accommodations at the lodge.  We had lots of great laughs and made some new great friends that will hopefully come back and see us in the future.  The fishery produced ample opportunities to cast to an array of different species.  Some incredible permit were landed and some giant barracudas were brought to the boat with every other species in between.  We had some nice weather for the most part, with a couple of day's visibility proving to be difficult with the cloud cover.  Heavy, but manageable winds continued to blow from the southeast for the duration of the week.  The guests enjoyed the ocean front palapa after their days of fishing with cold margaritas, delicious appetizers and plentiful fishing stories.  The kitchen staff worked hard to present incredible meals, while the house staff ensured our guests had a comfortable and enjoyable stay.
FISHING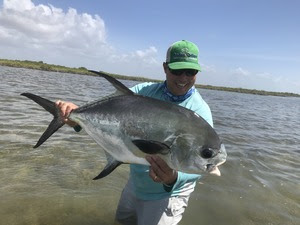 The bay this week produced many opportunities for a large range of species.  We had plentiful shots at permit, both to schooling fish in deeper water and singles/doubles tailing on the shallow flats.  Angler Gustavo Heibum joined us this week with good friend and coworker Dan Etcheverry.  Gustavo is the owner of an incredible trout and golden dorado operation in Argentina called Andes Drifters.  Gustavo set out on Monday morning with guide Alejandro to start his week looking for bonefish.  After a few hours of picking off bonefish, Alejandro spotted a large permit tailing in 2-3 feet of water.  They quickly changed gears and pursued the happily feeding permit.  Gustavo was able to make a good presentation to this slow moving fish after chasing it around the flats for a while.  This was Gustavo's first permit on the fly, and the fish weighed around 22 pounds.  What a catch!  Gustavo was able to land not only his first permit on Monday, but also a second coming in at around 16 pounds.  We were thrilled Gustavo had such a great first day in the bay after a long season of running his freshwater operation.  Longtime friend of Dan and Gustavo, in addition to return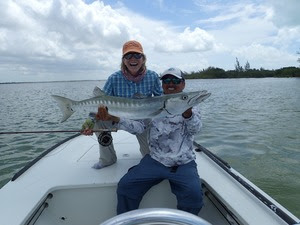 guest of Esb Lodge, Keith Smith had a great week of hunting for permit.  His total by the end of the week was four fish landed, with multiple other eats, follows and encounters.  We were impressed this week by the numbers of large permit feeding in shallow water.  There is nothing better than a big black tail flicking out of the water on a flat about knee deep.  Return angler Mike Matus came to the lodge with large snook and barracuda in his sights.  While he pursued these species when the conditions were conducive for them, Mike was happy to throw a fly at anything that swam.  He finished his week with four permit landed, in an addition to a large number of other species.  Mike set out on Wednesday with high hopes for some snook fishing, and not only landed his targeted snook, but also a permit, tarpon, bonefish and barracudas.  Mike was thrilled with his first super slam! He also spent some time the same day blind casting into some deep holes at the entrance to our river systems catching an array of other fish.  Mike finished the day landing 11 different species of fish…impressive to say the least.
Anglers Molly Polk and Agnes Wommack of Austin, TX joined us this week for their first experience fishing the famed waters of Espiritu Santo Bay.  These two women were extremely excited to get out there and see what the bay had to offer.  I'm not sure if they were able to sleep much the first night with the high amount of excitement and anticipation.  I commend these gals for their "open book" mentality towards their week of fishing.  They were both able to land their personal best bonefish during the week, with countless others brought to hand.  Molly and Agnes were even able to land a bonefish simultaneously out of the same school.  These women certainly experienced the diversity the bay can often offer.  They jumped juvenile tarpon, landed some large snook, and both caught there first and personal best barracuda.  They also had numerous shots to schooling permit and singles in shallow water.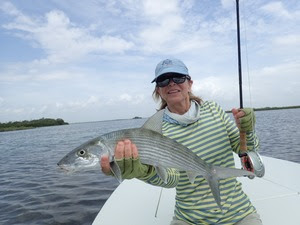 In all, permit, snook, bonefish and barracuda fishing was fantastic for the week.  Tarpon fishing was mediocre, but we did hook into a very large fish on the northern entrance of the bay where we target migratory tarpon.  This fish was pushing 100 pounds, and followed the fly for quite a ways and ate right next to the boat.  After a short 15 minute fight and explosive jumps the fish spit the hook.  We continue to hope for calmer conditions to target these fish, as we know they are here and seeing more and more each week.
Our total for the week was 11 permit landed with 6 guests.  This brings our season total to 197 permit landed with 139 guests.
WEATHER/TIDES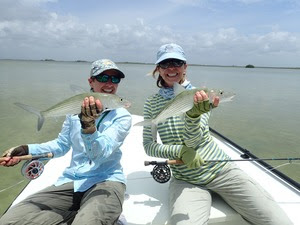 Weather was decent for most of the week.  Heavy winds out of the southeast made for tough conditions starting on Wednesday.  We also experienced a few overcast days, which majorly impacted visibility.  Our days started with a rising tide until mid-morning, and then falling for the rest of the day.  The tide swing remained at around a foot or so.
FLIES: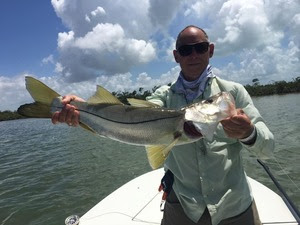 We continued to see crab patterns prove to be effective for permit.  Simple style patterns with a tan body, white legs, and yellow eyes in a size #4 were the most productive.  Spawning shrimp variations and our #2 Tan Squimp was also responsible for landed permit.  A baitfish pattern in white/olive/tan was productive for the snook landed during the week.  Bonefish were happy to take all sorts of shrimp patterns in size #4 – #8.
The kitchen staff worked hard to prepare wonderful cuisine for the guests, all in beautiful presentations.  The house staff was on hand to ensure our guests had a comfortable stay and all of their requests were met.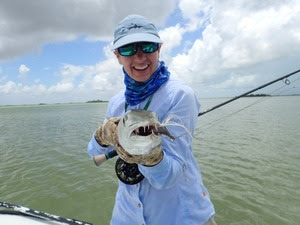 We are looking forward to this upcoming week as some longtime friends of the lodge will be returning for another trip full of great fishing, awesome food and amazing company.  There will also be some new faces around, and we love to meet different people and make new friends down here in the Yucatan.  We hope they enjoy their experience at this incredible remote saltwater fly fishing destination.
Hopefully you can get outside this week and enjoy some sun and time on the water.  Make sure to contact our friends at The Fly Shop® to enquire about a visit to this wonderful operation.
From a special corner of the Yucatan,
Saludos desde el Caribe Mexicana
Sam, Mia and Faustino