Fishing Report
November 15 – 22, 2020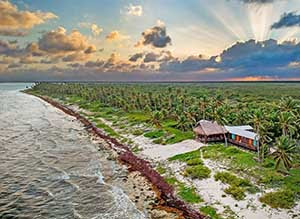 We have completed another week here at ESB Lodge. This last week concludes our 2020 season and we are looking forward to the new season which will kick off beginning of February 2021. It's been a hell of year at ESB Lodge to say the least and we are extremely fortunate and thankful for the allowance to operate during some interesting times. We had a group of four close friends with us last week, guests that have been here multiple times over the course of four seasons. It really doesn't seem like an individual guest coming, instead a growing community of those we are close with that choose ESB Lodge as their premier saltwater destination.
FISHING
I apologize about my frankness in describing the last week of fishing.  Plainly put, if last week was my first time to fish ESB I wouldn't return. It was tough. We have unfortunately been the recipients for the 5th straight week of bad weather due to hurricanes, fronts, tropical waves, surges, wind, and tropical depression development. Coupled with a massive northern front and weather pushes from hurricane Iota which hit Nicaragua again at category 4, we saw similar conditions as 3 weeks ago from the aftermath of Eta. The road to Punta Herrero where we launch our boats has once again been further pummeled and non- existent. Heavy rain and wind prohibited our chances of launching guests from the lodge and fishing outside of the bay. We were forced to drive up our road as far as we could and use a makeshift channel in the mangroves that tucks itself in the back of Red Lagoon. From there guests would meet their guides and head out to fish. My rough tally of 150 inches rain in 2 ½ weeks combined with strong winds has blown out our bay almost entirely. Normal flats we usually see alive with abundant marine life were void due to a mass of freshwater entering the bay. Guide Fernando has almost 23 years of guiding under his belt and expressed his frustration that he has never seen it this full of freshwater and fishable water had been reduced to a very small offering. In the beginning of the week we saw the approaching weather but made do with still being able to cross the bay and fish areas around Ensenada and our first river system.  Bonefish were fairly plentiful, and some small pockets also held tarpon and a few snook. I was impressed with guides Pepe and Victor, who found a small creek on the southern end of Ensenada. This creek had remained hidden and unfished. Our thoughts were the existing conditions made this area open and accessible with the changing weather. It was full of tarpon and guest Mike Scott was able to jump a few fish.  Fred McCollum enjoyed landing a tarpon his first day out and chasing a few bonefish. By the middle of the week we were unable to cross the bay and our boats were limited to fishing a small area in an area connected to Red Lagoon.  I really admired Joe and Bill Checchio's enthusiasm to continue and try to fish the limited area hard. They came up with a handful of bonefish a piece for a few days. Our last day Fernando took the two of them across the bay with the wind moderately slowing down and allowing for an interesting crossing.  They were able to catch some nicer sized bonefish on a small inside flat located in river one. They ventured up into Ensenada and were met with even more freshwater than previously seen on Monday. Mike Scott stuck closer on the south side and was able to catch 3 barracudas on his custom tied poppers. This is one of my favorite cuda flies and Mike has taken the responsibility of equipping ESB Lodge with a nice assortment and will continue to make more for future guests to enjoy.
Guides did see a handful of permit, but conditions were not conducive for anglers to get a shot. We didn't land any permit for the week and this brings season totals to 108 guests and 266 permit. Our numbers have definitely slipped in the last couple weeks due to weather but our season totals are extraordinarily impressive.
WEATHER
High winds, heavy cloud cover, and nonstop rain was the theme for the week. Our neighboring bay, Ascension to the north recorded almost 80 mph at one-point last Wednesday. I was woken early Thursday morning around 2:00 AM with wind gusts estimated at 60 MPH.  Wind direction was mostly east which caused tides to remain high and keep freshwater stacked high in the bay.
FLIES:
The few tarpon that were landed were on toads and a small gurgler, a floating fly that pushes water and entices a fun top water bite. Bonefish were landed on all manner of shrimp flies tied on hook sizes #2 – #8. Bill Ingram and Joe Checchio brought some very nice mantis shrimp variations that I have not seen before and they worked well for the bonefish.
Our kitchen staff remained consistent and worked hard to deliver delicious cuisine for our last week with guests. We brought in an additional cook for the week that will be a part of our house staff starting the 2021 season. I am excited to bring Abi into our ESB Lodge kitchen staff and he comes highly qualified cooking for restaurants in the greater Tulum area for the last 10 years. He will fill the role as a sous chef and will relieve Chef Carlos when he gets rotated out for a quick break.
It's hard for me to imagine that we are at the end of our 2020 season. My timing has been out of sorts and we have tried hard to maintain normality where it could be controlled. After being forced to close down last March there was much uncertainty of our re-opening and where we would fall with receiving guests in the midst of a global pandemic. It makes me somewhat emotional to reflect on the last 12 weeks since we were given the allowance to re-open. I continue to find ways of amazement for this special place I am deeply thankful for the incredibly hard work of my staff, guides, and surrounding staff for working hard, and ensuring safety for guests to enjoy ESB Lodge. I also thank all of you that made the trip here and abided to safety measures to keep the lodge and fishery open for everyone to enjoy. It's a collaborative effort that succeeded and our partners at The Fly Shop helped pave a wave for destination travel through a difficult and trying time. The Fly Shop is the best in the business for any destination travel and ESB Lodge couldn't be more proud to be one of their Signature lodges.
In the short time of our upcoming closure we will be working hard tackling endless projects around the lodge and getting ready for another sold out season in 2021. I have also received news that funding has been placed aside for a mandated repair of our road. This comes from the governor of Quintana Roo, who last week had begun sending engineers up and down the 30+ KM road. To say we are ecstatic for this improvement is an understatement.
Chiara and I are looking forward to well-deserved R & R and spending time with our immediate family during the holidays. I hope everyone can do the same and safely enjoy the company of those that mean the most. Please be safe and reach out anytime to our friends at The Fly Shop to inquire about this incredible place and check up on the newest developments of ESB Lodge.  I humbly thank everyone for their interest and love for such a wonderful operation and we look forward to seeing you all in 2021.
From your Yucatan friends,
Saludos desde el Caribe Mexicana
Dane & Chiara & the ESB Lodge Team