Fishing Report
November 13 – 20, 2022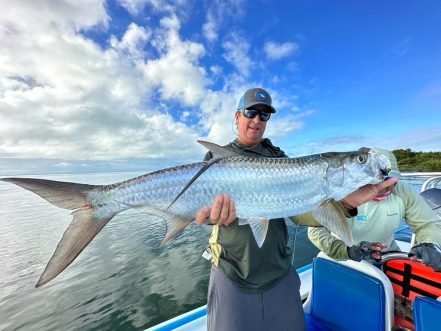 We had a fabulous last week here at ESB and have concluded our 2022 season.  It's hard to believe ESB has cruised through 6th seasons.  We're so beyond appreciative to enjoy such a wonderful place and share it with others.  It checks all the boxes as world class destination and ESB is at the heart of one the last pristine areas to saltwater flats fish in the Caribbean.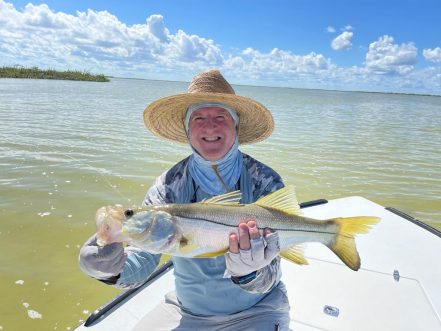 8 guests joined us for the week, and it was a great closure on a great season.  I'm munching smoked salmon as I type the newsletter.  Our dear old friend Mike Scott totes down a pound or so of his fishy candy twice a year when he visits, and it was great to see him again.  Mike brings his son Ethan every fall and then hordes a solo trip/single angler in the spring.  We missed Neil Johnson this go around but had Tony Wilcox and Frank Smethurst from Telluride representing.  Frank and I are close friends and it seems we have the majority of the fly fishing industry connected through our joint web of mutual friends.  I've known Frank for almost 14 years, and it was a full circle having him join us to check out ESB.  We also welcomed newcomer Reed Webster who wrangles a close-knit group of fishing buddies that globe trot chasing fish.
As with most fishing weeks we had moments that outshined others, a little weather, too much to eat and drink, and couple of fish were landed along the way.
FISHING:
As we all know, productive fishing days are determined predominately by weather conditions.  At the beginning of the week and the last day we had good weather with a cold front sandwiched in between.  Cold fronts this time of year come in three-to-four-day spurts and temporarily send some of our targeted species to deeper water.
Higher tides for the last 6 days took down the snook fishing a notch compared to the previous week.  It was still excellent chasing them and they are continuing to come into the system fresh.  Northside along the coast running back from rivers 1 to 3 are the stronghold.  When we caught the beginning of the tidal fall the snook residing in the mangroves pushed out to mainstem river systems and mixed with a smorgasbord of other species.  Mac Gardner enjoyed landing his first snook on a small EP baitfish in the second river system.  Frank Smethurst went out the first day and landed a personal best snook – which speaks miles considering the amount of fishing he has done chasing varied species.  Both him and Tony Wilcox enjoyed themselves chasing all manner of species and when conditions were prime poked around and hunted snook in the mangroves.  Mike and Ethan enjoyed a fun snook day in a small, connected lagoon off Red Lagoon.  They of course were with Fernando who we dub as the "snook master".  He has several secret spots he keeps to himself unless you're lucky enough to be with him.   We are historically closed for the month of December, but I would suspect the beach fishing as well as the bay will be a banner winter for chasing snook.  There's still plenty of pushes of sardines of various sizes throughout the bay and with the later run it'll only make the apex runs stronger.  Tarpon were considerably more difficult last week due to obvious high water.  They're around but buried deep in the mangroves.  Sunken boat lagoon held the most accessible tarpon. Rivers 3 and 4 has some tiny creeks you can jam the boat into and have some shots.  Reed Webster had an interesting day running solo with Pepe and hooked up a large 70 pound plus fish.  They were tucked back in the southwest corner of Tabasacones.  This area holds a massive cenote which in turn creates an interesting connection to blue water somewhere well beyond the reef.  I at one time dropped more than 300 feet of line on a 1 ounce pyramid sinker to see how deep the cenote was.  I never reached the bottom which opens a whole new realm of possibilities for random blue water species showing up in the bay.  These random big tarpon that show up can never be counted on but I believe they are coming and going through the cenote when we find them milling around the blue hole.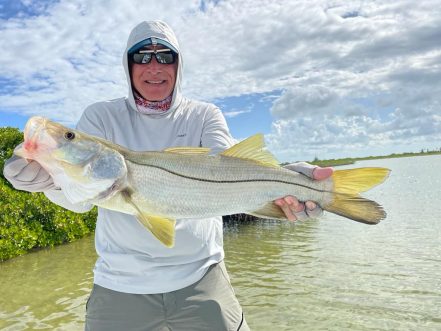 Permit slipped back into deeper water and we didn't have many around until the last day.  They head out when cold fronts come through and pop up as singles on the flats when things warm up.  Alex found a school on the southside around red buoy the last day and they were very difficult to catch despite 6 fly changes.  Reed along with Alex earlier in the week landed a beautiful permit following a ray which happily ate a small crab imitation.
This was our only permit for the week and our season total is 484 permit with 257 guests.  With these numbers alone you can see the power and importance this fishery holds for one of the most sought-after flats fish on the planet.
My heroes, bonefish were in fine form and everyone that wanted to chase them for an hour so each day had plenty of shots.  We were using all manner of shrimp patterns and even an EP baitfish on 50 lb. landed a few bones.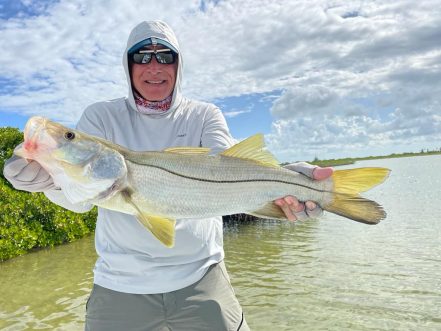 WEATHER/TIDES:
Weather for the week was nice the first day and then four days of clouds mingled with a northeast wind made things tough.  Last Friday the tail end of the cold front blew out and we were greeted Saturday with pleasant conditions.  Tide was coming in with a fall that happened later in the afternoon.
FLIES:
We landed our solo permit on a white Casa Blanca crab on a #2 hook.
Tarpon and snook were landed on EP style baitfish, toads, and smaller sardine imitations.
Bonefish ate everything thrown ate them and were opportunistic feeders.
Chef Luis and the house staff piled on another week of delicious food and the grounds crew led by Emmanuel worked hard to insure everyone was comfortable and the lodge stayed in working order.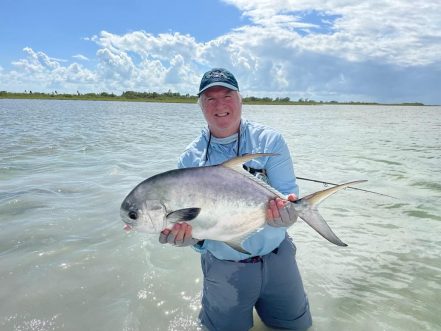 That concludes the 2022 season for us.  It's hard to believe it's over and what a season!  The last 24 hours here at the lodge have been chaos.  I'm running around with a tape measure, pad of paper, a wrench or two and misplaced pieces that hold a forgotten importance while residing in my pocket.   We are up to our ears with projects and a to-do list that is growing hourly.  I'm trying not to be overly sentimental about the closure which is hard for me.  Chiara and I along with our dogs enjoyed a couple of gin and tonics under our palapa last night reflecting on the last year.  We are so entirely grateful and fortunate for everything ESB has brought us.  It's a full circle with great staff, unbelievable guides, the best managers, awesome guests, and one of the fishiest places in the world.  I sincerely thank our friends over at The Fly Shop for managing bookings, aiding guests, and the other million things they do to make this all work.  We couldn't do it without them and we're already looking ahead and planning out a rapidly approaching 2023 season.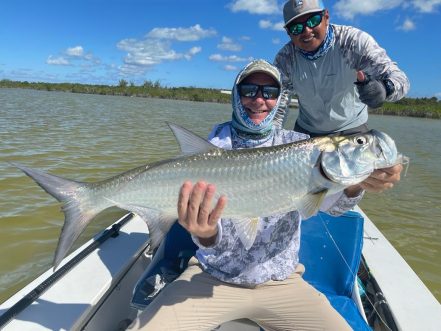 In a week's time I'll be shoveling snow in northern Michigan and it's hard to imagine but I'm immensely looking forward to it.  We're back in action here with us returning mid-January to kick off a new season that starts at the beginning of February.  Please take care of yourselves, get outside, practice conservation, and enjoy the company of your loved ones.  Happy Holiday's to all and we'll see you next year
Much love,
Saludos desde el Caribe Mexicano,
Dane & Chiara, Lucia, Negri, Canela
And the entire ESB crew!