Fishing Report
March 31 – April 07, 2019
Hello Esb Lodge Anglers & Fans,
We've enjoyed another great week here at Esb Lodge.  It was great fun hosting returning guests and seven out of the eight clients had fished with us in the past.  This is a true testament for the operation and speaks highly of all the hard work we put in to insure our guests enjoy a week of saltwater fishing they won't forget!
FISHING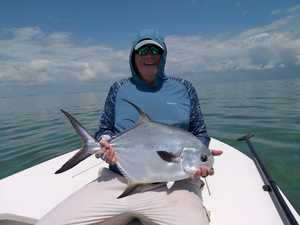 Our fishing for the week was solid with excellent numbers of bonefish and permit spotted the first few days and dropped off a bit as winds picked back up on Friday and Saturday.  I was impressed with guest Charlie O'Neill who made his first saltwater flats fishing trip.  He came along with long time friend Don Morris and the two spent the first day with guide Alejandro.  Charlie returned form his trip and was ecstatic about landing a beautiful permit.  For your first day saltwater flats fishing this is a high achievement and Charlie was able to land another one as the week went along.  We saw lots of permit throughout our system and flats were loaded with schools and singles cruising, looking for food.  Permit were found both along our southern shoreline and backcountry flats located beyond our river systems on the north side.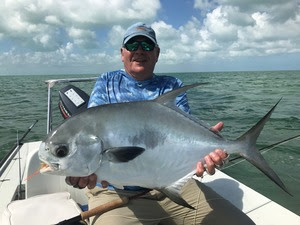 Rob Hewett led the group with four permit landed for the week and our group total was 11 landed.  This brings our season total to 110 permit with 66 guests!
Tarpon fishing was slow for the week with only a couple landed.  Matt Pieniazek achieved one of the highest accomplishments any angler can have on a day of flats fishing.  He and Rob headed out on the first day with guide Luis and was able to seal his first grand slam.  Chuck and Matt fished together later in the week and went with guide Tony deep into the backcountry exploring some areas that we still have little knowledge about and with higher tides we can get back into these systems, but fishing can very difficult due to tight quarters.  Often you are casting less than a rod length and having to roll cast.  There weren't a lot of fish landed but well over 70 smaller tarpon and some very large snook were spotted.  This is very encouraging, and we are always excited to see such a healthy estuary.  Rob Hewett had an interesting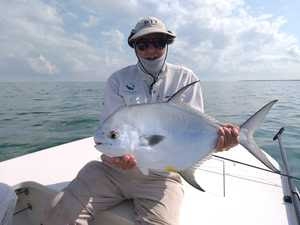 afternoon poling along with guide Jorge.  Permit were the targeted species and they saw a large tarpon (80+) close in and Rob threw his Tan #2 Squimp and watched the tarpon inhale the fly.  It was a short fight after ripping 300 feet of line off the reel and the 20 lb. leader gave way to the sandpaper mouth tarpon are known for.  Snook fishing was good and angler Mike Guarisco was able to land a few beautiful fish.  We also had some heart-breaking moments where a few 15 Lb. fish were hooked but technical mishaps led to short lived hook ups.  Bonefish were readily available in every flat and the group also enjoyed some great tailing sessions with bonefish eating hard in shallow water.
WEATHER/TIDES
Weather for the week was mostly sunny and relatively calm the first half of the week.  Friday and Saturday had more cloud cover with stronger winds from the northeast.  Tide was high in the morning and slowly dropping for much of the day.
FLIES: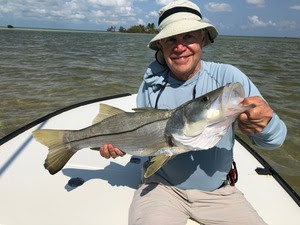 Our Tan #2 Squimp worked well for permit.  EP style spawning shrimp tied with yellow eyes and orange legs worked, along with raghead crabs.  Tarpon ate small EP baitfish blk/purple and blk/purple toads.
Snook committed to EP "Everglade Special" baitfish.  This fly has routinely been a go to for us and has natural colors olive, white, and tan, #2/0. Bonefish ate smaller shrimp patterns #4-#8.
Chef Felipe and the house staff did a great job working hard to deliver wonderful meals and make sure all our guests needs were met.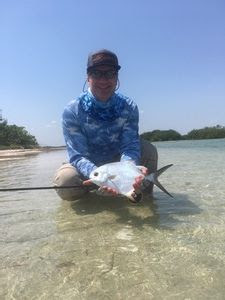 I'm excited for this up coming week, we have returning guest and longtime ESB friend Jamie Massion who has made his fourth trip down to our lodge. We are also joined by four new guests that are excited to try out this wonderful fishery.  Weather looks to be a little windy the first couple days and should lie down nicely mid-week and carry through the remaining days.
We hope you can get out at some point and enjoy some early spring fishing yourself.  Feel free to call our friends at The Fly Shop to inquire about this special place.  Have a safe week and stay tuned for next week's report.
Ciao,
Saludos desde el Caribe Mexicana
Dane & Chiara