Fishing Report
October 02 – 09, 2022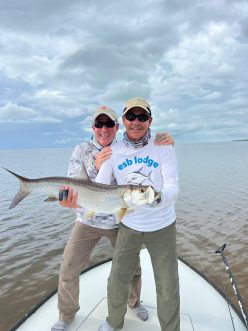 We've had a busy fall week here on the Riviera.  Our bay system purged itself of the surge remnants from Hurricane Ian and our neck of the woods resumed with the normal day to day fishing patterns.  We also are watching Hurricane Julia which made landfall the other day south of us in Nicaragua in an area called Pearl Lagoon.  This may be way south of us but we are placed in a band of weather that holds heavy rain and high winds for the next couple days for us.  Last night we witnessed an absolute incredible lightning/thunderstorm.  Easily one of the top lightning storms I've witnessed here, with strikes flashing across the horizon not much further than the reef system.  I was glad we got our group from last week out ok and the incoming crew arrived successfully.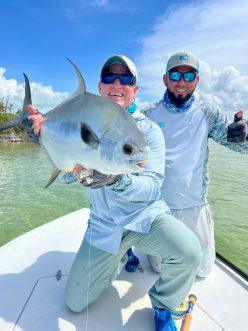 We love the group that just left, lots of fun, great humor, well rounded and just appreciative of being here.  Front men Vinny Foti and Michael Gerrity are responsible for putting the crew together and it's their second annual trip for 2022.  I have rarely seen Vinny Foti walk around without a smile on his face and his attitude is infectious.  The world would be a better place with more Vinny's in it.  The classic Massachusetts accent of the group took over the dining room every night and the camaraderie towards our other two guests Steve Wetmore and Bruce Depriester was great.  This is a high-profile east coast group.  We don't really like mentioning organization names and the movements or happening of this tight knit fishing mafia.  Through secret doors that lead to more doors, dead end alley's, under poorly lit Boston streets you might run into these guys….  Be prepared and be ready to fish.  Their hub resides around Cape Cod but I am slowly beginning to understand the true power and reach this group may have even on a global scale.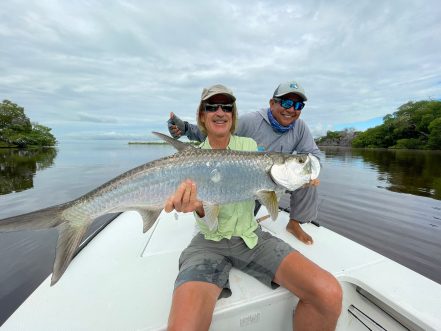 FSIHING:
I'd describe the week of fishing like a well-played sports game of sorts.  Every guide, every guest had shining moments.  We played the full deck for all our species and the group also enjoyed having all five of our guides as one of them transitioned towards some vacation time.
Permit are exasperating as usual.  It's why we love them.  The consistent inconsistencies create a mainstream of difficulty as we search for clarity.  Everyone had plenty of shots at least one day or another throughout the week.  We pretty much covered the bay and found them in different locations almost daily.  Outside along the far north shore wrapping back to the ends of 4th river, back to the southside from Tabasquenos to Flamingo had fish.  The southern boca had a pile of fish one day and another day a single was caught with a hail Mary to nervous water inside the lagoon closest to the boat launch.  That's tough conditions for guides and every day they were faced with different variables.  We got all excited on one spot where 30 or so shots were had one day only to see nothing the next and some other school pop up somewhere else.  Mark Roberts and guide Victor made it all the way outside the bay and found two smaller schools of eager permit.  He landed his first and complimented that with a first grand slam.  Vinny nailed a beautiful fish first day with Alex.  Alex had Michael Gerrity in the southern cut second day of the week and they saw loads of fish and was able to get one.  Ron Reif got both of his fish with Alex throughout the week.  Geoff Gold took a permit last cast of the day towards the end of the week and got one his last day as well.  Steve Unsworth put two on the board with nothing short of casting perfection.  It seemed that with the moon our tides were a little more dramatic adding a surplus of water on the incoming tide.  My favorite place in the bay called Flamingo is loaded with permit and the east portion of Tabasquenos seems to be where they are coming from.  The last day, Ron Reif was with Fernando and they cast to so many permit his shoulder had to be iced with the aid of a beer.  I couldn't stop laughing at the comic scene and I also was impressed how excited he was despite not sealing the deal with so many fish.  If you see lots of permit with lots of shots that's deemed a good day permit fishing by any stretch of the imagination.  I am curious to see that the next couple weeks bring us for chasing permit.  Fall isn't normally dubbed the best time for big numbers but with some sun and consistent wind that can change quickly.  Looking back on my notes for this time of year from previous seasons numbers of schools were found in deeper water.  Probably a generic observation, but they seem to hold in 15-20 feet or so and slide to the surface when it's calm.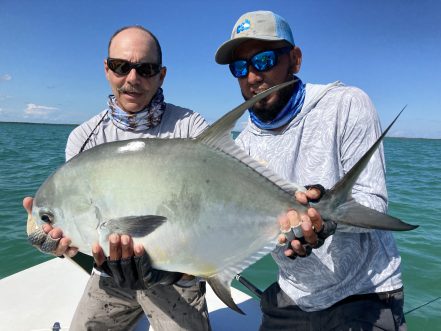 Our group of 8 anglers caught 10 permit for the week and we hold our permit numbers to 439 landed with 215 guests so far.
Tarpon fishing was fair with calm mornings being the best bet to chase them.  Michael Gerrity landed a big fish over 50 lbs and we saw others in the classic cut.  Northside held a few at times, and the east side of the Isla Cha held some fish.  River systems 1 and 2 had juveniles in their normal haunts.  Snook are starting to make appearance (I'm sure they've been here the whole time) and we pulled a couple from the mangroves.  Steve Wetmore and Bruce Depriester had a great tarpon and snook day with Fernando on the far side of river 2.  The spastic 10-20 lb tarpon are a blast for us to fish and I truly think it's far more exciting than all of our other species to have at the end of your line.  It's like a poorly lit firecracker, when and where remain a surprise.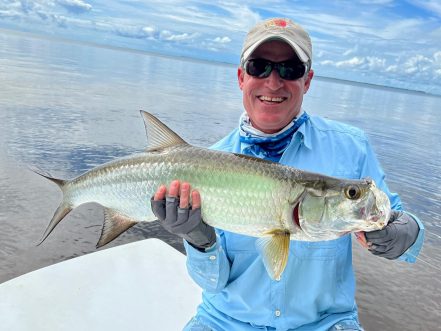 Everyone also took opportunities to chase bonefish.  It's our bread and butter and an insurance policy that enables you to have fun chasing them in shallow water.  We found them loaded all over the bay where conditions were optimal.  It's easy bone fishing right now, they eat, forgiving, and lots of fun.  Point made and enough said!
WEATHER/TIDES:
Big tides were the theme for the week with the fall fairly weak.  The normal low is now high and the high is huge.  We had varied wind directions from all directions except west.  Every nameable cloud formation was witnessed and when they disappeared guests enjoyed partly sunny to full sun moments throughout the week.
FLIES:
Permit flies were white Casa Blanca ragheads with no yellow eyes, ESB white and tan (these have yellow eyes) crabs, and a Squimp on a #2 hook.
Tarpon and snook ate toads, sardines, and EP style baitfish.
Bonefish ate everything regardless if it could fit in their mouth or not.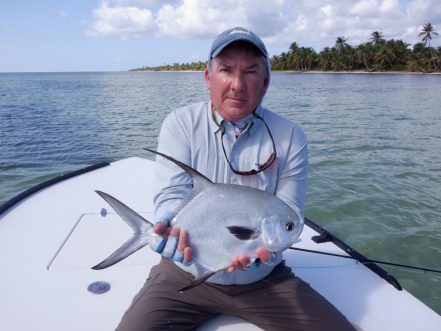 Chef Luis cooked wonders in the kitchen with his crew and we had Emmanuel and Freddy work hard to keep the property up and running in a comfortable fashion.  Guests have most interaction with the guides for their week with us.  It's important to remember those that work tirelessly behind the scenes to make sure everything in properly maintained and running.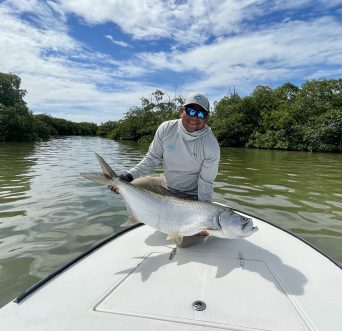 We're off to wet week here with 5 guests that joined us yesterday and it's looking better by the hour with the weather.  Our other two will get in on the action starting Wednesday midday.  My hope is by tomorrow afternoon we'll slide into more suitable weather for fishing rather than wind surfing.  I know this fishery will have its moments but, in the end, will shine like it always does.  If you have any questions about this place, please drop our friends over at The Fly Shop a quick call and they'll get you straightened out with whatever info you're looking for.  Get outside and enjoy the color change with the fall season, heat up some chili on the stove, and embrace the cooler weather.  I hope everyone has a great week and check in for the next report.
Saludos desde el Caribe Mexicano,
Dane & Chiara