Fishing Report
May 21 – 28, 2023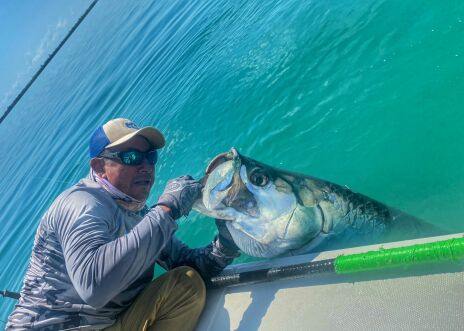 Welcome to the Caribbean!
We have had a very good week in all aspects, excellent guests, good weather and good fishing! The light winds were the constant of the week with some rain in the afternoon or evening on some days, where the mosquitoes were the unexpected guests, if we apply the concept of Taoism that talks about yin and yan, where its maximum simplification dictates that "everything good has something bad and everything bad has something good", we cannot have good weather and gentle winds without mosquitoes, I think it is a pretty low price for the benefits it brings us related to fishing, besides human beings always look for ways to accommodate the obstacles or adversities in our favor or mitigate its effect and for these cases the repellent was invented. Surely the Tao did not expect that.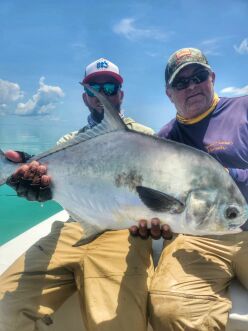 This week we were visited by Larry "Lorenzo" Jones and Frank Hatanaka who were with us for two weeks, Sabrina and Jeff Sellmeyer an incredible couple who enjoy all aspects of fishing, Mike Benkert an exemplary angler who is always looking to grow and add new experiences, Dan Montgomery and Sam Lewis two very experienced anglers who always have clear objectives for each day of fishing and David Lee, who visits us for the first time and also chose us to have his first saltwater fishing experience!
Fishing
Monday was a great day for David, on his first day of saltwater fishing he was able to measure his strength with his first permit, our super experienced guide assisted him at all times so that he could be the winner of the battle and achieve something that very few have achieved, and others dream of achieving, his first permit is his first day of fishing.
Honoring his humble character, attribute all the credit to our guide and downplaying his participation because his opponent "was small". My dear David, permits do not change their name because of their size, and they are all considered trophies, enjoy your first victory and welcome to the Palometa anglers club! That night we logically celebrated with the traditional tequila shot ritual for your first permit, your first bonefish, basically your first everything!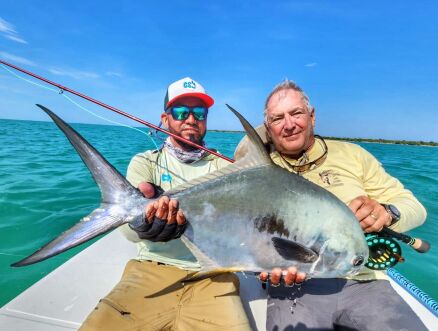 On Tuesday, his light winds and the state of the currents flowing through the entrance channel to the bay aligned to give Frank a new opportunity with the silver titans of the deep. As the chords of the Princess of Pop, who remastered her hit "Oops, I did it again" exclusively for our angler this week, played in his mind, he again challenged a triple-digit weight mass (heavier than last week's) armed this time with a little more appropriate gear for the situation, This served him to try to shorten the grueling three hours of battle and to immortalize the moment again in a photo with "the biggest fish of his life", I have no doubt that this statement will not last long knowing his thirst for adventure and challenges.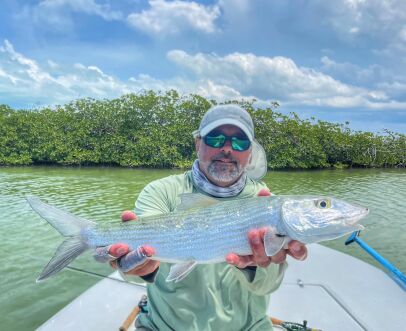 Sam and Dan also had their moments of glory, intrigue and suspense facing the adversities presented by the trophy species of the Bay. I have no proof, but neither do I have any doubts about the number of insults, blasphemies and non-politically correct words that Sam must have dedicated to the two permits that in the middle of their battle had the audacity and little shame to cut their lines, if you read correctly, two different fish cut two different lines. Without giving up and renewing his misplaced confidence in the line manufacturers, he placed a third one and managed to land a Permit of very good size that took away part of the bitter taste that the day was leaving him. Unfortunately, we have all been victims of those days when, as we say in Argentina, "it rains ribeye's and we have a spoon in our hand" but Sam did not let himself be intimidated and far from giving up he faced adversity and got his reward, that is the true fighting spirit that every angler should have, in my opinion.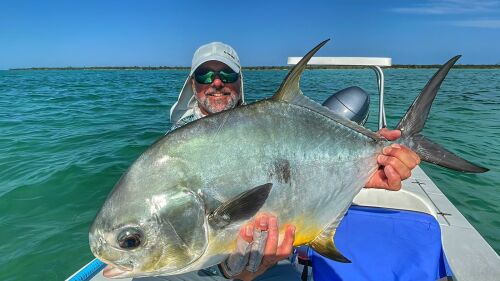 Dan, innocent witness of the situation of his fishing partner Sam, had better luck and without major complications managed to beat another large permit that added to the big bonefish that Sabrina knew how to fool in the flats of the bay, sealed a GREAT day in every way.
Wednesday's dawn brought changes in the wind direction, but not in its intensity, these changes seemed not to be to the liking of some species in the bay showing them much more elusive and uncooperative, despite this Jeff made accurate casts to a school of permit managing to duel with two of them winning in both cases, but a giant barracuda left him with half of one of his trophies unfortunately making it unphotogenic by today's standards. Snappers and Bonefish seem to be immune to these changes in atmospheric pressure and were very active, highlighting one of the biggest advantages of Espiritu Santo Bay, its diversity.
Thursday continued the line of the previous day with elusive and nervous Permit that followed the lures, but did not attack them, but not so with the other species in the bay that delivered fun and joy to our guests.
Friday had a clear protagonist, Mike, who in the morning fooled some big tarpons that seem to have found the perfect technique to get rid of the sharp hook of their bony mouths, leaving our angler with empty hands and his eyes lost in the horizon, but as fishing, like life, always gives revenge, in the afternoon he managed to score in his personal card a hat-trick of permit that gave him back his smile.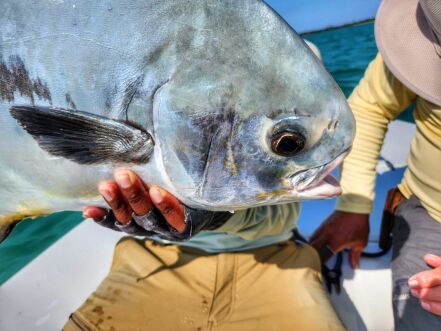 On the last day of fishing, Mike continued to add to his Permit tally to finish the week on a high note. Sam accepted the challenge presented to him by a permit of monstrous dimensions, managing to trick it and fight it until the fish applied ethically reprehensible tactics where the leader suffered the consequences and denied Sam the victory. While it is true that fish don't get to big sizes because they are dumb, they could stick a little closer to the rules of battle, it doesn't cost them anything to be a little more polite.
Weather
The light winds that fluctuated between 6 and 10 mph during almost all the fishing days were very comfortable, the variations in their direction between east, southeast or northeast were felt during the middle of the week. I must emphasize the fact that we have had two consecutive weeks with these gentle winds, something that our guests are very grateful for.
The tides continue to be strong and predictable with these winds.
Occasional showers were present during the afternoons, evenings or early mornings, but never lasted more than 30 or 40 minutes.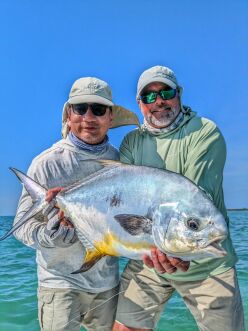 Flies
The bonefish took on everything that was presented to them, shrimp and crabs of all sizes and colors available.
While Permit weren't the main target this week, they did respond to the classics, ESB Yellow Eyes Raghead and Casa Blanca.
Tarpon and Snook were not forgiving of EP's baitfish presentations, especially in black and violet or purple. If you visit us soon, please don't forget to bring your intermediate and sinking line to go in search of the big tarpons.
The work of our Chef Luis and Sous Chef, Angel continues to be the subject of commentary at almost every dinner during the week because of their wonderful dishes.
The staff keeps the bar very high in terms of quality of service that makes the stay of our guests more than welcoming.
See you next week with a new report and do not hesitate to contact our friends at The Fly Shop so they can tell you first-hand what life is like in Espiritu Santo Bay, the Sian Ka'an Biosphere Reserve (which means "Where the sky begins", in the Mayan language).
Taak ulak k'iin and Ka xi'ik teech utsil!!!
(See you later and good luck! in Mayan)
Martin Ferreyra Gonzalez and the entire ESB Family.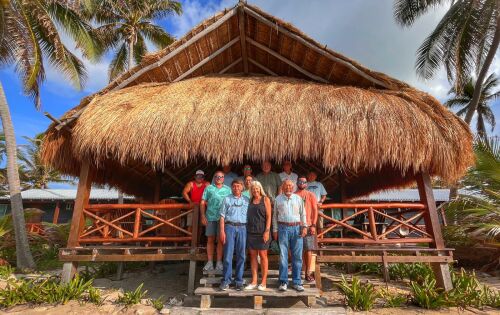 CHECK IT OUT!