Fishing Report
March 10 – 17, 2019
Hello saltwater fly fishers,
We've had another great week down here at Esb Lodge. We spent the week reuniting with old friends and welcomed two new guests to our wonderful operation.
We also had the pleasure of hosting two phenomenal photographers Arian Stevens and Toby Nolan. We have wanted to capture some great images of our operation with all the wonderful food, accommodations, lodge life, and of course some fishing.  Over the next couple weeks these two will be sorting through the thousands of shots taken last week and we will be passing them along to share with everyone.
FISHING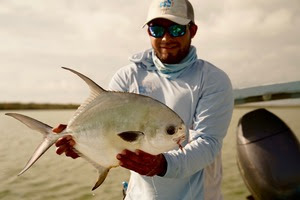 We had four single anglers last week that all opted for their own boat to maximize fishing time on the bow.  With almost 50 hours of fishing for the week this is one of the best locations to choose for a single angler.  Permit were on the minds of our four guests for the week.  We had incredible winds for much of the days on the water that consistently blew at 20 mph with gusts that hit 30 mph.  This caused for a very slow week for us on the flats chasing permit.  Each day anglers were able to get shots off and locate fish but there was much time spent searching and working hard to find clear water and see permit.  In most cases we see permit head to our deeper flats (10 feet) and wait out the wind.  It becomes very difficult to spot these fish and when they choose to act this way.  Fish were located cruising the flats sporadically and no large schools were spotted.  I think for the amount of fish we saw and the amount of refusals we concluded the fish were acting very nervous and extremely hesitant to take our normal flies.  With so much chop and wind these fish high-tail out of shallow water and it forces our guests seeking permit elsewhere.  We are forced to standing and fishing more open and exposed flats.  This can be a daunting task, standing on the bow with waves crashing over the boat.
We still managed to land some fish and had a couple of very unfortunate breakoffs.  4 permit were landed with the group of guests and photographer Toby Nolan was able to land his first one the last day.  A great wrap up of a week of shooting pics and film!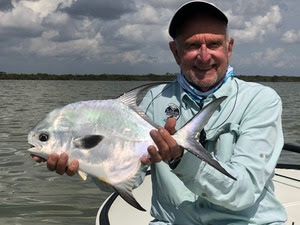 4 permit landed brings our season total to 48 landed with 42 guests.  I still strongly believe this average of a permit per guest is outstanding and you will struggle to find other operations who can provide such results.
We really attribute this to our wonderful guides, long days on the water, careful assessments of fly choices, and of course conservation.
Bonefish were found and caught when they were targeted and some nice Jacks and a large Barracuda contributed to the tallies for the week.  We also have been noticing a large number of trigger fish towards the entrance of the bay.  It is not unusual to see more than 30 triggers through the course of a fishing day now.
WEATHER/TIDES
Tides for the week were high in the morning and dropping all day.  It was a very gradual decline due to hard wind.  Wind direction came at us mercilessly from the east and was 20 mph for most of the week with gusts that went 30.
FLIES:
The tan Squimp held strong for a few of our permit and a white EP spawning shrimp also worked and had many follows.  Bonefish were happy to take any flies that represented small shrimp in sizes 4 – 8.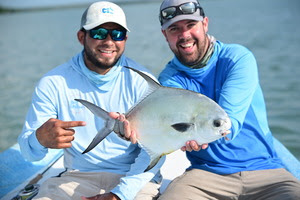 Despite some windy conditions Chef Felipe put on a show with delivering wonderful dishes from the kitchen.  He was backed by our great house staff team who saw to all guests needs.  As mentioned before, we are excited to share some great photos taken by our friends of the lodge's excellent cuisine.
I am excited for this upcoming week with our 8 guests that all hail from Austin and Houston TX.  The group is hosted by Captain Ben Pascal.  Ben is a very successful redfish guide that poles the waters around South Padre and spends a couple months in Louisiana chasing big bull reds.  He is a highly sought- after guide and we are proud to have him here with our operation and bringing his friends in tow.
Please check out his website and see if you can't get a day on the water with him! – lagunamadreoutfitters.com
The weather has calmed down since yesterday and as I am typing the report I can see two trigger fish tailing out my office window.  Hopefully we see minimal wind for the week and the fish charge onto the flats to take advantage of calm conditions.  I don't know about you but I plan on walking some flats this week and I hope everyone gets a chance to get out and find some water to fish!
I encourage you to check in with our friends at The Fly Shop to inquire about this special place.  Have a fun filled week and stay safe!  Stay tuned for next week's report.
Ciao,
Saludos desde el Caribe Mexicana
Dane & Chiara