Fishing Report
August 27 – September 03, 2023 #26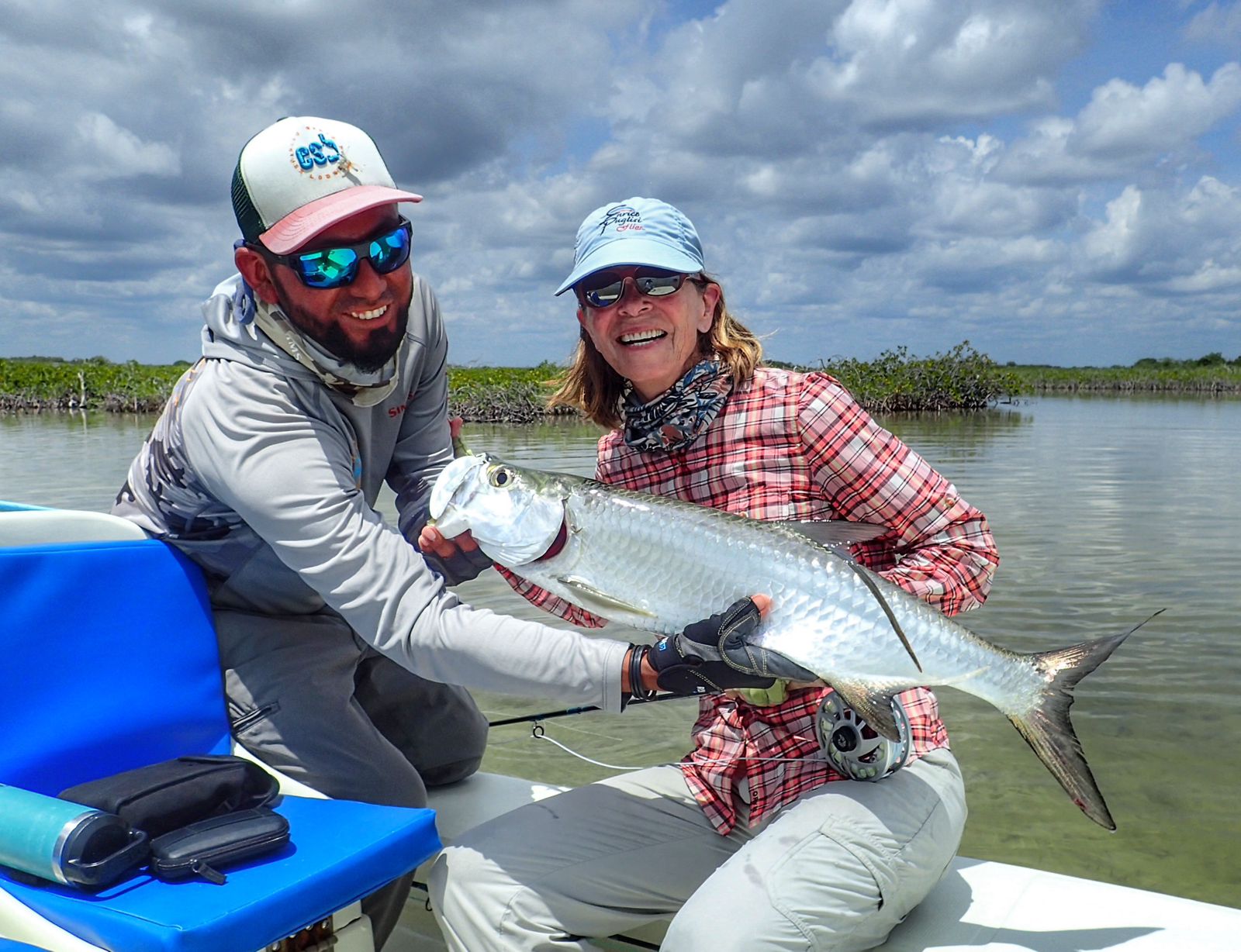 Welcome to the Caribbean!
We have had an excellent week where the weather became a secondary character, totally overshadowed by the power of our three guests who were part of the group.
As vivid representations of the character that Elizabeth and William Moulton Marsto imagined and created in 1941, giving her the name "Wonder Woman", our three heroines used their rods and lines as "lasso of truth" and knew how to make the bay give them some of its best and most guarded secrets.
The stupendous group led by Captain Billy Trimble, renowned guide of the Coastal Bend flats, Betty and Ray Boasman, Molly Polk, Agnes Wommack, Jay Forrest and Eric Kern, all experienced fishermen and fisherwomen who thoroughly enjoyed the experience that ESB has to offer.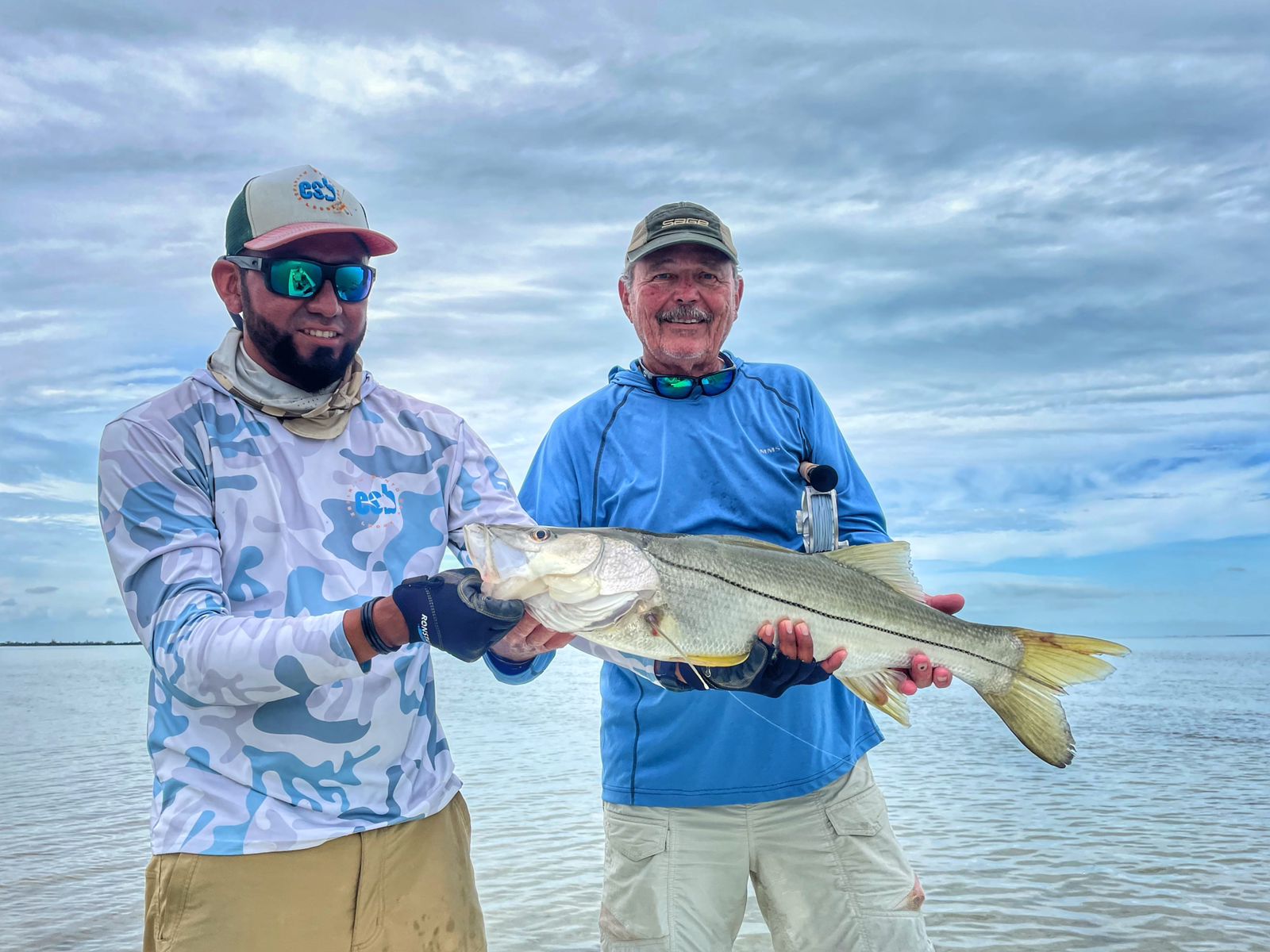 FISHING
The week began under the influence of the last traces left by the newly born Hurricane Idalia that began as a large tropical depression just off the shores of the lodge. This is how the gentle winds and some annoying clouds that moved without an apparent fixed course greeted us when we arrived at the bay. From early hours the fishing day started with a great bonefish activity, our guests did not miss the opportunity to face the ghosts of the flats and the great number of catches was something that pleasantly surprised us all. Betty managed to trick and measure her strength in a battle with a specimen that was well over 6 lbs and after a not at all easy fight she managed to subdue her rival, leaving an indelible remembrance in his memory under the title of "the biggest bonefish of her life". Molly and Agnes commented with great joy about the incredible day they had enjoyed fishing for macabis. Jay added tarpon and snook to his list of catches during his first day of fishing.
Tuesday morning brought the promise of an excellent day in terms of weather, sunshine and light winds rotating between east and northeast. Molly and Agnes began their adventures with tarpon, a species that would be talked about later in the week. Betty and Ray continued to expand their catches of beautiful Bonefish by more than a dozen and the great activity of this particular species began to show as the trend. Eric and Billy spent most of their fishing time looking for the bay's flagship species and while they spotted many permits, they casually dismissed all attempts to fool them. Jay, on the other hand, was looking to continue expanding his list of species caught and added jacks, barracuda, bonefish, etc.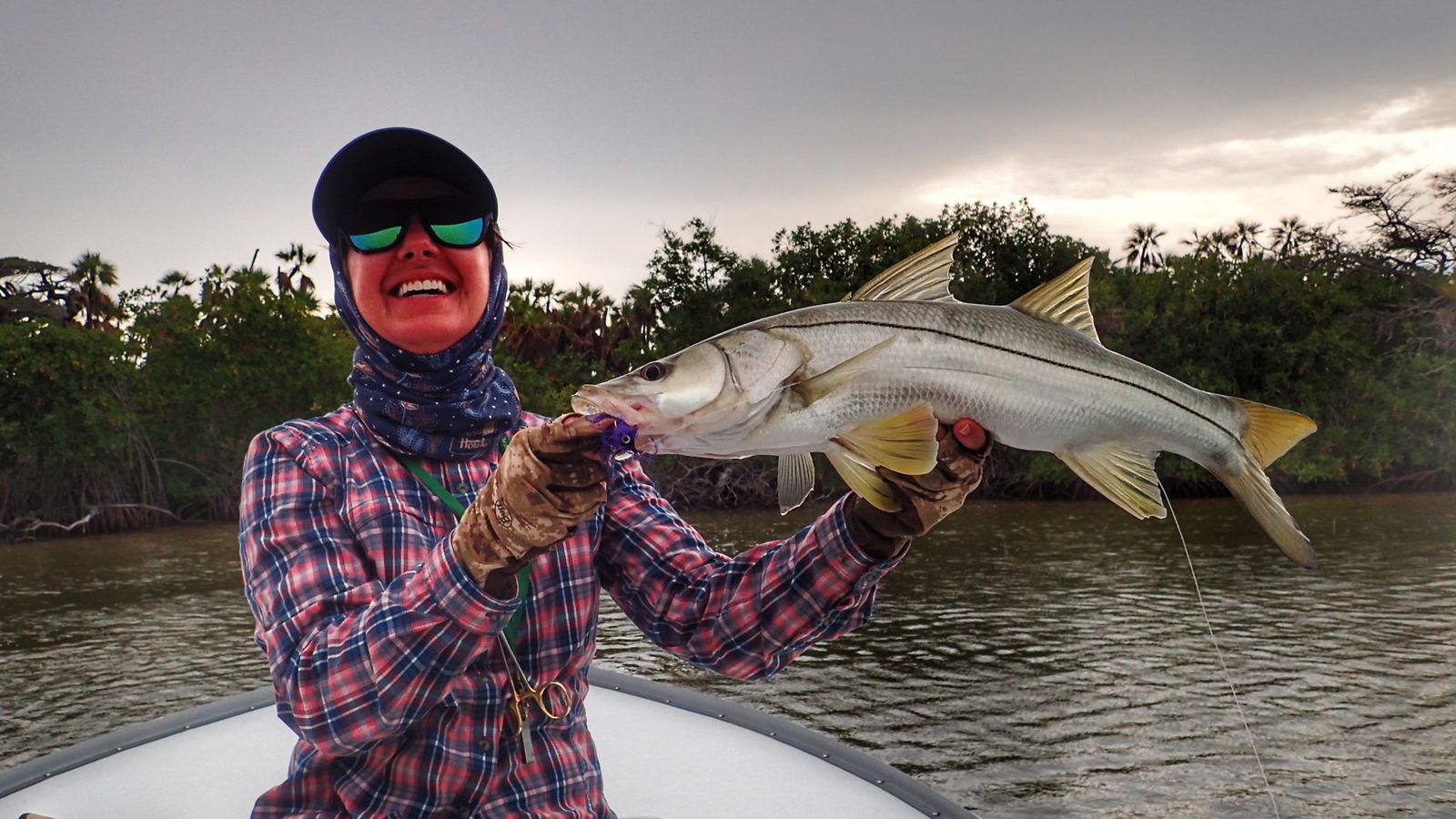 A light but persistent rain came during the first hours of Wednesday's fishing day, which was very well received by our guests as it was refreshing and seemed to increase even more the bonefish's extraordinary activity. A good example of this was Eric's first three casts that were rewarded with a bonefish willingly taking his feather and hair fly. By the middle of the day the rain was coming to an end, and it was the perfect time for Jay to hook up a beautiful jack that constantly insisted on looking for the final knot of his baking. A little later he did the same with an extraordinary barracuda that, showing off its speed and deceptive spirit, seduced Jay with a great battle and, showing itself surrendered next to the skiff's gunwale, with all premeditation and malice aforethought, executed its final deception in the form of an explosive head movement, making the hook break at the gap, leaving both occupants of the boat with a bittersweet taste. Some of our guests spent part of their time searching for tarpon, but with little success, as it seems that the refreshing morning rains were not to everyone's liking.
Just past the halfway point of the week, Betty, Ray and Eric added up their catches of flats ghosts by the dozen, and they did it in almost any fishing situation that this species can create, in schools, alone, tailing and showing an absolute lack of common sense for the species when attacking permit flies or big streamers for tarpon or snook. Exaggerating the concept enormously, we could say that if you put a finger in the water, a bonefish would undoubtedly come for it. Agnes continued to add some tarpon to her account, perhaps as a prelude to what the following day would have in store for both her and Molly, who added snook to her catches on this day.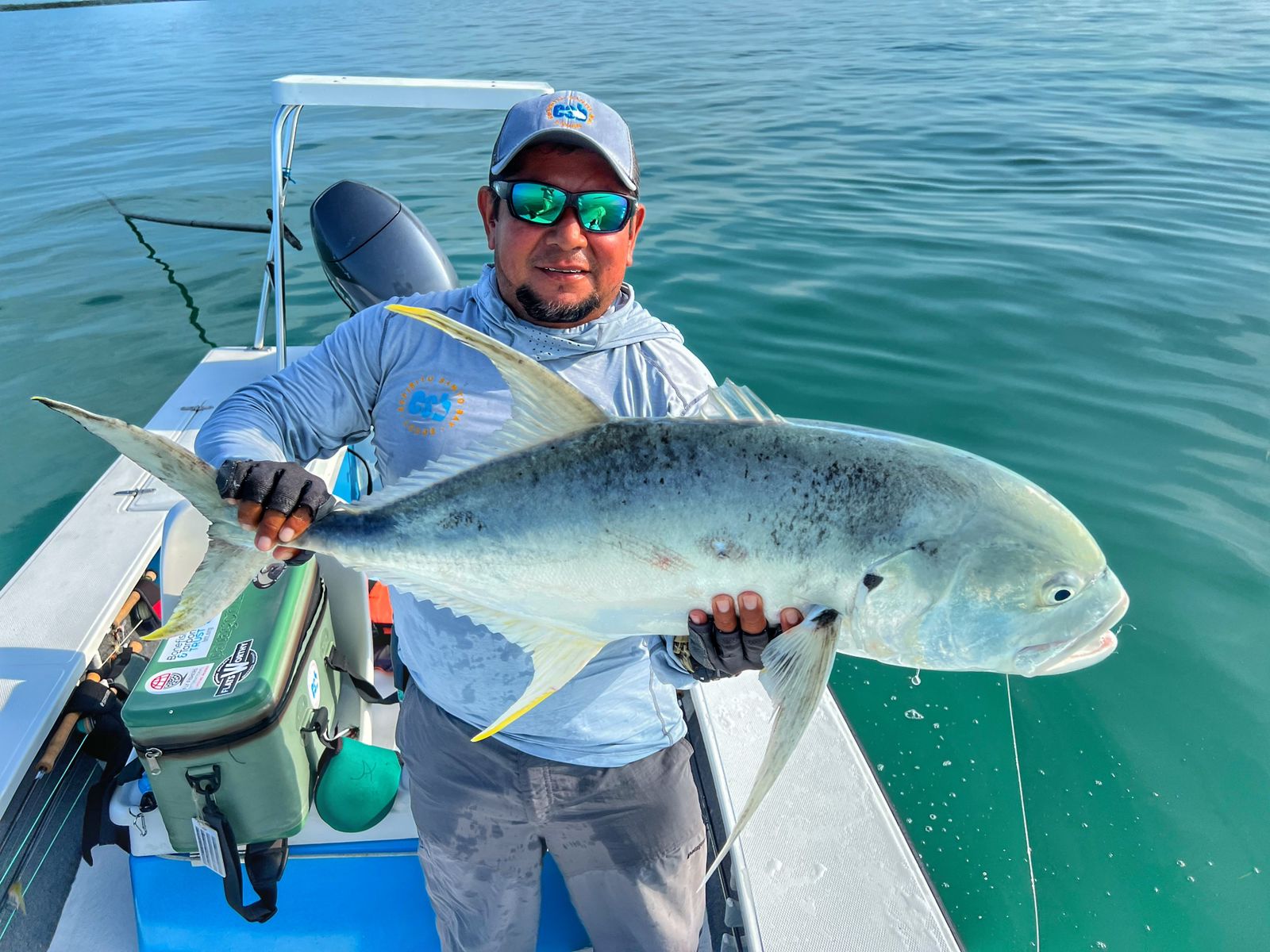 Friday was the day chosen for Molly and Agnes to go in search of the adrenaline generated by nailing those big silver torpedoes that have been giving us so much joy this season. With great skill, Molly's sharp hook managed to penetrate the bony mouth of one of these giants, initiating runs and acrobatic jumps worthy of the best Cirque du Soleil artists, and it was these contortionist and acrobatic skills that helped this great tarpon evade capture. Then it was Agnes' turn, who with great skill managed to nail another good tarpon, and with the lessons learned after Molly's fight, she was able to counteract the acrobatics of this beautiful specimen and land her scaly trophy. Both agreed that the specimen Molly fought with was bigger than the one caught by Agnes, proving once again the universal and inescapable law of fishing "the biggest one always escapes". With the whole group already surrendered to the captivating activity of the bonefish this week the numbers of their catches only increased and none of our guests made the slightest attempt to hide their happiness for this fact.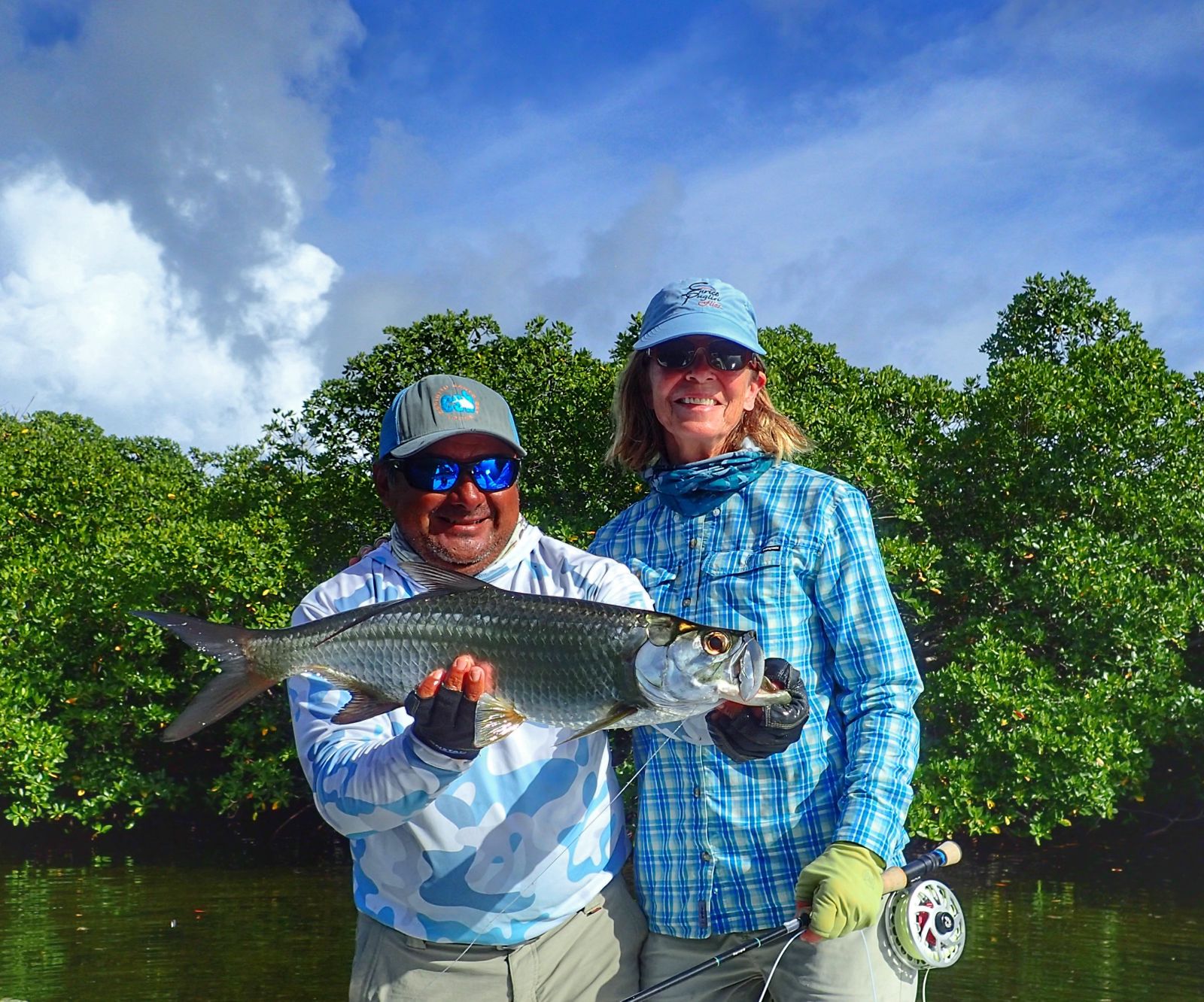 The last day of fishing this week was no different from the previous ones, the wind slightly increased its intensity, and its predominant direction was northeast, which did not prevent the colossal number of bonefish catches to continue increasing, as well as the snook, jacks, snappers and the long etc. that completes the menu of species available in the bay.
My dear readers, as you can see, we had an excellent week that not only showed the extraordinary skill of our "wonder fisherwoman" but also showed a reality that fills me in particular with satisfaction, the waters of the bay and its extraordinary variety of species is able to surprise us every week with one or more protagonists making their options wide enough to satisfy the tastes of all who visit us.
WEATHER
It was not the invariable easterly winds that prevailed this week, as they usually do during the season. The low intensity of these winds, which had a maximum speed of 12 mph and a minimum speed of 6 mph, made the consequences of their daily variations in direction practically null and void.
The tides were very marked and predictable, a fact that was greatly appreciated by our guides and their fishing strategies for each day.
The rains, which were light to moderate at times, were never prolonged and most of them occurred outside of fishing hours, so they were generally well received.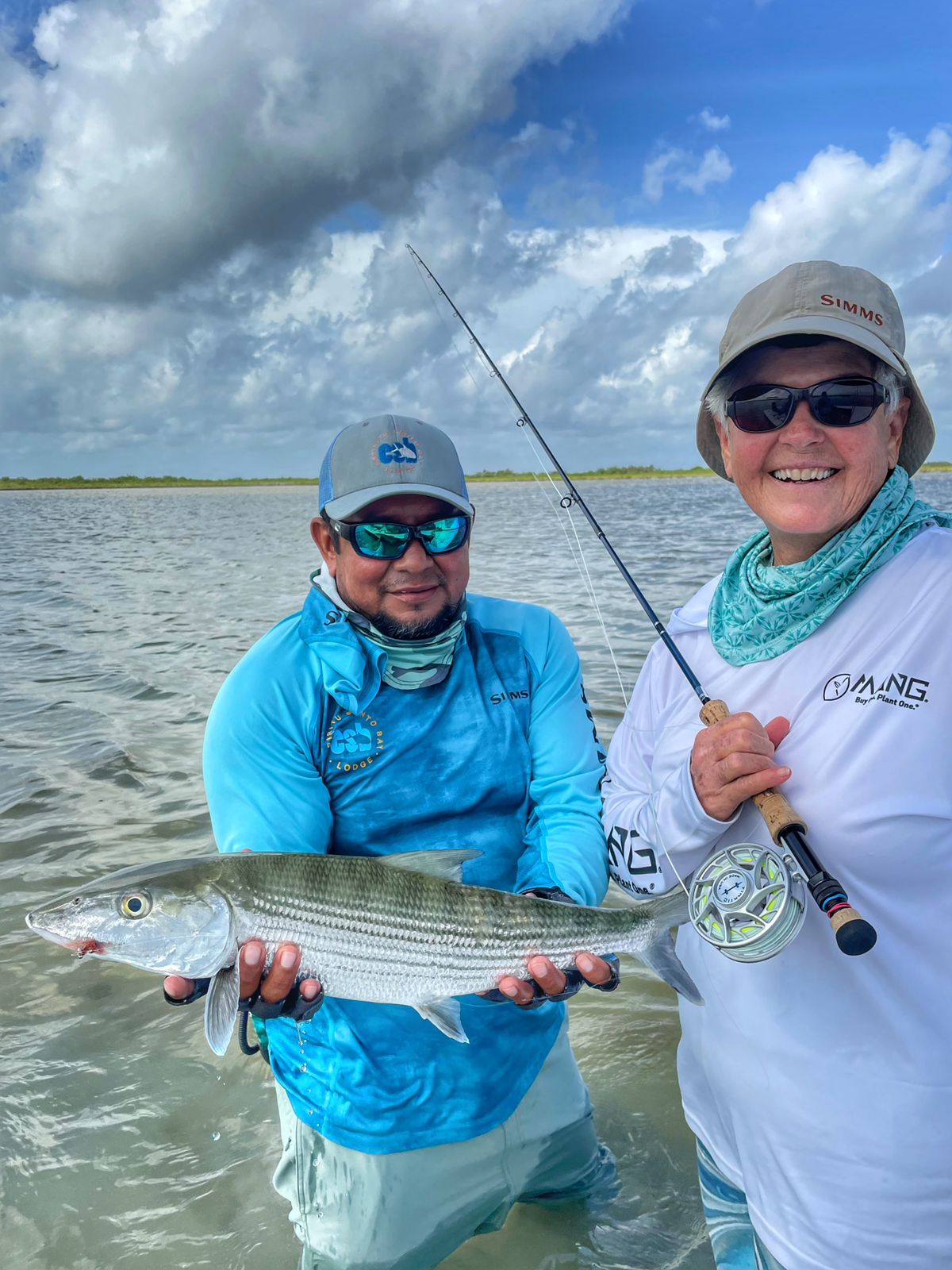 FLIES
Although this week the Permit were not the most sought-after species, their capture attempts did not leave a defined pattern as "THE FLIES", so I invite you to continue relying on the immortal classics of the bay, Squimps, Spawning Shrimp (tan and white) white and tan Casa Blanca ragheads.
Tarpon and snook still fall inexorably into the deception if tempted with EP streamers Baitfish black/purple, white/chartreuse, black/red, tan/white, solid white, tarpon toads worked well in similar color schemes.
As for the bonefish, what can I tell you, this week absolutely everything that was put in front of them worked, so I invite you not to be shy and on your next trip to ESB get creative and let's look for the fly that doesn't work with this species. Let's go to an absurdity, you think a skated Royal Wulf on the surface will be able to not tempt them, with the lesson learned from last week, I'm not so sure I'm telling you no anymore.
I would not like to be repetitive and fall into the monotonous collection of compliments to our staff and guides for their professionalism and excellent attitude to make your stay with us a reason for pleasant memories, but I would like to make a particular emphasis on our new guide David who, although he is new with us, has demonstrated that all his experience accumulated in more than 20 years guiding in Caribbean waters was a more than wise choice to join our team.
See you next week with a new report and do not hesitate to contact our friends at The Fly Shop® so they can tell you first-hand what life is like in Espiritu Santo Bay, the Sian Ka'an biosphere reserve (which means "Where the sky begins", in the Mayan language).
Taak ulak k'iin and Ka xi'ik teech utsil!!!!
(See you later and good luck! in Mayan language)
Martin Ferreyra Gonzalez and the entire ESB Lodge family