Fishing Report
March 28 – April 04, 2021

Spring is in full swing here at ESB Lodge, and we're welcoming the seasonal change as I'm sure all of you are, wherever that may be. Last week we had the pleasure of hosting 6 new guests to our program and returning close friend Brian Thielicke for his second trip visiting us.  We enjoy hosting newcomers here and we encourage everyone to take advantage of any openings to grab a chance to fish at ESB Lodge. The dynamic of our group was fun, nobody knowing each other prior to arrival, and everyone becoming friends by the end of the week.  Evenings were filled with laughter and hilarious stories, punctuated by a crescendo that was lubricated with bottles of fine Argentinian malbecs and blends. My ears were ringing from the dull roar, and I had a blast with the group of appreciative and friendly guests.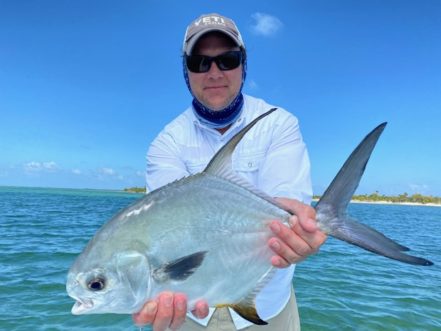 FISHING:
The second part of an enjoyable fishing trip revolves around just that – fishing, and we had an exceptional week to say the least. Last Sunday upon arrival everyone got situated in their rooms, and had a delicious lunch. After lunch I gave a quick orientation with a basic run down of how things work around ESB, fishing conditions, do's and don'ts and we begin piecing everything together for guests to have a fun filled week. It was brought to my attention that 5 out of the 7 guests had never landed permit and were anxious and hopeful (maybe desperate) to land their bucket list fish. I'd be lying if I was saying that I wasn't a little nervous with the demand, we're fairly used to this, and although it always comes as a tall order we work hard to tackle.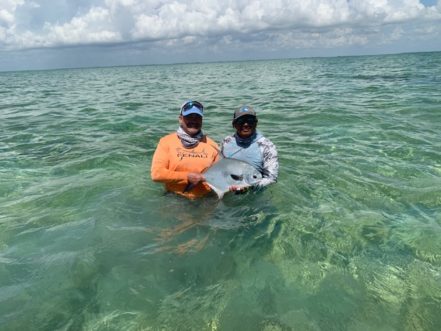 Everyone headed to the boats Monday morning and there was full sun, stiff breeze from the southeast, and a quiet intensity had filled our van of anglers highly anticipating the beginning of the week. I returned later to pick up the group at 5:00 PM and was met with smiles, high fives, and a locomotive babbling of excitement as I simultaneously heard 7 guests describe their day.  We had some schools of permit fairly close to our boat launch that had moved into the bay.  They were all fresh schools, and we didn't see them the week before with the high winds. This same scenario played out for us a few weeks ago as well. All 5 guests that had never landed permit before checked their bucket list fish by lunch. The group collectively landed 36 plus permit Monday. We've never landed this many permit in one day here at ESB Lodge. Guides Victor and Pepe, an awesome brother duo each flanked the schools and proceeded to catch one after another. Tony Ankar and Webster Ray were with Victor and their boat landed 24 permit alone. Tony was one of the five hoping to catch his first permit, and succeeded in landing his first twelve…. Newcomer Waverly Crenshaw had traveled to various locations around Mexico and Cuba chasing permit and had yet to land one. He along with Pepe landed his first eight for the day. Guide Marcos along with Louis Fehrenbacher and Steve Gotanda joined in and these two guests landed their first permit each. This was Louis's second trip in the salt and his first cast of the week was tight on a nice fish. Guide Alex chose to head deeper into the bay and chase fish on the northern side and aided Bill Babb into his first permit and rounded out a grand slam, another first.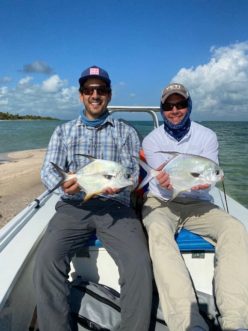 There was some excitement later that evening to say the least, and it was a proud moment to raise our glasses at dinner and toast guests with tequila congratulating everyone. Expectations were blown out of the water and I was astounded at the numbers of fish landed. This isn't normal for us and I begged guests to please understand. Everyone was appreciative and enthusiastic with their day and they knew they had taken part in some exceptional fishing. We see big pushes of schools in the spring. The theory the guides and I have come up with was a hard incoming tide and a proper flush of water movement. We saw some decent fish the previous week but never the schools. Historically spring time brings hard easterly winds that can almost stop tide movement. There's no tide charts here to follow our even begin to understand, it's 100% dictated by wind. ESB sees roughly a foot or so of change from low to high tide, or vice versa. When winds change, especially from the southeast normal tidal movement resumes and the schools of fish come flooding in. When there is no movement due to eastern winds we see almost a slack that can last for the better half of a week, with little or no fresh schools of fish moving in and out of the bay. ESB is a small bay comparatively to the much larger bay to the north, Ascension, and even bigger bay to the south, Chetumal. Our bay is 15 miles east to west and 5 miles north to south at its widest. Fish here are always coming and going, riding water movement and pushes with the tide. We had schools along the southern shoreline, and they petered out towards the southwestern corner of the bay. Although schools weren't seen deeper in the bay, larger fish, singles doubles and smaller groups of permit were seen. The northern flat Ensenada has finally started to show some sign of life, guests found permit and bonefish and continued to work from there moving west towards first and second river. As the week progressed, we found larger fish in 3rd and 4th river system. Big solitary fish, much larger than the 4 – 6-pound schooled fish. Bill Babb and Brian Thielicke did well last Thursday with Victor and landed a few larger fish. Steve Gotanda landed the largest permit for the week, a healthy fish around 25 pounds, an absolute trophy with Pepe.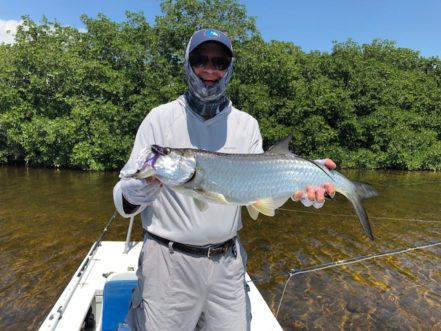 Guest Waverly Crenshaw was already ecstatic with his fishing results from Monday with Pepe.  The week was sealed for him, having landing his bucket list fish, let alone 8 of them in one day.  I was blown away again last Thursday when Waverly headed out with guide Alex, who was hell bent on finding more schools. He returned with another record, 25 permit in one day. None of this was blind casting in river systems and they had tailing schools that made for visual targets all day long. Waverly fished as a single angler all week and Alex kept him on a couple schools of permit all day. A mantra that I usually preach is there's no such thing as 8 hours of good permit fishing. Clearly I was dead wrong.
Waverly fished as a single angler for the week and was introduced to us through Brian Berry, owner and operator of Teton Valley Lodge. Brian recently teamed up with The Fly Shop as part of their new domestic program working with fishing lodges in the United States. On a side note, this is a world class operation located on the banks of the famed Teton River located just outside Driggs, Idaho. I look forward to hosting groups here in the future. Waverly was happy to relay his day-to-day fishing with Berry who understandably was in disbelief. The Federal District Court Judge landed an impressive 34 permit for the week, another record. Well done Waverly, and perhaps the closure of the week could be summed up as "case closed". I very much look forward to seeing Waverly next year.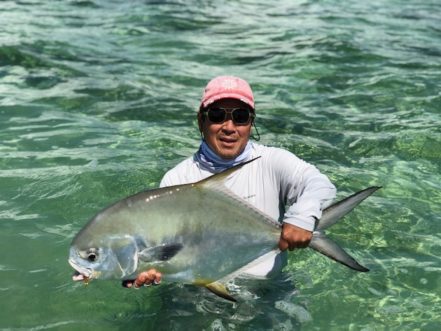 I'm hesitant to mention the group of 7 anglers collectively landed 74 permit for the week.  By far the most we have landed, heard of, or even knew was possible.  This takes our season totals to an incredible 189 permit with 61 guests.
We did have some decent tarpon fishing for the week although I feel the numbers are a little lower than normal. This is due to the higher tides and the bay unable to reach a real low and preventing fish from coming out from under the mangroves. The handful of tarpon we landed were in the river systems on the northern shoreline and couple small bays that are deep with mangrove stained water. We did see a handful of snook, usually when chasing tarpon.
Bonefish were plentiful as always and helped define the healthy balance of fish we are fortunate to have in our bay.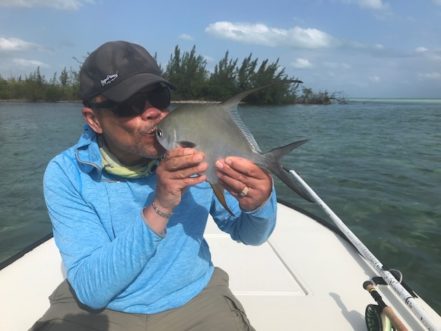 WEATHER/TIDES:
Weather for the week was beautiful, mostly sunny skies, southeastern winds for much of the week. Last Friday we saw a slight wind change come from the north and ended from the northeast by the end of the day. Tides were high in the morning, and outgoing in the afternoon.
FLIES:
Permit were landed on all of our normal go-to producers.  Raghead crabs white and tan with or without yellow eyes, Squimps, and EP spawning shrimp as well as ESB spawning shrimp tied with heavier yellow eyes.
Tarpon ate toads, and EP style baitfish. Color schemes black/purple, chartreuse/white were hot colors.
Bonefish ate any properly presented shrimp pattern sizes #2 – #8
Chef Carlos and the kitchen continued to put out delicious meals for guests around the clock.  There were constant compliments from guests about the cuisine every day and usually a photo or two taken before courses were served at night. Francisco and Freddy worked hard to keep the lodge grounds and guest rooms orderly and clean for the week.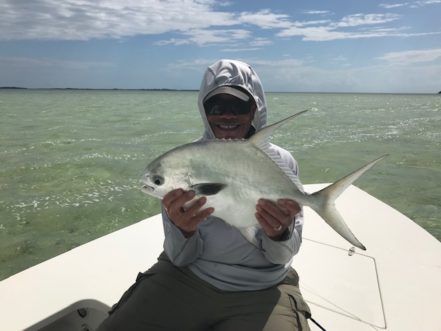 We've got a fun week ahead of us with 4 single anglers. Three of the four guests have fished with us in the past and I happy to have newcomer Gary Forster added our growing ESB Lodge family. There are some high expectations after last week's numbers and I'm confident we'll have a solid 6 days of fishing. The sun is shining as I write up this report and I'm a bit envious of our 4 guests who have the entire bay to themselves. I hope everyone had a great Easter, found some easter eggs, and got a chance to get outside and enjoy the spring weather. If you're interested in this fishery or would like to hear more about the "happenings" around ESB Lodge, give our friends at The Fly Shop® a call. They're standing by to aid you in booking a trip of a lifetime or help you with any up coming trip you may have. I hope everyone enjoys a safe week and please stay tuned for the next report.
From a special corner in the Yucatan,
Saludos desde el Caribe Mexicano,
Dane & Chiara and the entire staff of ESBL