Top 5 Tarpon Destinations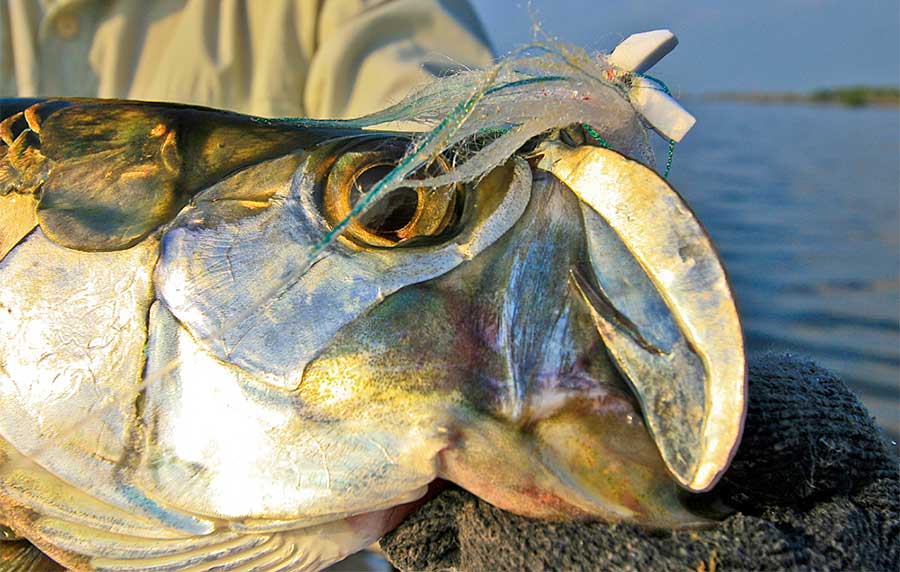 Tarpon Cay Lodge, Mexico:
Tarpon Cay Lodge is based out San Felipe Mexico, a small fishing village on the North West point of the Yucatan Peninsula. Although  less 3 hours by car from Cancun, it feels like you are in the middle of old Mexico far away from the mega tourist metropolis. San Felipe is the mecca for baby tarpon on the fly, not overcrowded with tons of water and mangrove wetlands to fish and explore. The fishing for baby tarpon out of Tarpon Cay is arguably the best and most consistent on the Yucatan Peninsula.
The Experience:
Tarpon at Tarpon Cay Lodge average five to twenty five pounds. These silver rockets feed aggressively over turtle grass flats and throughout an incredible complex of mangrove lined lagoons, creeks, and bays within the Parque Natural San Felipe and the Rio Lagartos Preserve. The strength of this fishery is the phenomenal number of baby tarpon that inhabit the region and the sheer number of shots you get each and every day. And the experience is relaxing and slow paced, just like you would expect in a Mexican fishing village, far off the beaten path. Uno mas margarita por favor.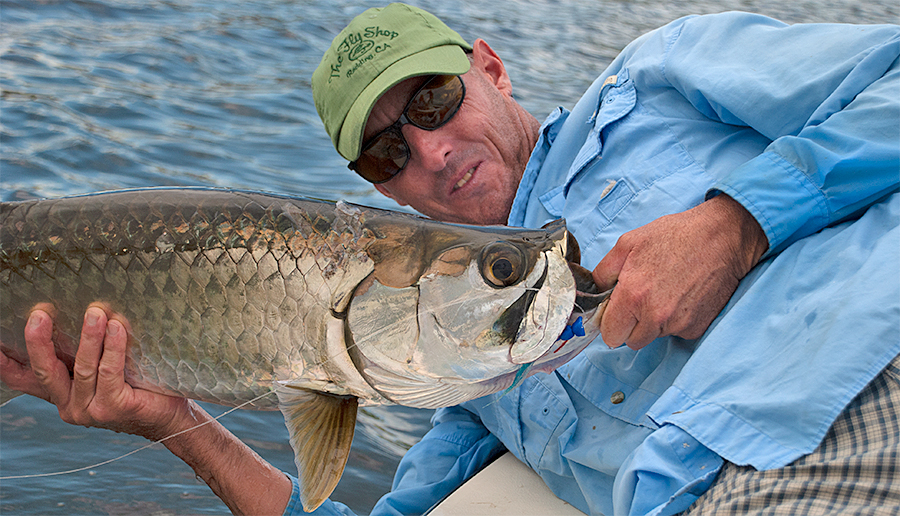 Espiritu Santo Bay Lodge:
Espiritu Santo Bay Lodge (ESB), is a wilderness flats fishing destination specifically designed for serious saltwater fly fishers. ESB  allows anglers quick and easy access to the last frontier of Caribbean flats fishing – Espiritu Santo Bay. This fishery can provide fantastic action for all four of the Caribbean's famous flats species – permit, tarpon, bonefish, and snook. This is "Super Grand Slam" country within the massive 1.3 million acre Sian Ka'an Biosphere Reserve! But the sleeper fishery of ESB, is the big pelagic tarpon that enter the bay each summer and stay through fall. These are not babies, but adult tarpon that can tip the scales at better than a 100 pounds and turn you into a knee shaking wreck after a series of wicked tail walking leaps and snapped 100 pound shock tippet.
The Experience:
What makes ESB Lodge so special is its location. There are simply very few places left in the world with the same sort of unspoiled natural resources found in ESB.  Robust and healthy populations of bonefish, permit, tarpon, and snook abound in its flats, creeks, and backcountry lagoons, protected and un-harassed, just the way they have lived for millenniums. And nobody has better access to or more intimate knowledge of the bay than the guides at Espiritu Santo Bay Lodge If you are looking for an out of the way destination to target large tarpon, with not a soul around, look no further than ESB Lodge in summer and fall.  Trust us…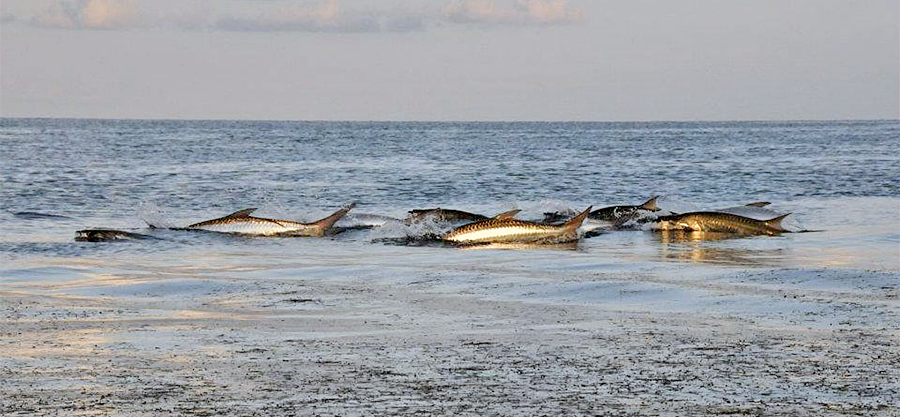 Bahia Honda Sporting Club:
Bahia Honda Sporting Club is the only all-inclusive fly fishing lodge in the lower Florida Keys, and that frankly is hard  to believe, but true… How in the world can one of the greatest saltwater fly fishing locations in the world, the place that virtually started it all, not have a world-class sport fishing lodge. Well, enter Bahia Honda, an absolutely gorgeous and deluxe sporting club, strategically located in the lower keys to take full advantage of some of the best tarpon fishing in the world.
The Experience:
Finally, there is an easy way for anglers to fish together in the Florida Keys without having to juggle guide schedules, rental cars,  hotels, and restaurants… just to put together a tarpon fishing trip with a few friends. Bahia Honda takes care of it all in a setting that can only be described as tastefully luxurious. Picture a private Mediterranean villa perched on a private beach overlooking the Atlantic within minutes of some of the best tarpon fishing waters in the Lower Keys. And at the end of a long guided day, retreat back to the lodge where you will be spoiled with fine dinning, open bar, private accommodations, and old-world service.  And hanging out in the infinity pool with a cocktail sounds pretty good too. Bahia Honda is all this and more.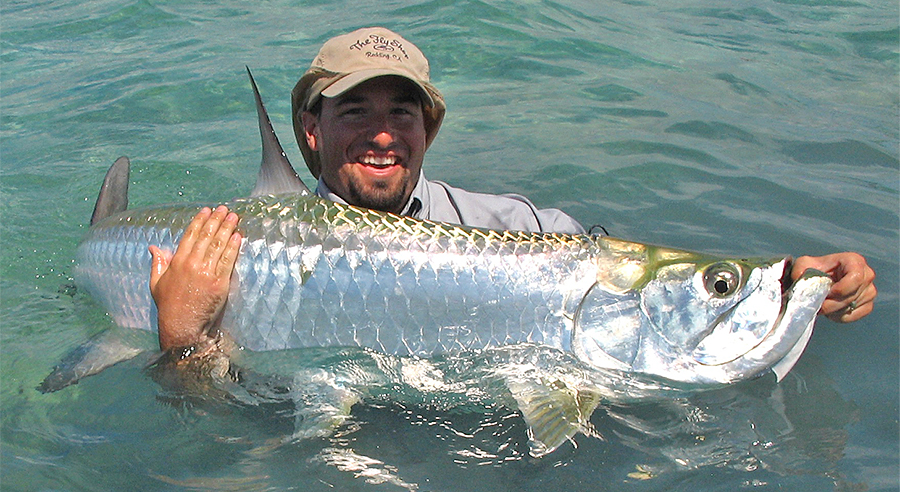 Belize River Lodge:
Belize River Lodge (BRL) is a tried and proven world-class fishing operation and has been in continuous operation since 1961. It is unique in that it offers anglers an incredible variety of different angling opportunities, including an outer island experience at their Long Caye Outpost. No matter what angling option you choose, the owners of BRL, Mike Heusner and Marguerite Miles, are wonderful, hard working, helpful people and run a top-notch operation. Their seasoned staff is among the best we have ever experienced and their work ethic is second to none in all the Caribbean. Non-angling activities are numerous, ranging from snorkeling to Mayan ruin tours. Boat tours and birding tours can be arranged for you and/or your partner as well as many other activities.
The Experience:
Belize River Lodge is appropriately named as it sits right on the banks of the Belize River – a lazy and meandering tropical waterway, minutes from the international airport. The lodge can accommodate 16 guests at one time, and is surrounded by lush tropical gardens, and well manicured lawns. Air orchids hang from the ancient mahogany trees interspersed among the buildings. The setting at the lodge is truly beautiful, like something out of a Tarzan movie. It's not uncommon to hear clans of howler monkeys deep in the jungle calling to one another and see large Iguanas making their way across the grounds. But for serious fly fishers looking to target big tarpon, you could find no better destination. BRL has tarpon and they know how to find them. Expect to spend long days on the water with your guide, as they'll fish you from dawn to dusk.
Casa Blanca:
Casa Blanca is one of the premier Caribbean salt water fly fishing lodges located on the private island of Punta Pajaros directly between Ascension Bay and Espiritu Santo Bay in the Mexican Yucatan (south of Cancun) and smack dab in the middle of the Sian Ka'an Biosphere. It's location is key to its extremely strong fishing program, that includes bonefish, permit, tarpon, and snook.
The Experience: And like ESB Lodge, Ascension Bay, Casa Blanca's home-water, supports strong summer and fall fishing, where big numbers of adult migratory tarpon enter the bay to feast on massive schools of sardines. Its not uncommon to see schools of marauding tarpon and snook bullying schools of sardines onto the beach, only make smashing charges, scattering fish water and sand. And best of all you are on the sides casting baitfish imitations into the melee.  And at the end of the day, you retreat to one of the nicest and swankest fishing lodges in the Caribbean with the best margaritas in the country.
Megalops atlanticus, tarpon, aka the "Silver King"
by Eric Ersch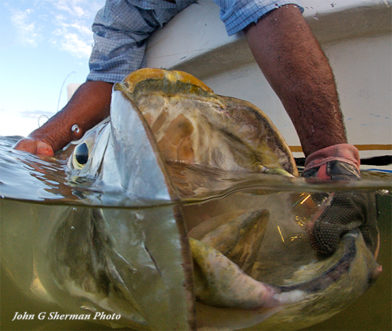 Tarpon are truly fish of dreams. Standing on the deck for the first time, watching them glide across the flats and into range is unforgettable. Calculating all the presentation variables is difficult, nearly impossible on your first attempt. Movement of the skiff, direction and speed of the water's current, wind, the direction, speed and depth of the traveling fish, all combine to determine where you land your fly, how long you let it sink, and when you begin to move your fly. You see them swim across the white sand in the distance, coming your way, and disappearing as they move over dark green turtle grass. One rolls on the surface, and they are already half the distance inside of where you first saw them. Your friend gently pushes the skiff's stern to port, setting you up for a ten o'clock shot at the incomers. Beginning your false cast, you realize that they're moving faster than you thought, and that you are already late in the game. Pushing your cast more to the right, trying to strip line in while casting, you dump a "hail Mary" cast in front of them, watching them swim beneath your fly before it sinks to their depth. "Deck time' is the teacher of truth, and you watched in amazement as a handful of liquid silver dreams passed silently in front of the skiff, only a couple rod lengths away, knowing that they are more than anything that you have ever heard or read about.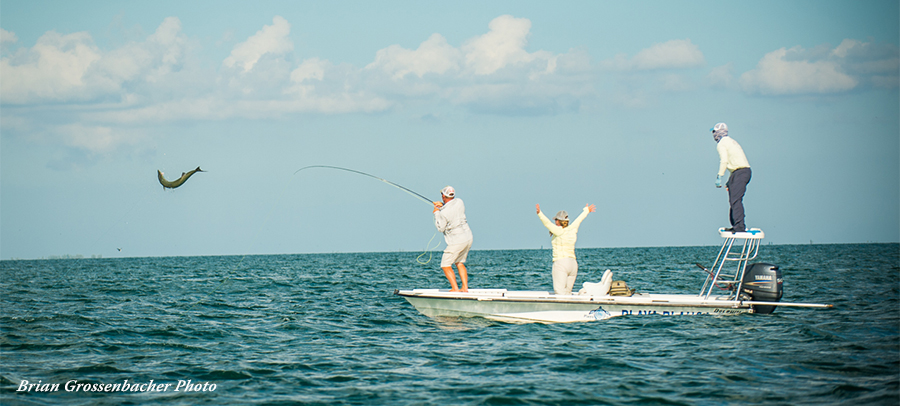 Tarpon have a complex life cycle, particularly during their earliest stages. They spawn offshore in the spring and summer in association with a full or new moon. As broadcast spawners, they release sperm and egg into the water to be fertilized, with the eggs drifting in open water until hatched. Hatching soon after fertilization into a nearly transparent leptocephalus stage, they resemble a piece of clear ribbon, absorbing nutrients from the water through their skin. This form is beneficial because the transparent body and lack of a yolk sac make it difficult for predators to see. Amazingly, tarpon larvae move up to one hundred miles from offshore spawning areas into the estuaries where they transform into their juvenile form.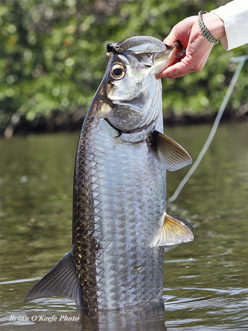 Juvenile tarpon thrive in back bays, creeks, lagoons and salt marshes, typically environments with low levels of oxygen in the water. They survive in these low oxygen conditions, having the ability to control the contents of their swim bladders by gulping and releasing air, often using that air for respiratory functions. This allows the juveniles to obtain much of their oxygen from the air rather than the water. Throughout their lives, juvenile tarpon are opportunistic feeders, eating small crustaceans, shrimp and worms, expanding their diet to include fish as they grow. They remain in the juvenile stage from six months to three years, growing rapidly from one and a half to twenty four inches. At approximately three years, they move out of the lagoons and marshes into nearshore habitats to find both more and larger prey.
Adults travel freely between freshwater rivers, brackish estuaries, coastal waters and the open ocean, and begin to join other mature tarpon in spawning aggregations. Reaching sexual maturity around eight years of age, their growth and behaviors change. Instead of primarily increasing in length as they did as juveniles, they grow in both length and girth. Their growth rates are different for each sex. Males are smaller, rarely exceed one hundred pounds, as they don't need a large body to spawn as many times and with as many females as possible. Females, on the other hand, grow to larger sizes to produce and release as many eggs as possible.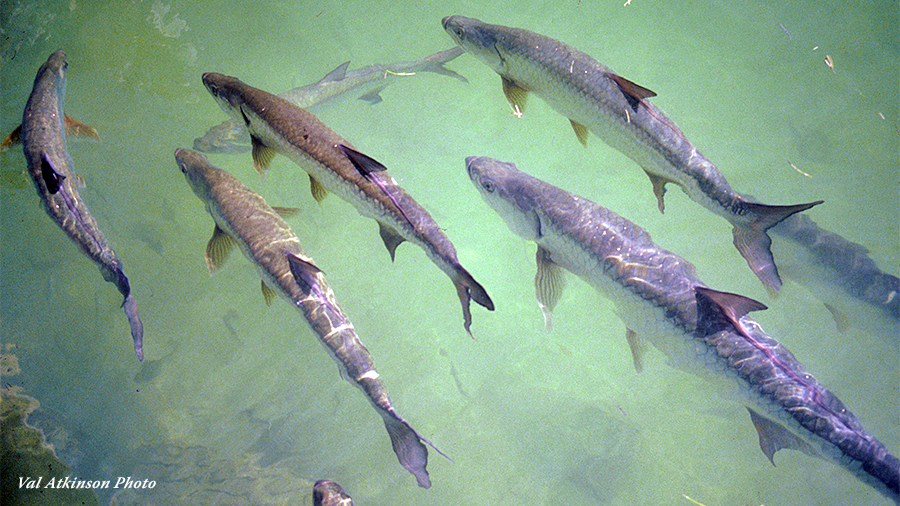 "An awareness arises of the distinction between a species like the tarpon and the offshore pelagic fishes with which, as a game fish, the tarpon is often favorably compared. But in the tarpon the aerodynamic profiles and chameleonic coloring of blue-water fish are replaced by something venerable; they are inshore fish, heavily scaled; they gulp air; and as if to seal their affinity for the land masses of the earth, they require fresh or brackish water to complete their reproductive cycle. They migrate, as many fishes do, and when we touch or intercept these migrations, we sense, subliminally the dynamism of the biosphere: tarpon migrate by season, season is a function of planetary movement, and so on. Which is no more than to say you can face bravely those accusations of loafing when you have ruined a month chasing tarpon, racking your brain to understand their secret, sidling lives."
– Thomas McGuane.
"Tarpon Hunting", from his collection of sporting essays, An Outside Chance
McGuane was in Key West when the sixties turned into the seventies, along with his friends, Guy de la Valdene, Jim Harrison, Russel Chatham and a few others. There were only two full time guides in Key West at the time, so there was plenty of water to explore. Most of the places we know by name had yet to be  named. McGuane is quoted in Burke's book, "Lords of the Fly" saying "it was creative work. We were inventing it as we went along. The shallow water fishery was really blank paper. That excitement you feel when a piece of writing is really going well, that was very much the feeling when things came together on the  flats, with the wind and the tides and the fish".
"For well over a decade, Tom, Jim Harrison, the painter Russell Chatham and I spent our springs fishing together below Key West. We poled over the alarmingly white flats between Man and Woman Keys, watching for the reflection of tarpon to rise from the sand. We cast bonefish flies at tarpon in water so shallow their fins left furrows on the surface. We fished quietly over laid-up fish in the Peal Basin, where the tarpon assumed a slight discoloration before melting into the sea grass. We jumped tarpon in the northwest channels and off the naval base. We fished named flats such as Loggerhead, south of Big Pine Key, and the Eccentrics, west of Big Torch Key. We fought fish in Mooney Harbor inside of the Marquesas, we hooked tarpon under the Seven Mile Bridge during the palolo worm hatch, and we made long casts under the night lights of the Pier House Hotel in Key West. Tarpon, tarpon, there were tarpon everywhere."
– From the book On The Water, A Fishing Memoir, by Guy de la Valdène.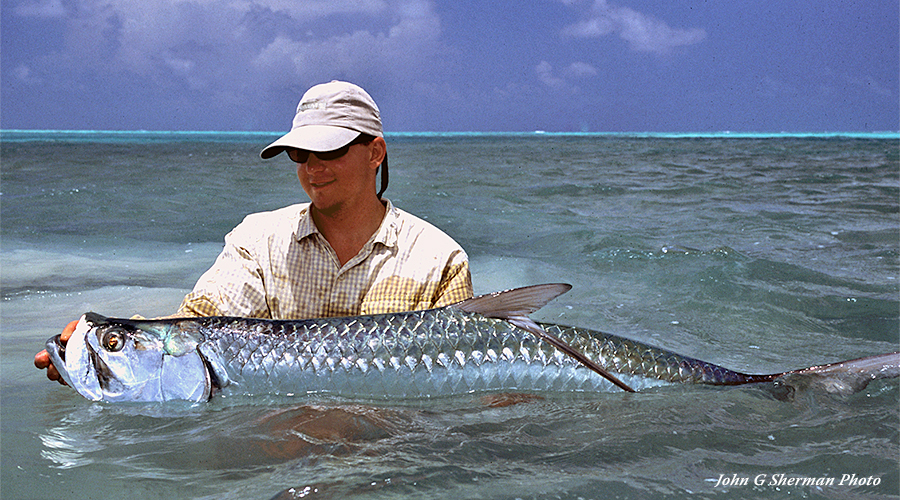 The decades have spun forward and the fishing has changed, but the allure of hunting tarpon with a fly rod continues. Pate and O'Keefe traveled all the way to Africa in search of giants, and found them. The Yucatan continues to be one of the most prolific juvenile fisheries that we know of. Florida and Cuba are still in the travel routes of the annual migrations. And Belize consistently produces some large adult tarpon each season. Research has shown us that tarpon are travelers, and not a regional species. That translates into the need for a global consciousness with regards to tarpon management. Thanks to science and the financial support that research requires, we know more about them than ever before. With our care and support, kill tournaments are a thing of the past, release techniques are highly successful, and anglers of future generations can look forward to casting flies in front of the "silver king".