Fly Fishing The Bahamas – Part 2
by Patrick Pendergast & Eric Ersch
Late last summer we dove into the Bahamas with our "Fly Fishing The Bahamas – Part 1". We are getting back to the next faze of this saltwater island chain.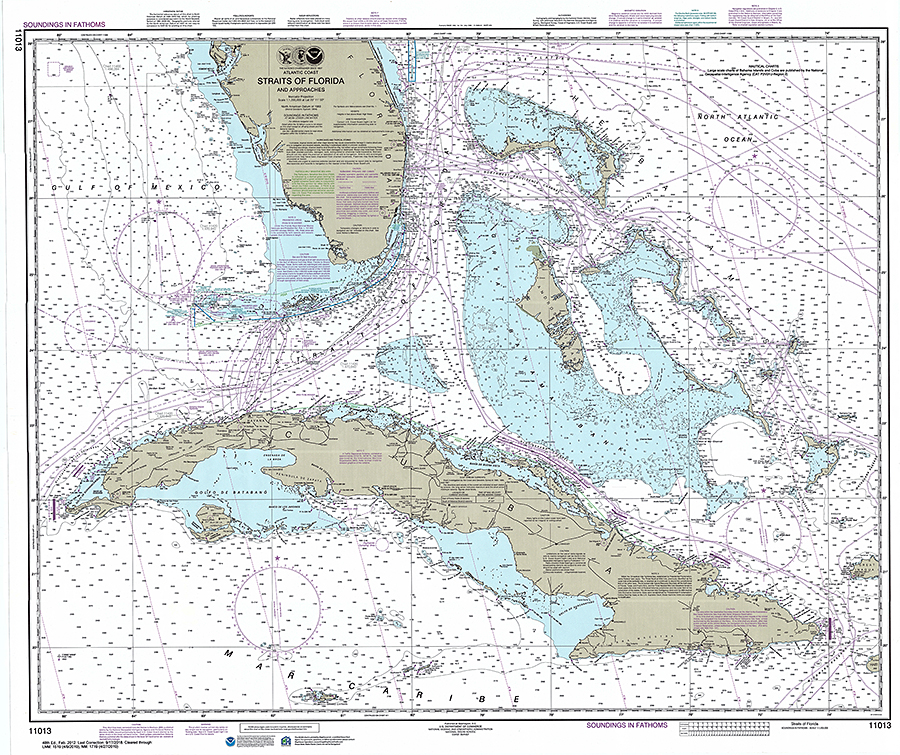 The Bahamas
Pulled by the falling tide, turquoise water moves slowly over white sand flats. Dotted with coral and mangroves, cut by channels of emerald green water, these flats of dreams seem to stretch all the way to the horizon. Reflecting sunlight, a silver tail shimmers on the water's surface.
Beginning fifty miles off the south coast of Florida and encompassing 180,000 square miles of islands and ocean, the Bahamas are a fly fisher's dream. Warm Gulf Stream waters and low latitude give the islands a mild and seemingly winterless climate, averaging three hundred and ten days of sunshine each year. Grand Bahama and Abaco are the northernmost islands, and Great Inagua is the furthest south. Between them rests more than a hundred islands and cays, many surrounded by extensive white sand flats that stretch for miles.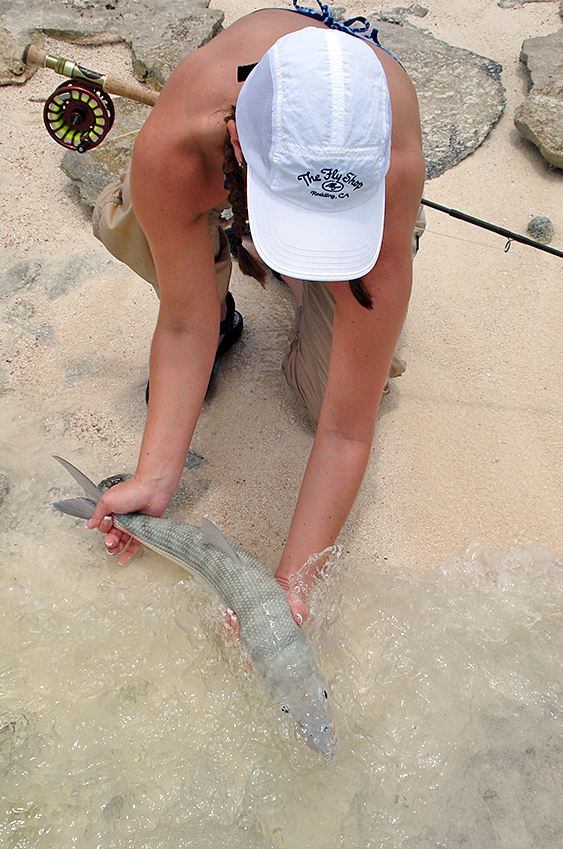 Located along the Tropic of Cancer, the weather in the Bahamas is moderated by southerly trade winds and the warm waters of the Gulf Stream. The northern islands can be affected by weather systems that move off the North American landmass, and are slightly cooler than other Caribbean islands. Cold fronts can begin as early as November, typically lasting two to four days, and diminish in frequency as spring takes hold. Average daytime temperatures range from the high eighties in the summer to the low seventies in the winter. Relative humidity holds at approximately sixty five percent throughout the year. As with most tropical climates, summer is the wettest season, with the majority of the rainfall occurring between May and October. Often dry and sunny for extended periods of time, the Bahamas are superbly located for year round fishing.
The Tiano people migrated from South America into the uninhabited southern Bahamas from Hispaniola and Cuba around the 11th century.  Columbus arrived on what is believed to be the present day island of San Salvador in 1492. An estimated thirty thousand inhabitants, known as the Lucayan people, occupied the islands at that time. Forced into labor and relocated to Hispaniola by the Spanish, more than half of the Tiano died of smallpox and other diseases. In 1648, the Eleutheran Adventurers migrated to the Bahamas from Bermuda. These English Puritans established the first permanent European settlement on the island of Eleuthera. Great Britain relocated American Loyalists and their slaves to the Bahamas after the American Revolutionary War. When the islands became a crown colony in the 18th century, the British waged war against the pirates that  used the Bahamas as the base for their trade. The Bahamas became independent from Britain in 1973, choosing Nassau as their capital on the island of New Providence. In 2010 the population of the Bahamas was 382,825 people. 91% stated that they were black, 5% white, and the rest of mixed race. English is the official language, though many residents speak in the Bahamian dialect. In 2023 it is estimated that 403,350 residents now populate the Bahamas.
Easy to get to We can't think of an easier saltwater fly fishing destination to get to than the Bahamas, especially for those who live on the eastern seaboard. You can literally depart New York City or Boston in the morning and by that same afternoon be sneaking up on a tailing bonefish as it meanders across a beautiful and lonely white sand flat.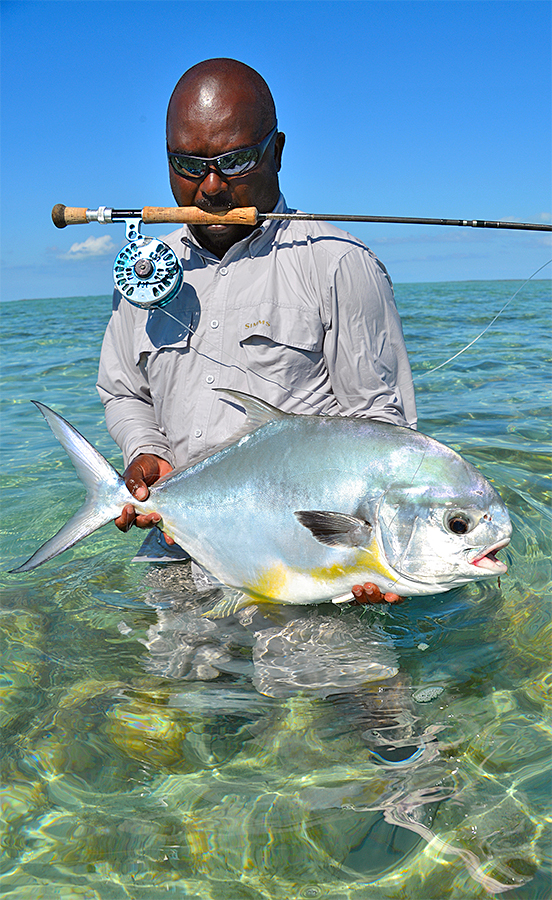 Fishing has long been an integral part of the Bahamian lifestyle, and for no small reason. Referred to as the Baja Mar, or Shallow Sea by the Spaniards, it is one of the most spectacular salt water fisheries in the world. Hundreds of tropical islands are embraced by shallow flats and mangrove lined beaches. This estuarine environment is home to the coveted bonefish, permit, tarpon, mutton snapper, barracuda, blacktip sharks, and more. Almost one hundred different species of coral decorate the surrounding ocean floor with an infinite variety of shapes and sizes and colors. Tree sized forests of stone hard elk horns, huge boulders that look like giant brains, and delicate flower-like figures of lettuce and leaf corals abound in the Bahamian waters. These nutrient rich shallows drop rapidly into the cobalt ocean depths. Just a few miles east of Abaco is the Great Abaco Canyon, a nearly vertical formation of rocky cliffs and sediment-covered slopes. Depths range from roughly 5,000 to 11,000 feet. Forage species abound along these slopes and steep walls, attracting dolphin, tuna, wahoo, and marlin. Inshore reefs harbor a huge variety of gamefish, including Nassau, strawberry, red and black grouper, mutton, schoolmaster, and mangrove snapper, yellowtail, horse-eye jacks, king and cero mackerel. This reef and blue water fishery has been famous for years, and is becoming increasingly popular with fly rodders as techniques have been developed to bring these powerful beasts within reach of the fly.
Deeply trenched in fishing history, The Bang Bang Club on Andros Island was a favorite hideaway for many of the rich and famous including Al Capone, Lee Wulff, The Rat Pack, and baseball legend Ted Williams. Deep Water Cay on the east end of Grand Bahama was founded in 1958 by Florida fishing guide Gil Drake and Field and Stream magazine editor A.J. Mc Lane. It's passed through the hands of several owners since '58, and was destroyed by hurricane Dorian in 2019; not to reopen. The Florida Keys and the Bahamas were the proving grounds for saltwater fly fishing in its infancy. Anglers based in a trout and salmon background brought their fresh water experiences and tackle and stepped into a whole new world of fishing. Fly lines formulated for cooler climates turned limp in the heat. Hooks rusted, and reels wobbled and disintegrated as their spools turned at unbelievable rates of speed.
Since those early days in bonefishing history, one fact continues to hold true. Bonefish are absolutely one of the most sought after game fish in saltwater and there is no better place on the planet to pursue them than the Bahamas. These silver torpedoes will rip you into your backing on a regular basis, testing every knot in your leader. Their skinny water behavior includes stealth, speed and tenacity, whether hunting prey or evading sharks and barracuda. Few destinations on the planet rival the Bahamas for superb bonefishing, in a location so beautiful that many anglers continue to return year after year in pursuit of the gray ghost in paradise.
Andros – The Big Island 
Mangrove clad islands are surrounded by white sand flats that are a joy to wade and stalk fish in barely a foot of water. The fishing opportunities are varied, and often determined by the tide. One moment you could be casting to fish on the edge of a massive school , and your next cast may be to a 10 pound class fish in water so shallow that its dorsal fin is shimmering in the sunlight.
Andros is the largest of the Bahamian Islands, over one hundred miles long and more than forty miles at its widest point. Andros has an area greater than all the other seven hundred plus Bahamian islands combined, and more coastline than the entire country of Belize. Andros consists of three major islands, North Andros, Mangrove Cay, and South Andros,  separated by estuaries called "bights" that cut east to west through the island. Five and six pound bonefish are common, and fifteen plus pound fish have been released.
South Andros The south end of Andros Island drops off into deep water that stretches all the way to Cuba. The complex of islands, channels, creeks and flats on the south end encompasses nearly 200 square miles of spectacular bonefish habitat.
The infamous westside of South Andros provides easy access for huge bonefish that move from the safety of deep water up onto the flats to feed. These fish are notably different from those living in the interior creeks, with dark blue green backs contrasting to the light colored bottom.
The backcountry bays and channels of Deep, Fresh and Grassy creeks provide wonderful protection, should you awake to a blustery day.
Access is via the airport in Congo Town, with service from Nassau and Ft. Lauderdale, FL.
Mars Bay Bonefish Lodge 
Mars Bay Bonefish Lodge is located on the east shore of South Andros, operating since 2005. Strategically positioned further south than other lodges, they have the best access to the southern end of the island. Bill Howard is the American owner / operator, and his work ethic is obvious in every aspect of this destination.
The lodge has a covered patio, complete with rod rack wash down, tables and chairs, and a refrigerator just inside the sliding glass door, filled to the brim with cold beer. Inside, there is a satellite TV, thick comfy couches, and an open kitchen that puts out some of the best conch fritters you'll ever eat. There is efficient air conditioning throughout, and electricity is available 24 hrs a day.
Dining is at one large table, and the food quality is well above what you would expect. Breakfast is American style, with eggs to order, bacon, french toast, ham, pancakes, coffee, and juice. Lunch sandwiches are made with sliced meats cooked in their kitchen. You'll get sliced roast beef, turkey breast, ham, etc. Sides include chips, fruit, cookies, with beer, soda and water available. Appetizers include conch fritters, batter fried lobster chunks, and conch salad, along with a happy hour bar set up with spirits. Wine is served with dinner, and the spirits, cold beer and bottled water are included in the package price. Bill dines with the guests, and the quality meets his expectations. Dinner is plated and served individually, including top quality beef steaks, rack of lamb, grilled mahi – mahi, lobster, hogfish, stuffed pork loin, garden salad, pasta and veggies.
Bair's Lodge
Bair's is a classic beachfront lodge, located on the east side of south Andros between Deep and Fresh Creeks. They handle twelve guests, who dine around a massive dining table cut from one tree, and the guest rooms are furnished in equal quality. The entire oceanside lower floor is banked with giant windows, providing a spectacular ocean view to the east. Every aspect of this operation speaks of detail and quality.
Their location allows guests to board their skiff on the beach in front of the lodge with many fishing options available. They have access to vast protected inland creek systems, making the run through the interior creeks to the westside, or motor to the south end fishery when the seas are calm.
The morning starts with a buffet of yogurt, fruit juice and cereal, followed by a full breakfast at seven. Lunch is prepared to order, including sandwiches and salads, snacks and beverages. Guests are met at their boats upon their return from fishing, with a chilled towel and refreshing drink. Appetizers are waiting at the bar, including mango ceviche, and other superb snacks. Dinner is served with the entree presented in person by their chef, serving the finest in local seafoods, prime beef, and fowl.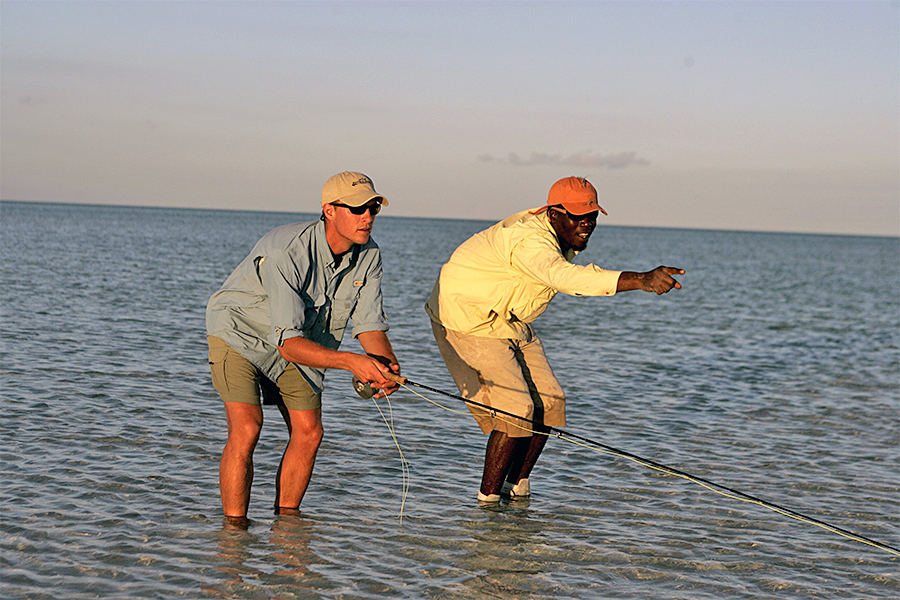 Andros South
Andros South Lodge is casual and comfortable – the perfect base for a serious bonefishing trip with your friends. Their excellent meals are prepared by local ladies that specialize in Bahamian Creole and delicious seafood dishes.
There is a palapa on the beach, stocked with a self-serve liquor bar and a refrigerator filled with cold Kalik beer and soft drinks, complete with fire pit, beach chairs, and palm trees.
Breakfast consists of eggs to order and bacon, french toast, ham, coffee, juice and yogurt. Lunch orders are taken in the evening for the following day, with sandwiches, chips, fruit, cookies, beer, soda and water available. Appetizers include conch fritters, quesadillas, fried shrimp, and conch salad. Dinner is plated and served individually, with entrees including pork chops, steak, lobster, fried snapper filet, pork loin, served with pasta and veggies.
The single occupancy guest rooms (yes each guest has their own room) are clean and colorfully painted in typical Bahamian style. They are appointed with a dresser, A/C, ceiling fan, queen bed, and a private bathroom with bottled water.
As a close neighbor to Bair's Lodge, their fishery is the same, with access to vast protected inland creek systems, make the run through the interior creeks to the westside, or motor to the south end fishery when the seas are calm.
A shining star for Andros South is their skilled guide staff operating a fleet of new Hell's Bay Professional skiffs. These skiffs are beautifully appointed, smooth riding when underway, and quiet on the flats.
Mangrove Cay is a small island located between the middle and south bights of Andros, facing the east side beach. The fishery includes the bights and their protected waters, and a run to fish the west side. Access is via commercial flights through Nassau, and private charter from Florida. It is the home of two excellent, but very different bonefish destinations.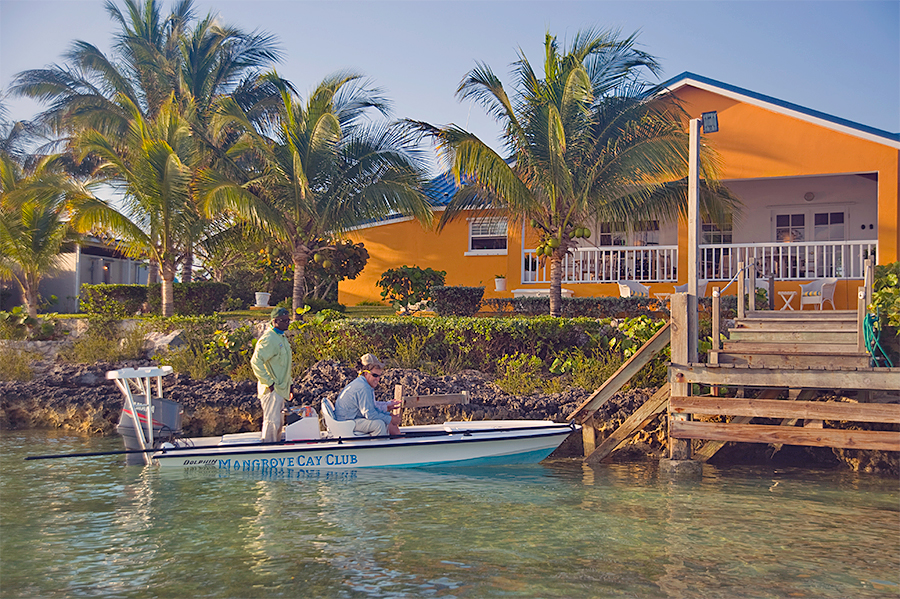 Mangrove Cay Club
The Mangrove Cay Club rests on the north shore of Mangrove Cay. Four duplex cottages surrounded with tropical landscaping and verandas overlooking the sea are spread along the shoreline. Each suite provides comfortable accommodation for two anglers, with two queen-sized beds, air conditioning and ceiling fans, private bathroom, and an adjoining sitting room that allows the early-riser to prepare for the day without disturbing a roommate.
The meals are expertly prepared and get rave reviews. Hors d'oeuvres include cracked conch, grouper nuggets, stone crab claws, and hot lobster dip. Favorite soups include Bahamian conch chowder and cream of lobster. A salad of crisp greens with a variety of vegetables and spinach and grilled shrimp salad with mango dressing a great start to the evening meal. Seafood entrees are a  speciality, with fresh fish and lobster grilled to perfection. Desserts include Grand Marnier Soufflé, mango cheesecake, and coconut pies. A selection of red and white house wines are poured with dinner and the list includes chardonnays, pinot grigio, sauvignon blanc, cabernet sauvignon, merlot, shiraz, and pinot noir.
The waterfront setting allows guests to simply walk from the dining room to the dock for departure. A fully equipped Dolphin skiff will be waiting to take anglers to any corner of this vast fishery, quickly and comfortably. Andros bonefish are plentiful and average 3 to 5 pounds with regular appearances of fish weighing 6 to 10 pounds. Some of the largest fish have been taken within sight of the Mangrove Cay Club, just across the bight near Big Wood Cay and Moxey Creek.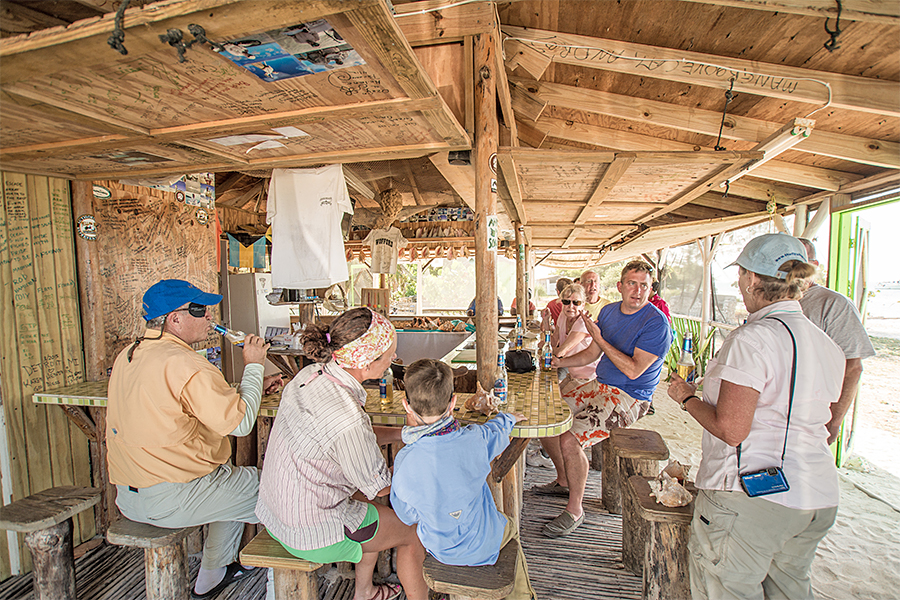 Swain's Cay Lodge
Swain's Cay Lodge is uniquely positioned on Mangrove Cay for easy access to either the south bight or the fabled middle bight. Your guide will decide which end of the cay to take you, depending on which bight you'll be fishing. A reasonable run through the middle bight takes you to the remote west side of Andros. Depending on the tides and locations, you can expect a mixture of fishing from a poled skiff, and wading through endless hard-bottomed white sand flats.
Swain's Cay offers a variety of accommodations to fit your needs. They offer beach and ocean front suites, garden view rooms, and duplex apartments tastefully designed, providing every comfort in a pure tropical setting. The air conditioned accommodations are tastefully appointed with private bathrooms and queen sized beds.
Located right on the beach, the Reefside Restaurant & Bar serves up delicious dinners with fresh lobster, fish, conch, ribs, chicken and steaks on the menu. Also open for breakfast, lunch or an afternoon snack, their fresh home-cooked food is always popular with guests.
North Andros Island is roughly fifty miles long and forty miles wide, North Andros Island has everything from miles of backcountry estuaries on the west side to pine forests and lakes in the interior.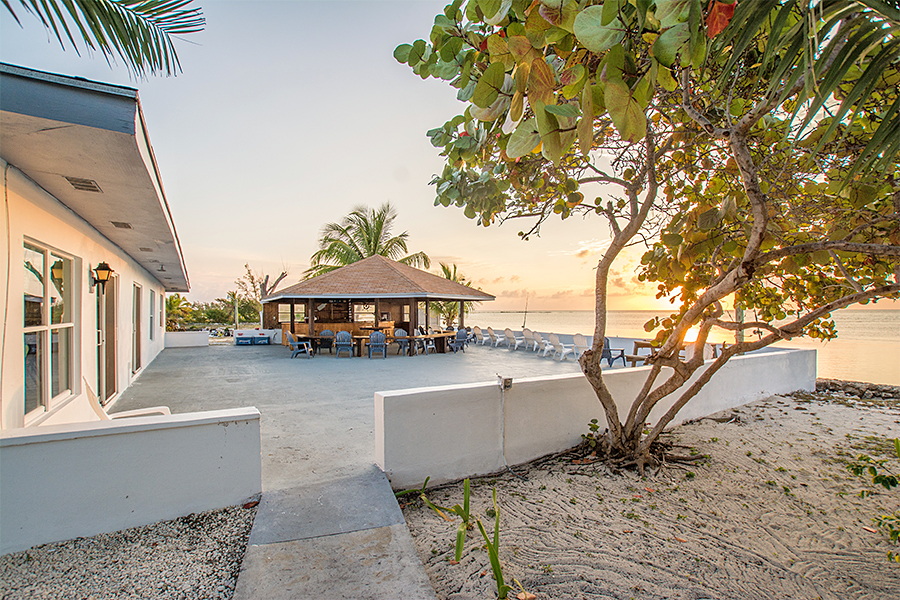 Andros Island Bonefish Club
Andros Island Bonefish Club is located at the mouth of Cargill Creek at the eastern end of the North Bight. In 1984, Captain Rupert Leadon purchased this property from the government of the Bahamas with a dream to create the lodge which stands today, now operated by his daughter Juliet.
Anglers typically fly from Nassau, the capital and main airport hub in the Bahamas, into Andros Town, with daily flights available. You may also charter a flight direct from Ft. Lauderdale.
Fishing can be done from the boat where mobility and visibility are optimal, or by wading hard flats and white sand beaches, stalking fish in skinny water. You will fish famous locations such as Pretty Creek, Yellow Cay and the famed "Land of the Giants". These names speak for themselves when considering the many flats, bights, creeks and cays that Andros Island has to offer.
The superb family hospitality at Andros Island Bonefish Club comes together in a tropical paradise. The lodge has a large main room with comfortable couches and dining area. A sliding glass door opens to a large covered  patio and deck overlooking the creek. The air conditioned rooms are well appointed, featuring two queen beds, tile floors and private bathrooms.
Food at Andros is a family affair, prepared fresh every morning and evening by locall ladies with a lot of love. Don't expect gourmet food, but we guarantee, you won't go hungry feasting on conch fritters, fresh fish, chops, chicken, and green salads. Their key lime pie is to die for…
Each morning anglers will build their own lunch from a variety of offerings from the lunch-buffet, bread and meats for sandwiches, chips, cookies, fruit, hard boiled eggs, and various drink options. What Andros Island Bonefish Club lacks in fancy amenities, is more than made up for in their location, fishing program and very affordable rates – perfect for the saltwater angler that predicates their trip on fishing priorities.
THIRD Bahamas Blog – The Other Islands of the Bahamas Part 3
The islands of Crooked and Acklins are located in the far southeastern portion of the Bahamas and are two of four islands forming an atoll, which hugs the beautiful shallow waters of the Bight of Acklins, a 500-square-mile lagoon.  The two islands form the shape of a boomerang, with Crooked Island to the north, at 57 square miles in area, whereas Acklins Island is to the south and occupies 150 square miles. These two islands are two of the most remote islands in the Bahamas, 240 miles southeast of Nassau, and just over 100 miles from the Cuban Coastline to the southwest. The southerly location is significant when you consider the weather patterns that bring winter's chill and harsh winds to the northern Bahamas.The two islands together offer some of the most diverse fly fishing to be found in the Bahamas.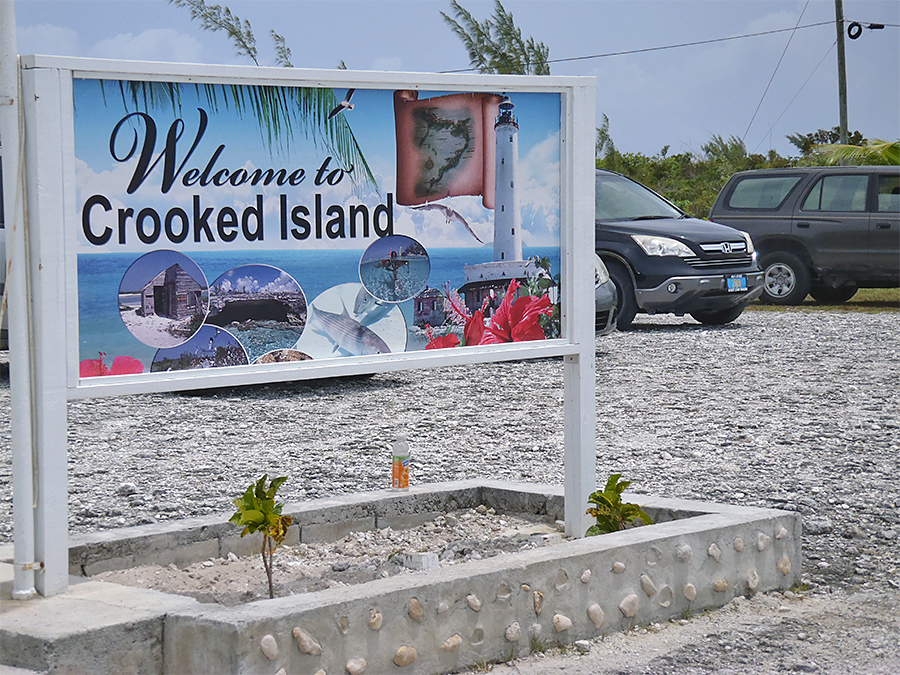 These shallow, firm flats are home to abundant schools of bonefish averaging three to four pounds, and a ten plus pound fish is a daily possibility. If you enjoy wading into position to make a precise presentation up close and personal, then this fishery should not be overlooked. It's a wade fisherman's dream, with shallow hard sand flats extending for miles. Crooked Island in particular is a legitimate permit fishery, where fish are often found tailing a ray, feeding on flushed shrimps, crabs and other crustaceans. In addition to the incredible bonefish and permit opportunities, the in-shore fishing is excellent for jacks, snapper, shark, mackerel, barracuda, and grouper. Trigger fish are available on the coral flats, and juvenile tarpon can be found in protected backcountry lagoons. Blue water species include wahoo, yellowfin tuna and dorado (mahi mahi).
Crooked & Acklins Island Lodge attracts serious anglers looking for a variety of different sport fish species to pursue, both on foot and from a poled flats skiff. The lodge can accommodate up to 10 guests in spacious air-conditioned shared rooms, each with its own private bathroom. The food is authentic Bahamian fare, lovingly prepared by two local ladies. Expect lots of conch and fresh fish. The local guides fish two anglers at a time from state-of-the-art flats skiffs, and their work ethic, knowledge of their home-fishery and professional mannerism shows. This is not a fancy destination with high thread count sheets, a wine cellar, pool or menu of non-angling activities. This is a bonefish camp with comfortable accommodations, good food, cold beer and a flats-savvy guide staff. It's the kind of place we love here at The Fly Shop®, and we highly recommend you see it for yourself.
The Berry Islands is a cluster of 30 remote cays, nestled between Abaco Island to the northeast and Andros Island to the southwest, about 30 square miles in total area and adjacent to the Great Bahamian Canyon or "Tongue of the Ocean," whose depths exceed 14,000 feet. The Berry Islands are often referred to by locals as "The Fish Bowl of the Bahamas" because of the wildly rich biodiversity found in these bountiful waters. The population of the Berry Islands is only about 700 people, most of whom live at Bullock's Harbor, adjoining Great Harbour Cay. It's one of the least inhabited islands in the Bahamas and has been purposely kept on the lowdown for years by the few anglers who fish here, usually from private yachts. It is now home to one of the newest bonefish operations in the Bahamas, Soul Fly Lodge, the brainchild of Captain Kyle Schafer and his lovely wife Kitri, former managers of Bair's Lodge on South Andros.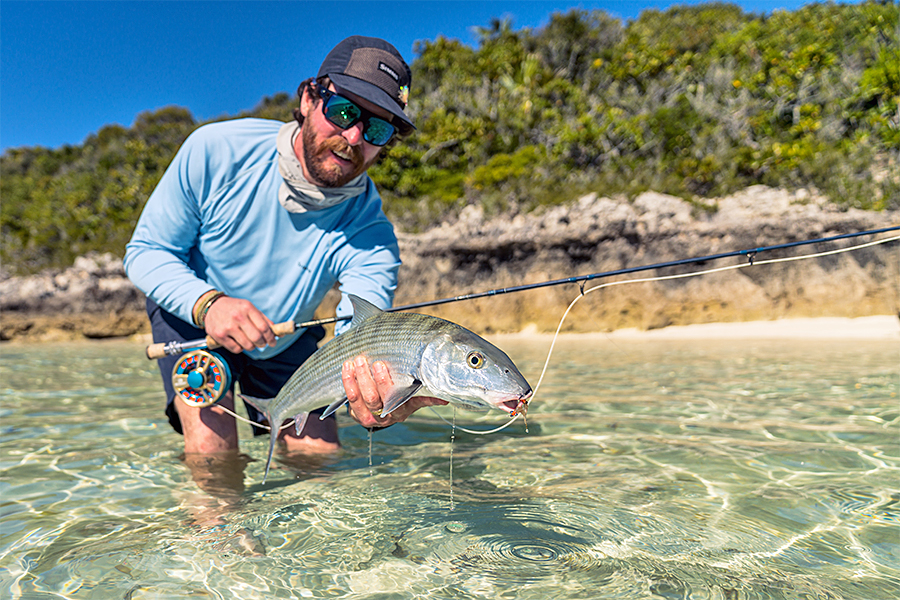 Soul Fly Lodge is designed for serious saltwater anglers looking for upgraded lodging and sophisticated guides outfitted with Maverick 17 HPX-V and Hells Bay skiffs powered by Yamaha 70 hp outboards. Soul Fly, by purpose, only accommodates eight guests in tastefully decorated guest rooms with ensuite private bathrooms, 24-hour electricity, air conditioning – all the amenities you would expect in a high-end lodge, including a 20′ x 50′ freshwater pool. The food is amazing, and the open bar is stocked with every imaginable spirit and local beer, including two on tap. But it's the fishing that truly separates Soul Fly.
The variety of bonefishing elements in the Berry Islands will quickly grab and tightly hold your attention. From miles of tailing bonefish on firm, wadable white sand flats, to lush turtle grass, ocean edges, thick mangroves, and backcountry creeks, the fishing around Great Harbour Cay does not disappoint. Bonefish here range from 2 to 10+ pounds with average fish around 3 to 4 pounds and can be pursued from the skiff or by wading hard bottomed flats. The permit fishing in the Berrys is legit. Permit can be found from Chub Cay to the south, all the way up to the north end of the chain. Find a ray, and you will more than likely find a permit on it. Mutton snapper can be found patrolling the flats and are tough and fight like a bulldog. Barracuda are found on the edges of flats and shorelines, and tailing triggerfish are frequently spotted on coral gardens and cast to. Rounding out the quarry are the flats patrolling lemons, blacktips, tigers, and hammerhead sharks that call this marine ecosystem home. Soul Fly Lodge checks all the boxes as a high-end flats fishing destination, with excellent lodging, high tech skiffs, fish savvy guides, all orchestrated by a highly competent owner/operator duo who takes pride in serving guests and showing them a good time. What more can you ask for?
Abaco
Grand Bahama
Berry Islands
Turks & Caicos – British West Indies