This bonefishing lodge is perfect for anglers of all interests, from hard-core flats fishermen to families to couples looking to explore the flats of the Bahamas together for the first time. Everyone spending time at Swain's Cay comes home relaxed and smiling, and usually with more than a few photos of trophy bonefish, too!
Swain's Cay Lodge is the ideal Bahamas Out Islands retreat, a true escape to peace and tranquility situated on a pristine white sand beach laced with swaying coconut palms and gin-clear water. The lodge is located on the remote Andros Island, the largest, yet least populated island in the Bahamas. Andros Island is well known as perhaps the best bonefishing destination on Earth, and Swain's Cay Lodge on Mangrove Cay in the center of Andros is the ideal base from which to fish these magical flats that are also home to resident tarpon, large barracuda, jacks, and several species of shark.
Bonefishing takes on a whole new meaning in the Bahamas, a place where a bonefish is so important it is literally featured on their currency! And the flats of Andros are home to some of the largest bonefish on average found anywhere else in the world. The famous "West Side" of Andros has resident and migratory tarpon and the occasional permit, too. Fishing is guided with a boat and sometimes involves wading if the tide and conditions are right.
The flats of Andros Island are renowned among fly-fishers as the home of some of the best bonefishing in the world. Swain's Cay Lodge is uniquely positioned on Mangrove Cay for easy access to either the South Bight or fabled Middle Bight of Andros. Your guide will decide which end of the Cay to meet you at depending on which Bight you'll be fishing, ensuring you are always a short run to the day's fishing flats. A reasonable run through the Middle Bight to the remote wild West Side of Andros will put you on flats that are very rarely fished where you will see some very big bonefish.
Swain's Cay also offers some excellent non-fishing packages, including guided watersports, nature tours, diving, kayaking, deep sea fishing, snorkeling and more. There are complimentary kayaks available to explore many of the nearby amazing blue holes, and bicycles to ride around the town.
Their mission is simple at Swain's Cay Lodge: they seek to provide all angling and non-angling guests with the highest quality experience both on and off the water. If you're looking for the perfect fishing vacation you've found it at Swain's Cay Lodge.
Reservations & Rates
Seasons at Swain's Cay Lodge
The trade winds that blow almost continually throughout The Bahamas give the islands a warm agreeable climate, which varies little year round. The most refreshing time is September through May when the temperature averages 70-75F degrees. The rest of the year is a bit warmer with temperatures between 80-85° Fahrenheit.
Read More
Bonefish are found year 'round at Swain's Cay, though the most popular season is March through May then again in October and November. Winter and summertime fishing can be outstanding, just not as popular a time because the weather during that time of year can be unpredictable.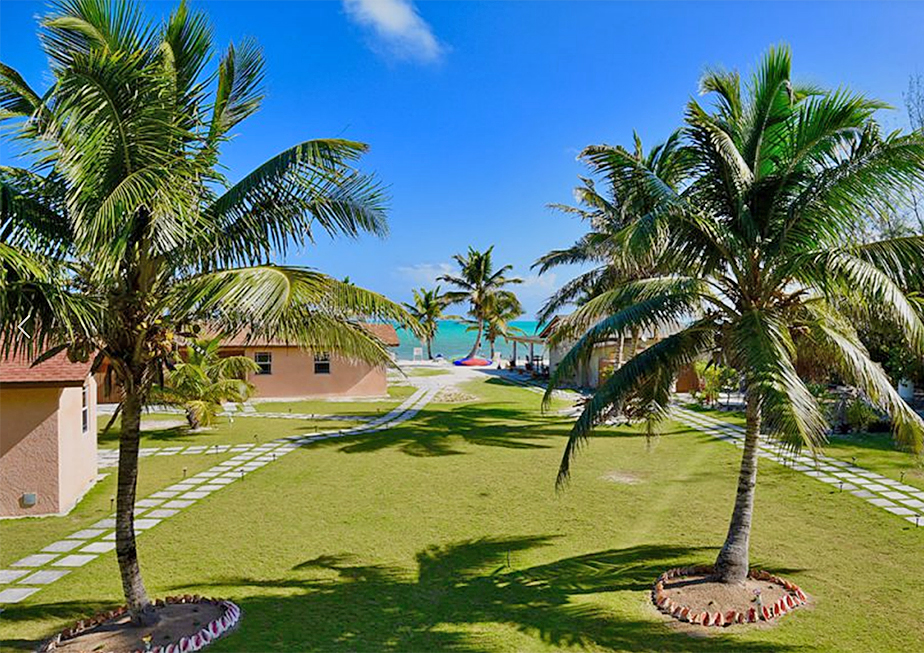 Getting to Swain's Cay Lodge
Getting to Swain's Cay Lodge is surprisingly easy. There are two flights a day to and from Nassau to Mangrove Cay at 7am and 4pm and the flight only takes 20 minutes. The airport here is only about 2 miles away. We arrange transport to and from the airport. There are 2 airlines that serve Mangrove Cay, Flamingo Air and Le Air. We usually use Flamingo Air as they provide a daily flight. Both airlines depart about the same time each way.
Read More
Upon exiting the International Arrivals area in Nassau, proceed to the Domestic area of the airport to the Flamingo Air counter for check in. You will want to arrange your international airfare into Nassau either the night before (in order to catch the 7:00 am departure), or before 2:00 pm (in order to have time to deplane, clear customs and immigration, and check in for the 4:00 pm flight to Mangrove Cay).

The airport on Mangrove Cay is only about two miles away from the lodge, and the lodge staff will be there when the plane lands to transfer you to and from the airport.

Often times Swain's Cay Lodge is able to arrange the flights from Nassau to Mangrove Cay at no extra charge. While they cannot guarantee this, please let us know if you are interested and we can check with the lodge to see if complimentary domestic flights are available for your package.
Lodging at Swain's Cay Lodge
The peaceful lodge at Swain's Cay offers numerous exciting activities, including specializing in some of the world's best bonefishing with top local independent guides. They have a range of great value fishing packages available and even have a bonefish flat right outside the front deck at the lodge! They also offer reef and big game fishing, snorkelling nearby reefs and blue holes, kayaks and bikes for guests' use to explore the island and beaches, and it is the ideal choice for people who like to
Read More
spend a little time active and little time just relaxing under a palm tree, swinging in a hammock. Non-fishing partners are more than happy to spend their days relaxing on the beach, kayaking or exploring the island by bike, chatting to the friendly locals.

The rooms are all tastefully designed and provide every comfort in a pure tropical setting. The rooms are so close to the beach you can almost spot bonefish from your bed! In your restful room you can expect every amenity such as: Patios with chairs; Immaculate bathrooms with hot showers with good water pressure; Comfy Queen Size Beds with high thread count linens; Housekeeping; Bottled water; Air conditioning; Complimentary WiFi Access.

Swain's Cay offers a variety of rooms to suit your needs. In total, there are 9 units with a total of 21 beds as follows:
- Three Beach Front Suites - Two (2) Queen Beds each Suite
- Three Ocean View Suites - Two (2) Queen Beds each Suite
- Two Twin Garden View Rooms - Two (2) Twin Beds
- The 3-Bedroom Duplex Apartment: Located on the second floor of the main building is the three double bedroom duplex apartment. Perfect for families or large groups of fishing buddies, the apartment features a comfortable lounge with satellite TV and a 360° terrace with fantastic views to the beach and ocean: 3 Double / Twin Bedrooms; Lounge with sofas; Dining area; Kitchenette; Fully air conditioned; Terrace with chairs and fabulous views.

Reefside Restaurant & Bar:
Located right on the beach, the Reefside Restaurant & Bar is the best on the island and serves up delicious 3-course dinners with fresh lobster, fish, conch, ribs, chicken and steaks on the menu. Also open for breakfast, lunch or an afternoon snack, our fresh home-cooked food is always popular with guests.

The beachside terrace is the idyllic spot to relax with an ice-cold Kalik or tropical cocktail after a day out on the flats, eco-touring or just relaxing all day. Watch the sky turn purple and orange over the water, stunning sunrises and sunsets.
Fishing at Swain's Cay Lodge
There are flats on Andros for all bonefishing objectives – some with enormous numbers of fish where you will see school after school, others where the fish are in pairs or cruising alone, but these are the big ones. They even have a wade-able bonefish flat right off the beach in front of the lodge with large bonefish that come onto the flat with the rising tide. But be warned – these are clever fish that will test the best fly anglers! Wherever you fish, you are guaranteed a great day and whatever the tide
Read More
or wind direction, there is always a flat where the sun and wind will be at your back!

Swain's Cay has handpicked the best local independent professional guides who have bonefish in their blood. Whether you want large numbers of fish in the 3-5 pound range or would rather hunt single and double big bones of 6-10 pounds, these guides know just the spot for the wind and tide conditions.

20-fish days with an average size of 4 pounds are certainly not uncommon here. All guide boats are top-end bonefish skiffs.

Other wading flats around Mangrove Cay are perfect if you prefer to fish unguided for a day or two and the lodge can arrange land transportation to drop you off and pick you up again as you like. They can also arrange reef or big game fishing off the Andros Barrier Reef for numerous species including tuna, wahoo, dorado and billfish depending on the season. Fly-fishing for these species is also possible though you'd need to bring your own tackle.

Andros is home to the largest number of flats and blue holes in the world. Eco – Tourists and nature lovers will enjoy snorkeling the blue holes and viewing the magnificent sea life. In addition, the lodge can organize hiking, touring and many other local activities.
What Makes This Destination Special and Unique?
• With a variety of non-fishing activities available, including guided watersports, nature tours, scuba diving, kayaking, and snorkeling, there is plenty to do besides fish. This makes Swain's Cay a great destination for families, significant others and friends.

• The lodge location is ideal, with the ability to meet your guide on either the north or south side of the cay. This allows boat access to the fabled west side of Andros, as well as the middle and south bights. Your fishing options are seemingly endless when you start your day at Swain's Cay.

• Swain's Cay is built on a private beach. You can start your day with a cup of coffee and sunrise over the water, and cool off with a swim in the ocean after a day on the flats. This is a perfect destination for anglers to unwind, check out and relax, all in a beautiful and remote setting.

• The variety of flats in the middle and south bights include firm white sand, mangrove clad islands, connected to the ocean with emerald green channels. You'll have the option of wading skinny water for tailing bones, and casting from the deck of a classic skiff, depending on your preferences and the tides. No matter what the tides are doing, or what the weather, excellent bonefishing opportunities abound at Swains Cay Lodge.

• Varieties of accommodations include beach and ocean front suites, garden view rooms, and duplex apartments. Swain's Cay has the right lodging for every family, couple, and group of fishing friends.