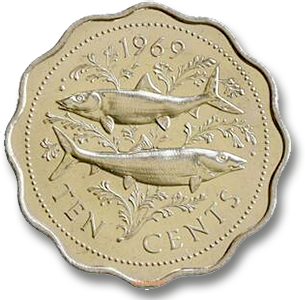 The Bahamas is all about bonefish, and most people would agree that the Bahamas is the Bonefish Capital of the World.  Even its currency has bonefish on it!
Nearly all of the 16 major islands of the Bahamas – and countless smaller cays – are surrounded by flats that are teeming with bonefish of all shapes and sizes.  There is something here for everyone: from vast schools of bonefish that are perfect for the novice flats angler, to trophy bonefish tailing in singles and pairs that are a challenge for even the most seasoned salts, to everything in between. Some places are best fished from the comforts of a modern flats skiff, while other areas offer mile upon mile of wade-able white sand flats.
The Bahamas boasts a 50-plus year history of bonefishing. There are dozens of established lodges dotted throughout this island nation, all boasting some of the most experienced guides in the world. Everyone speaks English here, the food is amazing (especially if you enjoy fresh fish, lobster and conch), and the laid-back atmosphere always makes for a relaxing, fish-filled angling holiday. And it's easy to get to! Most visitors can leave their home in the morning and by afternoon find themselves sneaking up on a tailing bone as it meanders across a beautiful white sand flat.
Why choose the Bahamas? Because it has more bonefish and flats than any other place we know of.

The Bahamas extends 760 miles from the coast of Florida on the northwest, almost to Haiti on the southeast. The archipelago consists of 700 islands and 2,400 cays with an area of 5,358 square miles. Approximately 30 of the islands are inhabited, and nearly every island is surrounded by coral reefs, sand banks and flats.
Below we've put together a short list of some of our favorite Bahamian islands and the outfitters we enjoy fishing with.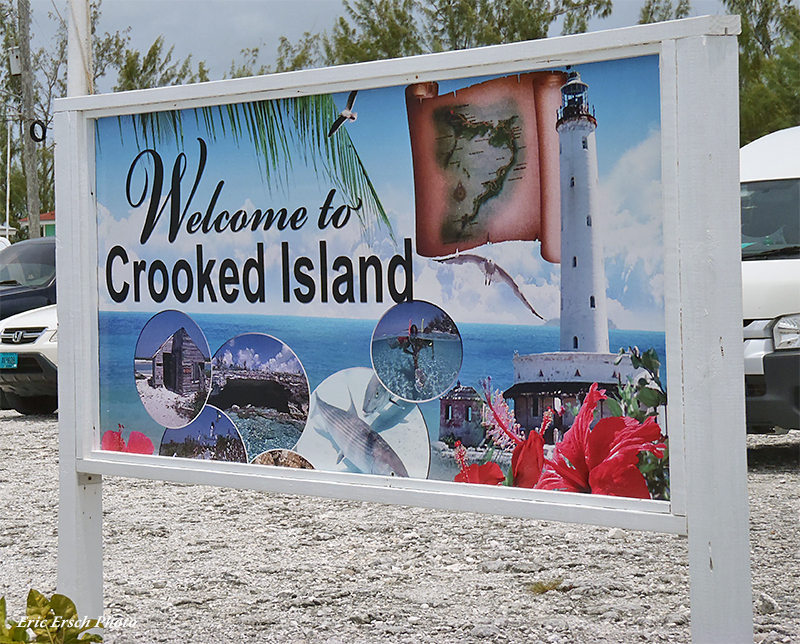 Crooked & Acklins Island (The Christmas Island of the Atlantic)
The islands of Crooked and Acklins are located in the far southeastern portion of the Bahamas and are two of four islands forming an atoll, which hugs the beautiful shallow waters of the Bight of Acklins, a 500-square-mile lagoon. The two islands form the shape of a boomerang, with Crooked Island to the north, at 57 square miles in area, whereas Acklins Island is to the south and occupies 150 square miles. These two islands are two of the most remote islands in the Bahamas, 240 miles southeast of Nassau, and just over 100 miles from the Cuban Coastline to the southwest. The two islands together offer some of the most diverse fly fishing to be found in the Bahamas. In addition to bonefish, permit are legitimate target species, as are triggerfish, mutton snapper, jacks, barracuda, tarpon, sharks and grouper. Blue water species include wahoo, yellowfin tuna and dorado (mahi mahi).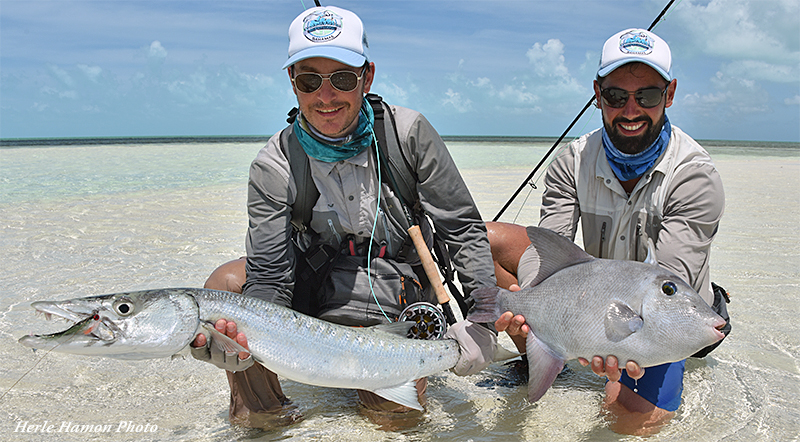 Crooked & Acklins Island Lodge attracts serious anglers looking for a variety of different sport fish species to pursue, both on foot and from flats skiffs. The lodge can accommodate up to 10 guests in spacious air-conditioned shared rooms, each with its own private bath. The food is authentic Bahamian fare, lovingly prepared by two local women. Expect lots of conch and fresh fish. The local guides fish two anglers at a time from state-of-the-art flats skiffs, and their work ethic, knowledge of their home-fishery and professional mannerism shows. This is not a fancy destination with high thread count sheets, a wine cellar, pool or menu of non-angling activities. This is a bonefish camp with comfortable accommodations, good food, cold beer and a bonefish savvy guide staff. It's the kind of place we love here at The Fly Shop®, and we highly recommend you see it for yourself.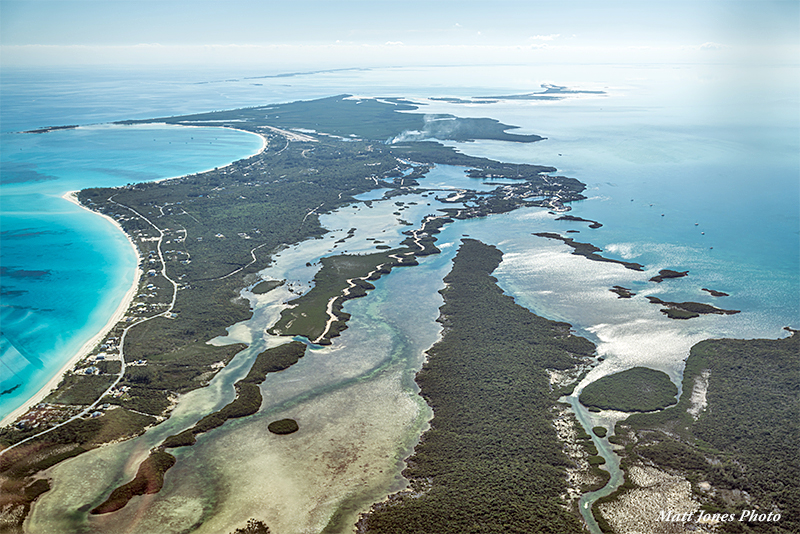 The Berry Islands
The Berry Islands is a cluster of 30 remote cays, nestled between Abaco Island to the northeast and Andros Island to the southwest, about 30 square miles in total area and adjacent to the Great Bahamian Canyon or "Tongue of the Ocean," whose depths exceed 14,000 feet. The Berry Islands are often referred to by locals as "The Fish Bowl of the Bahamas" because of the wildly rich biodiversity found in these bountiful waters. The population of the Berry Islands is only about 700 people, most of whom live at Bullock's Harbor, adjoining Great Harbour Cay. It's one of the least inhabited islands in the Bahamas and has been purposely kept on the lowdown for years by the few anglers who fish here, usually from private yachts. It is now home to the newest bonefish operation in the Bahamas, Soul Fly Lodge, the brainchild of Captain Kyle Schafer and his lovely wife Kitri, former managers of Bair's Lodge on South Andros.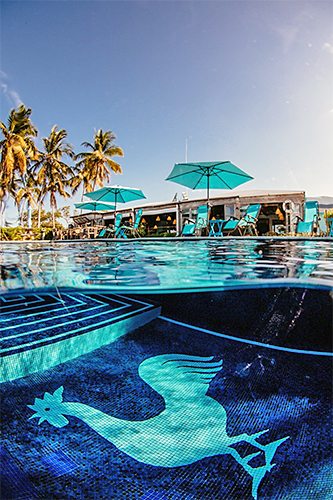 Soul Fly Lodge is designed for serious saltwater anglers looking for upgraded lodging and sophisticated guides outfitted with Maverick 17 HPX-V and Hells Bay skiffs powered by Yamaha 70 hp outboards. Soul Fly Lodge, by purpose, only accommodates eight guests in tastefully decorated guest rooms with ensuite private bathrooms, 24-hour electricity, air conditioning – all the amenities you would expect in a high-end lodge, including a 20′ x 50′ freshwater pool. The food is amazing, and the open bar is stocked with every imaginable spirit and local beer, including two on tap. But it's the fishing that truly separates Soul Fly.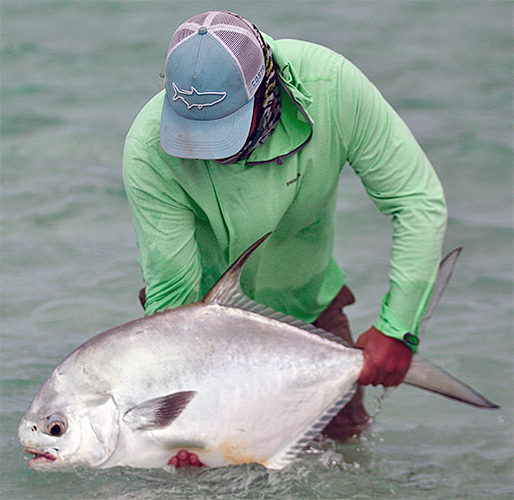 The variety of bonefishing elements in the Berry Islands will quickly grab and tightly hold your attention. From miles of tailing bonefish on firm, wadable white sand flats, to lush turtle grass, ocean edges, thick mangroves, and backcountry creeks, the fishing around Great Harbour Cay does not disappoint. Bonefish here range from 2 to 10+ pounds with average fish around 3 to 4 pounds and can be pursued from the skiff or by wading hard bottomed flats. The permit fishing in the Berry Islands is special and a long-kept secret. Permit can be found from Chub Cay to the south, all the way up to the north end of the chain. Find a ray, and you will more than likely find a permit on it. Mutton snapper can be found patrolling the flats and are tough and fight like a bulldog. Barracuda are found on the edges of flats and shorelines, and tailing triggerfish are frequently spotted and cast to. Rounding out the quarry are the flats patrolling lemons, blacktips, tigers, and hammerhead sharks that call this marine ecosystem home. Soul Fly Lodge checks all the boxes as a high-end flats fishing destination, with excellent lodging, high tech skiffs, fish savvy guides, all orchestrated by a highly competent owner/operator duo who takes pride in serving guests and showing them a good time. What more can you ask for?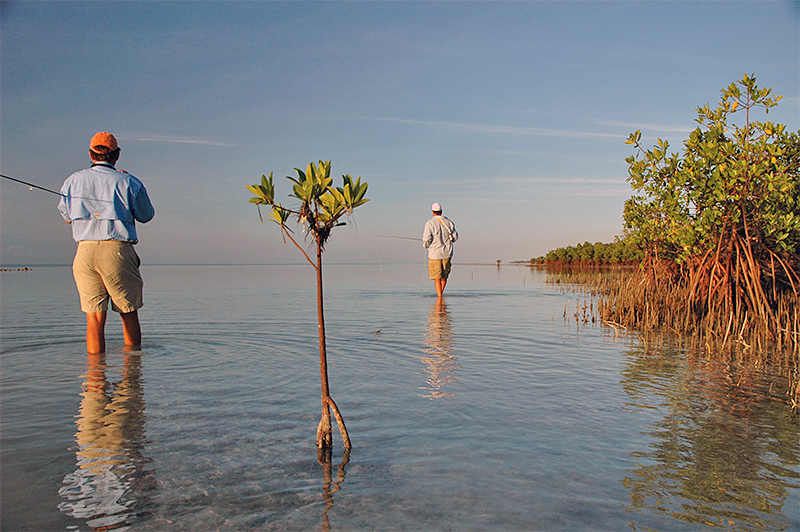 Grand Bahama Island
Grand Bahama is the northernmost island of the Bahamas archipelago in the Atlantic Ocean. It's known for its beaches, reef-lined coves, mangrove wetlands and complex web of shallow water flats with some of the largest bonefish in the Bahamas due to the proximity to the deep water Northwest Providence Channel and Straits of Florida. The town of West End is located 64 miles east of Palm Beach, Florida; Grand Bahama Island is the third largest island in the Bahamas. The island is roughly 530 square miles in area, approximately 95 miles long west to east, and 15 miles at its widest point north to south.
Grand Bahama is known for having some of the largest bonefish in the world with an average size in the 4-pound range, with daily encounters with fish in the 6-8 pound range. True double-digit bonefish are not a rarity. Over the past five years, permit have become more plentiful, and good numbers of migrating tarpon are often targeted in the summer months.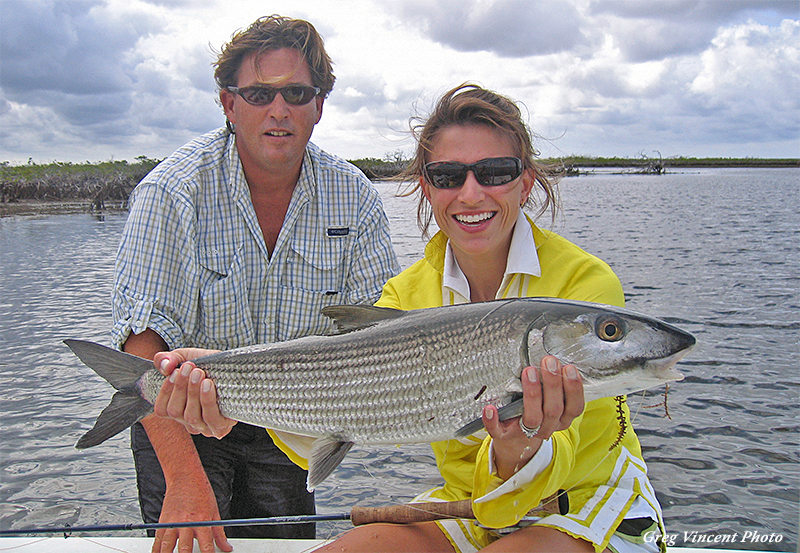 Freeport is the main city of Grand Bahama and home to one of the most unique bonefish operations, H20 Bonefishing.
H20 Bonefishing's passion is to explore some 2,000 Sq miles of fishing paradise. The home fishery consists of some 90+ miles of flats to the north, from dark, hard mud flats to sandy, muddy creeks and islands to the uninterrupted mangrove shoreline, second only in length to the west side of Andros.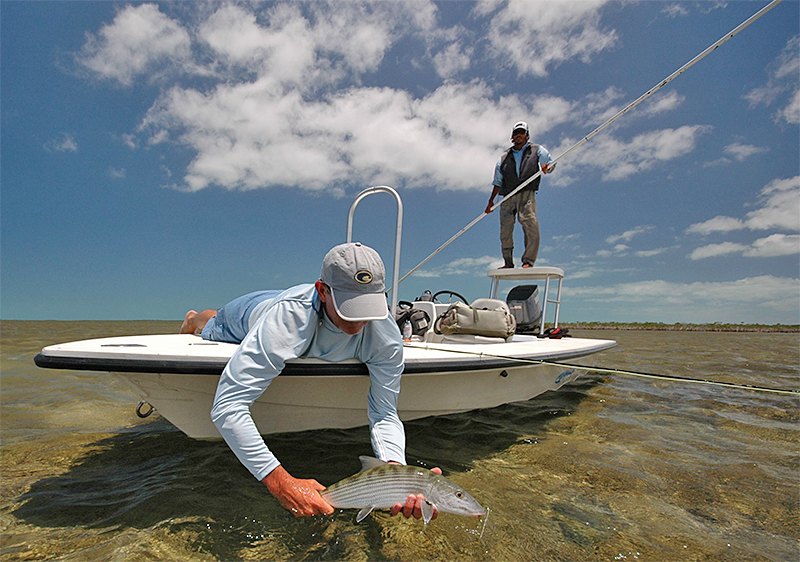 H20 owns a dream fleet of fly fishing vessels, including two Maverick HPXT (tunnel hull) skiffs for super shallow backcountry navigation, three Maverick Mirages for poling flats, a 21′ Master Angler for accessing outer cays, and a 31′ Contender center-console for chasing offshore species. The boats are powered by Yamaha outboards, appointed with VHF radios, cell phones, USCG rated safety kits, poling platforms, and leaning posts on the casting deck. You will always be in the right boat for your fishing day.
What makes H20 unique is that instead of staying at a traditional destination lodge, anglers are accommodated at the beautiful Pelican Bay Resort at Lucaya in Freeport. This is a full-service resort with amenities like three swimming pools, including two with bar service, a restaurant and lounge, breakfast facility, spa and fitness room. The resort is located within walking distance or a short taxi ride to a myriad of restaurants and boutiques, including the UNEXSO Dolphin Experience, Port Lucaya Marketplace, as well as white sand beaches, Garden of the Groves, and Lucayan National Park. This is a perfect getaway for couples and families with varying interests.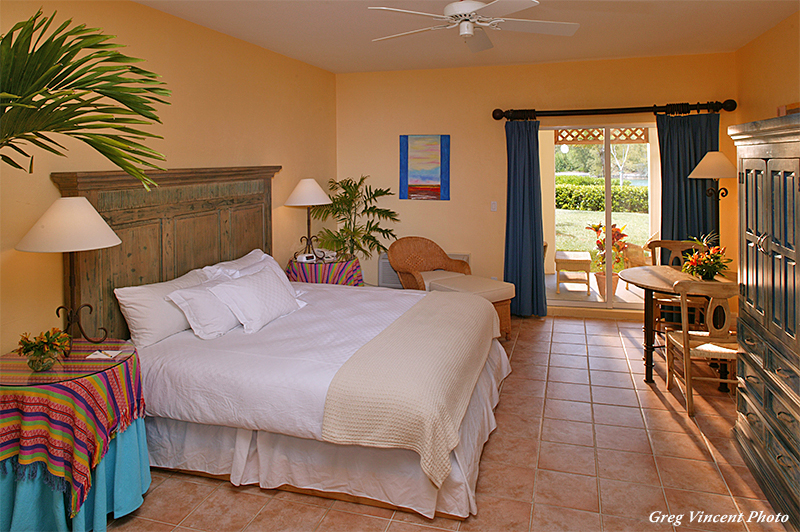 Anglers are accommodated in standard resort rooms or can upgrade to a beautiful suite, and the angling package includes a full breakfast buffet served every morning before your guide rolls up with flats skiff in tow and whisks you away for a full day of fishing. A delicious box lunch is provided, along with beverages, including cold beers. Dinner is on your own, and there is no shortage of great restaurants to choose from within walking distance, including two restaurants at the resort. If you're beat, grab a six pack of Kalik, order a pizza, and watch a game in your room. We like H20 for its fishing diversity, ease of getting to, no-hassle lodging with plenty of options for anglers and non-anglers. Don't get us wrong, Jason the owner is a hardcore and sophisticated angler and runs as tight of a ship as we have experienced anywhere in the Bahamas.  It's a great place to get away for a short flats fishing trip.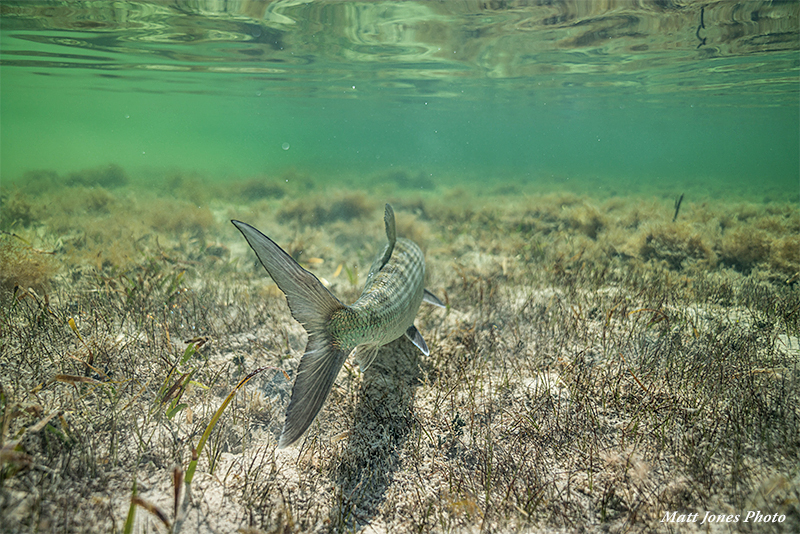 Contact us
The Bahamas is a large island chain with much more to offer than what we've covered here. We will continue to cover the Bahamas in a series of blog posts. If you have questions about any of these islands or their lodges, or other great destinations in the Bahamas, please give us a call at 800-669-3474 or email us at travel@theflyshop.com and one of our travel experts will be happy to help.