First and foremost, H2O Bonefishing is about flats fishing for bonefish!
Greg Vincent chose to base his guiding operations out of Freeport, Grand Bahama Island because of its proximity to big numbers of big bones. Not because of the world class tourist amenities available in this lively city of around 35,000 people. It turns out to be the perfect relationship of flats wilderness and tourist activities that keeps serious anglers and serious non-anglers returning year after year. The base camp is at the luxurious Pelican Bay at Lucaya.
Grand Bahama Island is located about 60 miles off of the east coast of Florida. It is one of the northernmost islands of the Bahamas. The international airport is located at Freeport and is easy to get to with many direct flights from the US. It has weather similar to southeast Florida (maybe a little warmer in the winter and a little cooler during the summer) so makes a perfect year around fishing getaway. In addition to the flats fishing, there is deep water fishing later in the spring and summer months. There are miles and miles of flats to be fished by wading and from a boat along its shores. During the late spring and summer anglers have choices of skinny-water flats, deeper flats and channels for tarpon and permit and off-shore fishing. The guides, boats and accommodations are all top notch.
Reservations & Rates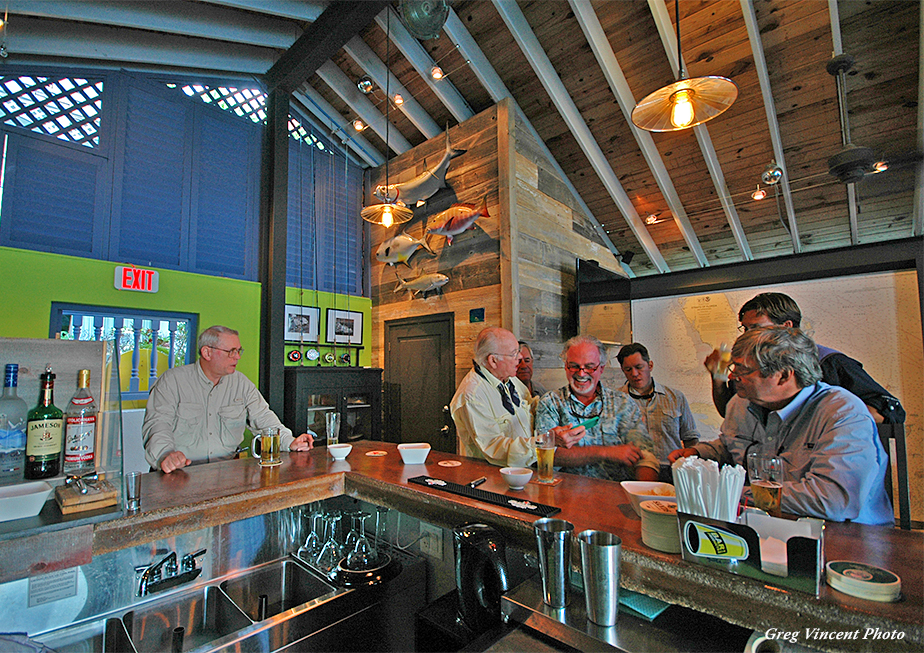 Seasons at H2O Bonefishing
Bonefish are found on the Grand Bahama flats every month of the year.

The winter months can bring a few more storms out of the northern latitudes cooling off the flats and scattering the bonefish to deeper waters for a short time, but as soon as the flats warm up as little as one or two degrees sometimes, the bones will be back with a ravenous appetite. During the summer months the flats can warm up considerably
Read More
by noon and are sometimes fished early in the morning for bonefish with the PM hours spent looking for tarpon or permit. If conditions are right you can even fish the morning on the flats and the late afternoon and evenings in the deep off-shore waters (off-shore fishing is an option and there is a fee for it – see reservations and rates). During the fall, the waters cool off a little making all day flats fishing a comfortable reality.
Getting to H2O Bonefishing
There isn't an easier place in the Bahamas to visit and fish.

There are several airlines with direct flights to Freeport, Grand Bahama Island from many US cities. Many of the islands (Abaco, Great Exuma, Andros and Grand Bahama) have direct flights from the States. Other islands are easily reached flying through Nassau then onto your final destination. Carriers that service the Bahamas include Air Canada,
Read More
American Eagle, AA , Continental Airlines, Delta Airlines, U.S. Airways, Lynx Air, and British Airways. Your travel agent has access to all the flights in and out of the Bahamas.

US visitors staying for eight months or less need a return ticket plus a passport. Green card holders require their green card and a valid passport from their place of birth. All US citizens are required to have a valid passport for entry in and out of the Bahamas. Canadian visitors not staying more than three weeks need the same identification as those do from the United States. Some visitors that are not citizens of the U.S.A. may also require a visa, check with your country's consulate. An overtime fee is due to Customs on weekends, holidays or before 9:00 AM or after 5:00 PM on weekdays. At this time this fee is $76.00 per plane.

Upon entering The Bahamas, everyone must fill out and sign an Immigration form, keeping a portion of the card in hand until departing. An oral baggage declaration is required. Each adult visitor is allowed to bring 50 cigars, 200 cigarettes or one pound of tobacco, one quart of spirits, and a variety of personal effects (personal radio headsets, bicycle, two still cameras, etc.) All arriving passengers are permitted purchases up to a value of one hundred dollars.

When departing, all visitors are required to pay a $15.00 departure tax ($20.00 from Ft. Lauderdale and $18.00 from Grand Bahama); children six years and under are exempt. Departures to the US must go through US Customs pre-clearance. US visitors may take home US$600 worth of duty-free merchandise. The next $l,000 is taxed at 10%. Gifts valued up to $50 may be mailed home duty-free. One liter of wine, liqueur or liquor and five cartons of cigarettes may be taken duty-free.
Lodging at H2O Bonefishing
One of Grand Bahama Island's newest facilities, the Pelican Bay at Lucaya is where our anglers find the finest combination of Caribbean and European architecture and service.

Awarded the prestigious "Small Treasures of the Bahamas" designation by the Bahamas Ministry of Tourism, Pelican Bay and suites are both charming and intimate. The resort has a swimming pool, café, restaurant
Read More
and bar.

The spacious accommodations include your choice of king-size bed or twin queen beds and have Satellite TV, direct dial phone, refrigerator and in-room coffee maker. Also available is a business center and wireless internet access.

The new one-bedroom suites offer unsurpassed luxury, lush tropical gardens and varying color-scheme. Mahogany wood and beautifully appointed custom decor highlight each of the spacious, 750 square foot suites. Freshly baked croissants, breads and newspapers are available at the suites every morning. This is an optional up-grade at a slightly higher price. See the reservations and rates page.

While all of Pelican Bay anglers will experience the fishing in a remote and undisturbed flats wilderness, this cannot be said for their lodging. Pelican Bay is perfectly located and allows anglers and non angling companions immediate access to the myriad activities and amenities found within a short walk from the hotel. Located within steps of our resort is the Lucayan Marketplace, where you will find over 30 restaurants, bars, shops, and nightly live entertainment to suit all styles and tastes, ranging from fresh island fare to Italian, Chinese and even an Irish Pub! Whatever your palate or your budget, you have multiple convenient choices to select from when you stay with Pelican Bay.

The Sabor Restaurant and Bar at Pelican Bay offers water front dining in a relaxed outdoor setting overlooking Bell Channel Bay and Port Lucaya Marina. The restaurant is open for drinks each day from 10:00 a.m. till midnight. Lunch is served daily from 11:30 a.m. to 3:00 p.m. and dinner from 6:00 p.m. to 10:00 p.m. Sabor's new menu feature a wide range of options, including favorites such as burgers and chicken wraps, complemented by a wok bar, and a new Sunday brunch menu offering a variety of eggs Benedict and traditional Bahamian boiled fish. There are dozens of restaurants, cafes, casinos and shops within a 20 minute walk of the hotel.
Fishing at H2O Bonefishing
The guides are experienced fly fishers who know the local waters and how to fish them.

If you need some "touch-up" instructions or a more intensive fly fishing school, let us know and we can get you signed up with a guide who loves to teach and is capable of identifying the causes of casting problems and getting your casts in line in short order.
Read More
You will be fishing from 17' Maverick flats skiffs powered by 85 HP Yamaha engines. Depending upon the season you arrive, you may be fishing for Tarpon and/or Permit in addition to bonefish (averaging 2 1/2 - 4 pounds). You will spend your days looking for singles, doubles and small groups of big bonefish. Or you might opt for a day on the open waters Deep Sea Fly fishing for Yellowfin, Wahoo, Dorado (Mahi-Mahi), Skipjack Tuna and Blackfin Tuna. Equipment is provided for this specialized fly fishing. During the warmer months some will choose to fish the flats early and for tarpon or permit in the afternoon or go out to the deep water.

Breakfast is served at the hotel each morning at 7:30 AM. Your guide will pick you up on your fishing days at 8:30 AM for the short ride to the launch. Productive fishing flats can be reached within a few minutes , or your guide may decide to run a little longer due to prevailing weather or fishing conditions. If you wish to do some wade fishing as well as boat fishing, talk it over with your guide. Let him know your wishes. If you are there in the late spring or early summer you may want to fish for permit or tarpon.

Lunch will be onboard the boat. If you have any special wishes for lunch contents, make them known the day before fishing so every effort can be made to meet your requests. You will return from fishing around 4:30 PM. All boats are issued mobile phones to be used in the unlikely event of an emergency.

After showering and cleaning rods and reels, anglers usually meet at the Sabor Restaurant and Bar on the hotel premises for a cocktail and fish stories before dinner; either there at the restaurant, or visiting one of many nearby local establishments.
What Makes This Destination Special and Unique?
• H20 Bonefishing is accessed through Freeport, Grand Bahama, with daily flights from many US cities including Orlando, Atlanta, Ft. Lauderdale, West Palm Beach, and Miami. This convenient travel option eliminates time consuming layovers and waiting in airports, getting you fishing, faster.

• Located on the water in Pelican Bay, you'll have a wide variety of activities available, including golf, a casino, restaurants, shopping, swimming with dolphins, horseback riding, and scuba diving. This makes H20 Bonefishing an ideal destination anglers traveling with companions who don't fish.

• Grand Bahama produces more bonefish over ten pounds than you can imagine. Every day you fish with H20 Bonefishing you'll have the chance to catch a true trophy bonefish, maybe a personal best!

• H20 Bonefishing offers great flexibility in their fishing program. Yesterday you fished offshore, boating tuna and dorado. Today you're on the deck hunting trophy bonefish, and tomorrow you and your buddy are headed to a remote cay in search of mutton snapper. You'll never tire of the incredible variety of fishing options on Grand Bahama.

• You'll be fishing a fleet of well-maintained boats, including a 31' Contender, and both tunnel and v-hull flats skiffs. Whether you're fishing offshore, deep in the backcountry, or running twenty miles to a northern cay, H20 Bonefishing has the right boat for your day.