Erik Argotti – Fly Fish Mongolia Hosted Trip
July 18 – August 7, 2022
Headwaters Expedition – July 20 – 31, 2022
Classic Canyon Float – July 27 – August 7, 2022
July 18, 2022
The trip started out with my flight from Redding to San Francisco with an 8:30 pm departure. 100+ people at the Redding airport, maybe 5 people had masks. Different from what I saw in April when I flew to Mexico and masks were mandatory. I got there early at 6:30 pm to check in for the 8:30 flight. It was too early as I couldn't even check in and once I did I had to wait a while for security to open. The guy at the United counter was able to check my bags all the way through to UlaanBaatar, which was nice. There was concern they would only check it to Seoul and we would have to claim our bags there and recheck them. If this was the case, you need a K-eta and a negative Covid test, which I got just in case. Flight was on time. Landed in SFO at around 9:15 pm.
I met the guys doing the trip with me, Matt, Bryant, Eric and Scott at SFO airport. We had a beer with Eric and Scott who were there a while and were way ahead. We also ran into the Caranci crew who were doing the 1-week Canyon Float trip. They were on the same flight to Seoul. The Asiana flight to Seoul was delayed out of SFO (1 hour). We ended up leaving at 12:30 am on July 19th. Masks were mandatory on the plane to Seoul. 11.5 hour flight. Tight on the plane as it was very full. We landed at 4:00 am Korean time on July 20 because we crossed the international date line.
July 20, 2022
Matt and Bryant got us all in the Asiana lounge. That's the way to travel. Breakfast/food, espresso and beers all free. 9:15 am out of Seoul. 2 hour and 50 min flight to UlaanBaatar.
Arriving just after 11 am Mongolia time. Honda, MRO representative, was waiting for us at the airport to transfer us to the Bayangol hotel and we arrived just before 1pm for a shower and to drop off our luggage we were leaving behind. Headed out to get some gifts. Honda took us to the State department store, six floors and has been around since 1921. Anything you want you can find it there. Bought some gifts, ate a quick bite and went back to the hotel, packed up and met Bagy, one of our Mongolian guides and left for the train at just after 5 pm from the hotel.  We loaded up in our Personal passenger car and left on the train around 7 pm. The train was old, yet comfortable. Toilet  door was locked anytime we neared a town, because it had a flap and when you flushed it went right to the tracks. Pillows were filled with 1" pieces of plastic hollow cylinders. Interesting, but plenty comfortable. The train was slow and stopped a lot. 20 hours on a train+bus takes the place of a flight that is just over an hour, so you can imagine the speed. Basic snacks on board and beer, wine and vodka. We had a salad and cold Mongolian beef with roasted tomatoes, onions and pickles for dinner. Good flavors and sufficient.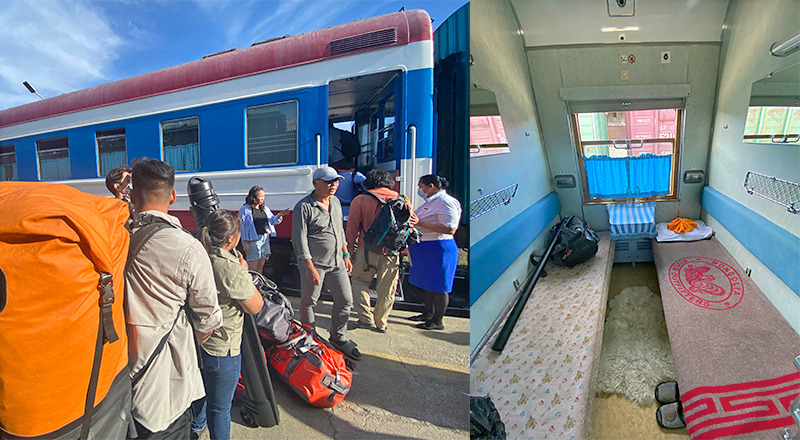 Everyone had their own sleeping train and we all slept well. The sound and movement of the train rocked me to sleep. After long flights, laying down in our own cars was really nice. The train stopped a lot. At one point we stopped for 2 hours overnight. A couple guys had to piss, but the doors were locked. Luckily we got going not too long after that. In the morning we ate meat and cheese/coffee/pastries. It was a cool experience and I am glad we did it as we were scheduled on a flight from Murun to Ulaanbaatar on the way back. Eric and Scott were scheduled to take the train both ways, but were able to get a flight as it got added right before they left at the end of their trip. They only did the Expedition part of the trip.
July 21, 2022
We arrived at the Erdenet train station @ 7:40 am, unloaded and walked over to the parking lot where the bus was waiting. At 8am we got on a bus and left the train station for Murun. Arrived in Murun around 2:30 pm and we met Chino there and he had Pizza already ordered for us at a local restaurant/pub. We ate pizza, had a beer and were on our way. At 3:45 pm we hopped in two SUV's for our cross country tour to the river and left for the river. 6:45 pm we arrived at Bayanzurkh, the last small town before heading into camp. It reminded me of some of the Kamchatka towns, but much more colorful dwellings which reflected the personality of the Mongolians. We arrived at 9:30 pm at Camp 1 (the first permanent Ger Camp) just at dark. It was a beautiful drive.
We had some wine and beef/potatoes/feta tomato salad. Apple/banana/cinnamon dessert. Everyone was tired from a long day of traveling. The 4 guys stayed in Gers and I had my own Teepee tent.
Quite the travel to get there. For me it was 3 planes and 16 hours of flying, 12 hours in a train, 6.5 hours in a bus, and 6.5 in a SUV to get to the river. This is not the typical travel Itinerary for the trip. Due to Covid, the flights from UBN to Murun were only on select days, so the train/bus part was utilized in order to get groups to the river. In the future the travel to and from the river should go back to flights to and from Murun to UlaanBaatar, which will make travel more streamlined. It was all part of the adventure to get to the river and I enjoyed the experience on the train.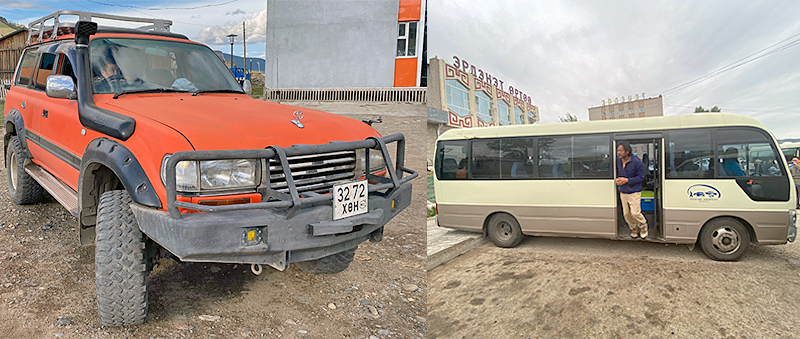 Daily Schedule:
Schedules vary depending on the camp, group, and individual desires.
• 5:30-6:30 – one of the FFM staff would start a fire in your ger (not when staying in Teepees) and deliver coffee to your place
• Breakfast at 8.
• Lunch 1:30-2
• Dinner 7:30-8:30
Very loose schedule
July 22, 2022
In the morning everyone was up early, ate breakfast and we got geared up. Excitement was high. We walked up river for about 40 minutes and fished down. Beautiful towering limestone cliffs and we stopped at a nice deep pool and the guides spread us out. The River is pretty big and you could barely cross it at some of the tail outs, as you have to pick and choose spots and be very careful while crossing. The clear water makes the depths deceiving. Eric and Scott started at the head of the pool and Matt and Bryant in the middle of the run. I waited for Scott and Eric to fish down a little and fished behind them. Matt got a 35" fish on his second cast on a Tenkara rod. They weren't sure how it was going to work, but it was a good start. The rods are 27' and 29' and 2mm at the tip and fastened there to a level line and a leader. Their casts were short, but considering the length of the rods, line and leader, they were plenty sufficient. That changed when we modified their lines the next day. Chino cut some heads from old lines and added some Moh tips and they were casting 80' by the end of the trip. Those guys did great overall! 3 fish for the day. We were also worried about the fight with Tenkara, but none took any longer to land than regular fly rods. Lots of leverage with the big rods and 40# Fluoro leaders, you can pull them in fast. The next pool down Eric hooked a big one, it jumped and ran and got off. Nothing for Scott and I. We fished back to camp and ate lunch there. After lunch we started below camp and fished down. Windy and sunny. Lots of small flies buzzing in your face but they didn't bite, so it was just annoying. We fished some nice pools but didn't move any fish. We walked back to camp and the guys ended up grayling/trout fishing the rest of the afternoon. We had a nice late evening with Eric and Scott, Baggy, Chino and Soylo. Chinggis vodka was consumed as there was a reason to celebrate just being on the river.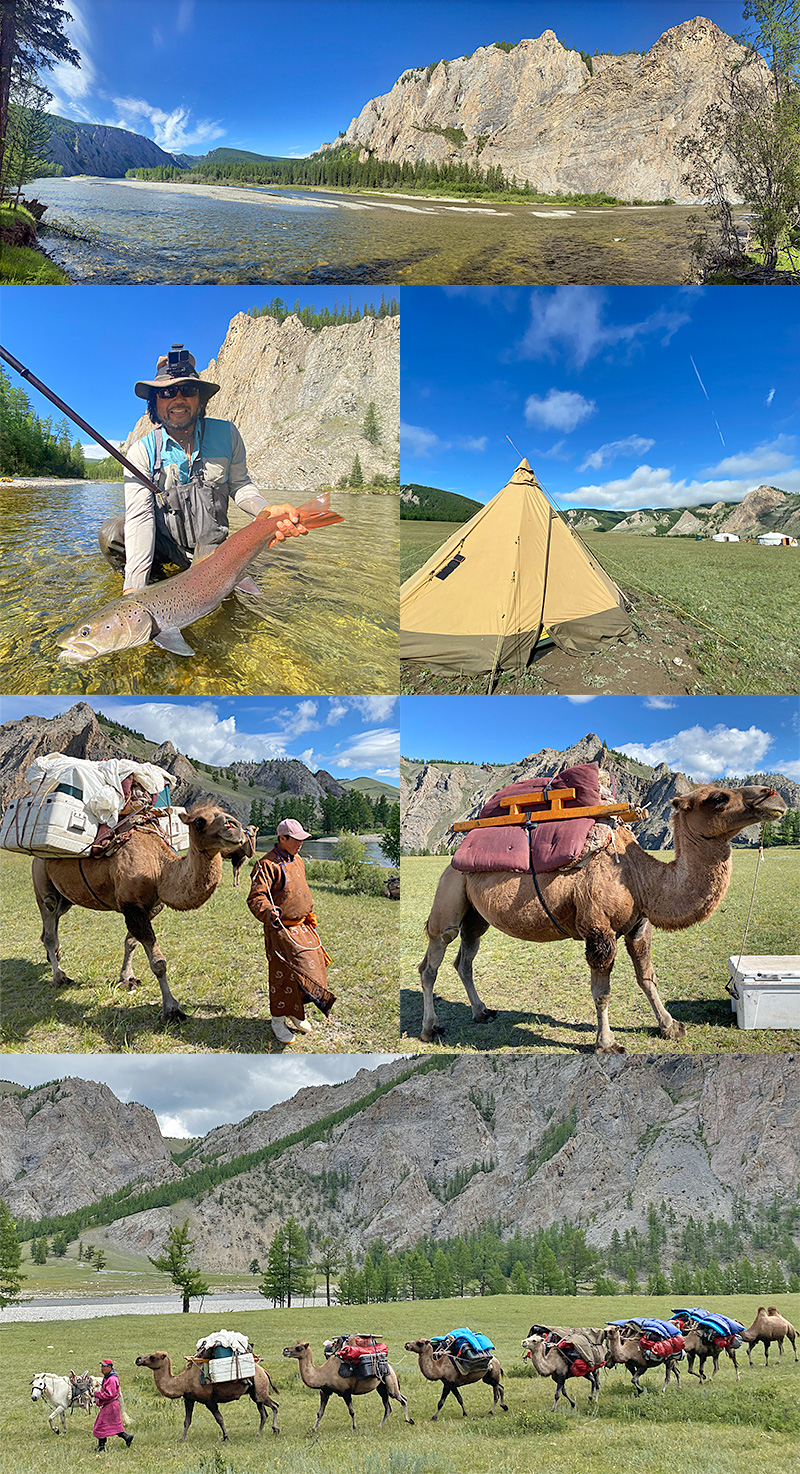 July 23, 2022
Breakfast at 8:30
Horse riding day. My original plan was to walk but because of the 5 river crossing the guides convinced me to ride. Each one of us was led by another Mongolian horseman up river so there was no real danger and it was relatively easy. It was all slow riding and anyone can do it. Camels were loaded, which was cool to just watch and we packed up camp and we were on the trail heading upriver by 10:30. We all got ready and saddled up. Probably around 6 miles and arrived at Red Rock Camp around 12:45. The Mongolians are efficient and it is amazing how fast they set up and breakdown these temporary camps. Our small tent town was erected in no time at all.
We lost 2 horses for a while. Lunch and gear/rods were on them. We eventually found them and it was mostly all good. A strap broke on the one horse and we are not sure what happened but some of the gear was thrown from the horse, but all recovered. My spey rod tube was almost crushed and luckily it was an aluminum tube. Looking at the outside of the tube there was reason to be concerned. I pulled it out and it was unscathed. Anything else would have been crushed. Eric and Scott's soft sided Orvis travel rod cases were on the same horse, luckily they ended up in a different spot on the fall. We ate lunch and the sky was growing dark and the wind was picking up and it started raining and thundering. We waited it out and the storm left as fast as it came. We all started out at 2:45 and Matt, Bryant, Soylo, Baggy and myself started walking up river. We formed a chain and all crossed the river together. It was deep but we made it no problem. We walked a mile and a half or so up river through a beautiful green valley. The first run Matt and Bryant had fish come up for their poppers but didn't connect. The next run down, Matt landed a really nice fish on his Tenkara rod. 45". It was cool seeing one of these big fish up close. The size of the head and the thickness of the back was impressive. I was able to get some pictures to capture this. This was a healthy fish. Baggy let us know it was the biggest one of the season. We were all pretty excited. Nobody else touched anything. Eric and Scott fished below camp with Chino. Nothing for them. We fished until 7 and all met up back in camp. We ate dinner and watched some of the Mongolians wrestle. It was a beautiful area.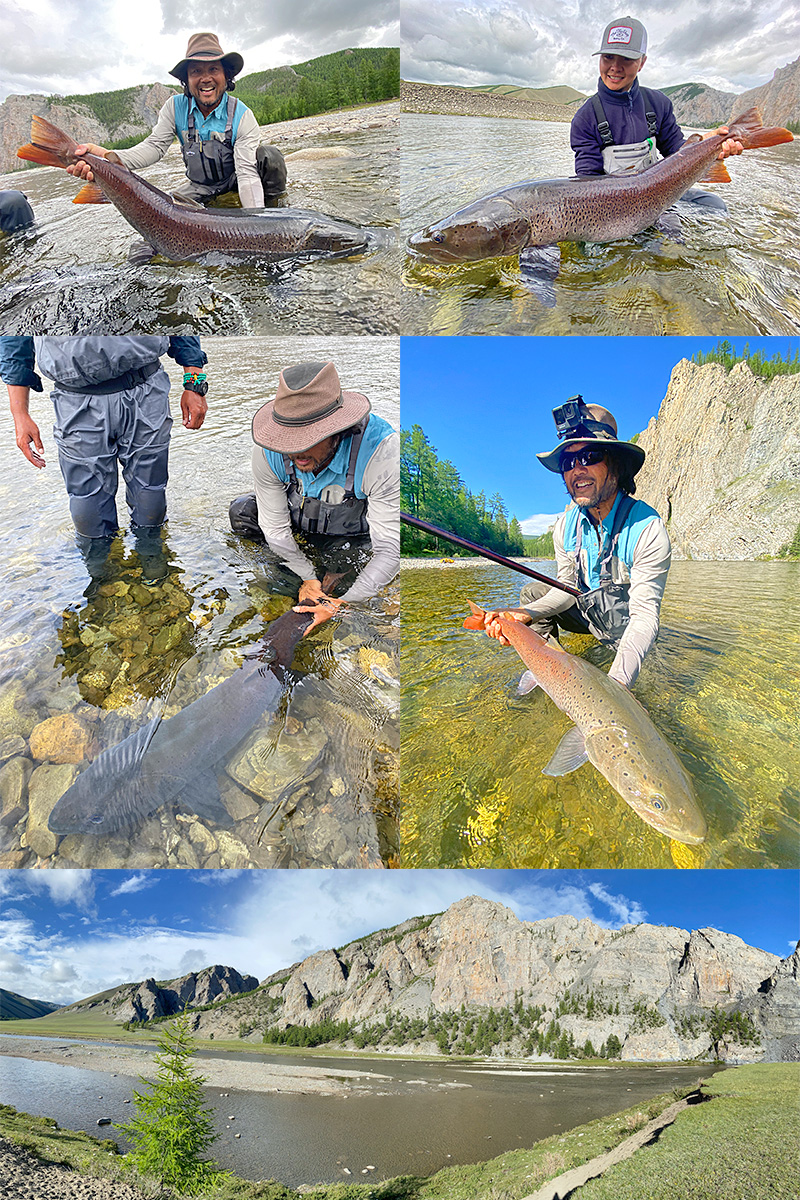 July 24, 2022
All the guys were up early and fished before breakfast for lenok and grayling. Lots of grayling around. Chino said there is a group that comes and only fishes for Lenok/Grayling. One day they counted and one boat landed 115 in a day, and I think you could do better if you really tried. The Mongolians packed up camp fast and we left around 11:30 to head up to the uppermost camp. This time they loaded up the camels and a big Russian truck with gear and we packed in the back of the truck to move up river to the next camp. We stopped at a local Ger across the river to unload some things and a guy gave us some white jerky looking bars that were dried Yak milk. I don't think this was edible. I think it was goat food and they were messing with us. It was very dry and very strong. We didn't want to spit it right out so some guys choked down 1 bite. Everyone did a shot of vodka just to get rid of the taste. It was bad! We rode 45 min in the bed of the truck to Forest Camp, the uppermost camp. We unloaded and the Mongolians were busy setting up camp. We ate Lunch, beef Kabobs, Cole slaw and rice. Caviar for appetizers. Headed out around 1:30 for a couple mile hike up river. It was rocky and in wading boots kind of strenuous for a couple guys. We started fishing around 2:30. Soylo and I went above everyone else to a nice run where he could get high on a vantage point and see down into the river. I hooked either a small Tainan or a large lenok and had it on for a second or two. Soylo said probably 22-24" on a small popper. Chino lent me a smaller Lapdancer tube fly and it cast like a dream. Smaller streamers and poppers cast very nicely for me. Very difficult to turn over those large flies with the spey rod.
A little lower, I had a nice Taimen follow my popper to the bank. He followed it 3 times. I changed to a smaller tan and white Chilly Goat, and he followed that a couple times. Third fly was a bigger Cruiser Shad and he followed it in once. I put on a black GT Brush Fly, first cast and he hammered it. I stripped a couple of times and he was on and off, and I kept stripping and he grabbed it again, and I just couldn't stick him. After that he sat on the bottom and reassessed his choice of trying to eat the black fly. And I sat on the bank sulking as well. Scott got one around 30". No one else caught a fish. Back to camp around 6. Matt and Bryant fished until almost 7. Bryant broke his Tenkara rod as he was pulling the popper out of the water which created pressure as the head of the popper caught the water. Chino did some repair work. I pulled some backing from my reel and Chino spliced a piece of another trout Tenkara rod into the broken section and used the backing to make 2 nail knots. Over these he tied two more nail knots and I gave him some Aquaseal to coat the nail knots. It worked great. Mutton for dinner. For being Mutton, it was tasty. They did some kind of marinade and it had really good flavors. Mongolians don't eat Animals under a year old. Part of religion/culture. Cool night and a bit rainy.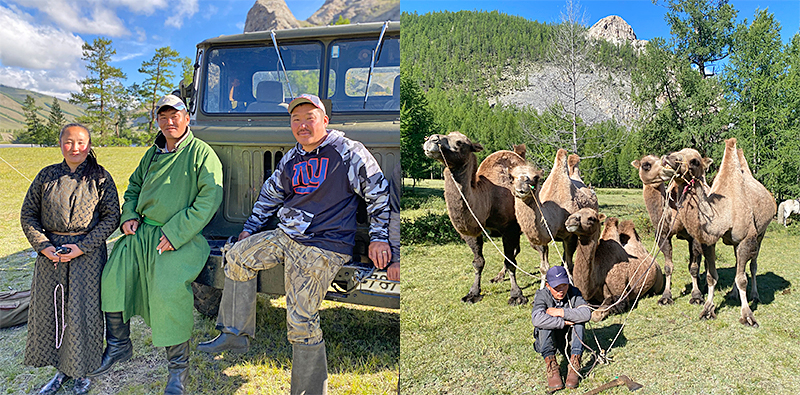 July 25, 2022
Rafts were set up and we used them for getting down river. Just for movement. No fishing out of the boat above Camp One in the Ulaantaiga Bio Reserve. I hopped in the boat with Eric and Scott. It started out beautiful, sunny and warm. Clouds rolled in in the afternoon. I got dropped off to swing a long shallow run. I had one fish nip at the fly a couple of times but nothing else. I think it was a Lenok. I met up with Scott and Eric at the next pool and Scott landed a 35" Taimen. We fished another run, but didn't move anything, and met up with Matt and Bryant for Lunch and they fished while the boys got lunch ready. No other fish. Great caviar/tuna on crackers and bread. Noodles with Zucchini and carrots and a Mongolian beef and mushrooms. Very tasty. After lunch we fished the run where Matt got his big fish a couple days before. Scott fished the upper part, they put Eric in the sweet spot right where the fast water started to slow down and I fished the bottom towards the tailout. It was a learning curve with the Spey rod and I was both Spey casting and overhand casting depending on the situation and the fly I was using.  At first I was under the assumption Taimen really liked the big flies. Although, I learned they will come up for the smaller streamers just as readily so the last two days I was tossing somewhat smaller flies (relative for Taimen flies), simply because they cast so much easier. I have also been swinging the runs casting down and across and occasionally casting across and stripping them in, sometimes past the Skagit head, but most of the time swinging it with the occasional strip. I put on that Chilly Goat. This particular run was such a clean run and the fly swung so nice and straight with one mend, very little line control needed. I was putting the fly almost to the other side. After a dozen casts, I threw one out and put one mend in the line and once it straightened up, the line came tight. I pulled tight on the running line with two good strip sets and I had one on. The fish rolled and it looked decent. He came close and made a couple head shakes, half jumped and took some line again. I tightened the drag some and after a couple close calls, Chino had him in the net. High fives were exchanged, pictures were taken, and I was a happy camper. We didn't measure him, but guessed he was in the high 30's. Just below, Eric had one take his popper, but lifted and never hooked him. We fished two more runs and we made it to High Bank Camp at 4:30 pm, just below Red Rock Camp. Since we were in camp early, I hiked to the top of one of the limestone peaks. It was short and steep, only one part I needed to use my hands to scramble up.. The limestone rocks were really crumbly, so I was cautious. The view was pretty spectacular.
Bryant went out after dinner below camp and had one Taimen come up and miss his popper. Early night for everyone. There was a small glacier/ice patch just below Forest camp. I guess it is there year round. We thought this would be good to utilize for cold beer, but never stopped to chop any out.

July 26, 2022
We all ordered Dells the first day and Murun Gua, who hand made them, showed up first thing in the morning to deliver them. We all dressed for pictures. It was a blustery windy day. It was mostly sunny, but there was a downstream wind that was cold. Everyone put on extra clothes and Matt even broke out gloves. It warmed up as the day went on. Usual schedule. From High bank Camp to Camp 1, is around 8 km. I went with Matt and Bryant. The first pool they dropped me off to fish the other side. Bryant got a fish right away on a small Lap Dancer. I didn't get to see it, but it was a 37" fish. Beautiful towering rock walls along the river. Pork steaks, red and black caviar, sushi and carrot salad for Lunch. Pretty delicious. Scott hooked and almost landed another fish. He had it real close and it got off in the same pool where Matt hooked his first fish the first day. Chino spotted a fish way back in a tail out of this run. Bryant made a cast to it and it chased the fly but didn't take it. We lost track of it as it headed up the river. We hopped in the boat and as we floated by, we saw that fish and another. The next pool down I cast that huge/heavy Flathead Shad. That thing is borderline fly fishing, not much casting going on, more of a lob. I'm sure it would work great, as it looked like a wounded fish in the water, but not my cup of tea. Right above Camp 1, in the tail out, Bryant had one come up for his fly, and missed it. Back at camp a little after 5 pm. Beautiful this time of day at Camp 1. We all dressed again in our Dells to get pictures in front of the Gers. Bryant and Matt got some pictures casting their Tenkara rods in full Dell attire. Eric still hasn't caught a Taimen.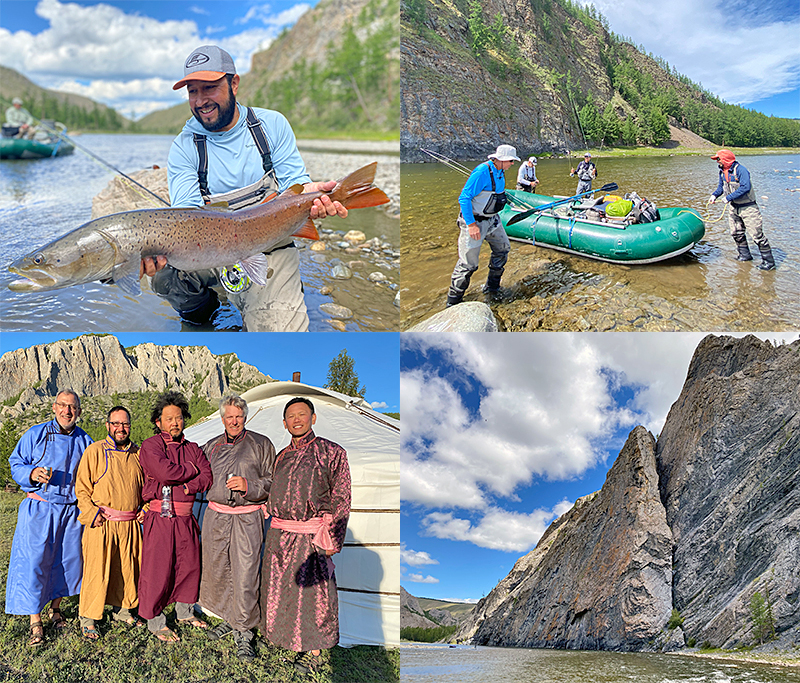 July 27, 2022
From Camp 1 down is where you can fish out of the boat. We  headed out at about 9:30 for the 15 Kilometer float. Lots of water to cover. It was nice fishing a single handed rod from the boat. The SA Titan Mastery, cast so nicely with the Orvis Helios 3D 9 wt. Effortless. I couldn't recommend this set up more for casting big streamers all day.  I was with Soylo, who is a guide in training. He might be the happiest person I ever met and his smile was infectious. We fished behind both boats, to let them get first water. Eric was number 1 priority to get him a fish. Soylo and I spotted 3 fish, right below camp, but we were too close as we drifted by and we spooked them. I fished a small white/tan pole dancer for a while with no action. I switched to an olive Andino Deceiver, nothing touched it. In the afternoon we switched to a light colored Gurgler, and I had one come up right away and miss the fly. We were late to lunch, around 3 and the other guys already ate and left. We ate quickly and got back to fishing. Today we had a lunch boat, so it made it nice for the guides having lunch ready and no cleanup for them. A little farther, I moved another one that tail slapped the water missing the fly. No second chance. We moved to the other side of the river in the same run and we had a nice fish come out of the water to eat my fly. I set the hook and he was on. He ran down the river and took a bunch of line, we got him close and he made another run up stream and took a bunch more line. Not quite to the backing but close. I was impressed with the fight of this fish. Finally got him close and Soylo tried to net him by the tail. He got him in the net and started to celebrate and as he  lifted the net the fish jumped out and due to the slack in the line and was off. He felt so bad. I told him no worries. We ended up having two more miss our Gurgler. Great day overall. These 35-38" fish are the best fighters according to Baggy. Eric landed two, one in the high 20's and one in the low 30's and had another one on. Scott, landed one and lost one. Bryant landed one and missed 11. Matt landed one and had another one on. We landed 6 for the day. Water conditions were great. It started out hot and an hour in it was rainy and windy. Wind blowing up, wind blowing down the river. Crazy weather. Long day of casting. Eric is allergic to eggs and he got really sick after lunch. The lunch boat took him to camp at 4pm. We figured it was the mayo(egg) in the tuna. He slept 15 hours in his gur and woke up ready to go. The rest of us made it to Camp 2 by 5:45. Camp 2 had cell service and everyone was checking their phones/instagram when we arrived. This is the only place you have service on the whole trip. My phone didn't have service, I guess you need a special sim card to get service.
For dinner we ate Tsuivan, Mongolian dry beef pasta, a very famous dish in Mongolia. Very good. Everyone was in bed early.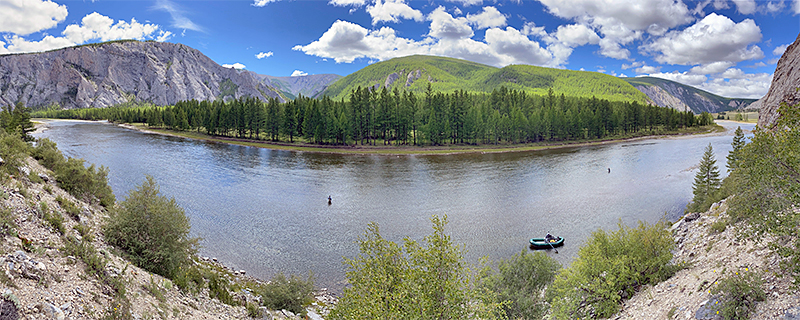 July 28, 2022
Woke up to a little rain. It cleared and was overcast. Same as yesterday. We let the 2 boats go first again and we waited until the water settled. Soylo and I were off at 9:45. We fished pretty hard with the Gurgler but we didn't move any fish, but we saw 3 nice fish in the middle to tail outs of the runs. It's hard to fish the whole run, as some are very long and it's daunting to cast through the whole thing, not knowing if there is a fish there. Most of them stick to the fast water at the beginning of the run. We ate lunch. Caviar on tuna fish, beef kabobs, with potatoes/bacon and slaw. After lunch Bryant hooked into a big 50+" fish. I guess it schooled him. Took him up river, he fell down on the rocks and into the water. He had it close, but It ended up breaking his whole leader off. He was pretty heartbroken. We spotted a few more fish in the afternoon, but didn't get any. Towards the end we had to portage our boats around a floating bridge. Matt and Bryant ended up landing 4 for the day, the biggest being 38". Scott landed one. That left us with 19 for the expedition week, which Chino said one more would have been a record. Baggy said the most he landed while guiding on the Expedition was 15 fish. Just above camp we found a creek bottom that still had ice in it. Soylo and I broke off some chunks to bring back to camp, so we could have cold beer. It lasted 3 days in the Yeti Hopper bag. Made it back to camp late close to 7. Camp 3 had a huge dining Ger. We met Jeff who was joining us for the Canyon Float. We had Ice cold beer(ahhh), some chicken fried stuffed pork dish, with red cabbage slaw and vegetables.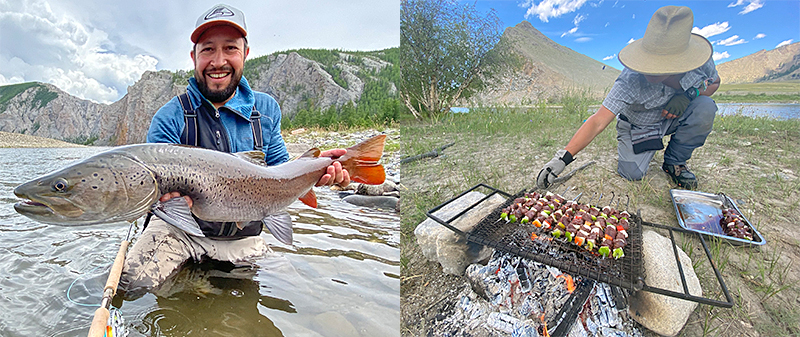 July 29, 2022
Rest day. We got up early because Scott and Eric were heading out at 6:30 for their journey home. Today is typically set as a day off, when the second group would come in. Since Jeff arrived a day early, they were happy to get him out on the river in the boat for a few hours. We got one of the Russian trucks loaded up a raft in the bed and drove it up river and put it in below the floating bridge. We took our time and covered the water and did a 3 hour float back to camp. Jeff had something splash on his popper, but pulled the fly right up. He needed the practice of strip setting and this was a perfect day to get some practice. I had a smaller Taimen miss my popper in some deeper fast water, he never came back for a second try. We came back, had lunch and in the afternoon everyone had a little rest. I decided to hike one of the mountains for some pictures. I found a teepee holy place on top. Great view of the valley. Chino, got with Matt and Bryant and tied some poppers. They each tied their own fly and Chino tied some new patterns with some new Firehole hooks he had. For dinner we had pork, kimchi, soy sauce vegetables, rice noodle dish and creamed yak milk/berries for dessert, which was very strong. Only Jeff ate it because he said he needed the calcium. Yak milk has a strong flavor. We had a fire after dinner and hung out.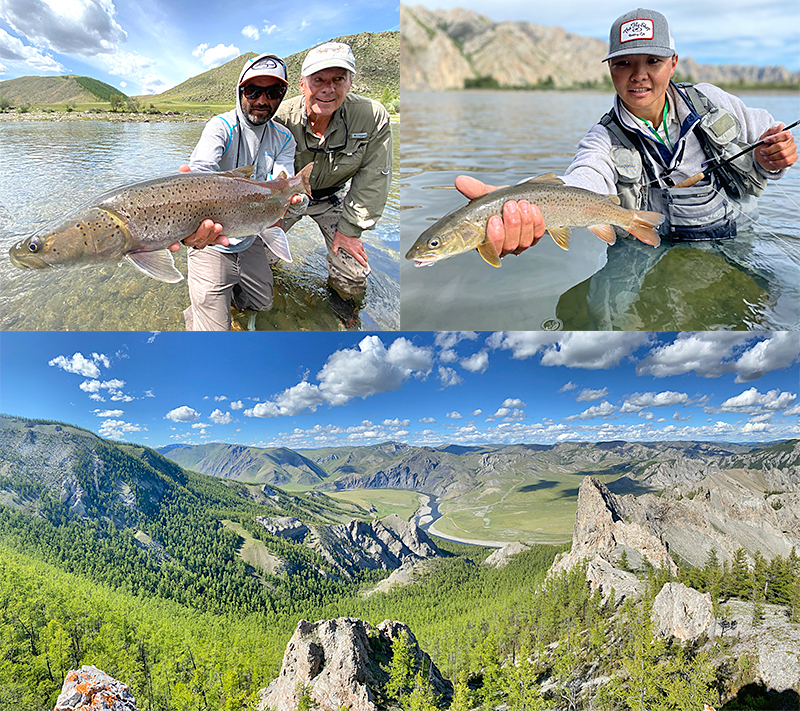 July 30, 2022
Start of the Canyon Float. We woke up to a beautiful clear sunny day. The usual schedule, breakfast at 8, out by 9-9:30. Jeff fished up at the front of the boat and I took the back. We spotted a nice Taimen in a tailout just below camp. It was a 40+" fish. We set up and on the first cast the fish moved for the fly, but didn't take it. The fish slid back and we tried again but it spooked up the river. Farther down river, Jeff had one explode on his fly but nothing was there. Just before Lunch the river had some huge boulder gardens, with very nice pocket water. I really like the run and gun style of fishing putting one cast behind boulders if only for a little bit. We ate lunch and headed back out. The day was getting more cloudy, with some rain clouds building up around us. Right after lunch, below a submerged boulder in some pocket water I hooked a Taimen. I made a good strip set and fought it and as we were getting ready to pull the boat over to land the fish he came unbuttoned. Not huge, probably in the low 30". The next bend Jeff had a smaller fish go after his popper, and it either missed or he lifted his rod but nothing was there. He put it back in there and it came after it again, went for it, this time he lifted and no fish. The third cast he stripped the fly close to the boat and when he went to recast the Taimen was following the fly and at this point it was right by the boat and spooked. You gotta strip set, not only to hook them, but if they miss, or you don't hook them, you are still in the game for the next take. It is common to get them on the 2nd or 3rd try.
The very next tail out, in a deep slot, I had one attack my popper, I strip set a couple of times and he was on. I got control of my line and got it on the reel. It took some line out and fought pretty well and after a few minutes we had him in the net. 36". No fish for Jeff. Bryant got one and missed a bunch of strikes. Nothing for Matt, but once we arrived at camp he kept fishing and ended up landing a skinny 43" fish right in front of camp. Bryant broke his Tenkara again. This time as he was breaking it down. They telescope down to about 4 feet. Another repair by Chino. They are using pieces from a smaller trout Tenkara rod and splicing it in the other rod.
Another great dinner and we did another fire outside after. Overall a great day.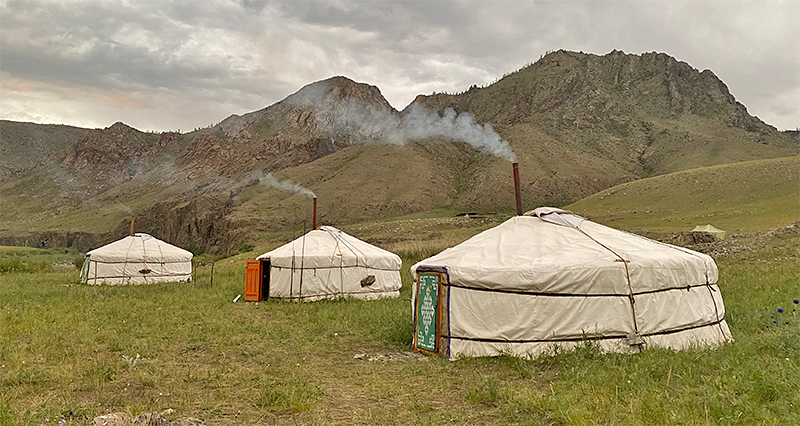 July 31, 2022
Woke up to a clear, calm, cold sunny day.
We ate breakfast and got on the river. Floated in the NRS inflatable raft with Baggy today. This boat is way more comfortable to fish out of. More room, easier to manage your line. I fished the back and Jeff took the front again. Right out of the gate, Jeff hooked a big Taimen on a little seam on a popper. He made a great strip set, but as he was trying to get the fish on the reel he let go of the line and gave it some slack and it was off. It was a big fish as we got to see it roll. The day warmed up and it got hot. Late in the morning, on the edge of some fast water, Jeff had one come up and miss his fly. Two casts later he had the fish grab his fly, he made a great strip set and it was on. He fought it and landed his first Taimen. Probably around 30". Matt and Bryant each got a fish out of the same pool after lunch. Both smaller fish. Jeff fished for Graying and lenok after lunch to get a grand slam. He caught a few grayling, and a lenok and we were back to Taimen fishing. Nothing for us after lunch and we made it to Camp 5. Jeff was having a tough time with his line as he bought a Titan Long  and because he was stripping it so close to the boat he worked harder to get his line back out. I lent him my setup and it helped him get the shorter head out with less false casts. He used it for the rest of the trip.
August 1, 2022
Free day and an extra day at camp 5. Matt and Bryant have full Taimen fever. They want a 50" fish. They fished a couple holes below camp first thing in the morning, no fish. They ended up fishing for lenok and grayling just before lunch. Soylo took Jeff and I to the other side of the river for lenok and grayling for a couple of hours. It was decent. I got 8-10 fish. One really nice lenok, about 20". It flipped out of my hands before we could get a picture. We headed back to camp around 12:30. We all ate lunch and some people took a nap. Matt and Bryant went grayling/lenok fishing right after lunch and I gave them some trout flies to try out. They landed a bunch of fish. Baggy and I went on a hike up to a peak overlooking the valley. About 45 minutes up. Once on top a huge storm came rolling in on us and it came quickly. We got off the peak fast and ducked for cover in the trees. It was a torrential downpour and we got soaked. By the time we made it to the bottom, it was clearing up. We made it back to camp and had dinner. Camp 5 has hot tubs. Quite the process, as they have a stove that heats the water and pumps it into huge Tupperware tubs. Matt and Bryant soaked. We sat by the fire again. In bed by 10.

August 2, 2022
We were up early as everybody was anxious to get on the river after a rest day. Just as we were getting ready to go, two rangers on motorcycle paid us a visit and everyone had to get their passports out for inspection. It seems there was an MRO office error and Matt, Bryant and myself didn't have licenses for the second week. It took a long time, lots of talking and cigarettes were smoked between Baggy and the Rangers. The guys were getting restless and we didn't get out until almost 11.. Baggy had to deal with the license situation, so Soylo guided Matt and Bryant.  He had to ride a motorcycle to a spot to get cell service and work out the issue. I decided to wet wade today because yesterday was so hot. Definitely the right call. We fished down and I hooked one right off the start. He was on for a little while and came towards me and got a little slack and was off. It was a small fish. Jeff did a nice job on a take and hooked and landed a 30" fish. He had one more fish miss his fly twice. Nothing for anybody all afternoon. The rocks along the river changed from limestone to sandstone. Matt and Bryant had some hits but didn't land anything. Matt had a huge fish roll on his fly and he put another cast to it and it came up and missed his fly a second time. Jeff is on a pretty solid hydration/water plan because of kidney stones so we had to get back to camp to get him water because the lunch boat didn't come down with extra water. We arrived only a little early as we made it to Camp 6 at 5:45. We had to wait for our stuff as all of our bags were on Baggy's boat, who didn't arrive in camp until 7. But it wasn't an issue as we relaxed by the gers and had a beer. Everyone seemed alright with the mix up for the day. We blamed the chain of events on the Mongolian government. A big storm rolled in right at dinner. Heavy downpour. It was blowing into the top of the dinner Ger at a 45 degree angle. The storm lasted about a half hour. These storms come fast. Everyone was tired. We all went to bed right after dinner. Kind of a crazy day.

August 3, 2022
The morning started as another clear, calm bluebird day. Lots of Sandstone cliffs around and rounded sandstone boulders in the river. Lots more sand on the river bottom as well. Water was a little off-colored, due to the rain but very fishable. Jeff and I fished with Baggy. Usual deal,  Jeff was up front and I fished in the back of the boat. We threw poppers for a while, but it was pretty quiet. We switched to streamers. I had 3 fish look at my fly. One followed it in and ate the tail of the streamer Baggy gave me. I kept stripping and he was never on. I threw it again and he followed it but never took it. A little farther down, I had another one move on the fly and never felt him. I saw his back, but we were too close to him and the boat went over top of him and he spooked. Only one shot at this fish. The last fish came hard on the fly, and I think it was too close to the boat and at the last minute it turned and never took the fly. It looked like a decent fish. No fish all day. Matt and Bryant had a couple of missed opportunities. We made it to Camp 7 a little after 5. Bryant broke his Tenkara for the 4th time. They did another repair. This time they used electrical tape.
August 4, 2022
Decided to get a little earlier start to the day since it's been so hot, just to change things up. We had a 7:30 breakfast and were on the water at 8:20. Clear calm morning again. The day started out slow and fishing never really improved. Nothing the first few runs. Chino did a great job picking apart the runs, fishing one side and rowing back to fish the other side. Lots of big boulders in the water. I had one come after Chino's big articulated root beer streamer he lent me. He moved on the fly and I felt a tug and since I had a bunch of slack in the line, I lifted the rod to regain control and that didn't go well. That was the only fish we moved all day. It was sitting in a perfect little pocket below a boulder.
Farther down the river I saw a covey of Partridge flush when they let Matt out to wade. I heard the classic "screeching gate" sound they make when they flush and 15-20 birds flushed and landed a little ways off. I think these are Daurian Partridge, a smaller version of the Gray Partridge we have in the states, which is not native here. I would love to have one hour with my dogs here. These birds probably don't get hunted at all. Saw another covey farther down river. Two big storms rolled in on us. Heavy rain for 15-20 minutes. The first one had lightning so we pulled over and waited it out. The second one we kept fishing but put on our jackets. We opted not to put on our waders and got a little wet. Made it to Camp 8 close to 6pm.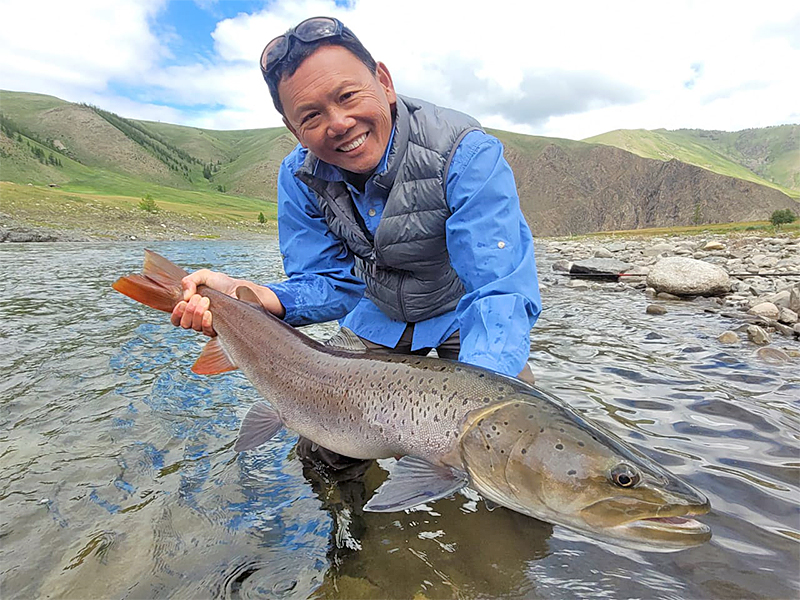 August 5, 2022
The last day and a shorter day. We started even earlier today with breakfast at 7 am and on the water around 8. Cool morning, partly sunny and the wind was kind of chilly. A couple bends down, I had one grab my fly, I kept stripping and felt nothing. Cast a few more times, but it never came back. A little farther down, Jeff had one come after his popper and missed it. He threw it back, and the fish grabbed it again. He made a good strip set, and had him on for a few seconds and he was off. That was it. Nothing for the Lum Brothers, no fish, no hits. They even fished streamers for a spell. Shorter day today and made it to Camp 9 by 3 pm. We all got organized, dried our boots and waders and got organized and packed up. The Mongolians had the rafts broken down and ready to move up river for their next trip. One of the crew needed to visit his family and they put his motorcycle on a 13' raft and took him across the river. These guys are resourceful. Another wonderful dinner, fire and a few "Shotkas" (Chinggis vodka, lemon and soda water). Some of the guys stayed up.
August 6, 2022
Heading back to UlaanBaatar. 7am breakfast, 7:40 departure. 2 hour 15 min drive to Murun in two SUV's. We had a 12:30 pm flight from Murun to UlaanBaatar on Hunnu air. It was a small airport, easy to get through with no lines. It was a short flight, just over an hour to get to UlaanBaatar. We were met by our driver along with Princess (this was the meaning of her name and easier for us to remember), one of the MRO staff. We wanted to get COVID tests, just in case we couldn't check our bags all the way through as we had an 8 hour layover in Seoul but the clinic wasn't open this late on Saturday. We let it roll, hoping they would check our bags through. We decided to check out Narantuul market (Black Market), a huge open air market with just about anything you want. Matt was looking for fur boots and a traditional Mongolian hat. We were told they take credit cards but that wasn't the case. Matt had to go back to the van to get cash. He negotiated some good deals to finish his Ghengis look, with the help of Princess.
We were excited to get out and have dinner and we ate at Veranda, a really nice restaurant close to the Hotel. It was an Italian restaurant with a good atmosphere and it was pretty inexpensive. I bought the group dinner and it was much appreciated and a great way to end the trip. Cold Beer, Pizza and Ice Cream were top on the list to get.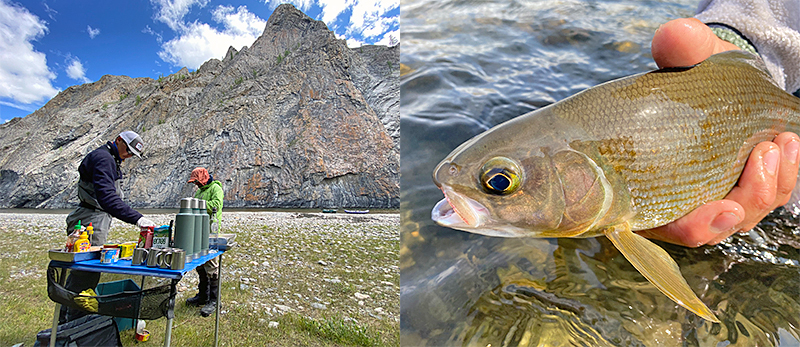 August 7, 2022
Heading home. Jeff was spending another night in UB, so we said our goodbyes the night before. The MRO driver and Undra met Bryant, Matt and myself in the lobby at 6 am. Arrived at the airport at 6:45. No traffic, it was nice. It could be bad at times and took Jeff close to 2 hours coming in from the airport to his hotel when he arrived. When we arrived at the UBN airport it was super busy. Kinda of hectic as it was difficult to tell where the lines started for each airline. Undra got us in the right line and she went on her way. It was relatively fast and we were able to check our bags all the way through, mine to Redding and The Lum brothers to Santa Barbara, even with an 8 hour layover in Seoul. That was a relief considering if we had to claim bags in Seoul we needed a negative COVID test. Security line was short and we had plenty of time in the airport to get some Chinggis vodka in the duty free stores. $14/bottle. Flight was a little late, it was supposed to depart at 8:40am. Matt got pulled aside as we were boarding because of a headlamp in his checked bag they thought was a power pack. Plane was a little late. No big deal for us as we had 8 hours in Seoul. The flight departed at 9:20 am. Asiana lounge again. I don't know if I can travel any other way. We had a long layover. Our 8:40 pm flight got delayed to 9:40pm. Arrived at SFO at 4:05 pm and made it home to Redding by 7:45 pm. Not too bad.
Meals:
Hearty, tasty Mongolian food and plenty of it.
Breakfast was pretty set. Usually a fried egg, tomato, cheese, salami, fresh fruit (oranges, bananas, apples or pears) , fried bread, toast, meat tray(bacon, a type of processed ham and a hotdog shaped sausage) and occasionally some other egg dish.
Lunch was on the river. Usually cooked there or warmed up. We would almost always have red and black caviar on tuna/mayo on a cracker or bread with a dab of Sriracha.
Lunch included beef kabobs, Mongolian beef, chicken, pork steaks, Beef/mushrooms, fried rice, carrot salad, various pasta salads, cabbage salad/slaw to name a few.
Dinners started with soups(they were all good). Dinners had the most variety. We had chicken, pork, beef, mutton(they don't eat baby animals under 1 year), Mongolian Empanadas, dumplings, pasta, slaw salad, steamed bread, kimchi, rice noodles, vegetables, salads, rice, tomato/cheese, and some other Mongolian dishes. All very good, hearty meals. Not gourmet but impressive and delicious considering the challenges of refrigeration, and daily movements.

Summary:
What an experience! The landscape, the people, the culture and of course the fish. Taimen are such an amazing fish. The takes are lightning fast and you can use top water most of the time, at least on the Delger. They remind me of musky in the take and how they can be moody and just not want anything. But when they do want it, they come after it with everything they have. There is no shortage of lenok and grayling, but it's hard to go after them when your chance at a 50" Taimen is possible on every cast. FFM does have groups that come just for the lenok and grayling. 100+ fish days all on dries are very possible. Lenok up to 22" and 18" grayling. People go to all parts of the world just for that. There are hoppers everywhere, and so many different types. These Lenok/Grayling  are not picky. Big fluffy, easy to see dry flies are eaten readily by these naive river fish.
The Taimen fishing is a lot of casting big poppers/streamers all day for a few takes. It is a lot of work and can wear you out. Especially trout guys not used to it. Strip setting on the fish is imperative not only to hook them but to keep  your fly in the game if they miss as it is not uncommon for them to eat the fly on the second or third try. Fishing is difficult and there are so many factors that affect catch rates. Some weeks are harder than others, but if you catch a fish a day, you are doing really well. We've seen weeks with more and people do 2 weeks and get 1 fish. You need to show up with the mentality to cast all day and that these fish don't come easy..You really have to capitalize on the opportunities you get and lots of fish get missed due to trout sets.
The fish on the Delger come up more readily to topwater flies. Matt and Bryant used topwater almost exclusively the full two weeks. On the Onan, they typically fish with more streamers.
The expedition is definitely for people who can hike, but they can accommodate most anglers. The sheer effort and man power to do this trip is impressive. There were 25+ staff for 5 of us, and everyone knew their part. How fast the Mongolians set up and broke down camp was impressive. Camels, horses, trucks and rafts were all utilized. Mongolians are such happy, welcoming people and they are always willing to help and constantly laughing and smiling. They were always there to greet you at the end of the float, when you arrived at camp, taking your bags and rods to your ger. They seem like they are having the time of their lives working on the river. They are excellent on horses, and they are very physical/touching people. They are always grabbing an arm or patting your back. And for the Mongolian guys, that means wrestling. We got to witness a few good matches that ended in smiles and laughter. Weather changes very fast. Layer on, layer off, sunny and hot one minute, cold and rainy 10 minutes later. Definitely colder on the expedition as I was able to wet wade on the canyon float. You really have to be prepared. Always having your rain jacket and waders handy is a must.
The Canyon float is for anybody that wants to experience Mongolia. The fixed Ger camps make moving day to day easier and the comfort of arriving at these camps makes transportation relatively easy compared to the Expedition.
It is quite the adventure. You have to go into this trip being open to change and able to roll with the audibles that can happen at any time. There is a schedule, but due to weather, water conditions and fishing, they are always making changes. I would recommend the two week trip to anybody who goes. It is a long way to get there and giving yourself two week gives you more time for good fishing on the river in case conditions aren't ideal for a few days due to rain and high water.
The rain storms roll in so fast, the guides are always concerned about the river blowing out. A heavy downpour for a half hour can blow the river out depending on how much rain falls. If it blows out it isn't unfishable, but it makes things more difficult. It usually clears in a few days, but weeks have been challenging due to high muddy water. This is the nature of a big undammed river in a wild part of the world. Like so many of the people we send to Mongolia, they go for the fish, but the people, culture and landscape is what they remember most. It is truly a special place and I hope I get back over there to see the Eastern Mongolia sometime in the future.