Pinnell Creek, Kodiak Island, Alaska, Trip Report
(September 21 – October 01, 2022)
Pinnell Creek is named after Bill Pinnell, a pioneering adventurer and brown bear hunter that with his partner, Morris Talifson, traveled to Kodiak Island, Alaska, and carved out a life in the bush during the Great Depression. You can read about their story and adventures in a book called:  Last of the Great Brown Bear Men
I fished and explored Pinnell Creek back in the early 90's for wild steelhead, and it was amazing. When I learned that one of our Alaska outfitters had recently secured the only commercial permit granted by the U.S. Fish and Wildlife Service in the Kodiak National Wildlife Refuge, I was in!  I contacted a couple of hearty and hardcore steelhead fishing buddies of mine, and the trip was on.
21 SEP 22 – Wednesday
Drive from home to Medford, OR. The following morning I would be flying to Seattle, then onto Anchorage where I would meet Paul and Alan, and eventually on to Kodiak Island. Medford is a very nice and easy airport to fly out of, with only five gates and a two and half hour drive from Redding, CA. It's the same distance as to Sacramento International Airport, but a much prettier and more interesting drive past Mount Shasta and through the Cascade Mountains.
22 SEP 22 – Thursday
Wake up @ 5:00 AM, take a quick shower and then take the shuttle to the airport. I check in and pay my baggage fee with Alaska Airlines App, super easy. Clear security, TSA PreCheck, grab a coffee and wait for my flight to board.  We depart on time, landing in Seattle without a lot of time between flights. Take the train from C Terminal to N terminal and meet Paul and Alan Senior at N18. Flight departs 30 minutes late due to airport construction but we have plenty of time in Anchorage before departing for Kodiak ADQ. Paul and Alan get me in the Alaska Airlines Lounge, grab a bite to eat and some water.
Flight departs for Kodiak on time, a 45-minute flight. Luggage arrives in two batches, then we call the Compass Suites for shuttle and check in. I also call Seahawk Air to let them know we have arrived, where we are staying, and confirm pick-up time for the next day's charter flight into camp. Once we are settled into our rooms, we head on down to the Safeway Liquor Store and buy some boxed wine for dinners.  Having dinner at Kodiak Hana, reservation at 7:00 PM. Smooth travel so far…
We meet in the lobby at 6:00 PM and walk to the restaurant, across the main drag toward the harbor where there are a ton of boats moored. There is an old liberty ship that was dry docked after the big earthquake in 1964, and now serves as a fish processing plant owned by Trident Seafoods. They process fish seven days a week, in 12 hour shifts. Across the street is a bar called the Tropics, and we stop in for a cocktail. The bar is attached to a bowling alley.  Then we walk down to Kodiak Hana and have a nice dinner of sushi and tempura. Good food and service and very reasonably priced.  We will meet in the hotel lobby for breakfast, before taking the shuttle to Sea Hawk Air.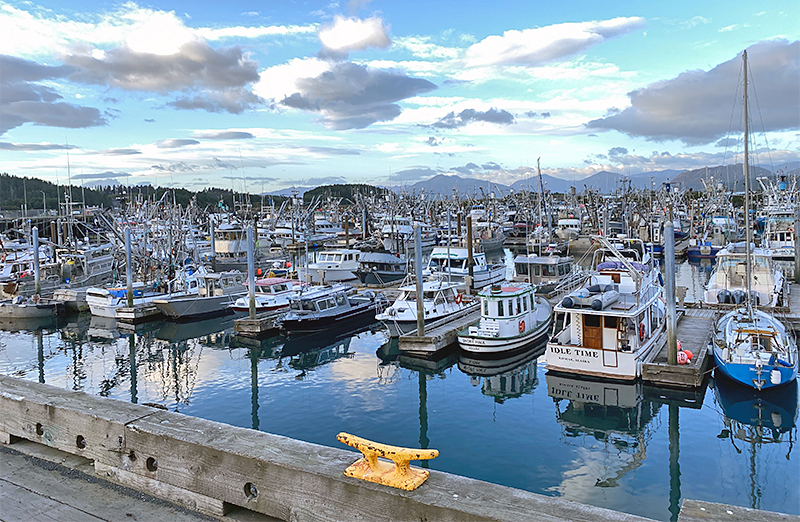 23 SEP 22 – Friday
We are on weather hold until later this morning or early afternoon, supposedly wind, not a low ceiling. We walked the docks of the harbor checking out all the commercial fishing boats, then dropped by the local hardware store. We got the call from Seahawk later that morning that the flight was on.
The deHavilland DHC-2 Beaver fitted with Aerocet Floats is fueled, and we load freight and our gear – 950 pounds total – and are off for a one hour flight south with Rolan as our pilot. He has over 25,000 hours of bush flying experience and is very knowledgeable about the area and history of Kodiak Island. We land on a lake surrounded by steep mountains and unload all our gear, then Rolan goes to fetch Stig…he's gone for about 45 minutes.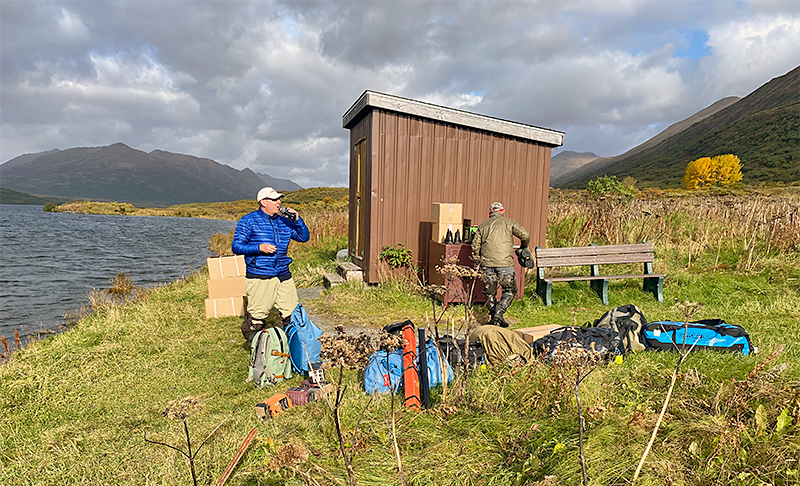 I thought we would make our camp where we unloaded, but Stig doesn't like the location and potential for a big SE wind, so we pack all the gear about 1/4 mile to a new location he has picked out behind some alders and cottonwood trees. We get to work on setting up camp – first the cook tent, then our three sleeping tents, and finally stringing up an electric fence around our camp to keep the brown bears at bay. This is a simple wilderness tent camp, nothing fancy at all, but home for the week with good heavy duty tents (Hilleberg and Arctic Ovens), and we each have our own tent with a cot, sleeping pad and -35 degree sleeping bag.
Stig is a beast and a relentless worker, never stopping, go, go, go. Dinner is Rocky Mountain Goat hamburgers and a nice green salad, delicious as we are all half starved. We have a small wood stove in the cook tent for warmth and ambience along with a Coleman lantern for light.

24 SEP 22 – Saturday
Hot water going at 7:00 AM, no rush to get out, it's still dark.  Oatmeal for breakfast, peanut butter and jelly sandwich and snacks for lunch. Hike about 5 miles total today. Rain squalls off and on all day with a varying wind, mostly blowing upriver from the southeast. I hook my first steelhead, a buck, in the first run and land it, a fish between 12 – 13 pounds. I am running five feet of T-14 with four feet of Maxima 12-pound tippet tied to a Mini Intruder Metal Detector #4. There are still lots of spawning humpies in the river. We fish a couple more runs and get a few plucks, then hike downstream about three quarters of a mile to a series of boulder runs and a big horseshoe curve. Paul nails three fish, all bright, and loses another and Alan gets some grabs. We eat our lunch and continue fishing; there are lots of bears around but they are only interested in snorkeling for pink salmon carcasses on the bottom of the river. It's a solid 1 hour and 45 minute hike back to camp, and we are hot and wet with sweat. We turn our waders inside out and dry them over the wood stove. All good… Dinner is pasta with chicken Parmesan and a salad. We are headed to our tents at 10:00 PM, tired but ready for day two.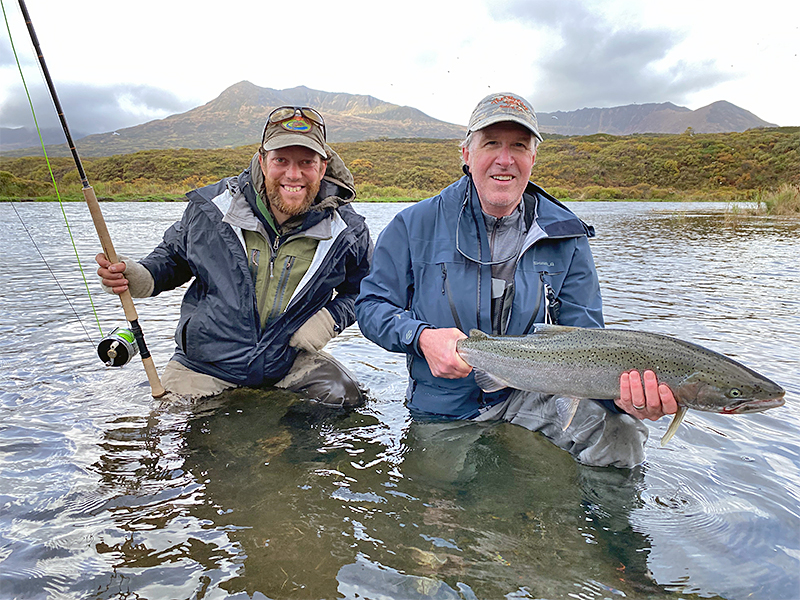 25 SEP 22 – Sunday
We are up at 7:00 AM, breakfast is homemade egg McMuffins with plenty of hot coffee. All our waders, socks, and under-wader wear is dry in the main tent for the start of a new day. Today we are going to hike to Pascals Pool and the first set of rapids below a tributary to Pinnell Creek. Pascals Pool is named after a French woman that flashed a guide years ago when he asked if she had chest or waist high waders on.  Instead of walking all the way in one big push, we fish a big bend in the river for a break. I'm fishing a 12'6" Scott Radian double handed rod and change my head to an Airflo Skagit Driver, 510 grains with 7.5 feet of T-14. I head up above Alan and Paul and hook a nice fish, which ends up being a fat 22-inch rainbow.  Paul gets some grabs but nothing hooked. Head off over a big peninsula on a bear trail to Pascals.
Upriver is big, slow, coho salmon water that dumps into a chute at the start of a significant step-rapid. We grab a quick bite of lunch and try to fish a couple runs, but the water is wicked fast and high. We decide to go back upriver to a long run above a creek, and I hook a hot little hen. Alan hooks 3 fish, landing a rainbow and a steelhead.
On the way back, Paul and Stig fish a run close to camp and Stig, using my rod, hooks and lands a nice 28 – 30-inch bright hen. Back at camp we devour baked brie with dried cranberries for appetizers followed by ground goat burritos with rice, greens, and refried beans with plenty of hot sauce and salsa. We are in bed by 9:30 PM, beat but happy. I would say we hiked a minimum of 3.5 to 4 hours.  This is serious hiking in soggy tundra, hummocks, bear trails along the river banks, up and down creeks, through marshes and lowland alders. It is not for the faint of heart.
26 SEP 22 – Monday
Breakfast is egg burritos with potatoes. Paul and Alan each hook and land a nice steelhead. Lots of bears around. Have lunch, PB&J with half an apple and snacks. Then we make a big push downstream, a long and rough hike. Paul lands 4 steelhead for the day and lost that many, plus some really nice rainbows in the 20 – 25 inch class, all beautiful fat fish. Alan lands some rainbows, all nice, and a cracking steelhead of about 29 inches. I break off a steelhead and land a couple nice rainbows, bright fish. Rain, clouds, wind, some sun, dramatic landscapes and vistas. It takes two hours to hike back to camp. Dinner was Dolly Varden sandwiches with onion and potatoes. Appetizer smoked salmon in cream cheese spread. We are going to have an easier day tomorrow, not so much hiking. The river is clear, but high, which makes hiking more difficult. The word is we are getting hit by a pretty big storm tomorrow, we will see…
27 SEP 22 – Tuesday
We stayed pretty close to camp today, needing a bit of a break from hiking. There is a ton of water to fish and we are the only anglers on the river, so there is no need to rush or worry about getting low-holed.  At about noon, as predicted, the storm starts to arrive, raining and blowing with gusts to 30 mph. I hooked three fish and landed two steelhead, one buck around six pounds, and a bright hen of about 8 pounds – she ate two feet off the bank – and lost a fish in the double digit range.  It's a blustery day, cold and wet, but fishing is okay… Alan lands a nice fish, Paul nothing today, his birthday – DAMN! We knock off about 5:00 PM and hike 45 minutes back to camp. The wind starts to pick up with gusts to 40-mph plus, and we double-check all the guideropes on our tents and have to stake out the stove pipe with wire in the cook tent to keep it from popping out of the portable wood stove. It's ripping outside, rain with pancake gusts pushing 60 mph most of the night. Dinner was reindeer hotdogs and salad, appetizers were chips and bean salsa.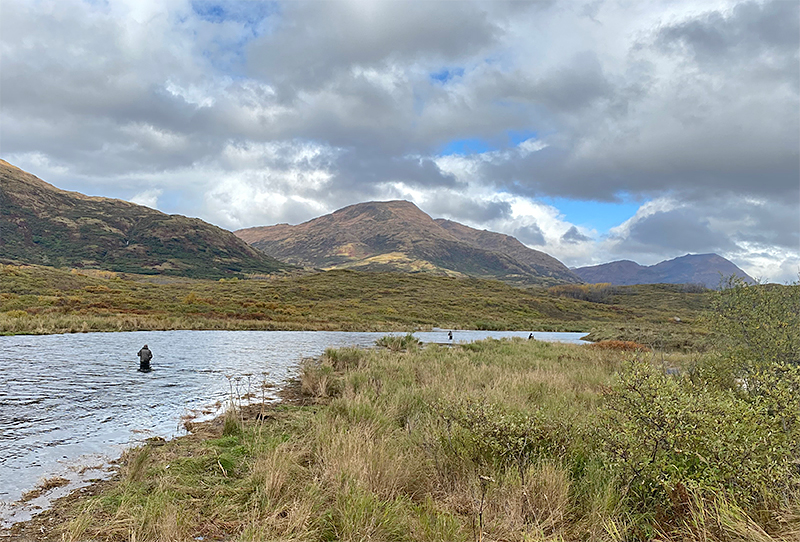 28 SEP 22 – Wednesday
Breakfast is hot porridge with granola, toast, English muffins, eggs, and coffee.
Made the big hike today, just above the major tributary that feeds Pinnell Creek. The water is up about 4 inches from the storm last night, but clear. Big spring tides seem to have brought fresh fish into the system and here the four of us are, in the "Big Lonely" on our own private steelhead river that is holding fish. I landed 5 steelhead today, hooked twice that number, Paul another three, and Alan 2. This is not counting the rainbows we are hooking on the swing, which run 20 – 25 inches and are very fat, bright and healthy. Weather is mixed, with rain squalls and a slight breeze. Lots of bears around, especially up top. We see more and more waterfowl – some mallards, green wing teal, and lots of goldeneyes.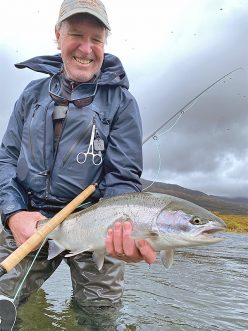 29 SEP 22 – Thursday
This is our last day of fishing – we start off working some runs closer to camp and Paul gets one fish. We hike downstream to fish more productive water, getting a few grabs here and there. Alan loses a couple fish, Paul hangs one, but overall a slow day of fishing, after yesterday being lights-out for the number of fish hooked and landed. From our furthest downstream beat fished it takes us just shy of 1 hour and 30 minutes to hike back to camp. The hikes are getting easier and quicker. Not many bears seen today, seems like everyone is taking a break, even the steelhead. We have an early wake-up tomorrow, as we need to tear down camp and get our gear back to the lake for the flight back to Kodiak.  It's clear outside – there's going to be a hard frost tonight. Paul and Alan take a few loads of gear down to the lake and store them in the USFW boat shed.
30 SEP 22 – Friday
Wake up at 6:00 AM, coffee is on. Stig is busy organizing his camp and storing gear in steel drums he has stashed in the alders. It's a cold, hard frost, fog on the lake and around the mountains…camp water is frozen. We help Stig break down the tents, and carry our gear back down to the lake where the float plane is to pick us up between 9:30 and 10:00 AM. All four of us do three loads apiece, about a 1/4 mile hike. There is a curious bear around so we need to stash our gear in a USFW boat shed and keep an eye on it.  Rolan from Seahawk Air shows up about 10:30 AM. First he shuttles Stig and some gear back to the home river while we wait about 30 minutes for him to return. One of Stig''s guides, Chance, is flying back to Kodiak with us. We load up the Beaver and head back to Kodiak. Beautiful flight, see some goats and amazing mountains, valleys and rivers. Paul and Alan are flying with Island Air directly to Royal Wolf Lodge today. I catch a ride to town with Jamie (daughter of Rolan and Joey who own Seahawk Air), get a sandwich at Henrys, then she takes me to the airport. She tells me a crazy story about a bear that broke into a local family's house and the father shot the bear 6 times before it died. Right after telling me the story we see a helicopter with the bear slung underneath flying toward town – weird and surreal. Only in Alaska!  The sight made Jamie's day…

Pinnell Creek is special, extremely unique and remote. Wild steelhead on a remote river in Alaska, with no other anglers to contend with…where are you going to find that kind of experience, anywhere in the world? Maybe the Kamchatka Steelhead Project. For a physically fit angler that can hike and doesn't mind camping, this is a very cool and legitimate steelhead adventure.
Obviously, this is not a trip for any angler that cannot hike 3 – 4 miles a day in difficult terrain, for up to 2 hours at a time.  Stig wants to keep these trips limited to two anglers maximum at a time, running three weeks in the fall, while resting the river a week in between trips.
Considering this was the first trip on the river in over 30 years (that I know of) it went pretty well. Paul, Alan and I knew what we were getting into well ahead of time. Certainly there are improvements to be made, and I feel Stig understands where he can make adjustments to the program to make it better. Stig is smart, motivated and one of the hardest working people I have ever met. He is committed to the Pinnell Creek operation.
Finally, I could not have asked for a better pair of fellas to have with me on this trip. Alan and Paul are good anglers, not whiners, and tough. They were fun to hang out with, always positive, and hiked and fished hard without any gripes. I would go with them anywhere!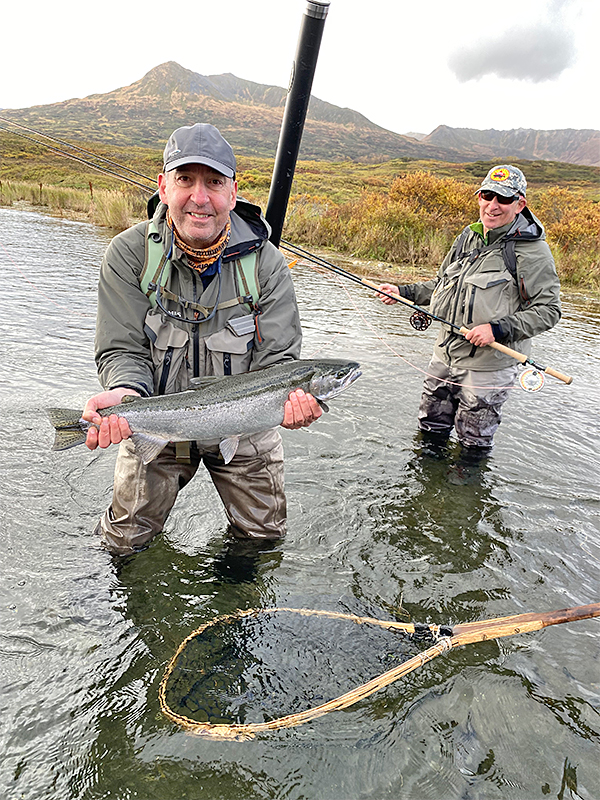 Important items to bring for Pinnell Creek:
• Large water bottle / filtration water bottle and/or Steripen
• Waterproof day pack
• Comfortable hiking/wading boots – IMPORTANT!
• Headlamp with extra batteries
• Inflatable solar powered LED light
• Flies and tippet, 10, 12, 15-pound Maxima
• Snacks – trail mix, jerky, nuts, fruit wraps
• Starbucks instant coffee packets
• Rain pants
• Waterproof hiking/camp shoes
• Plenty of layers including a puffy jacket, NO COTTON!
• Toque and fingerless gloves
• Insect repellent (headnet optional)
• Alcohol, and/or boxed wine (you can buy it at the Kodiak Safeway Liquor Store across from Compass Suites)
• Sanitation wipes
• Three or four 1 gallon ZipLock bags
• Two lightweight dry bags for storing extra layers in pack
• Solar and/or battery pack for charging electronics
• Travel or inflatable pillow
• Ear plugs (two sets)
• Wading staff or hiking sticks (Important)
Restaurants in Kodiak:
• Henry's Restaurant
• Kodiak Hana Restaurant
Hotels in Kodiak:
• Compass Suites Kodiak