Pinnell Creek, is a non-permanent tent camp, located on the southwestern shore of Kodiak Island, Alaska, approximately 75 miles, southwest of the town of Kodiak and within the confines of the massive 1.9-million-acre Kodiak National Wildlife Refuge (KNWR) which covers much of the southern two-thirds of Kodiak Island.
The Pinnell Creek outfitter possesses the only commercial operator permit from the U.S. Fish and Wildlife Service for this area, therefore guaranteeing you an exclusive and unique fly fishing experience. A maximum of 2 anglers per week allows for unparalleled solitude and wilderness fly fishing and by design, the creek is only fished 3 to 4 times a year with a week's rest in between each sortie.
Pinnell Creek is named after Bill Pinnell, a pioneering adventurer and brown bear hunter that with his partner Morris Talifson, traveled to Kodiak Island, Alaska and carved out a life in the bush during the Great Depression. You can read about their story and adventures in a booked called:  Last of the Great Brown Bear Men 
The Kodiak National Wildlife Refuge is home to approximately 3,000 brown bears and more than 250 species of birds live in or migrate to the refuge. Flowing out of the steep fjords and deep glacial valleys and into the sea are 117 salmon-bearing streams that support all five species of Pacific salmon, wild steelhead, rainbow trout and Dolly Varden. No location on the refuge is more than 15 miles from the Pacific Ocean, where mountains rise 4,000 feet above sea level.
Pinnell Creek originates from a clear, deep lake and flows south approximately 10 miles before it spills into a large bay connected to the Pacific Ocean.
Pinnell Creek is a relatively slow moving, clear stream with a medium gradient, characterized by a series of pools, runs and riffles running over gravel, accented by significant boulder gardens and long sweeping cut banks, all of which are prime lies for migrating wild steelhead. The creek is relatively narrow, varying in width between 60 and 150 feet with depths that range between 4 and 8 feet deep and easily covered with a single or double handed fly rod.
WARNING! THIS IS A PHYSICALLY DEMANDING TRIP:
The Pinnell Creek Out Camp is no walk in the woods, and involves hiking 2 – 4 hours per day, a minimum of 3 to 4 miles, depending on the angler's ability and capacity. This is serious hiking in soggy tundra, up and down tundra hummocks, on bear trails along the creek, tributary crossings, and through marshes and alder groves. Expect to hike an average of three hours a day in waders carrying a daypack and your fly fishing kit.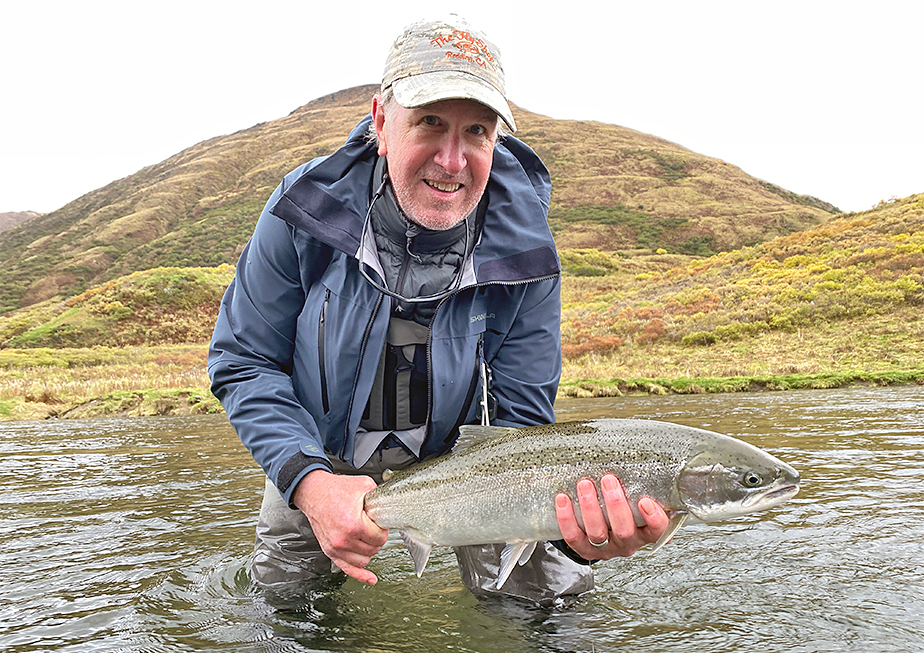 Reservations & Rates
7 night/ 6 day packages (Friday to Friday, typically) are $6,000 per person.

This trip is limited to two anglers or occasionally an inclusive group of three – maximum. (Price subject to change for the 2023 season)
Inclusions
Included in your angling package at Pinnell Creek is transportation between Kodiak and the camp, tent lodging, meals, and daily guided fishing. (A sleeping cot, sleeping pad and sleeping bag is provided).
Non-Inclusions
Not included in your angling package at Pinnell Creek is your Alaska state fishing license (available before you leave home by going online to the Alaska Department of Fish and Game), gratuities, fishing tackle, alcohol, or items of a personal nature.
Travel Insurance
The Fly Shop® is not in the insurance business, but we recommend Travel Guard coverage as a service with a desire to see your best interests protected. It is impossible to know when an unfortunate situation (loss of luggage, fly rods, illness in the family, or an accident) may occur. However, such things can and do happen, and this insurance can provide a means of recourse against non-refundable financial losses.

• Travel Insurance Information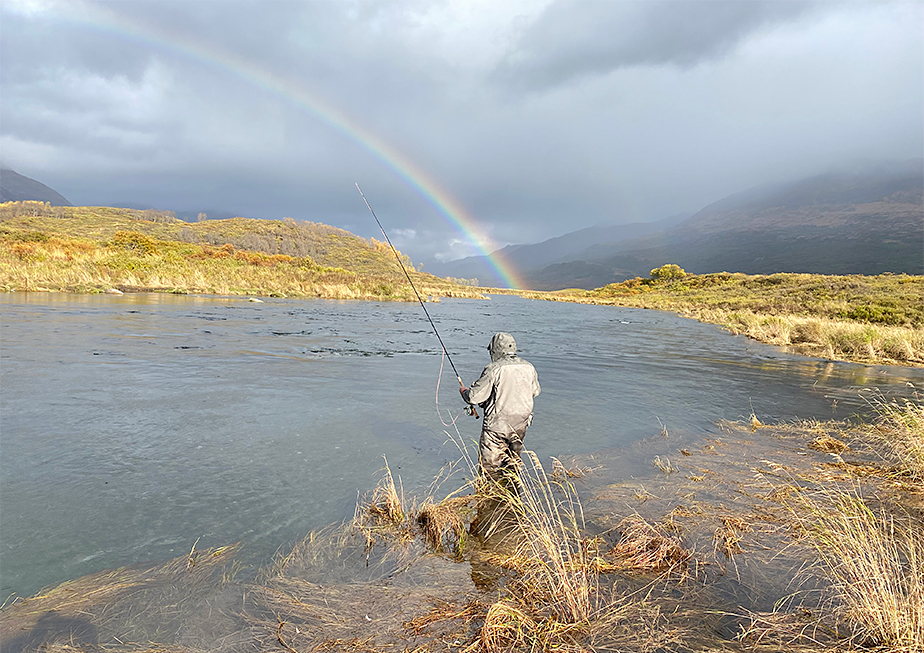 Seasons at Pinnell Creek
Kodiak Island steelhead season begins in mid September and will run through the end of October
Read More
Alaska is where much of North American weather begins. With Bristol Bay to the west, and the Gulf of Alaska to the east, the one factor that is constant is change. Fall weather on Kodiak Island can be absolutely gorgeous with the grasslands and trees turning fall colors but change in a matter of hours and can be extreme. Bring multiple high tech layers, a top quality outer rain shell, a good pair of waders, and wading boots that fit well and suitable for hiking in, as much as 4 to 5 miles a day in broken terrain.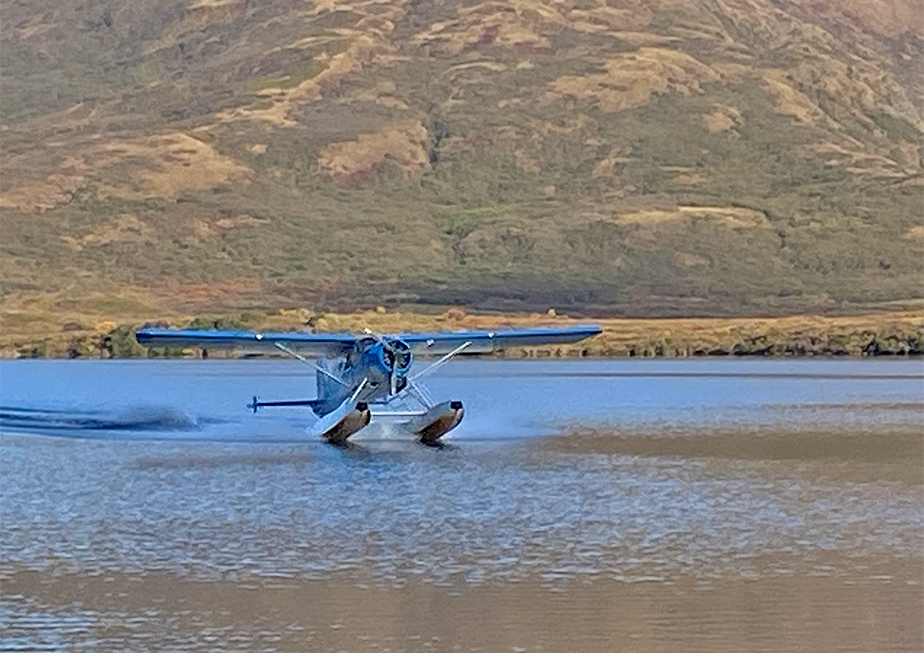 Getting to Pinnell Creek
Anglers should plan on overnighting in Kodiak on the evening before their trip begins. If your travel plans won't allow for an overnight in Kodiak, it is also sometimes possible to get flights from Anchorage to Kodiak early in the morning, but be careful here - try not to book your transfers too tightly. If your bags don't make it to Kodiak with you, the floatplane charter will not be able to wait for them. You may be faced with the expensive proposition of flying your bags and/or yourself to the camp at a later time.
Read More
Round trip travel from the city of Kodiak to the camp is provided as part of your trip. This travel is accomplished in a chartered float plane and takes about one hour. Your charter flight will leave Kodiak for the camp between 8:00 and 10:00 AM, weather dependent. The air taxi service will keep you up to date on an estimated time of departure.

Homebound, you will depart camp between 10:00 and 11:00 AM and arrive in Kodiak at noon. As flights are quite often delayed due to weather, it's best not to plan departures from Kodiak until mid-afternoon.

Remember that Kodiak Island is a very remote location and travel here may be quite different than it is where you live. Please leave yourself as much time as possible when booking your transfers into and out of Kodiak.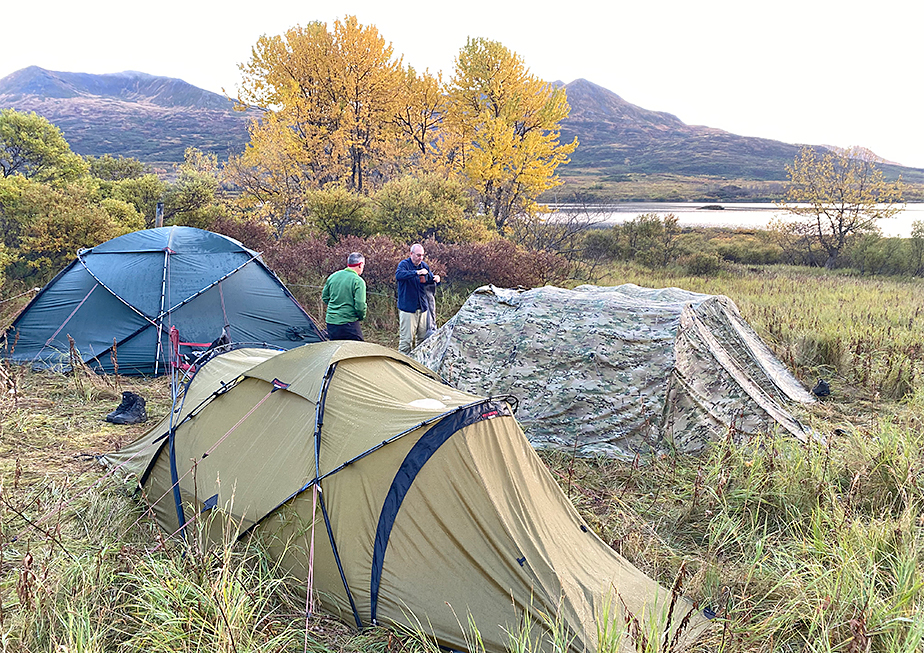 Lodging at Pinnell Creek
This is a true wilderness steelhead fishing tent camp adventure. Each angler will have their own Arctic Oven and/or Hilleberg (3 – 4 person) expedition tent. The tents are roomy, extremely capable and can withstand the just about anything Mother Nature dished out. Each guess tent is outfitted with a sleeping cot, a sleeping pad and -35 degrees sleeping bag, as well as a solar powered light.
Read More
The main cook tent features a small wood stove for heat, Coleman lantern for light along with a table and camp chairs for relaxing and taking meals.

The meals at camp are simple "camping food", a combination of fresh fish, meats, vegetables, salads, bread and rolls, chips and salsa, and snacks. Before dinner appetizers can include, nachos, salmon spread and crackers, baked brie cheese with dried cranberries, chips and salsa. Dinner could include hamburgers, pasta with chicken, burritos, fish sandwiches with potatoes, reindeer sausage, etc. Breakfasts vary and may include egg and potato burritos, hot cereal, egg Mc muffins, and scrambled eggs with English muffins or toast with peanut butter and jelly. Lunches are made in the morning and packed by your guide and include a variety of sandwiches and wraps along with plenty of snacks like trail mix, fruit rolls and jerky, apples and bananas.

Water for camp is taken from a nearby spring creek and is filtered. The camp is surrounded by a 5,000 volt electric fence to mitigate any bear issues.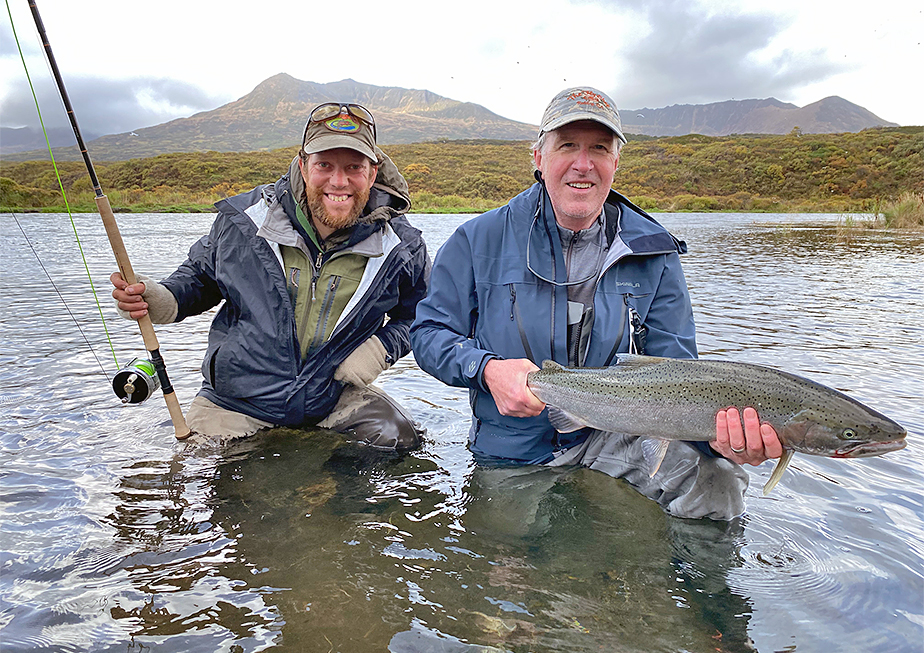 Fishing at Pinnell Creek
Pinnell Creek is custom-made for fly fishing, with cut-banks, pools, classic slick water runs, tail-outs, boulder gardens and riffles. These are gin-clear waters, originating from a large clear water lake and not subject to blowing out. There are no root wads or sweeper trees, and few obstructions for your back cast and this 100% wade fishery is extremely comfortable and straight forward to fish. The fishing here is done in the classic swing style with a single or double handed rod or with dead-drifting nymphing technique, depending on the preference of the individual angler. We prefer to swing classic, medium size steelhead flies off Skagit or Scandi heads married to light sink-tips
Read More
Steelhead anglers will have access to approximately 4 – 5 miles of this ten-mile long creek, accessed by hiking to and from the waters from a basecamp.

According to the Alaska Department of Fish & Game the estimated annual run of steelhead on Pinnell Creek ranges between 800 and 1,500 fish each season. And with the creek only being approximately 10 miles long from it source to where it flows into a remote bay connected to the Pacific, steelhead have a short distance to travel to their natural holding waters. Steelhead on Pinnell Creek average between six and eight pounds with a big fish pushing into the twelve to fourteen pound range. These are all wild steelhead, fresh and mint-bright from the ocean and will test your skills as an angler.

In addition to steelhead, the creek is home to a healthy population of resident rainbow trout that range from twenty to twenty-four inches. Often times, it is hard to tell if you hooked a steelhead or a large resident rainbow, both of which are welcome.

Finally, there is a healthy run of sea run Dolly Varden in the one to four pound range that enter the creek in strong numbers September and October. However, this is a steelhead fishing trip through and through and the incidental catch of rainbows and Dollies is not the target fish, we are fishing for steelhead. A day on Pinnell Creek
The daily schedule is flexible, due to the luxury of such a small occupancy camp, depending on the anglers' preferences and the weather.

The typical day starts with coffee ready at 7:00 AM followed by a hearty breakfast. Then you suit up, grab your rod and day pack and hit the trail, usually departing between eight and eight thirty. Camp guests will be the only ones on the water, so there is no need to rush to secure the best runs. Lunch is taken in the field. Anglers return to camp between five and six. Dinner is served from seven to eight in the main camp tent
What Makes This Destination Special and Unique?
• Small, intimate wilderness tent camp that hosts a maximum of two to three anglers per week; a perfect spot for inclusive groups of anglers and families that want a private fly fishing experience with no outside pressure from other anglers or outfitters. This translates into lots and lots of water to fish, happy fish, and a great fishing experience.

• On Pinnell Creek, you have hiking access to miles and miles of river, all within the borders of the Kodiak National Wildlife Refuge. Entry to the refuge is strictly controlled and you don't need a float plane to access your fishing – its right out your tent door. Every day on Pinnell Creek is a fishing day, no matter what the weather.

• The camp is within a short hike of a mile stretch of river at the outlet of a lake loaded with rainbows and Dolly Varden. If a full day of guided steelhead fishing is not enough, you are free to fish as much as you want and can stand…only your stamina will determine how much.

• Very solid program with one of the top outfitters in Alaska; these folks are pros with years of operating experience in Alaska and Kodiak Island. You are in very capable hands - the outfitter will take care of the logistics, and all you have to do is fish to your heart's content. A very hassle-free, simple and enjoyable fishing adventure.

• This is a quickly disappearing wilderness fishing experience, and resembles what most of Alaska was like 40 years ago. The emphasis of Pinnell Creek is on wild steelhead fishing, where it should be, and all in one of the wildest and most beautiful locations on Kodiak Island. If you aren't looking for the Hilton in the woods and want to catch steelhead, this is the spot for you. Trust us; it's that good…

• This is a destination for hardy, self-sufficient anglers looking for a top-notch steelhead adventure, breathtaking scenery, and lots and lots of chrome-bright fish fresh from the salt without another soul on the river! Where can you find that these days?