There are about 40 species of Triggerfish, often brightly colored, in the taxonomic family Balistidae. Trigger's inhabit tropical and subtropical oceans throughout the world, with the greatest species variety in the Indian Ocean and the Pacific, but the Atlantic has a few species as well. Most are found on the shallow flats in coastal habitats, especially around coral reefs, making them a perfect target for fly fishermen.
Triggerfish obtain their name from the locking mechanism used to hold the dorsal spine in place. The main dorsal spine is kept erect by a second spine which locks the dorsal spine in place. Only when this trigger spine is moved can the main spine be lowered. The spine is used for defensive purposes because when raised it makes it difficult for a larger predator to swallow them. The spine is also used to lock the fish into crevices or small spaces making it difficult for predators to extract them. Triggerfish are adept at sliding into small thin crevices and their dorsal spines are then erected to lock them into place.
Triggerfish have an oval shaped, highly compressed body. The head is large, terminating in a small but strong-jawed mouth with teeth adapted for crushing shells and coral. The eyes are small, set far back from the mouth, at the top of the head.
Even with such a diverse range of species among the triggerfish family, there are really just 3 types that we frequently target with a fly rod. There are several others that you may catch as well, but the following are those most commonly stalked on the flats by anglers.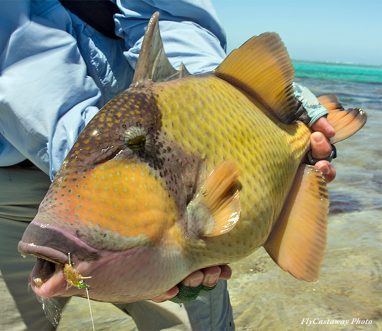 Mustache "Titan" Triggerfish: (Balistoides viridescens) is a large species of triggerfish found in lagoons and on the flats around reefs. With a length of up to 75 centimeters (30 in), it is the largest species of triggerfish in its range.
Look for Mustache Trigger's in the Seychelles, Christmas Island, Cook Islands and Australia.
The titan triggerfish is diurnal and solitary. It feeds on sea urchins, molluscs, crustaceans, tube worms and coral. It often feeds by turning over rocks, stirring up sand and biting off pieces of branching coral. This is why other smaller fish species are often seen around it, as they feed on the detritus and smaller organisms that are stirred up. Titan triggerfish have been observed being aggressive to other fish who enter their territory.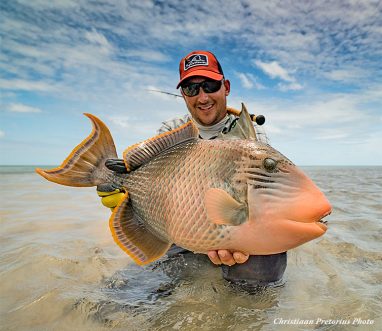 Yellowmargin Triggerfish: The yellowmargin triggerfish, Pseudobalistes flavimarginatus. They nearly overlap the range of the Mustache Trigger, living in coastal tropical waters and reefs of the Indo-Pacific from the Red Sea to South Africa and east from southern Japan, south to Indonesia, the Philippines and Samoa. These triggerfish can grow to a maximum length of 60 cm (24 in). They too are wonderful tailer's in shallow water, feeding on shrimp and crabs and whatever else they can find in the gentle clapping water on the flats and around the coral.
Go find a Yellowmargin in the Seychelles, Christmas Island and Australia.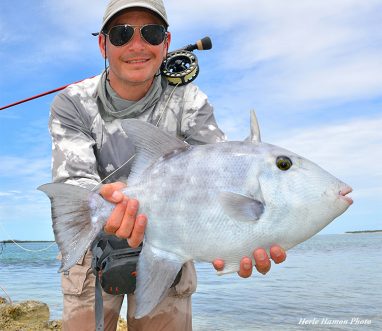 Gray Triggerfish: Balistes capriscus, the gray triggerfish. This species is native to the Atlantic, from Nova Scotia to Argentina and also the eastern Atlantic, the Mediterranean Sea and off Angola on the west coast of Africa.
Gray Trigger's are commonly targeted anywhere in the Caribbean… Mexico, Bahamas, Belize, Cuba, or Honduras.
The gray triggerfish is a demersal species and feeds on bottom-dwelling invertebrates such as shrimps, crabs, molluscs, and sea urchins. It has strong teeth specialized for making holes in hard-shelled prey.
These are super fun to cast to and watch eat. They are goofy looking, but perfect targets. Super easy to see with their tails flopping all around as they tip down to feed… It is rare that we won't cast at one if we see it… unless there is a permit around!