Montana Wilderness Lodge Trip Report
July 7 – July 16, 2022 – 9N/10D Float Trip
by Mikey Kaplan
Day 1: Thursday 7/7/22 – Travel day
Departed Redding around 9:45am for Medford, A little over two hour drive to get to Medford.
I stopped at Target down the street from the airport to grab some toothpaste which I had forgotten. 99¢ and no sales tax! Made it to the airport 2 hours early. Flight departs at 1:35 pm for Salt Lake City. Parked in the economy parking lot, 12$ a day. Checked my bag in, it was 42 lbs which I was a little nervous about. Delta charges 30$ one way for a checked bag. A huge line formed right after I finished checking in, good thing I was early. Carried on my backpack and rod tube. Took off right at 1:35 for SLC, thunderstorms in SLC, pretty rough landing but touched down ok. SLC to Kalispell at 9:10 pm, 4 ½ hour layover. Grabbed a turkey sandwich and tried to take a nap on my bag while waiting at the gate. Landed in Kalispell at 10:50 pm.
Ryan Johnston from Cast Hope just moved from Chico to Kalispell. He was kind enough to have me over to his new place for the night. He picked me up from the airport and we had about a half hour drive to his house in Somers, MT, a small community right on Flathead Lake a little south of Kalispell.
Flathead lake has a similar culture to lake Tahoe, minus the casinos. Tons of boating, fishing, and other lake activities draw tons of people to the area. Ryan is excited to figure out the fishing, there are northern pike in the lake, tons of trout, and bass. It sounds like some cool sight fishing opportunities for the pike in the tributaries. It will be fun to visit again once he gets it figured out!
A quick nightcap of whiskey on his back porch and then off to bed around midnight.
Day 2: Friday 7/8/22 – Transfer day
Woke up around 8 am and had breakfast with Ryan. Ryan dropped me off around 10:45 am at the Kalispell City Airport for a 11:30 am departure. Ed Church showed up shortly after myself. Ed was treating me to a scenic tour of Glacier National Park with Red Eagle Aviation. The small Cessna 206 is modified with 2 windows for the guest in the rear seat which gives you a great view on either side once in the air. After weighing our luggage and loading up fuel we were off, Ed in the back, myself up front next to our pilot.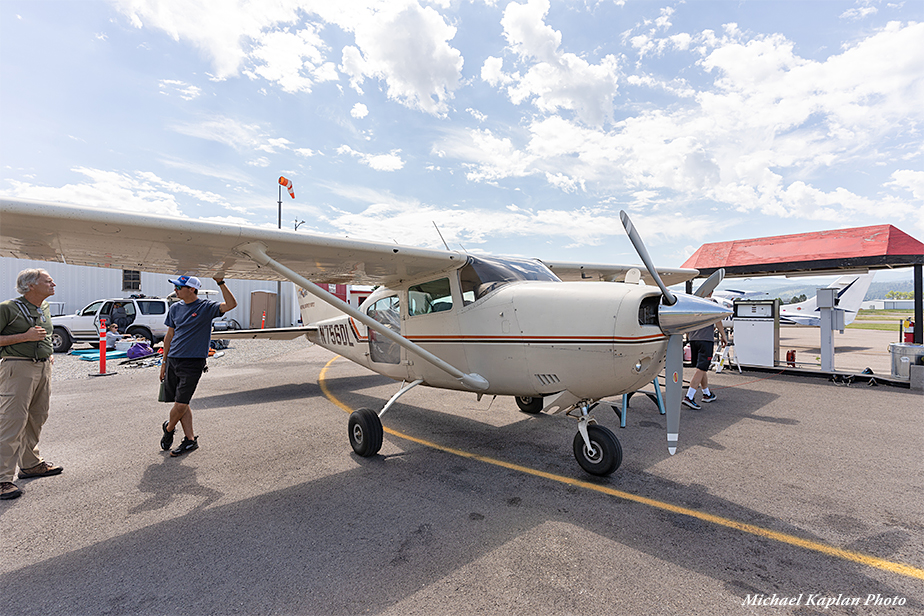 It only took 15 minutes to get into the park. Kenny was a skilled pilot, he would place the plane within 100 feet of the cliffs, riding the updrafts and looking for wildlife. Red Eagle is the only outfit with permits to fly in Glacier. Over the radio the pilots compete as to how many goats or bears they have spotted… Ed and I kept an eye out but didn't manage to see any. The flight started out smooth and got pretty bumpy in a few spots.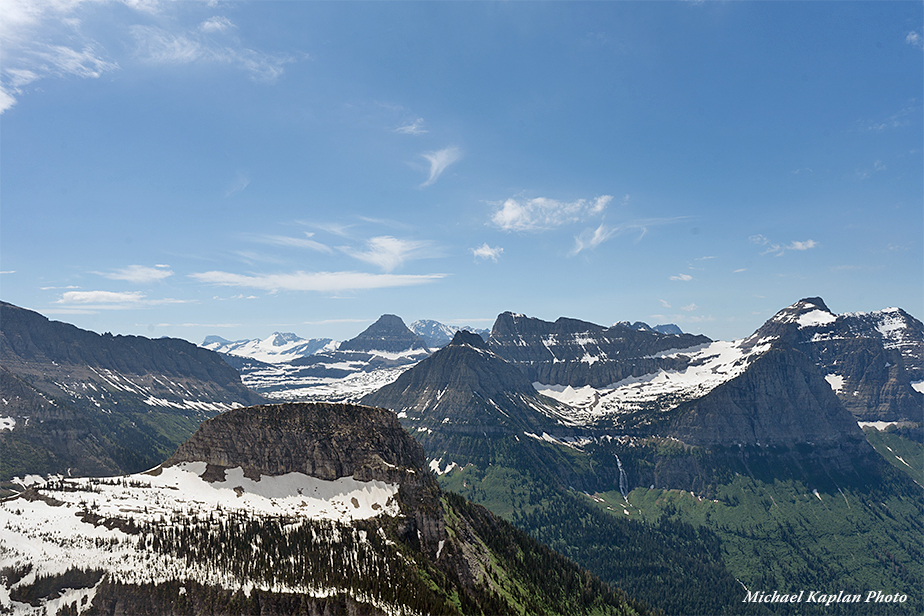 No amount of photos could do the flight any justice. It was breathtaking.
Heading south we flew from Glacier towards the Bob Marshall Wilderness, about 20 mins south. We flew along the "Chinese Wall" which is a pretty famous feature to "The Bob's" landscape. Didn't manage any pics of that, (it was on the pilots side of the plane…) We buzzed the lodge right before putting down at the spotted bear landing strip, which is less than a mile from the lodge.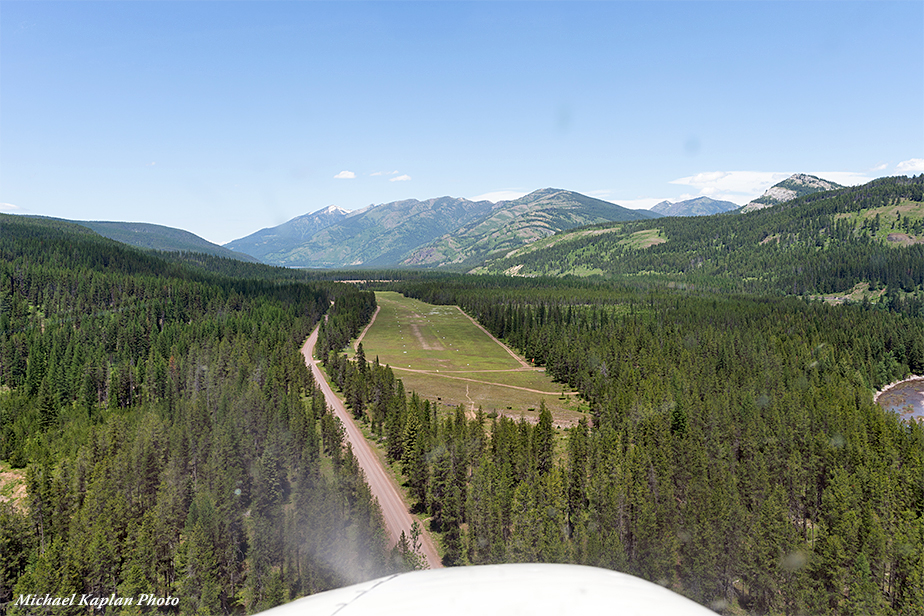 Strite and Kaitlyn from MWL were at the airstrip to pick us up shortly after we landed, right on time at 1:30 pm. Strite is the head guide, and Kaitlyn is responsible for the operations at the lodge, and is also a guide. Ed and I were the first two to arrive at the lodge. Kaitlyn showed Ed to his cabin, and myself to a wall tent. The cabins are nice and rustic.
Once we are settled in we wait around for the other guest to arrive while we get acquainted with the rest of the staff. Josie, Leana, Marty, Cade, Kaitlyn and Strite, as well as Rich (the owner) and some of the horses and mules!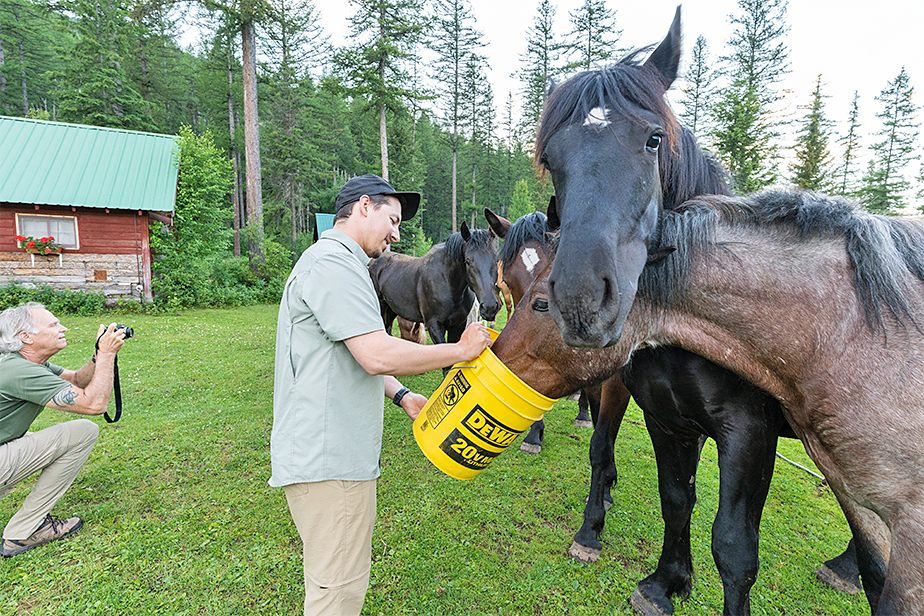 Gus (the lodge chef) ran the shuttle to the airport that morning (about a 2 hour drive). He picked up Summer and Brer. They arrived shortly after us. Chris and John arrive from Seattle, followed up by Charles and Brian from Calgary. Everybody is there by about 4:30pm.
We all got acquainted with one another on the picnic tables over some red wine. It starts hailing, lasts for about 10 minutes then quits…that is Montana in July! Strite and Kaitlyn come over to give a rundown of the trip to all of us. They answer questions about the fishing, expectations, and lay out the game plan for the first several days. Dinner was served in the lodge at 6:30pm, family style. Bolognese pasta, garlic bread, caesar salad and red wine. Nice and hearty meal! Kaitlyn has all of the guests sign waivers, and she checks everyone's fishing licenses. We share some stories, hang in the lodge and get things prepped for the morning. All of us are in bed by 9-9:30pm.
Day 3: Saturday 7/9/22 – First trail day
Coffee is served at 6:30am, with breakfast at 7:30am. Breakfast is scrambled eggs, muffins, with a sausage patty. All of us were asked to have our bags packed and placed in front of the wood shed to be wrapped in canvas for the mules.
(There are two small saddlebags for your items for the day, all of your other gear gets wrapped in canvas. One side would fit your lunch and a water bottle, the other a raincoat and a small bag. I had my drybag with my camera and jacket.)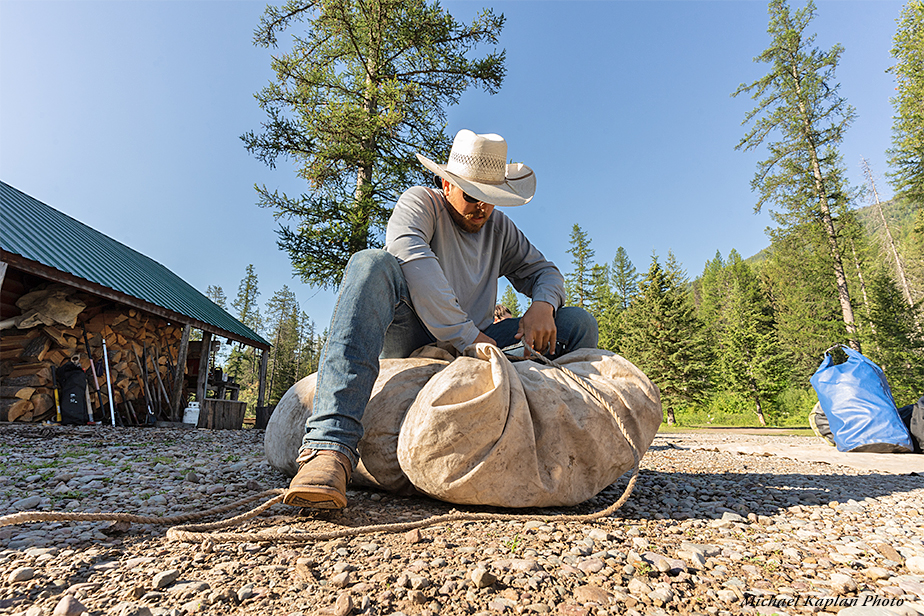 Josie took John and Brian to the ranger station to grab their bull trout catch cards and fishing licenses.
Once they were back, all of the gear was wrapped, and we loaded into trucks to head to the Meadow Creek Trailhead (16 miles up the gravel road from the lodge).
At the trailhead some brief information about riding is given, and everybody is loaded onto their horses/mules. I was put on a mule named Milo. Mules are favored among backcountry packers for a number of reasons. They are smaller and stockier than horses, they tend to be much stronger, and they are very surefooted. They are also a bit narrower (great for folks that don't ride very often).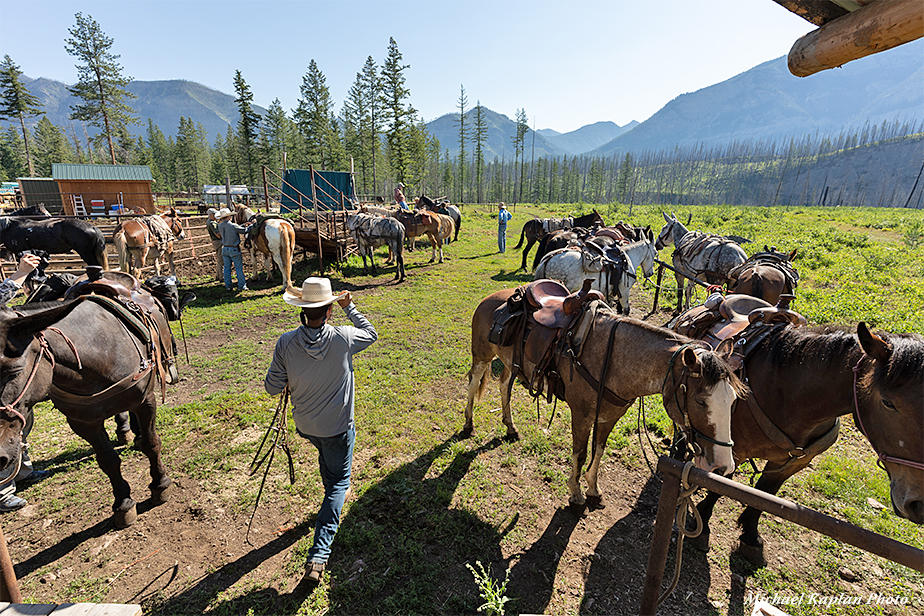 We depart from the trailhead at 10am. It took us about 30 mins to get from the trailhead into "The Bob" and our first stop was about an hour in (11am). We all take a few minutes to stretch, and use the bushes if needed. (the group moves at about 3mph so we figure that's how far we are).
From the staff we have Kaitlyn and Josie leading us on the trail. The scenery on the ride is remarkable. The first few miles were through a burned area, then up on high cliffs, down steep grades and across small streams… such an adventure! Luckily the mules follow each other and you don't really have to steer them on the trail, this gives you time to really take in the sights.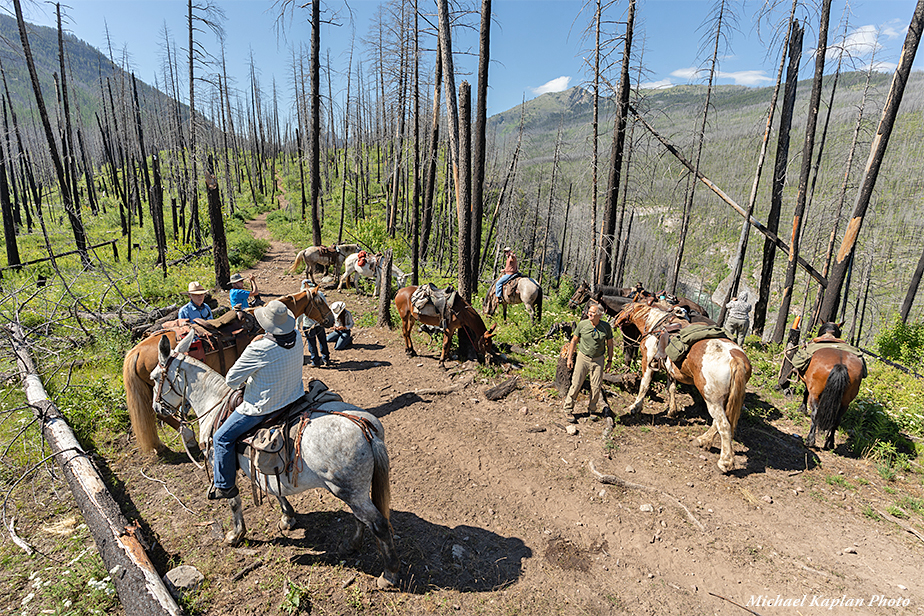 Two more hours in (1pm) and we stop for lunch. We figure we are 9ish miles in on our 16 mile ride for day one.
Lunch was prepared by Gus back at the lodge. Turkey sando, peanut butter bars, apple, fruit leather, and gogurt. I took a couple bites from my apple and fed the rest to Milo.
Water for guests is provided through bag filters, filled in the river and hung on a tree limb. Make sure you bring a reusable water bottle!
Close to an hour stop for lunch and about 2 ½ more hours riding and we reach camp for night one around 4:30pm.
While we were stopped for lunch, Marty (guide) and his string of mules passed us with all of our gear in tow. They made it to camp before us and got everything broken down for our arrival.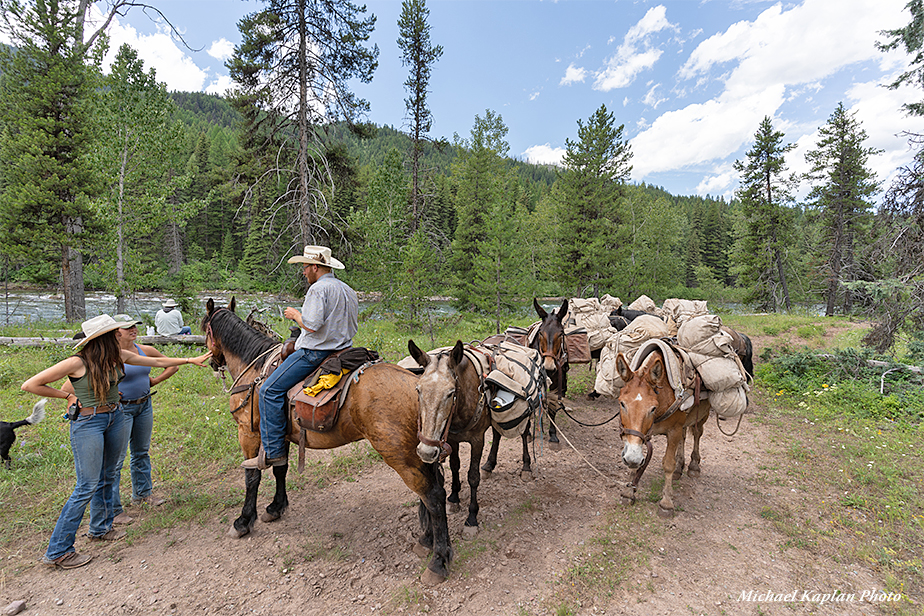 We ride right into the campsite and everybody offloads their mules. Once we have our gear the staff brings all of the mules a few hundred yards away to a corral, and turns them loose for the evening. The horses stay tied up with a halter on, and the mules are let to free roam and graze. The mules do not leave in the evenings, they stick right by the horses…really cool!
Upon arrival guests bring their gear/bags to their tents which were already set up for them. There were 6 tents. John and Chris shared a tent. Everybody else has their own.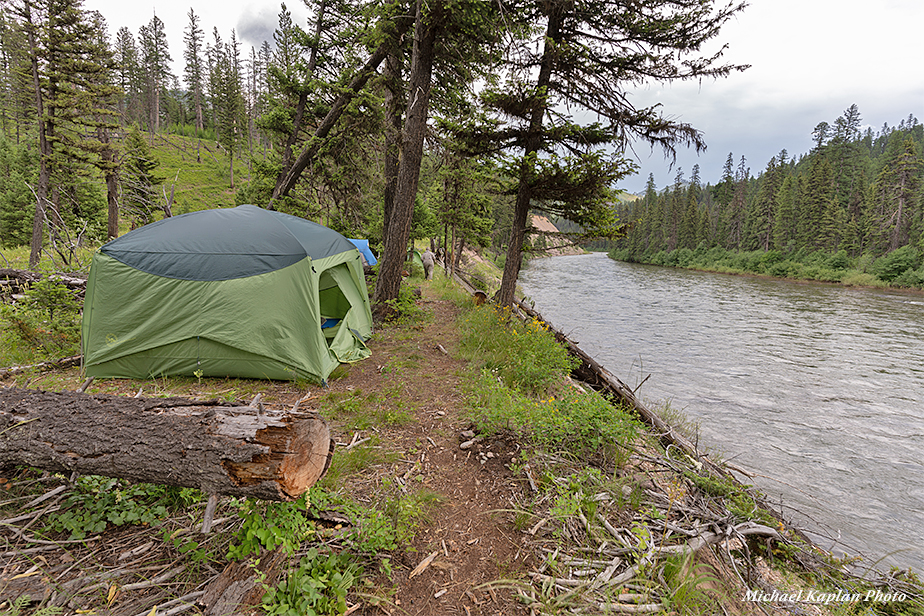 After getting settled I noticed Summer rigging up her rod, I snatched it from her, threw on a new leader and tied on a dry dropper rig for her. Purple mini chubby, and a sweet pea dropper… deadly combo! She sticks a fish right away, and another, I am there with the net. Stoke was high! While we were in the water it started raining, and then hailing. The clouds passed and a rainbow came out, with the end of the rainbow landing in the river. Quite the end to a long day.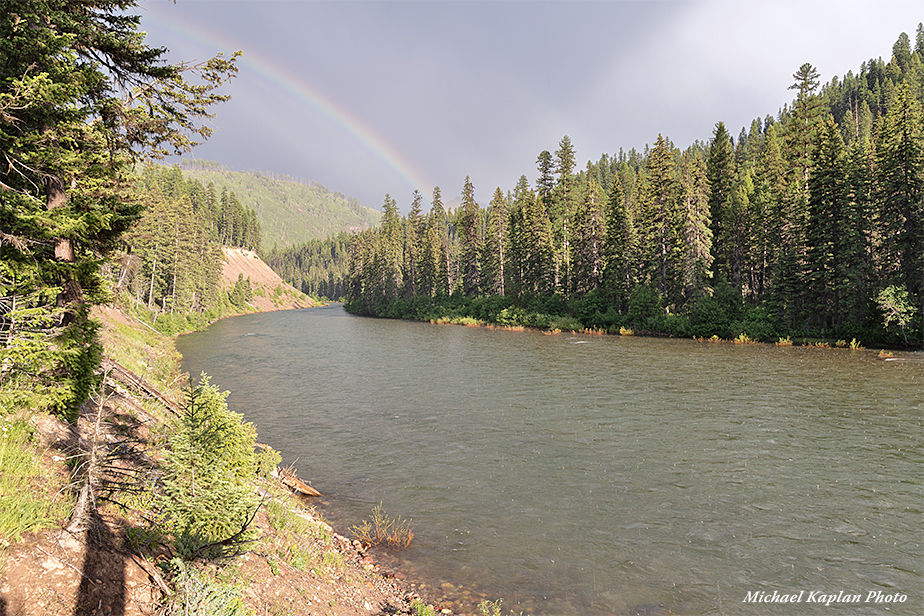 Dinner was around 7. Kaitlyn and Josie do all of the cooking. Chicken Fajitas, rice, Mexican salad and red wine (red wine is served every evening for dinner). Everybody sat around the fire for a few hours and bed was around 9-9:30 pm. The staff slept on canvas down by the corral, Strite and Kaitlyn slept in camp, also on canvas on the ground. I threw my tent up really quick, unsure if it would rain or not. I stayed up later, reading by the fire and sitting by the river. It is light out until around 11pm, I turned in shortly after.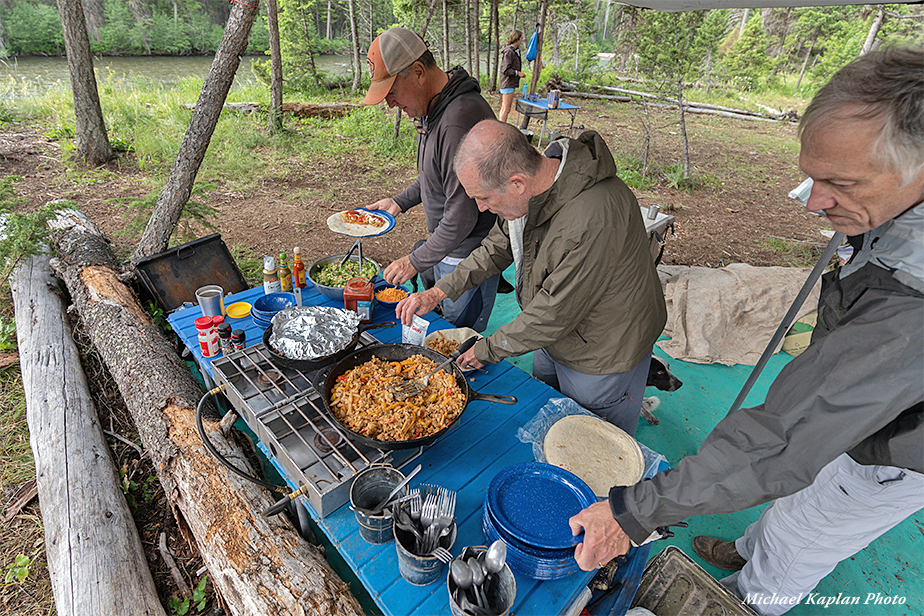 Day 4: Sunday 7/10/22 – Second trail day
Up at 6 am. The staff is up at 5:30 am to get things ready for the day.
A fire is made and cowboy coffee is put in pots to heat up. (coarse grounds are thrown in the water to boil, stirred every few minutes, brought to a boil then cold water is poured over to get the grounds to sink to the bottom. It works quite well and tastes great!)
Breakfast is egg sandwiches. Chopped hard boiled eggs, bacon and sausage mixed in with mayo and cheese, put on a toasted english muffin, and wrapped in tin foil to warm up even more next to the fire! Super tasty.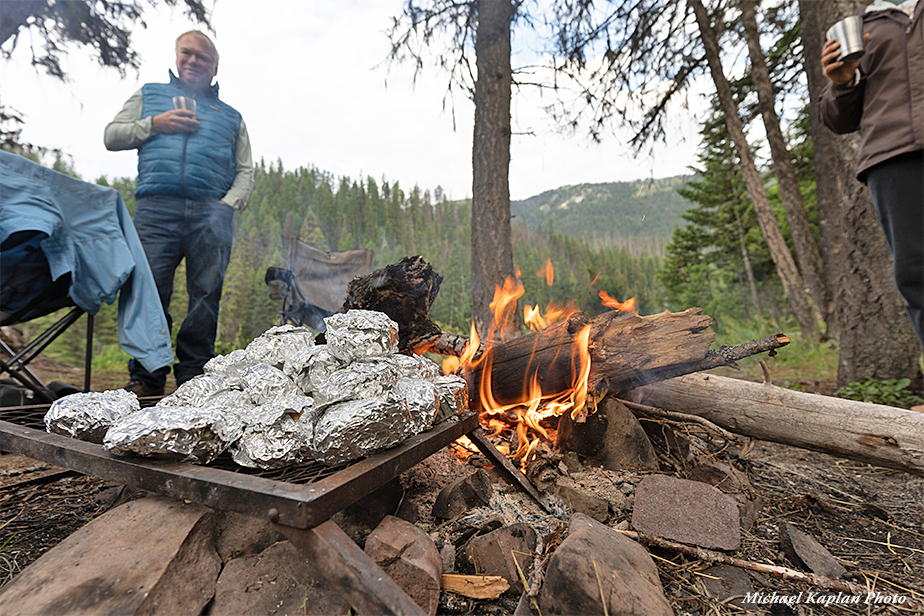 After breakfast camp is broken down and gear is all repacked on the mules. All of the guests assist in taking down and packing up their tents/gear.
18 more miles ahead of us today.
Items for lunch are placed on a table and guests are responsible for putting together their own lunches. I made a ham and cheese sandwich, with a cliff bar, another apple for Milo and some granola bites. We are off on the trail around 9:20am.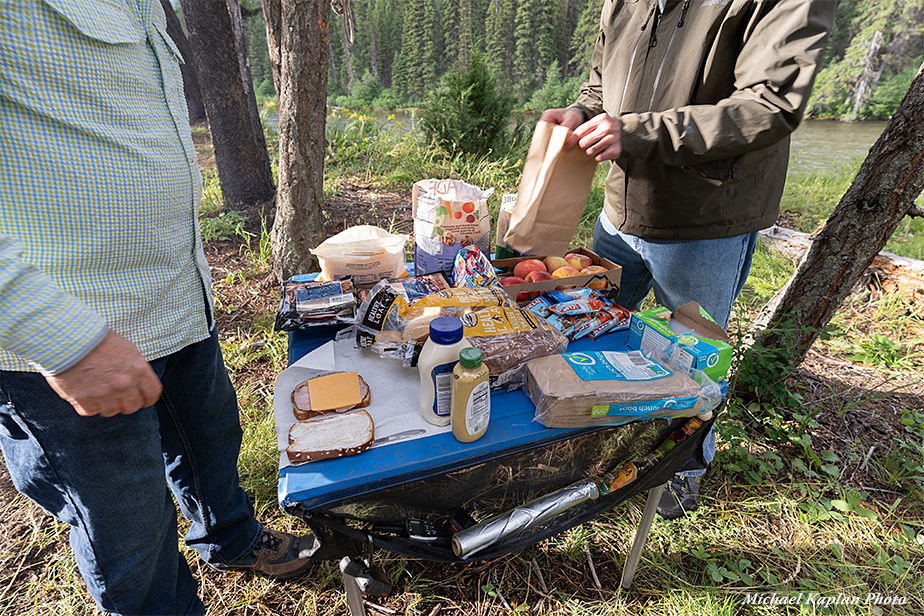 Around 10am off of the side of the trail we spot a dead deer. The young buck was still warm, Kaitlyn and Josie think we scared off the predator as we were riding up. We push on and stop for lunch around 1:30pm.
Marty stopped at the same spot for lunch with the mule string. We saddled up and took off before him shortly after 2pm, about 2 ½ hours to camp. We crossed the White River, it was about two feet deep, no problem for the group. Marty and the Mules caught us and passed us quickly (they move about 4-5 mph).
Ed and I had a great time bringing up the rear of the group. We would ride slowly to take everything in, then speed up to catch up and have fun with the ride. Ed is awesome, he seems to really be in awe of nature. It is his first trip out west, he is from Washington, DC.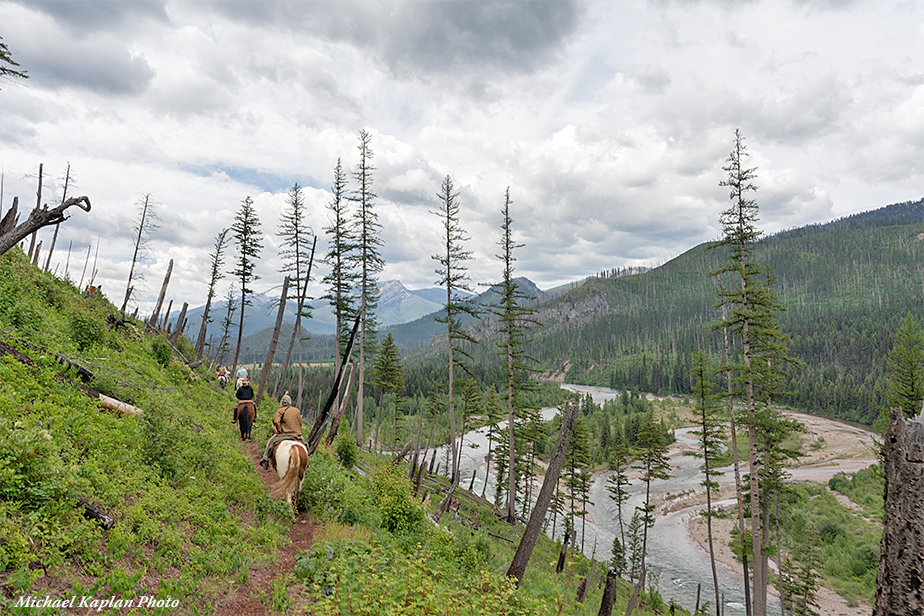 We make it to camp in Big Prairie around 4:30pm (roughly 34 miles from the trailhead). When we get there, all of the guests offer to help set up tents. We had another tent tonight, everybody got their own.
After getting settled in everybody did their own thing. Some washed off in the water, others rigged up to go fishing. I threw together a rod and walked down to the water behind the tents. I ran into Brian who just finished washing up. I handed him the rod before even casting myself. With his bath towel over his shoulder and without getting his feet wet, he must have caught 10 fish. Pretty cool for being right behind the tents! He handed me back the rod, I had on a #14 dark missing link. Literally every cast would yield a cutty. You could have drag in your drift, smack the water, close your eyes, it didn't matter… They were eating it!
I fished for about half an hour before handing off the rod to John. He caught a few, then Chris after him. Pretty impressive all for being in the same spot.
Dinner was served at 7:30pm. Steak, potatoes, broccoli and more red wine.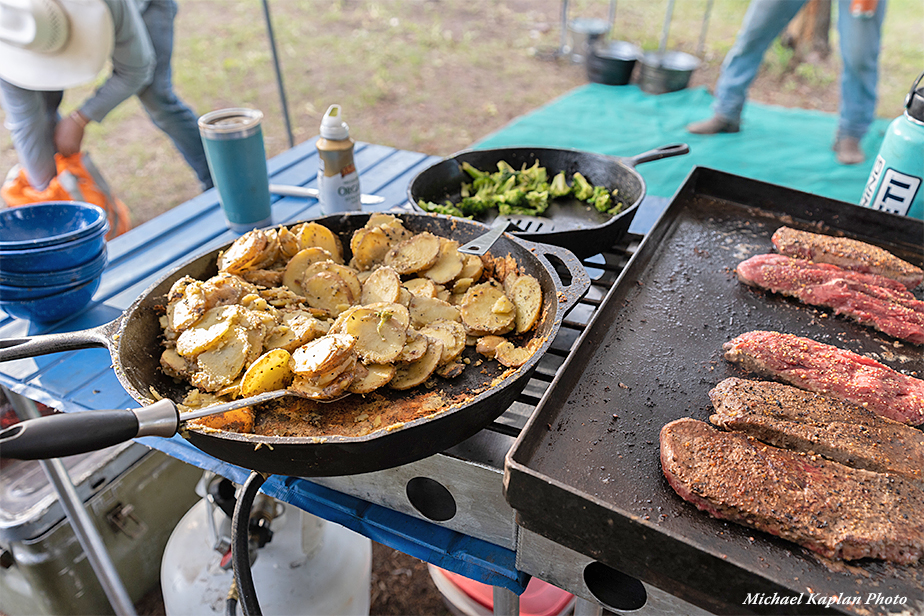 After dinner Ed and I walked down by where the mules were for the evening. Ed saw some fish rising earlier down here so we came back to check it out. Ed was super quick on his hook set and couldn't get a fish to stick (he has only been saltwater fly fishing). He swore catching bonefish was easier than these 12" cuttys! He will get the hang of it, just needs a little coaching.
We hung out for a while, and made our way back to camp. Everyone was in bed by 10pm.
I stayed up by the fire for a bit, reading and winding down from a long day finally headed to bed around midnight.
Just after getting in bed I heard some noises across the river. Wolves! They went on howling at the moon for about 15 minutes. So cool. Apparently there are a ton of them in the area. Strite jumped up and grabbed his pistol and went to check on the horses/mules. Everything was good.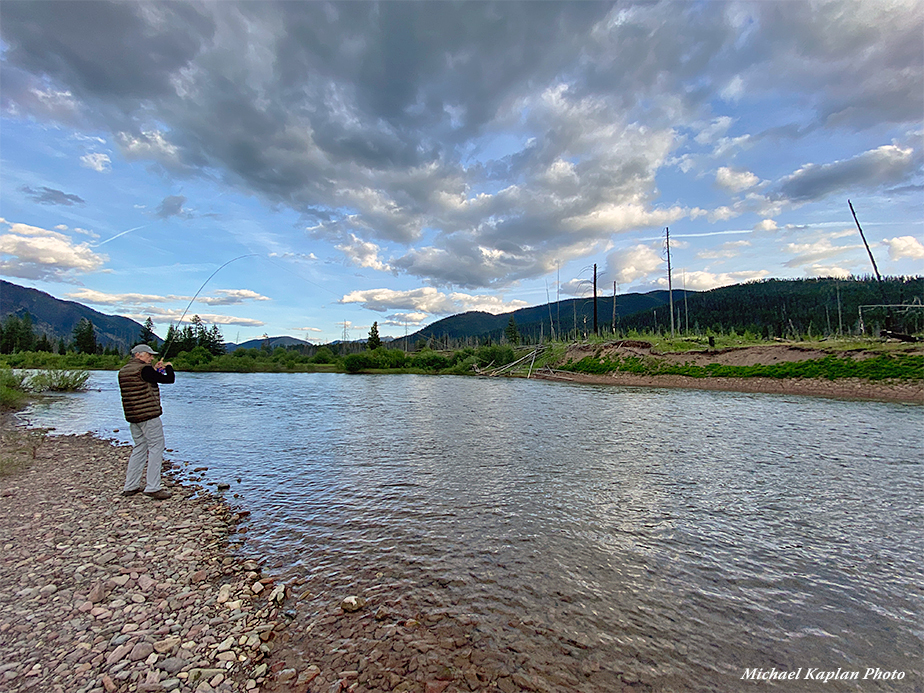 Day 5: Monday 7/11/22 – Lay day at Big Prairie
Up at 6 am, coffee around the fire and breakfast a little after 7 am.
Breakfast burritos today. Eggs, sausage, bacon and cheese scrambled together.
Lunch again is placed out for guests to make their own. Same deal, sandwich meat and small snacks. Paper bags are provided to hold your lunch.
Everybody was ancy to get to fishing, by 8:30 we were all headed out.
Strite and Kaitlyn headed out, taking Brian, Charles, Chris and John on about a 6 mile hike further up the river to the confluence of Danaher and Youngs Creek; they refer to this area as "The Headwaters."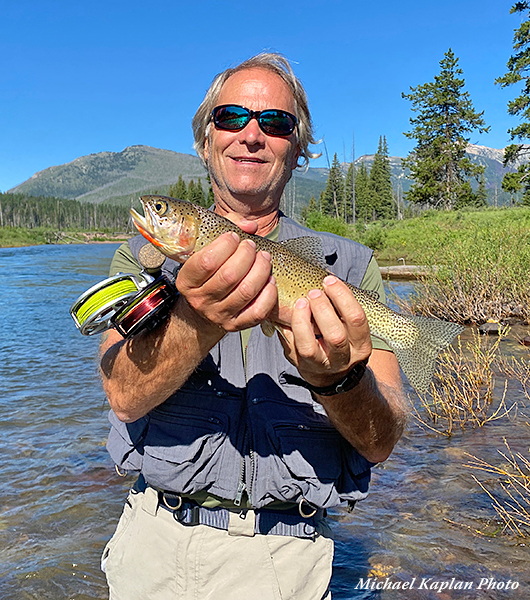 Summer, Brer, Ed and myself stuck somewhat close to camp with Cade and Marty as our guides.
I took Ed up to the first hole to show him the ropes a little bit. We worked on getting a drag free drift, mending, and feeding line out to get a longer drift. He was kind of getting it. We got into some fish right away.
The rest of our group kept heading upstream.
Ed and I eventually caught up. Once Ed started getting the hang of it I went off and caught some fish myself.
Again they were eating pretty much anything and everything you would throw. Caught a couple nice sized fish around 17". Off to a great start.
I set up Ed with a 10' 4wt Scott Centric with an Abel Vaya that I borrowed from Matt Callies for the trip. I also let Brer borrow my 9' 4wt Winston B3X with my Hatch 3 plus. I still had my euro rod, streamer rod, and another 5wt that I threw a missing link on.
Around noon we stopped for lunch, Brer, Cade, Ed and Marty all headed back towards camp. Cade and Marty had to help get the boats set up for tomorrow. Ed wanted to help/watch them, and Brer wanted to fish his way back.
Summer and I stayed out. Summer is awesome, she is an environmental lawyer from Berkeley. She was wearing a GoPro, and recording most of her day. Jokingly we were laughing that she wouldn't need to do much editing to the footage, just about every cast would catch a fish!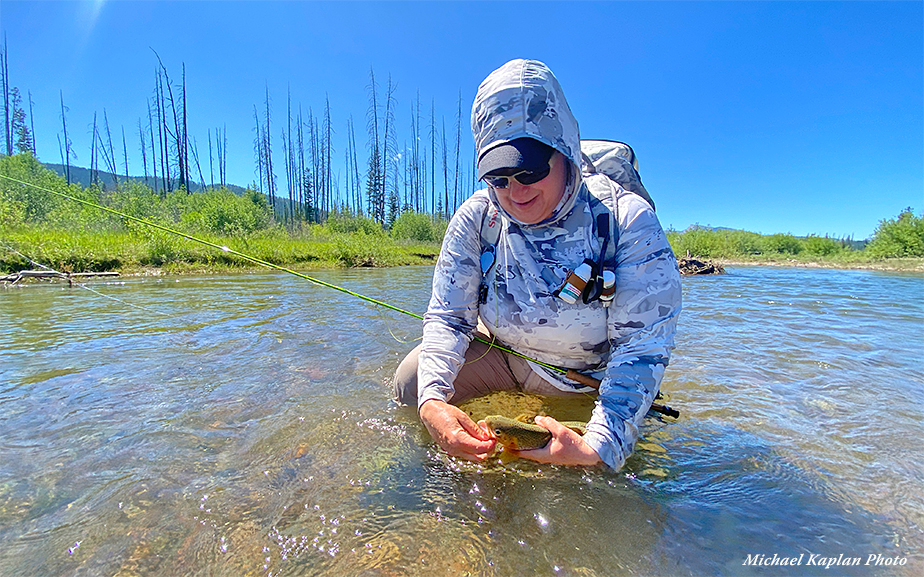 We had a great time together. We headed in around 7 for 7:30 pm dinner. We were the last two to make it in from fishing for the day.
Dinner was Spaghetti with Bolognese sauce, caesar salad, cheesy garlic bread and red wine.
Everybody seemed to have had a great day. The fishing was fantastic for everybody, no bulls yet. After dinner I went back out to the spot behind camp. Fish were rising everywhere, again any cast would get eaten, all cuttys 10-15".
I spent about an hour fishing then headed in to hang out by the fire. Some of the guests had gone to bed, most of them were wiped out from the hike today.
I hung out with Strite and Kaitlyn until about 10:30 by the fire. Only to be woken up by the wolves again around midnight.
Day 6: Tuesday 7/12/22 – First Float Day
Up at 6 again, Breakfast is coffee, yogurt, granola and bagels.
Guests trickle out of bed around 7-7:30 am. Shortly after we are all asked to pack up our gear, and break down tents. As we are packing up, guests make their lunches.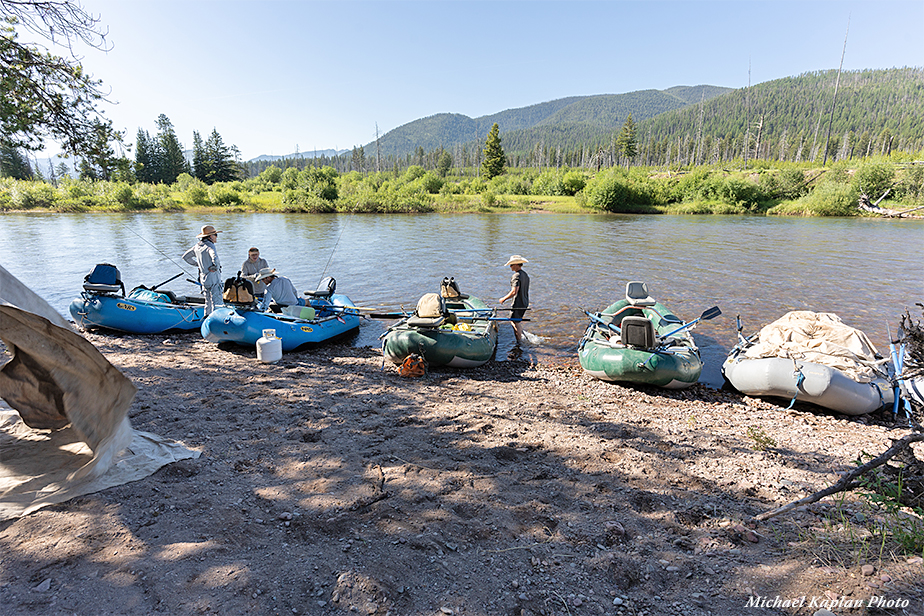 For the float there are six boats total, two gear, and four fishing. The staff makes sure the gear boats are loaded before we shove off. Josie and Leana row the gear boats.
They have 110L NRS roll top bags that guests can put their gear in if they do not have dry bags. In the fishing boat it is best to have a personal dry bag for your things for the day (especially somewhere dry to put your paper bag lunch!) I had my Fishpond Thunderhead Backpack, as well as a small dry bag for my camera. We were underway around 9:30 am.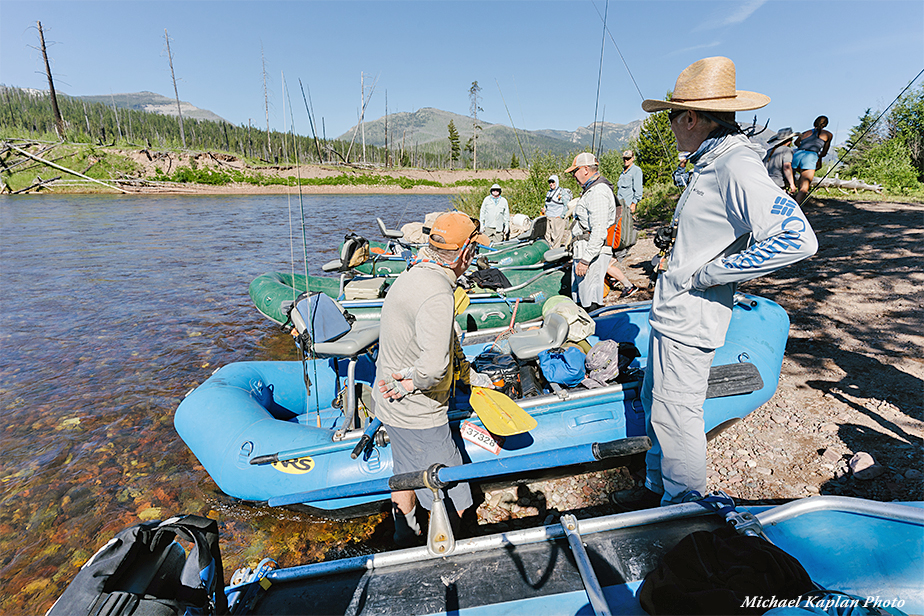 Ed and I were in the boat with Marty. Marty is awesome, he guides bear hunts in the spring, elk in the fall, and in the winter he is a logger.
The gear boats passed us shortly after taking off. We pull over to the first decent spot and Ed and I hop out of the boat.
They are not able to have anchors in the wilderness area due to the wilderness act of 1964. The pulleys that you would use with an anchor are considered mechanical devices and are not allowed in the wilderness area! Crazy!
At our first spot Marty and I coach Ed up some more. How to get a longer drift, stack mend, etc. He was getting it! He lands a few fish and goes, "Man the only thing that would make this better would be a cold beer!" A couple of minutes later I am a few yards upstream from Ed, sure enough bobbing up and down in the water is a full can of Bud Lite! What are the odds! I grab it and walk towards Ed. He couldn't believe it, neither could I… He took a moment to sit on the bank and indulge. It made his day! After that, the fishing didn't matter.
Ed and I both had a great time in Marty's company. The float today was about 9 miles long.
We stopped for lunch around 12:30pm, just pulled over on the bank.
Maybe an hour after lunch we stopped at another spot, I walked upstream while Ed and Marty walked down. I caught maybe 10 fish, put my rod down and started picking up rocks to look for bugs. Tons of small stones, mayflies and caddis. The river seems to be very healthy.
Marty comes walking up towards me without Ed. In his left hand he has a hiking staff, in the other a can. They scored! They found two, basically brand new hiking poles, and a mesh bag tied off to a tree in the river that had two Cutwater canned tequila margaritas. Marty and I shared his can.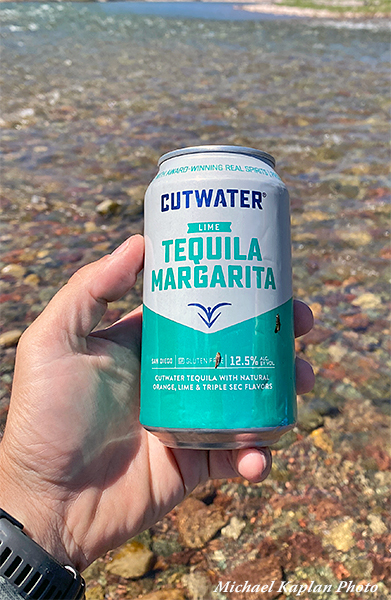 Cutwater is a distillery in San Diego that my wife used to work right down the street from. We used to go there all of the time before moving up to Redding… It took me right back.
Again, what are the odds! Ed must have some good karma! 30+ miles from any paved road, possibly the most remote place in the lower 48 and people leave things behind… baffling. Now the fishing really didn't matter! We were all on top of the world.
We made it to camp around 4:30pm. When we arrived the gear boats had been there for several hours and had already set up for the evening. We were the first boat to arrive, others trickled in shortly after.
Brer kept several whitefish from the day as they are great for eating. Strite and Cade cleaned them up, battered and fried some with pancake batter and a beer. Super tasty!
Dinner was served at 7:30pm again. Stir fry tonight. Chicken, broccoli, bell peppers, onions, carrots with rice and a sweet chili sauce with an Asian style salad with some more red wine.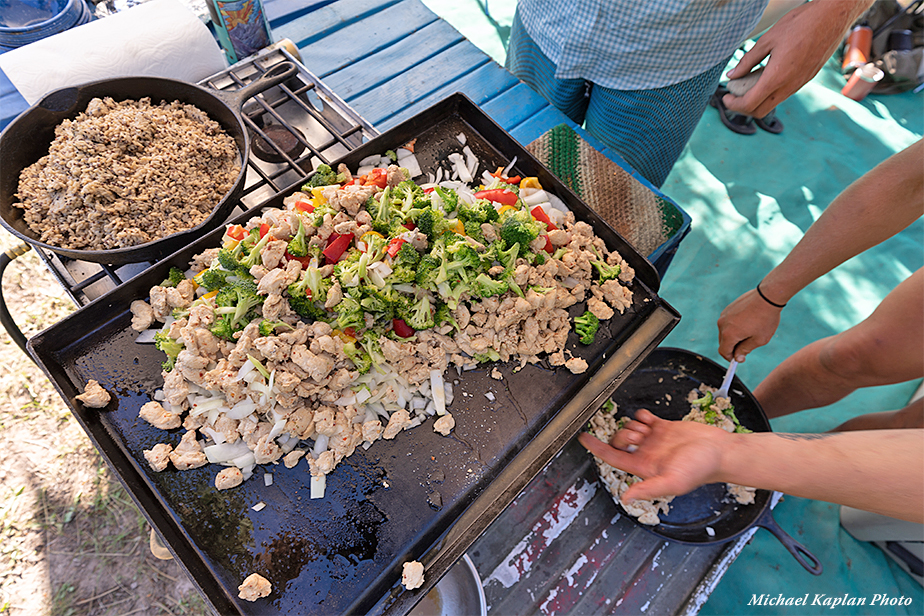 All of the guests were gathered around measuring the day's fishing, everybody had an awesome day, everybody caught tons of fish. John landed one small bull on a nymph.
Ed was quiet amongst the group, I had to pipe up and boast about the day that he had had.
Stoke was high and the soreness from the two day ride seemed to have vanished with each fish caught.
Chocolate covered blueberries were passed around and John pulled out a bottle of scotch to share with the group. Everybody was in bed by 9:30pm. Great day!
Day 7: Wednesday 7/13/22 – Second Float Day
Up around 6:30 am, Cowboy Coffee at 7 am, breakfast at 7:30 am.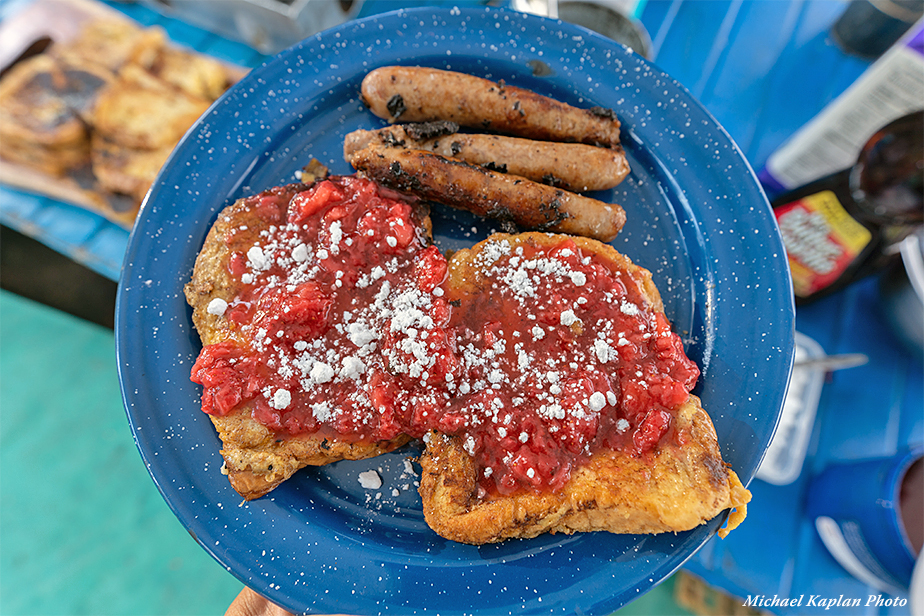 French toast with homemade strawberry jam, syrup and sausage links.
Same program, everybody makes lunch and packs up their gear/breaks down tents to be packed. It is a lot of work for the staff and all of the guests are more than willing to help out.
Ed and I were fishing with Cade today. The group was rotating so everybody got to fish with the different guides. We pushed off around 9:30 am again. The float today is only 6 miles.
In the offseason Cade is a student at MSU getting his civil engineering degree. We pulled over in a few spots right off the bat and started catching fish.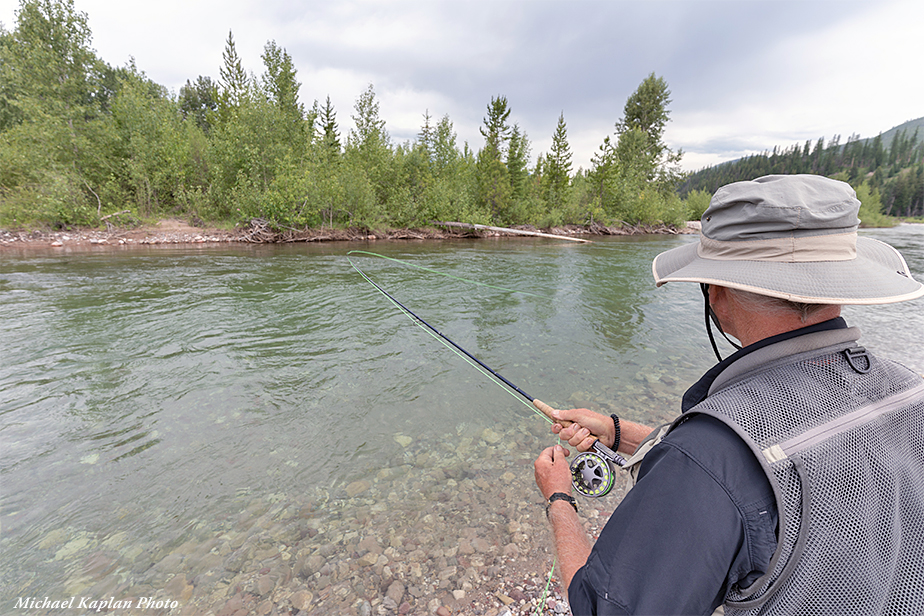 All of the boats stopped where the White River runs into the Flathead. Brian was throwing streamers and he swore a bull followed his fly. I tried myself with a heavy streamer. No luck.
This was a good opportunity to fish with some of the guests. Charles was interested in the euro rod so I gave him a quick lesson and let him use my rod. He caught a fish right away. It made his day.
We stopped for lunch around 12pm. I made myself a turkey sandwich and had some fruit snacks and peanut butter pretzel bites, super simple.
Ed fished a dry dropper, and I threw a missing link most of the day. We pulled over at all of the deeper holes to throw streamers for bulls. No luck!
We made it into camp around 4pm, and dinner was served at 5:30 pm. Everybody had gotten in earlier tonight because of the shorter float. Dinner was Philly cheese steaks with an Italian salad and red wine.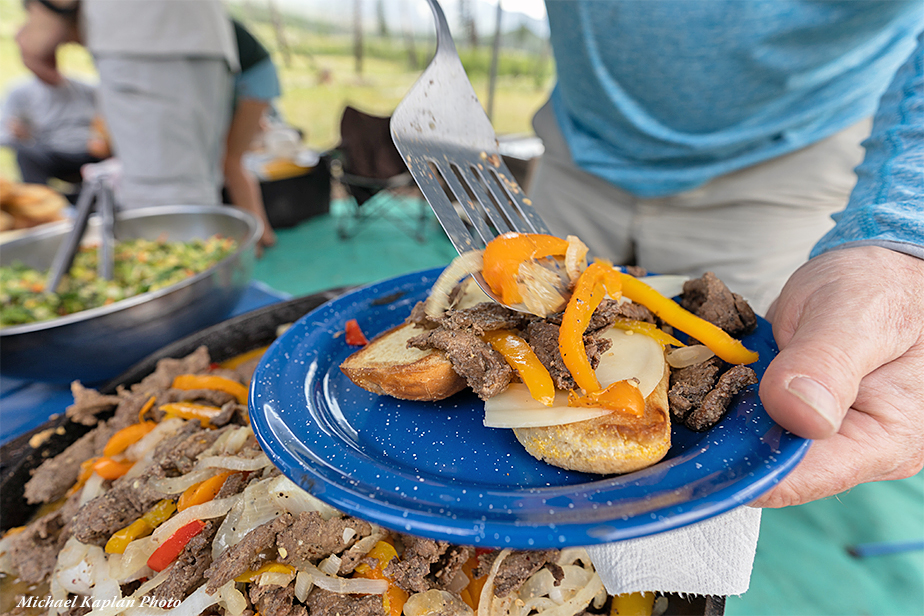 After dinner some clouds rolled in, it rained hard for 15 minutes and then quit. We started a fire and passed around some chocolate covered coconut bites, super tasty. In bed by 9 pm.
Day 8: Thursday 7/14/22 – Third Float Day
Same morning routine, up at 6:30 am, coffee followed by breakfast at 7:30 am.
Cade and Ed woke up at 6:15 and took a hike up to Big Salmon Lake before everybody was away. It is about a 2 mile hike one way. Ed really wanted to see the lake. They were back by 8 am, just in time for breakfast.
Breakfast was pancakes with syrup, hashbrowns and bacon. I threw some leftover strawberry jam from yesterday on my pancakes.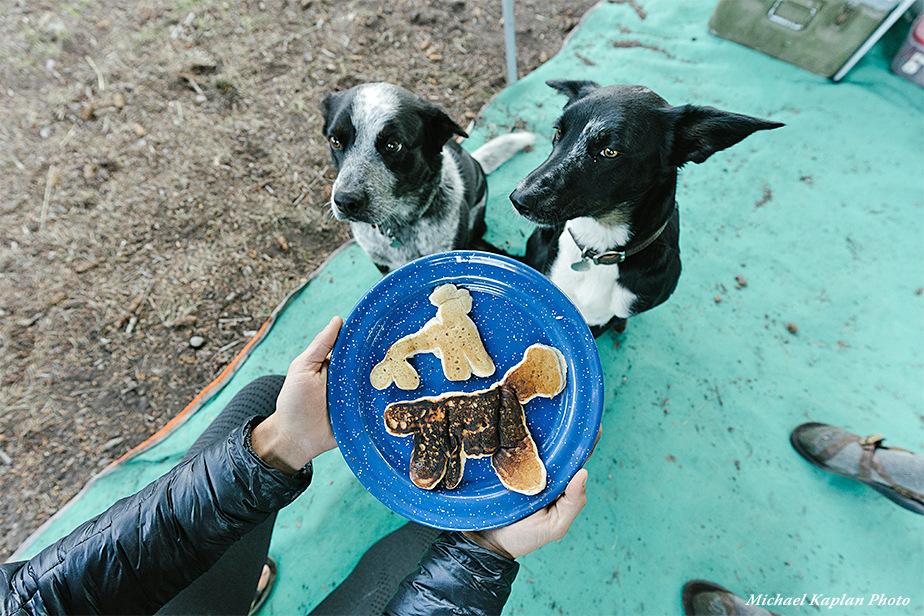 We break down camp, make lunch, pack the gear boats and hit the water by 9:30 again.
Fishing with Kaitlyn today. She has worked for the lodge for the last 4 years. Right away we were into fish, we stopped at a deep hole to throw streamers. A couple of small cuts, no bulls.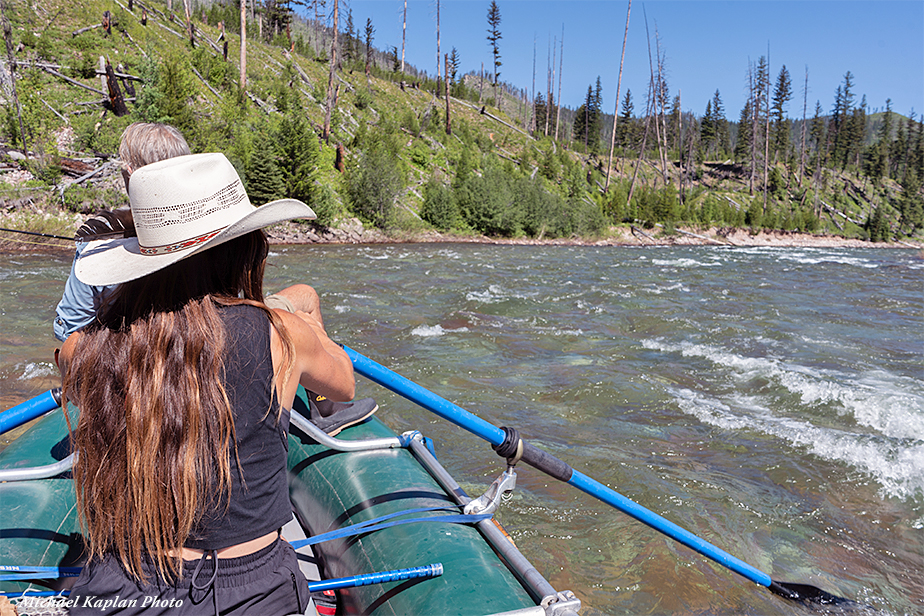 After lunch we pulled over to this deep run. So far on the trip most of the cutty's were holding in slower water, about 2-4' deep. I wanted to see if there was anything deeper. I grabbed the euro rod, had a TJ hooker as my anchor and a small perdigon for my dropper. First cast, 17", second, 17" third, 20"… Kaitlyn and I were blown away. We snapped some pics of the fish and let them go. The 20" was the biggest cut we had seen on the trip so far, which is a trophy for the flathead. All of those fish were in 6-8' of water… hmmm. Went back through with the streamer, no bulls!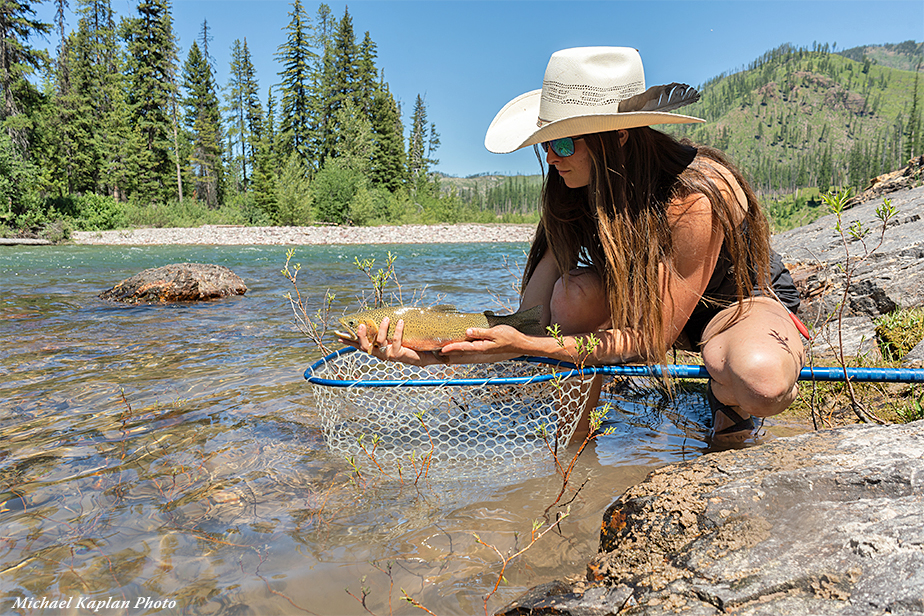 Later on we stopped where Big Salmon Creek comes into the Flathead. There is a huge shelf that drops off that looks to be 20+ feet deep! Yanked the streamer through, changed patterns, changed colors, changed depth… still no bulls.
Ed was tearing them up with the chubby, but often I would check in with him and he wasn't worried about the fishing. He would take his camera, walk off and take photos of everything, really soaking in the scenery… more people need to be like Ed.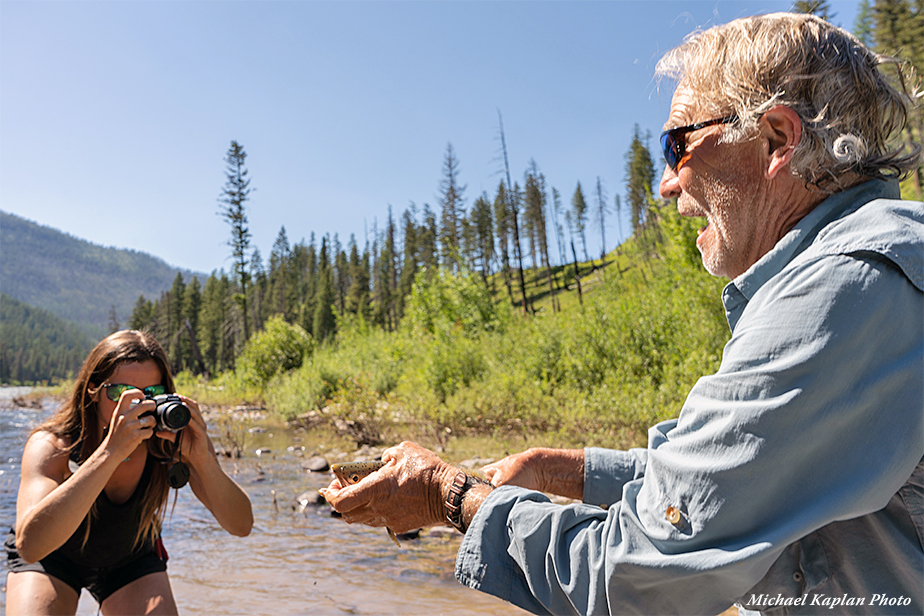 We made it to camp around 5:30pm. Tonight's campsite was the same as our first night. They plan this so some of the gear is there for their trip the following week (tents, kitchen, cots, etc…) We park the boats tied off to a tree, and there is a steep trail up to the camp.
Dinner was served around 7pm. BBQ pulled pork sandwiches with a coleslaw salad, with red wine. After dinner everybody is tired and heads to bed around 8:30-9 pm. Our last night camping!
Day 9: Friday 7/15/22 – Fourth Float Day
Last day! The float is only 5ish miles today.
Same morning routine as the other days. Up at 6 am, coffee, followed by breakfast. Scramble with eggs, bacon, sausage and corn.
This morning is a little different. Guests pack up their personal belongings for the gear boats but we leave up the tents, cots, and kitchen. We make our lunches, and push off in the boat by 9:30 am.
Ed and I are with Strite today. He is the head guide, he has been with MWL for 5 years. Strite grew up in Wyoming and had a drift boat through his teens. He guides hunting trips in the spring and fall, and he is very experienced with the livestock.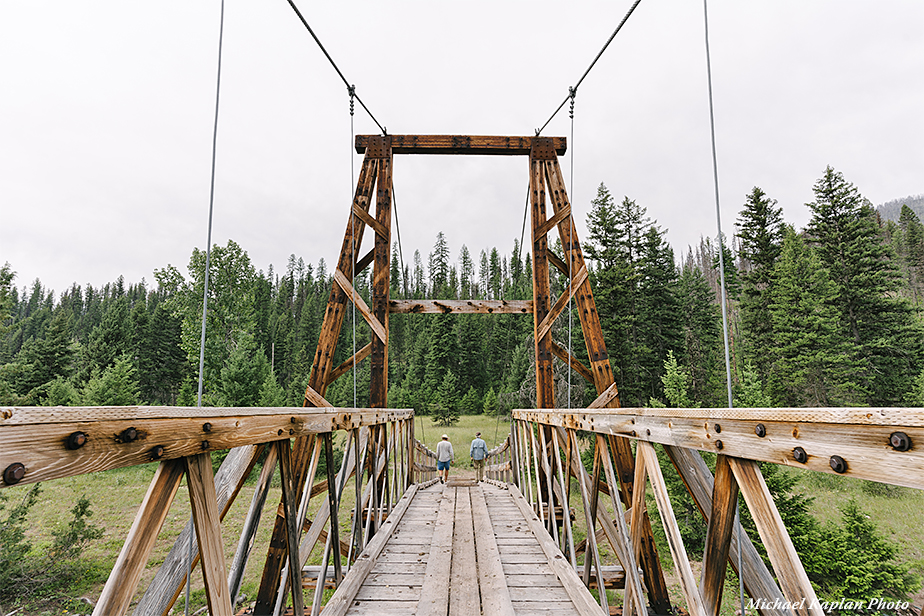 About an hour into the float we come up on a wooden bridge. We pull over so Ed and I can check it out. All of the pieces of the bridge are less than 6ft of length, all of the materials were packed in on mules by the Forest Service and assembled without power tools! Pretty impressive. We hang out on the bridge and let another raft from the group float by so I can snap pictures from a different angle.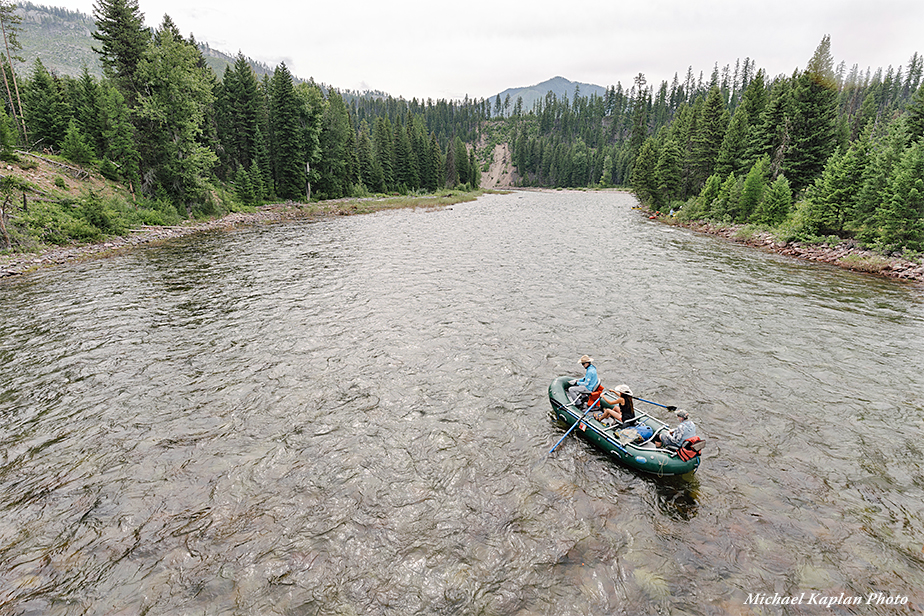 Another hour back in the boat and we pull over for lunch. Today's float is more scenic and the fishing is still awesome.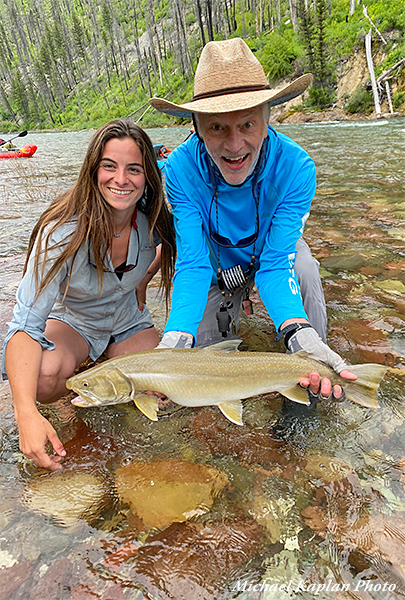 Kaitlyn catches up to us at our lunch spot. John just landed a nice bull! He hooked about a 10" cutty and during the fight the bull came from below and swallowed the cut. He was able to land the bull on 4x after that. Close to 27". He was stoked. Shortly after he landed that fish the same thing happened to Chris, although the bull got away. Live bait! Haha. We had been trying all week, and in the last hour of the last day they finally showed up. Strite thinks that the amount of water in the early season has kept the bulls down in the reservoir, and that they will make a late season push. The legal season to target them ends on 7/31.
After lunch we only have about half an hour to float to the take out. This section holds some of the heaviest water that we have encountered. Our boat in front, we go through what the staff calls the pinch point. (the river slims down to about 15 ft wide and super deep). Our boat pushes through and we are followed by the others. We pull off in the back eddy to watch the group move through safely.
Kaitlyn bumps the big boulder in the middle of the river, and Cade slips through spinning his raft around to avoid the boulder. A little further down we make it to the take out. Both gear boats made it, then Kaitlyn, Cade, and our boat, with Marty bringing up the rear.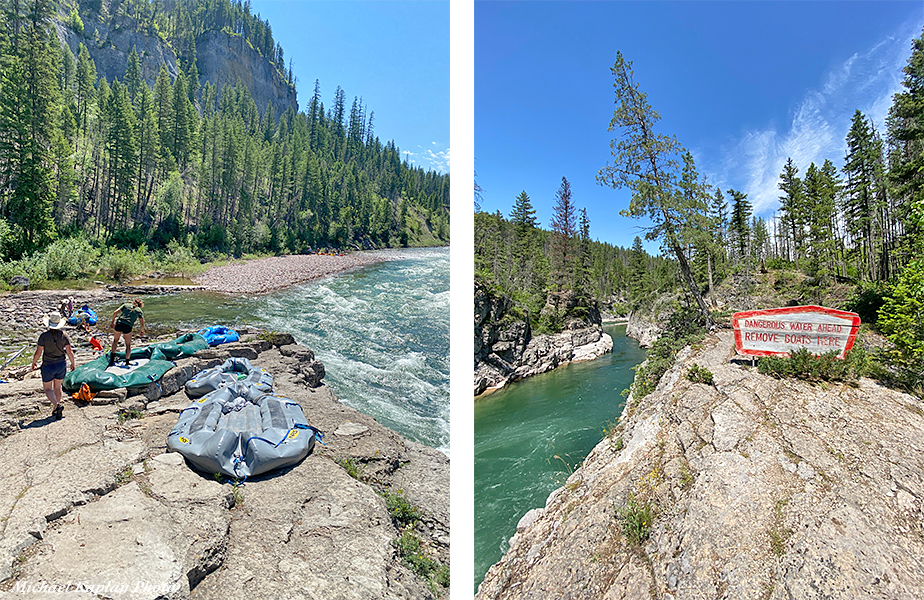 From the takeout there is a 3 mile hike back to the trailhead. The staff gave us the option to ride back out on horses/mules, or hike. All of the guests chose to take the hike out.
All of the personal gear was loaded on the first string of mules to make it back to the trailhead with us, that way we would have all of our things and guests that were not staying another night could leave as soon as we were back. The hike started out going uphill and was super hot. About half an hour in the weather changed, wind came, then clouds, which cooled us off! Kaitlyn and Strite rode with the string of mules behind the hiking group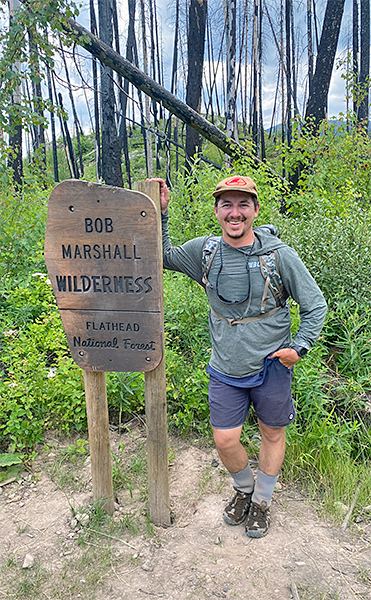 We made it back to the trailhead at 2:30 pm. Strite and Kaitlyn offloaded all the gear, packed it in the trailer along with all of the guests and we drove back to the lodge (16 miles).
At the lodge we say our goodbyes to John and Chris, they are headed back to Seattle and get a quick jump on the drive. The rest of us are given a cabin to stay, we all go our ways and wash up.
Dinner was at 7 pm. Pasta with bolognese sauce, salad, garlic bread and more wine. We all hung around until about 11:30pm, then went to bed.
Day 10: Saturday 7/16/22 – Departure day
Up around 6:30 am. Summer had to be back in town by about 10 am so we packed up quick and Gus had breakfast sandwiches to go for us. Summer, Ed, Brer and myself all had to go to the airport. Rich drove the shuttle to town. The drive is about 1 ½ hours on dirt, then 30 more minutes to the airport. We were there by 10 am. We thanked Rich and said our goodbyes.
My flight was not until 6 pm so I looked for something to do. The airport is small and wouldn't let me check my bags until 2 hours prior to my flight. I tried to change my flight to an earlier one. Everything was booked. I ended up finding a brewery right down the road. Similar to Fall River Brewery back home it was themed around fly fishing.. Suiting! I called an uber and hung out there until my flight. Of course they had a beer named after the Bob Marshall Wilderness, it was tasty!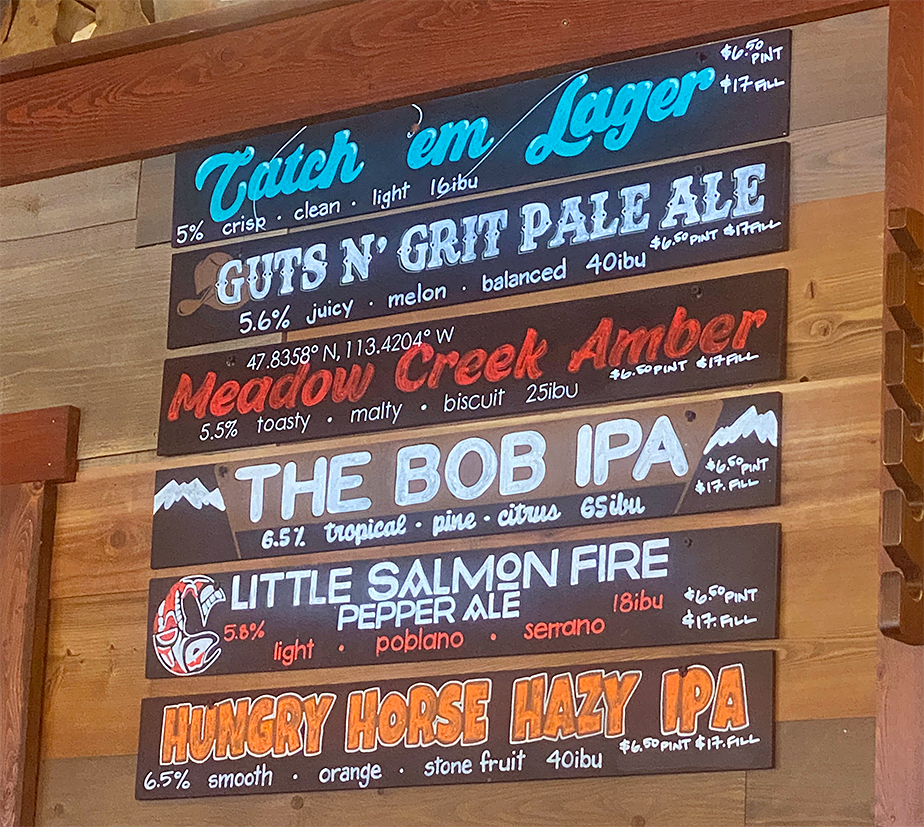 Flight was at 6 pm to salt lake again, a couple hour layover, landed in Medford and in the car heading home by 11:45 pm. Made it home by 2:15 am without an alarm set for Sunday! What a crazy/long week!
After having done this for many years Rich and his team have streamlined everything that goes into this great adventure. The logistics to make this trip possible are hard to understand without seeing it first hand. All of the staff and livestock work extremely hard to get guests deep into the backcountry, and without their skill and coordination this trip would not be possible.
I would go again in a heartbeat. The fishing was incredible, but really it really was not about fishing, this is truly an adventure unlike any other in the lower 48. Rich and his crew were awesome and I hope to visit them and "The Bob" again someday!