Bair's lodge is situated on the east side of South Andros, between Deep Creek and Little Creek.
These two creeks, a 5-minute boat ride from the lodge, open into vast areas of inland flats that are not only easily waded but offer relief from the coastal winds. Anglers fly into Congo Town on South Andros Island by a one-hour flight from Miami or a 20 minute flight from Nassau. The transfer from the airport to the lodge takes twenty minutes. There, they are greeted by the staff and shown to one of the nicest lodges on saltwater. Its repeat business attests to it's quality of service, comfort and fishing. It is necessary to book early to get prime winter and spring time dates.
For years, the keys, flats, creeks and bights of South Andros have earned a reputation for being lightly fished and for containing large fish. Bair's Lodge is perfectly situated to access these waters and has come to represent an Andros Island benchmark in terms of quality guiding, delicious food, ideal accommodations and courteous hospitality. The bonefish flats of South Andros are some of the most under-fished flats in the Bahamas and Bair's is right in the middle of them.
Ocean side flats at Bair's are big fish environments and are fished from poled flats skiffs. Depending on weather, tides, and prevailing winds, anglers each morning have the choice of fishing for school-size bonefish that average 3 – 4 pounds inside or venturing outside to fish the open water flats where the fish can reach trophy proportions. Classic sight fishing for bonefish is the main focus at Bair's; however, anglers may see and get the occasional shot at permit, and even tarpon. There's quite a bit of wading available during the right tides, and off-shore fishing for wahoo, tuna, snapper, or dolphin fish can be arranged, in advance, as well.
The Tongue Of The Ocean is a deep ocean trench that runs along the eastern coast of Andros Island just east of the third longest barrier in the world. Fishing there can be accessed through Bair's deep-sea program for wide assortment of seasonal and resident deep water and reef fishes.
Another more convenient and direct option is a private charter flight from Fort Lauderdale directly to the Congo Town Airport where anglers can clear immigrations and customs, transfer to the lodge and often be fishing on the morning of arrival. Charter flights also make it possible to arrive quickly and comfortably in at the lodge in a single day from practically anywhere in the country. And charter costs for 4, 6, or 8 anglers actually are quite competitive when compared to commercial flights.
Reservations & Rates
Seasons at Bair's Lodge
Bair's is open between October and June 30, taking advantage of the best months of the year on South Andros to fish the flats.

The summer months can get very hot there and the flats can sometimes heat up to uncomfortable temperatures for feeding bonefish, except for fishing early and late in the day.
Read More
The late fall and early winter fishing usually provides shots at some of the biggest bonefish of the Bahamas. Bair's fall opening (in October) can provide outstanding fishing on the flats. They have been fished very (VERY) little in the last few months. The fish are happy and not very spooky.

With even a little break, weather-wise, the dead-of-winter fishing can blow you away with the numbers and size of fish swimming the flats of South Andros.

Spring (March, April, May and June) provide the most consistent fishing of the year. The cold fronts have blown themselves out and the heat of summer is a long way off. The fish couldn't be more comfortable.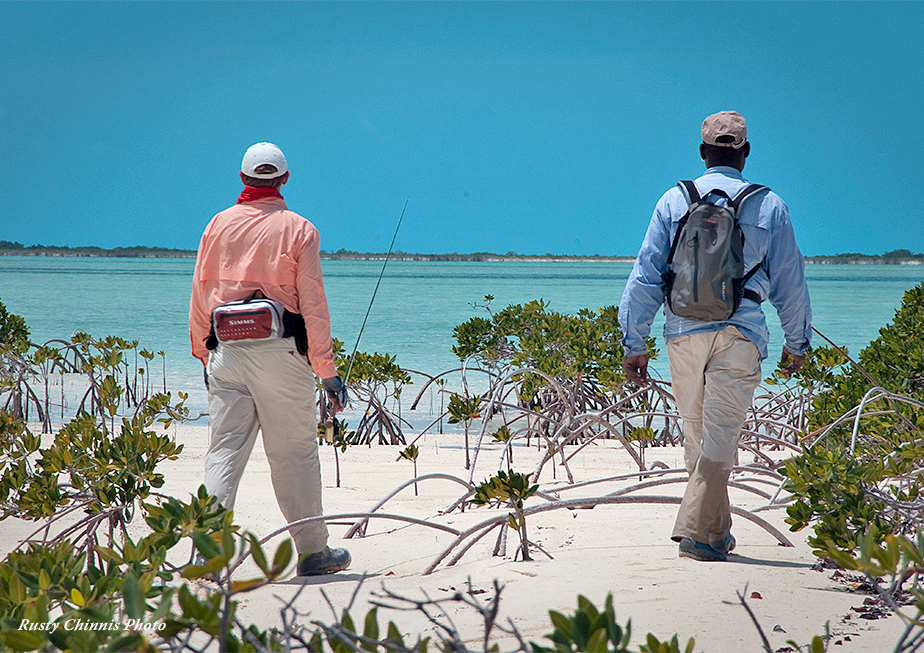 Getting to Bair's Lodge
Getting to the Bahamas from the States, especially from the East Coast, is relatively simple and painless.

There are several daily flights, on many different carriers, from the Eastern Seaboard to Nassau. From Nassau there are two daily flights via Western Air/ Bahamas Air to Congo Town where you will be met and
Read More
transferred to Bair's. Or, you may opt for a quick and convenient charter flight from Miami or Ft. Lauderdale, Florida. Most charters are cost efficient when there are 4 to 8 passengers.

The most popular method of reaching South Andros is Lynx Air International. Lynx Air flies nonstop flights multiple times per week between Fort Lauderdale and Congo Town. Lynx Air flies from the Fort Lauderdale International airport, allowing for easy connections with flights within the United States, and outbound guests clear US Customs in Fort Lauderdale, which is typically a smooth process. Tickets on Lynx Air can be booked online at www.lynxair.com, or via telephone at 888-596-9247.

Travel to Congo Town:
Direct flights from Miami or Ft. Lauderdale to Congo Town are also available by private charter. Western Air in San Andros (242-329-3167) in Nassau (242-377-2222) offers twice-a-day service between Nassau and Congo Town. Flying time is 30 minutes and cost is approximately $70 each way. Western Air does not accept credit cards, so be prepared to pay for your flight in cash. Contact your travel agent or the carrier direct for exact times and fares. Because aircraft flying to Congo Town are often small twin engine planes, we recommend carrying a maximum of 40 pounds of luggage, soft-sided if possible. Rod cases should be limited to 6 1/2 feet in length. You will need a valid passport.

When booking your flights in and out of Congo Town, Bair's policy for check-in time is 3:00 pm and check-out is 11:00am. With this in mind, if you are arriving on a private charter you will want to arrive by 2:30 or later. Western Air offers a flight from Nassau to Congo Town arriving at 3:30pm. Western Air departs Congo Town at 7:00 am.

Charter flights should be scheduled to arrive after 2:00 p.m. and depart before 11:00 a.m. If you are flying commercially into Nassau International Airport you will first clear immigration, retrieve your luggage and clear customs. Once you have cleared customs, you will need to recheck yourself and luggage to Congo Town at the nearest Western Air counter.

You must claim your luggage on your first point of entry into the Bahamas and clear immigration and customs. Failure to claim your luggage will result in your luggage not showing up at your end destination.

At the airport on South Andros, you will be met by your host and a driver. Once you bags are loaded into our air conditioned transport, you will be driven straight to the lodge, about 20 minutes south. When you arrive at the lodge, Bair's Lodge staff will greet you and show you to your room, where you will find your bags. You do have the option of fishing on your arrival and/or departure day with a surcharge of $350.00/day/person.
Lodging at Bair's Lodge
Bair's has come to represent the benchmark in terms of quality guiding, delicious food, ideal accommodations and courteous hospitality.

Ideally located to access Deep Creek, Little Creek, the West side and the Southern Flats, the lodge has easy access to some of the most under-fished flats in the Bahamas. Perfect for small groups, the charming house has seven air-conditioned guest rooms, each with private bathroom.
Read More
Limiting the occupancy to ten anglers enables the staff to provide exceptional personalized guest service. Superb cuisine includes beautifully prepared Bahamian specialties concentrating on magnificent fresh seafood, and when applicable, "the catch of the day". In addition to the comfort of our dining room, sitting room and bar, anglers will appreciate the convenience of our fly-tying table and facilities, as well as the on-site fly shop, fully equipped with flies, rods, reels, lines and selected items of flats wear and local crafts.

First-class professional, personable and accommodating local guides will provide an exceptional fishing experience.

The lodge can be easily accessed by private Charter and commercial flights direct from the US to Congo Town, or via daily commercial flights from Nassau.
Fishing at Bair's Lodge
A typical day of fishing at Bair's Lodge begins early in the morning.

Coffee is ready at 6:30 a.m. and breakfast will be served at 7:00 a.m. All the fixings for lunch will be out on the lunch table as you are responsible for making your own lunch in the morning, and the menu will be handed out the night before.
Read More
Boats depart from the dock at 8:00 a.m. returning at approximately 4:00 p.m. The bar is well-stocked and ready upon your return with cocktails, beer, and a beach bar for some days of the week. Appetizers are ready at 5:30 p.m., and dinner is usually served at 7:00 p.m. In most cases, during or after dinner the lodge managers will discuss guide assignments and fishing options for the following day.Offshore fishing can be arranged seasonally for billfish species, wahoo, tuna, and dorado.

Since fly rodders have fished for bonefish, Andros has been a name synonymous with the biggest fish, and South Andros has built a reputation over the years as being the location to try for a "giant".

Names like Grassy Creek, Deep Creek, Little Creek, the Water Cays and Curley Cut Cays are intrinsically linked to sight fishing for some of the world´s largest bonefish.

Since the early 90's Bair's has become highly regarded as providing the best fishing South Andros has to offer, primarily for bonefish, with occasional tarpon and permit. Other species encountered include barracuda, jacks and several types of snapper.

Ideally located to access Deep Creek, Little Creek, and the famous West side and Southern Cays, the lodge enjoys some of the most under-fished flats in Andros, in a context of easy access to wading flats and protected areas in the event of bad weather.

The Southern flats are home to some of the largest schools of bonefish. Grassy Creek is a 40 min boat ride from the lodge. Weather permitting you can ride on to Hawksbill Creek and onto Cistern Point. This area sees little fishing pressure and is regarded as the place to come for numbers of fish.

Recommended Fly Gear includes nine foot, 6 to 9 weight fly rod with 200 yards of 20lb backing and saltwater type floating lines.; 9 to 12 ft bonefish leaders with 8 to 16 lb test tippets. Fly patterns which work best are tan and pink. "Gotcha´s" are especially effective as well as shrimp and crab patterns. Hooks size 2-6.

Spinning Gear required includes 6 to 7 foot ultra light to medium rod with 200 yards of 6 to 10 lb test tippets. Anglers should bring plenty of lures (small jigs, pink or tan), since they are not available on the island.

Fishing schedule can be tailored to suit anglers´ needs, though generally speaking a typical day will start with breakfast at 7, fishing beginning at 8 and ending between 4 and 5 pm. Picnic lunches and cold drinks are taken to the flats in a cooler by your guide.

Bair's Lodge is a strictly CATCH AND RELEASE fishery.

Fishing Techniques:
One of the biggest mistakes a bone fisherman can make is not to adjust his fly to changing water depth. Your fly should be weighted such that it sinks quickly to the bottom and then stays near the bottom within view of the fish after you begin stripping. However fishing too heavy a fly, (Lead Eyes) in shallow water will undoubtedly spook many fish. Often bonefish are spooked by seeing flies that do not match the environment in which they are swimming. A fly that matches the background color of the flat you are fishing, can pay dividends. The watchword in general is flexibility; listen to your guide, no-one in the boat has a better idea of technique or choice of fly than him!

Typical Depth:
The average flat depth, whether you're wading or poling, ranges from 12"-30". In this depth, a Gotcha or Shrimp pattern with medium sized bead chain eyes should provide close to the perfect sink rate without overweighing the fly (and potentially spooking the fish). A good rule of thumb is your fly should reach the bottom in about 3 seconds. If you find your fly is not getting to the bottom, you should switch to a fly with lead eyes or add a few wraps of lead wire to the eye of the fly.

Deeper Flats:
The angler who is willing to fish deeper flats will often be rewarded with the largest bonefish. Big bonefish prefer the protection of deeper flats or shallow flats close to deep water. When you're fishing water 3-4 feet deep, you'll need a fly with lead eyes to get to the bottom quickly. A proven deep water fly is the Clouser minnow and the two best color combinations for bonefish are tan and white and chartreuse and white. Another killer, deep water fly is the Simram, which is a fuzzy (rabbit fur) version of the Gotcha fly with lead eyes. Lead eyes come in a variety of weights but for ease of casting, you'll want to carry flies with the smaller lead eyes as well as the heavier lead eyes that cause many of us to duck when forward casting. Another of the larger flies with lead eyes to fish in deeper water (over 3 feet) is the Big Bone with its overall tan coloration and red eyes.

Shallow Flats & Tailing Fish:
The last thing a bone-fisherman wants to do is scare an actively feeding fish by casting too heavy a fly too close to the fish. Therefore, you must go light in skinny water. By light we mean no weight other than the weight of the hook. For this we recommend mono (or plastic) eyes and a body that lands softly. Good color combinations would be the same as the other productive flies we've already described; tan and white, brown and white and the Gotcha colors, pink and white. Tie in sizes 4, 6, and 8. The Bunny Bone is a good example of this type of fly. You can throw this un-weighted fly right on the nose of a tailing fish. Its entry into the water is almost imperceptible, but it sinks well. The rabbit fur makes it look alive even before it's stripped. If it's within view of the bonefish and he's hungry, all you need do is give it the tiniest of strips.

Crab Flies:
Crab patterns have come a long way since George Anderson introduced us to the McCrab. Actually the Mc Crab has a design flaw. It's all deer hair. To get deer hair to sink it must be loaded with lead. To cast it you need a hard hat. Del Brown corrected this flaw by forming the body of his Del Brown permit fly with Aunt Lydia's rug yarn. This fly sinks quickly with a lot less lead. Jan Isley used similar materials in creating the Rag Head. Bonefish like these crabs just as much as permit. When tied in smaller sizes (size # # 4, # 6 and 8), crab flies are much more enjoyable to cast and perform well on medium to deep flats for bonefish and permit. Tie one of these on when you're fishing one of those flats where you're not sure whether the next fish you spot is apt to be a bonefish, a permit or possibly a mutton snapper.
What Makes This Destination Special and Unique?
• Easy access to the southern flats, intricate creek systems, and the fabled west side of Andros means that you'll have new and interesting locations to fish every single day. That keeps you in the game and your interest peaked as you and your guide search and explores new waters, each and every day.

• Bairs has easy and quick access to miles of firm, light bottom flats, perfect for classic wade fishing for skinny water bones. If you like bonefishing on foot, this is the place. There are flats here that stretch to the horizon and you can wade and fish as far as your legs will take you.

• Diverse fishing grounds offer unprecedented options in windy weather, allowing your guide to find lee shorelines and calm water in challenging conditions. If the wind is up, you won't lose any fishing days or opportunities, Bair's has you covered, no matter what the weather.

• Bairs Lodge has excellent access to West Side" of Andros island, a vast uninhabited wilderness that sees little if any angling pressure. Anglers that like the idea of fishing true wilderness flats for bonefish that are big and dumb owe it to themselves to travel to the "West Side" for a day or two and experience the magic.

•The veteran guide staff at Bair's is one of the best in the Bahamas, and they know how to put you on the fish, tide after tide. You can rest assure that the guides will find plenty of bonefish for you each and every day, all you need to do is make the shot and grin for picture after picture…

•Bairs Lodge is a deluxe, waterfront property, the finest flat fishing operation in all South Andros. Their beachfront location allows them near immediate access to 1,000's of square miles of flats; no van rides required getting to and from your boat each day. That means there is no wasted time or motion in your fishing day, maximizing your time on the water hunting bonefish.