Mars Bay is located literally at the end of the road at the southern end of Andros, and they have the closest access to the miles of hard sand flats at the southern tip of Andros, where schools of bonefish roam the flats.
This area is a vast, uninhabited, trackless saltwater frontier, with little fishing pressure and few humans. These waters are home to giant schools of hungry, unsophisticated bones as well as trophy, double-digit singles – the trademark of Andros Island.
There is nothing pretentious about this lodge. It is not a high-end fancy resort. The napkins are paper. They won't crack your pepper for you, you'll not find a mint on your pillow, and you will not be greeted at the dock with a hot steaming towel to wipe your brow. You can grab your own beer and mix your own drink the way you like it. Mars Bay is a fly fishing lodge for sportsmen. Think of it as the difference between a stuffy dinner party and a casual gathering with good friends.
Bill Howard attends to the details. He is the American owner/operator and has been managing the lodge since it opened in 2002. He catches the fish and lobster for dinner. He maintains all the boats and equipment. He makes all the repairs around the lodge. He orders the supplies, fuels the boat, and carries the coolers. He is hands on and has the reputation as being the hardest working lodge manager in the Bahamas. None of it would be possible without having an excellent staff of cooks, maids, and guides doing their jobs.
The lodge has a laid back vibe to but don't let that mislead you. Everything goes off on time as scheduled. One review said the lodge runs like a Swiss watch. The reviews are always the same; great food, great house staff, clean rooms, excellent guides, well maintained boats, great fishing, we'll be back.
The lodge is small with capacity for eight fishermen. They will take bookings for singles, doubles, and small groups to fill the lodge. Because it is a small lodge, it sets up great for groups wanting to reserve the entire lodge.
Mars Bay is situated on the southeastern tip of Andros that affords anglers a short and easy skiff ride to pristine flats teeming with unpressured bonefish. The lodge itself is located on a flat large enough for a dozen fishermen. Mars Bay is the end of the road. To go any further south you will have to hop in a boat. That puts you ten miles closer to the best fishing grounds on Andros than the nearest lodge. What does that mean to you? No less than a ten mile shorter run over rough open water and an extra hour fishing each day. By the end of the week you've fished an entire extra day.
You can expect to encounter everything from large schools, classic sight casting to smaller schools of five to twenty fish in the two to ten pound category, as well as shots at cruising doubles and singles exceeding ten pounds!
You will be on the water early and back safely in time for dinner. In twelve years they have never had a boat break down. At the end of the day if you still want to fish or practice your cast you're welcome to step out onto the flats in front of the villa and fish till dark. They catch bones there on a regular basis. That is assuming the tide isn't up. You will find the accommodations clean and modern; the food is great, the equipment reliable, the guides excellent, and the beer ice cold.
Reservations & Rates
Seasons at Mars Bay
Mars Bay Bonefish Lodge is open from October through June, preferring to close during the summer months.

The most common question we get about fishing at Mars Bay is "when is the best time to go." The fact is that the fishing can be good anytime of the year, and it really doesn't matter. March, April, and May is the peak season and are the most popular. October, November, December, and
Read More
January are the guides' and owner's favorite months for trophy bonefish, and Bill is often heard proclaiming that if he didn't live there and wanted to book a trip, he would come in November.

In short, you can't go wrong, and the biggest challenge is often simply finding a time to visit this wonderful little bonefishing outpost at the southern tip of Andros Island.
Getting to Mars Bay
Getting to the Bahamas from the States, especially from the East Coast, is relatively simple and painless. There are several daily flights, on many different carriers, from the Eastern Seaboard to Nassau. From Nassau there are two daily flights via Western Air and Bahamas Air to Congo Town, where you will be met by a friendly driver and transferred to Mars Bay Bonefish Lodge.
Read More
Another more convenient and direct option is a private charter flight from Fort Lauderdale directly to the Congo Town Airport, where anglers can clear immigrations and customs, transfer to the lodge and often be fishing on the morning of arrival. Charter flights also make it possible to arrive quickly and comfortably to the lodge in a single day from practically anywhere in the country. And charter costs for 4, 6, or 8 anglers actually are quite competitive when compared to commercial flights.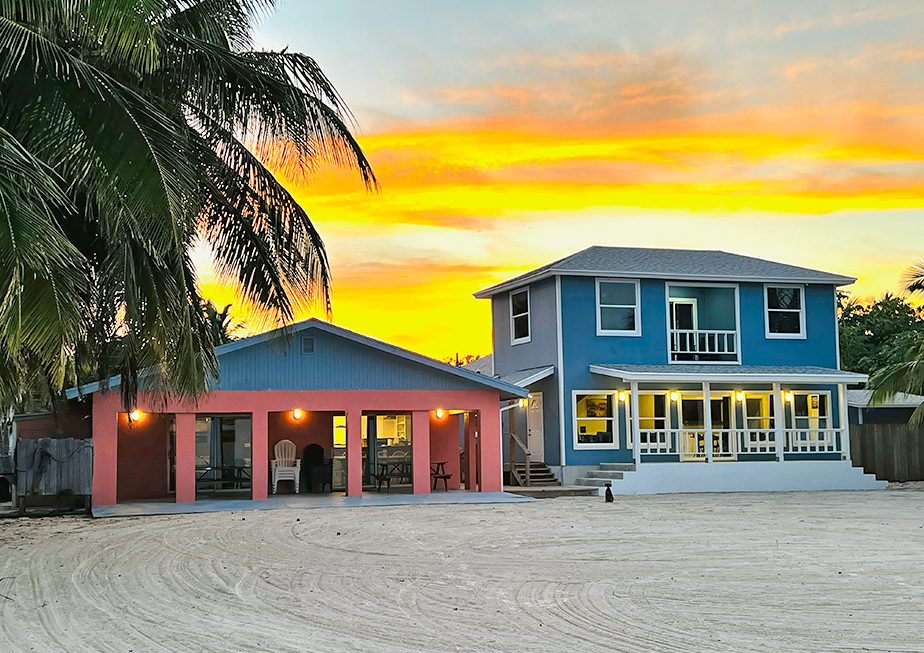 Lodging at Mars Bay
Mars Bay is a cozy, no-frills bonefishing outpost at the end of the road, literally, on South Andros Island. The main lodge building looks out on a stretch of sand bordered by a rock wall and the Caribbean, and tailing bonefish are frequently spotted in the flat just in front of the lodge. In fact, some of the biggest bonefish have come right there in front of the lodge!
Read More
Out front is a covered patio with chairs and picnic tables, a cozy social area after fishing and staging area for prepping gear. Through the sliding glass door is the kitchen and dining area, and a small "great room" with couches and chairs. Past the kitchen is a hallway leading to three bedrooms, each with two twin beds and en suite bath. The rooms are basic and have good beds, A/C, spacious bathrooms, and a large closet. Everything is air-conditioned, clean, and cozy. Everything is included, so help yourself. There is even a VOIP phone for free guests use for calling home, and WiFi that usually works.

Behind the main lodge building following a short sidewalk is a second building with another small social area and two more bedrooms. The lodge can accommodate 10 guests, in 8 rooms. Six anglers will be accommodated in single rooms even if they paid the double rate (if snoring is a problem), 4 anglers will double up in rooms when the lodge is full.

They don't brag about the food here, but in our experience is may be the best on Andros. It is authentic, Bahamian "home-cooking," and you won't go home hungry. If it requires a blow torch or flaming brandy they don't mess with it. Having said that, everything is delicious and made from scratch. Ask anyone who's been here. Some guests say they'll return just for the food.

Breakfast is usually American; eggs and bacon or sausage, omelets, biscuits and gravy, corned beef and grits, pancakes, waffles, or French toast, etc. Cold cereal and oatmeal is also available. Some more adventurous guests like to try the traditional Bahamian breakfasts like boiled fish, tuna and grits, or stewed conch.

Lunch is a piece of fruit, yogurt, chips, candy bar, and a sandwich. We try to avoid processes lunch meats. Instead we grill or bake ham, beef, and pork roasts and run it through a meat slicer. With the tuna and chicken salad sandwiches we pack the salad and bread separately to avoid a soggy sandwich. If you would rather have peanut butter and jelly just ask, no problem. Also included in the cooler is plenty of water and a couple sodas.

When you arrive at the lodge after a day of fishing there will be an appetizer on the counter. It might be conch fritters, calamari, smoked salmon, shrimp, lobster or conch salad, chicken wings, etc.

The dinner menu is Bahamian most nights and American others and is three course. We start dinner with a soup or salad. The main courses are conch, lobster, snapper, hogfish, or grouper, rack of lamb, rib eye steak, pork loin, or chicken. All the fish, lobster, conch, and stone crab are caught locally. The lamb is from New Zealand. The steaks are fresh, never frozen Nebraska beef. The lamb and beef is grilled to perfection over a blend of hickory and mesquite. The vegetables are fresh and shipped in weekly from Nassau.

And then finally dessert, it might be a cheesecake, coconut pie, key lime pie, guava duff, etc.
Fishing at Mars Bay
The normal program is that if you're not up by 6:30 a.m. Bill Howard (the owner) will come and wake you up. Breakfast is served at 7:00 a.m., and shortly after everyone heads down to the dock to head out for the day.

It's maybe a one minute drive from the lodge to the boat ramp, where the guides will be waiting in their boats. Bill does the guide assignments the night before. He rotates the guides typically, so guests get to fish with
Read More
different guides every day.

Lunch is taken on the fly. These are full fishing days and you should be back to the boat ramp between 5:00 p.m. and 6:00 p.m. in time for a well-earned shower, cocktails, and some great appetizers, followed by a simple and delicious Bahamian Dinner.

Some fishermen like to wade some like to pole. Both are dependent on the tides and the fishermen. We've had 75 year old men who insist on wading and 40 year olds who won't get out of the boat. If it's a flood tide you might pole the mangrove edges. Or you might walk way up into a creek on that same tide. If the tide is down you might pole a deeper edge or wade a flat that stretches for miles.

This southern part of Andros is primarily a wade fishery. Some of the best fishing areas you can't get a boat into. If you insist on being poled you're handcuffing your guide. Mars Bay will do their best to accommodate you but expect to do a little of both.

Typical Fishing Day:
4:30 AM: Morning Staff arrives to prepare the coffee, breakfast, and lunches
5:00 AM: Coffee is brewed and ready
6:30 AM: If you are not already up Bill will wake you up
7:00 AM: Breakfast is served
7:30 AM: Load up in the truck and drive one minute to the Mars Bay Dock to meet your guide, stow your rods, and put on a raincoat
7:45 AM: Throttle up and go fishing!!
5-6:00 PM: Return to dock after a day fishing
6:00 PM: Hors d'oeuvres are served in the dining room
7-8:00 PM: Dinner is served
What Makes This Destination Special and Unique?
• Positioned at the most southern end of the road, Mars Bay has direct access to the extensive flats on the southern tip of Andros Island. Compared to the lodges north of Mars Bay, you'll have the shortest boat ride on the island to fish the south end, and more time fishing.

• The fishery south of Mars Bay has mile after mile of firm, light bottom flats. For the angler that prefers to hunt bonefish on foot, this place is tough to beat.

• Mars Bay is ideal for small inclusive groups of friends and family. With a capacity of only eight anglers, you can have the whole place to yourselves.

• Bill Howard is the owner / operator of Mars Bay, and oversees every aspect of the operation, from the boat fuel to grilling your steak to perfection. Besides being one great guy to share dinner with, you can be sure that Mars Bay will run like a Swiss watch.