Spey Obsession
by Chris King
What is it about Spey fishing that turns so many of us into swing junkies? Is it easier than other fly rod methods? Is it more challenging? Is it the beauty and grace of the cast? Is it the grab of chrome-bright steelhead that nearly jerks the rod out of your hand? For me, it is all of these things and more.
My first experience with a two-handed rod was on the Taymount beat of the River Tay. I was working for Hardy USA at the time, and we were in the UK for a week-long sales meeting at the Hardy Brothers factory in Alnwick. I learned many things on this trip, and looking back, much of this knowledge is still with me today. I learned how to drive sitting in the passenger seat, haggis is disgusting, stilton is delicious, and beans for breakfast is not the best idea before sitting in a sales meeting all day. I also learned how to cast a two-hand rod.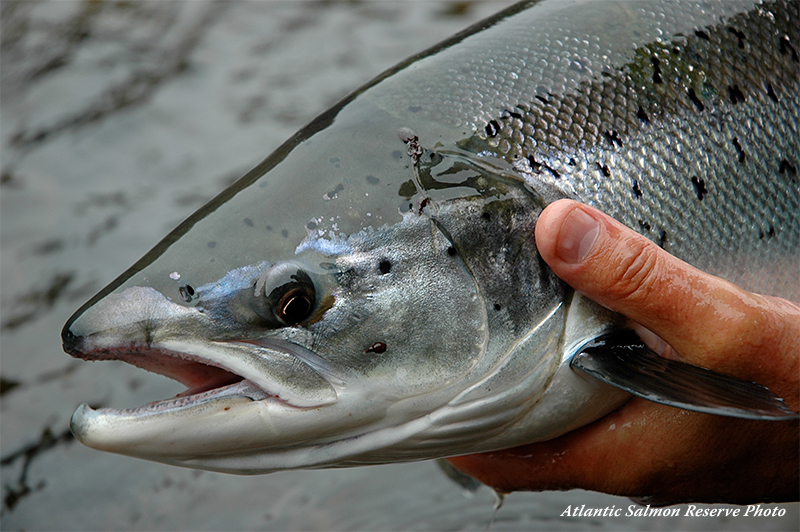 We had set aside a day to go fishing, and the evening before the trip was a cold and wet one. It was the first snowfall of the year in Scotland, and the stunning countryside was dusted with new fallen snow the morning we made our way to the river. Like so much of my twenties, I was unprepared for the adventure I was on. One of the Ghillies in the morning was kind enough to lend me his Barbour jacket for the day, and although this helped with the bitter cold, a wool-lined waxed cotton jacket has nothing on Gore-Tex and a puffy. I was accustomed to swinging flies for Steelhead back home, so the down and across method of fishing was familiar. The 15-foot 10 weight that I was given was a very new experience.
We were lucky enough to have Andy Murray with us to give us instruction. Andy at the time was the chief rod designer for Hardy and is still one of the finest two-hand casters and instructors I have ever met. I remember to this day, during my first attempts at the double spey, his words in the background, "down, down, down, up, up, up HIT IT!" It took the better part of the morning to get used to the sheer size of the outfit I was casting, but I found my groove by mid-day. I was fortunate to actually come tight to a fish that afternoon, swinging a 3-inch-long Mickey Finn tube fly with a treble hook full of barbs (that's how they did it then). I remember looking around at the snow-covered landscape, taking in the full experience as the fish was pulling line from the reel, and enjoying the sweet sound of that Hardy Perfect click when I heard Andy behind me say, "That's a 10-pound fish, and you've got a 20-pound test. Put the wood to her, laddie!" I will never forget that first day Spey fishing, and I have been (you guessed it) hooked ever since.
Since that time I have pursued Spey casting and fishing with a passion. I have spent the better part of the last 20-plus years sharing that passion with others. I have been fortunate to give multiple clinics and demos over the years and felt blessed to be a part of the Spey movement in the States including being one of the presenters at the First Spey-O-Rama in San Francisco. Jeff Pill filmed that event, and there is a wealth of knowledge from casters all over the world on his video "The Art of Spey Casting."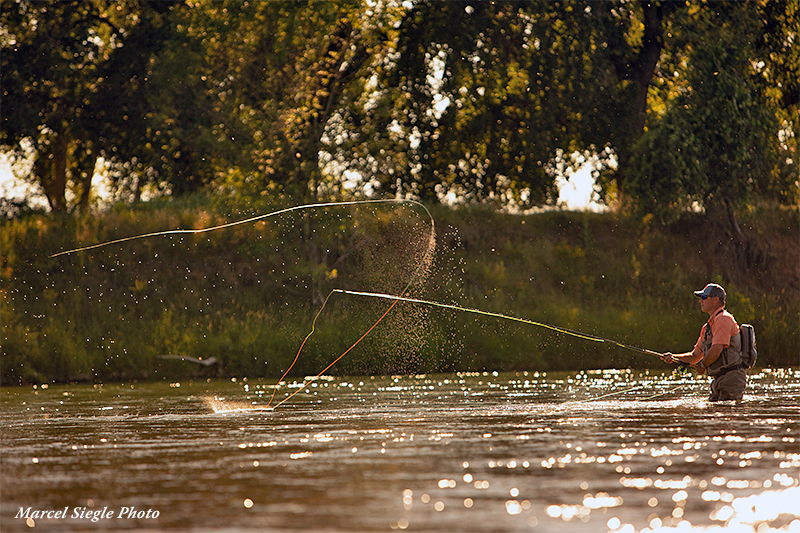 Spey Casting for me is about the beauty of the cast, the surroundings in which this style of fishing is done, and the hard tug of an aggressive fish that is trying to murder your fly. I am a caster at heart, and for me there is nothing more eloquent than a Spey cast. If done properly the cast appears effortless yet propels your fly to the far bank. These change-of-direction casts are super efficient and keep your fly in the zone longer. Your fly spends way more time in the water than the old method of shooting heads. Swinging flies is by far my favorite way to fish. Being tight to your fly, as opposed to dead drifting it, allows you to do many things. It allows you to vary the sink rate of your fly from top to bottom of the run. It allows you to vary the direction of your fly from swimming straight up stream to a cross current presentation to sometimes both in the same swing. And, of course, it gives you a direct connection for a positive hook set. Seeing a trout rise to a fly or watching your indicator sink is exciting, but they both fail in comparison to the hard grab of a fish taking your fly while it's under tension. Each and every time I make a swing, the level of anticipation I have is a 10 out of 10. When you tick bottom during the swing, your heart skips a beat, and when you feel that deep heavy thud from that 10-pound buck, mine stops.
The pursuit of fish on the swing has taken me all over the world, and I have taken my passion to the next level with a little help from the manufacturers of fly rods in our industry. Our rods went from that 15-foot 10 weight mentioned above to progressively shorter and lighter offerings along the way. With a brief dabble in what we called switch rods, the trout Spey revolution emerged. We now have dedicated two-hand swing rods that are focused for trout. My favorite is an 11-foot 3 weight that is an absolute joy to cast and bucks like a prized bull with a 16-inch rainbow on the end. A day spent swinging this rod on the Upper Sac or McCloud is a day well spent. From soft hackles to lead eye sculpins, I can chuck it across the river and let her rip, waiting in anticipation for that epic grab.
This year I will take a few anglers with me to Alaska, where for two weeks at the end of September I will swing flies for trout then steelhead at a couple of great lodges and incredible watersheds. I will also teach several clinics and extended day schools with the focus of Spey Casting with The Fly Shop®. Give me a call at the shop if you would like to know more about the wonderful opportunities to branch out with your own passion for the swung fly 800-669-3474.
Week 1 (September 18th to 25th, 2021):
I will be hosting a small group of anglers to Big Ku Lodge in Alaska to hunt for the elusive 30-inch rainbow. I have chosen this week as it is traditionally a week when all the monster trout of the Moraine and Battle Creek watersheds make their way back down the river on their migration to Kukaklek Lake.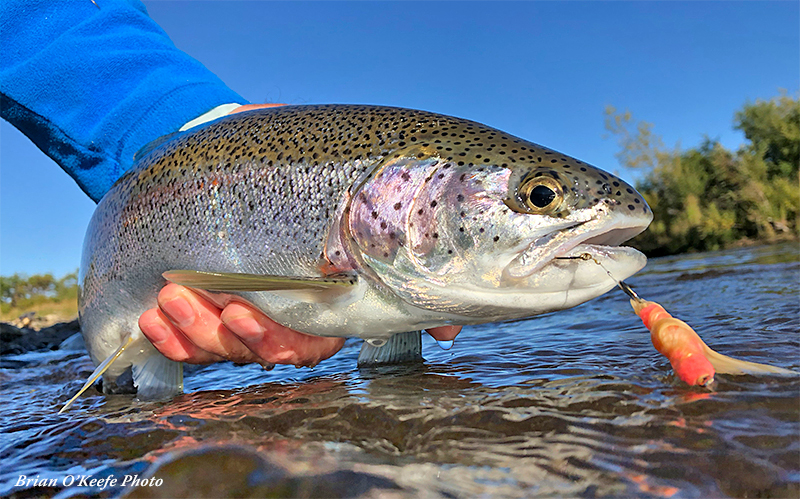 After a summer of gorging on eggs up in their summer homes these fish will have been packing on the pounds and looking to add a few more as they anticipate a long winter under the ice. This time of year is prime time to chase the oversized trout by swinging flesh flies, streamers and in some cases skated mouse patterns on top. This is a perfect situation to try them with my favorite 3 and 4 weight trout Spey rods. The egg bite will still be an option that time of year as well as dead drifting flesh on the big river and the smaller tributaries.
Being late in the Alaskan season, Big Ku is a wonderful option as they access all of their fishing with jet boats and are not locked out by inclement weather. Much of the best fishing is right outside the front door on the Kukaklek River, the best "home-water" in Alaska. That means you can always return to the lodge for a quick warm up and a hot toddy if Mother Nature shows her teeth.
Fly outs are available if you would like to see more rivers in the area and can be booked while at the lodge with 24 hours' notice. I have secured the returning guest rate for my group of $7,850.00 per person based on double occupancy, which includes the round trip air charter to the lodge from Anchorage.
Week 2 (from September 26th to October 2nd, 2021): Sold Out
I am a Steelhead junkie at heart and there is no better place to chase these critters than on the Kenai Peninsula of Alaska, and with the sheer rate of success, it is hard to find a better spot on the planet to target wild Steelhead.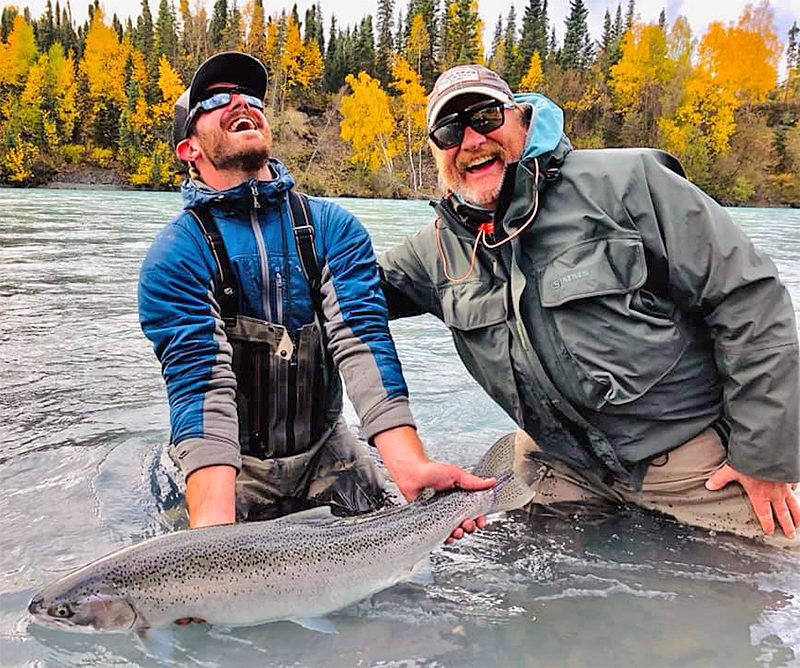 Immediately following my week at Big Ku Lodge I will be hosting a group of anglers at The Alaskan Steelhead Company, a fantastic lodge overlooking the Cook Inlet with a selection of water options that is unsurpassed in the Steelhead world. This is not your typical Steelhead week where you hope to get a grab a day, and always worry about the possibility of unfavorable conditions.
The Alaska Steelhead Company has a ton of water to choose from each day. Some rivers will fish well in low water, but when it rains hard, they may blowout… Other programs would be dead in the water, but The Alaska Steelhead Company has an Ironclad guarantee! They have a river that flows from a lake, making it impossible to blow. This will ensure that no matter the conditions you will be swinging your fly over sea monsters the entire week!
I will be at The Alaska Steelhead Company from September 26th to October 2nd. Cost for the week is $4,995.00 per person based on double occupancy with the ability to add extra days or an incredible helicopter fly out option to get to the rarely seen stretches of their fabulous watersheds.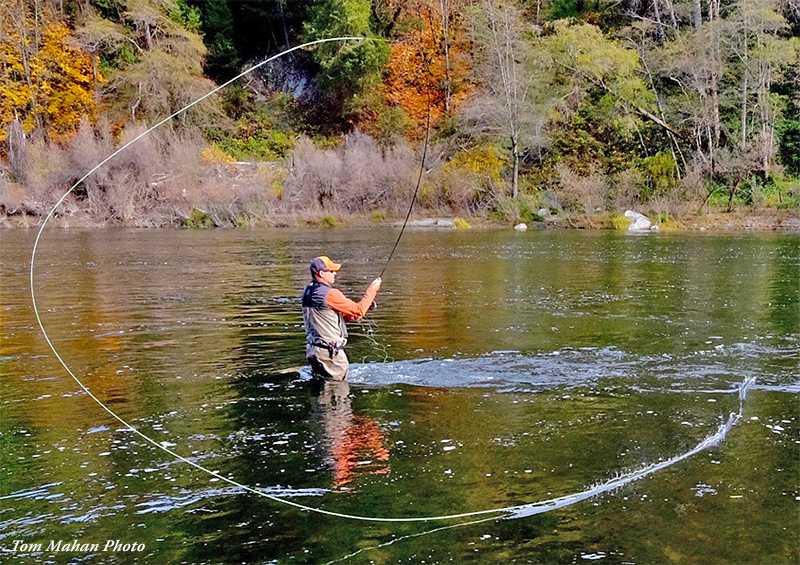 Trout Spey Clinic – April 24th cost $200 / angler –
Swinging flies using a Spey or two handed rod is becoming more and more popular each season. The majority of fly fishers use two-handers to chase steelhead or salmon and extend their season chasing trout. Trout Spey is a great way to keep your skills up to snuff with the two handed rod when you can't fish for their big brothers. These lighter rods are perfect for smaller rivers and creeks to target trout in a variety of situations similar to what you would encounter on a steelhead stream. The Trout Spey Clinic will get you up to speed to swing flies for trout using 3 – 5 weight two handed rods.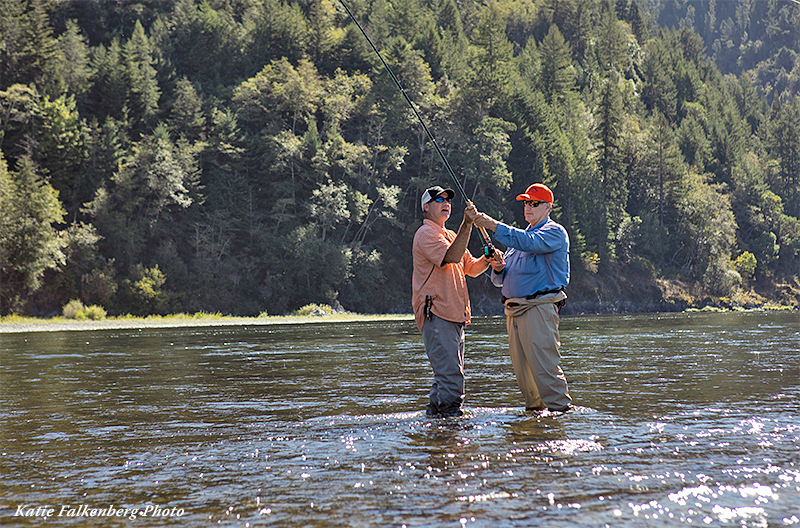 3 Day Spey School on the Klamath River – August 26th to 29th cost $2,300 / angler –
The school is held at Gold River Lodge, on the estuary of the Klamath River, and is located in the center of coastal steelhead country. August and September are historically one of the best times to get out on the Klamath River with good returns of feisty half-pounders providing lots of action on the swung fly. Every steelhead returning to The Scott, New, Shasta, Salmon and Trinity Rivers passes directly in front of Gold River Lodge's doorstep giving you the chance to be the first to put a fly in front of these anadromous fish. The broad, long riffles and gravel bars of the Lower Klamath are easy to wade making this the finest Spey classroom available anywhere.
Expert instructors are on hand to guide students through the course, and our low teacher-student ratio ensures a comfortable and personal atmosphere, with plenty of individual time and attention. An abundance of material is presented during the school and the practice sessions and lessons are presented in a fun and relaxed fashion – on the water.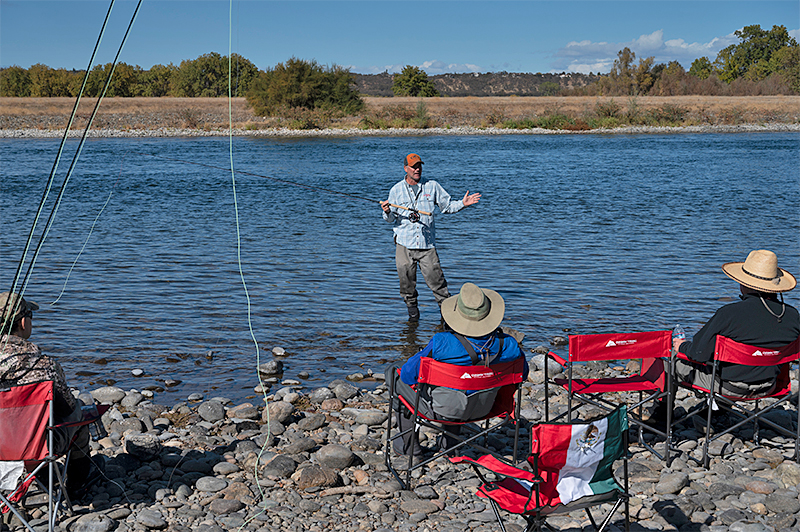 1 Day Spey Clinics – November 5 th and 6 th cost $295 / angler –
The Fly Shop® is excited to once again offer a Spey Casting and Fishing Clinic on the Sacramento River in Redding. Your instructors will be Justin Miller and myself. As well as having guided anglers for over twenty years in pursuit of steelhead and salmon in northern California and Alaska, Justin and I avidly swing for chrome all over the world including Russia, Iceland, Argentina and Canada. I also hold the Fly Fishing International Two Handed and Master Casting Instructor Certification.
Each day's program will start at 9:30 am at a broad gravel bar on the Sacramento River just south of Redding. The morning program will start with some informal discussions on Spey casting, followed by several hours of Spey casting demonstrations and one-on-one instruction.
We will break for lunch midday, which is a great opportunity to relax and pick mine and Justin's brain about all things related to anadromous fish. Specifically, we'll discuss the important – and often mind-boggling – aspects of gear in Spey fishing, with a focus on rod, reel, and line combinations.
After lunch, the afternoon session will focus more on actual fishing applications when targeting steelhead (or other anadromous fish such as salmon or sea-trout). Topics include (but aren't limited to): heavy vs light flies, mending line, controlling your swing, presenting the fly to the fish, how a fish takes, and setting the hook when a fish takes on the swing, fighting and landing fish with a two-handed rod, and more.
If you are interested in joining me on one or both of my hosted trips in Alaska or interested in attending any of the schools or clinics, please give me a call 800-669-3474 or shoot me an email at chris@theflyshop.com.
And I stand by my words, haggis is disgusting.
See you on the water,
Chris King
chris@theflyshop.com
FFI Master and Two Hand Certified Casting Instructor
The Fly Shop Outfitters