Justin has traveled the globe guiding and learning The Fly Shop's international destinations. He has guided the Kamchatka Peninsula every season since 2008, and he has fished the world with a Spey rod, for every sea-run fish he can find.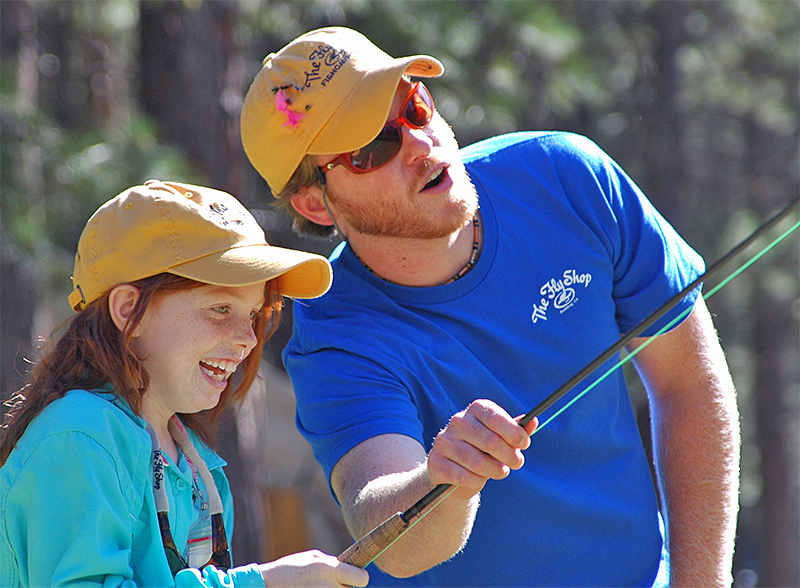 After graduating from Chico State University, Justin started his career at The Fly Shop in 2004 as a counselor at our acclaimed FishCamp program. After that first summer, we hired him to work in the store full time. He started guiding the rivers of Northern California for The Fly Shop in 2006, swinging flies with Spey rods for steelhead. He started guiding the Kamchatka Peninsula in 2008 and has spent all summer, every summer, learning every river we fly to and offer on the Kamchatka Peninsula. Add all that time up and Justin has spent over a year of his life on the ground in Russia. Outside of Russia, Justin spends his time making plans on when and how to chase steelhead and then actually chasing steelhead, immersed in his rivers in every conceivable condition, good or bad, all around the Pacific rim and the world. He is very excited to share his experiences as the newest member of our International Travel staff. You will be caught up in his purely infectious enthusiasm for anadromous fish.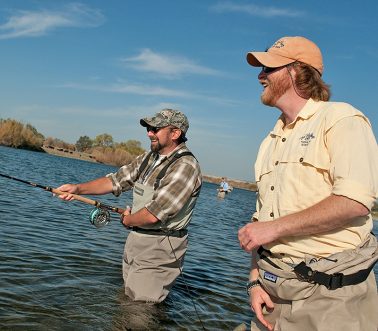 Justin grew up fishing the waters of the Sierra Nevada Mountains for trout with his father during his years as a Boy Scout. He started fly fishing on these backpacking trips and got serious about the fly rod during his summers spent as a counselor at Camp Jack Hazard on the Stanislaus River in California. He spent his summer fishing for trout with dry flies. Later on, when Justin transferred from Santa Barbara to Chico State in Northern California, fly fishing took over his life once he discovered the year-round fishing and the steelhead common to the Northern California watersheds. As soon as he graduated from Chico State he was hired by The Fly Shop, which sealed his fate as a professional fly fishing bum. Justin quickly got involved with all aspects of the fishing business at The Fly Shop. We hired him to the retail floor. He remained very active with The Fly Shop's FishCamp Program, and he got certified as an FFF casting instructor and became one of the head instructors at The Fly Shop's Casting Schools. He was also an instructor for The Fly Shop's Fly Tying Classes. Justin loves to tie, especially for steelhead and stripers. Justin spent most of his off time swinging with Spey rods for steelhead, and in 2006 started guiding the Trinity and Klamath Rivers. At about that time, Justin started hosting international trips for The Fly Shop and expanding his reach and knowledge of the world's best fly fishing. Specializing in fishing with a Spey rod, Justin has focused on the steelhead rivers of British Columbia, the sea-run trout of Tierra Del Fuego in Argentina, and the Atlantic salmon on the Kola Peninsula in Russia, as well as Pacific salmon. He has also spent his share of time chasing fish on the flats of Mexico, Belize and the Bahamas.
In 2008 he started guiding the Kamchatka Peninsula for trout and steelhead, and has guided every river and program that The Fly Shop manages. He is one of the world's true experts when it comes to fly fishing Russia's Far East, from the fish, to the gear, to the travel logistics.
Q&A with Justin Miller:
How did you get started in fly fishing?
I was running a summer camp in the High Sierras, and a buddy of mine had a grandfather pass away. He left him all his fly fishing gear, and we started going every day that summer to honor his gramps. It stuck.
What does fly fishing do for you that keeps you coming back for more?
That's a heavy one … Just being outside. Fly fishing is the excuse to explore the wild world.
Favorite fish to pursue?
Steelhead. That is a silly question.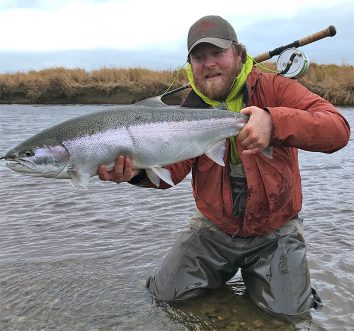 What fly fishing destination is on your bucket list?
GTs in the Seychelles … Headed over there in April if the 'Rona doesn't keep us locked out.
Favorite fly rod and why?
12'6″ 7wt Scott Radian. Smooth like butta but can launch junk like a beast.
Favorite reel and why?
My 4″ Olson G&P. Silver faceplate with a black "S", it is the only one like it on Earth … And it screams like no other. I only use the clicker when I'm swinging though. The rest of the time, whether I'm in the salt, or the jungle, or any place else I need a drag system, I am all about the Hatch reels. Crazy smooth and and they will put the brakes on even the hardest rippers.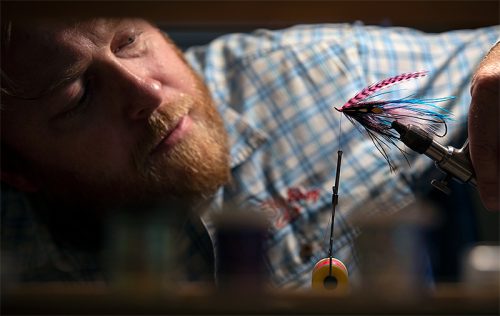 Favorite fly and why?
My Jedi Mind Trick, 'cause it slays. It's basically a pink and blue Intruder style fly, about 3-4 inches long. Crushes in late fall/winter conditions fished on a tip.
What is your greatest fly fishing extravagance?
That custom Olson … He has a three-year waiting list for those reels, and they are worth the wait!
Which living or non-living fly fisher would you want to spend a day fly fishing with?
Roderick Haig-Brown for sure. His stories of steelhead fishing are what hooked my mind on them forever.
Who are your favorite writers?
Fishing writers? Roderick Haig-Brown and Tom McGuane
What single issue in fly fishing do you feel has the greatest adverse potential?
Fish farming, hatcheries and dams. Get rid of them all. I know you said single … I gave you three.
What is the most memorable fly fishing trip you've taken?
Tough one … Probably the World Cup/Kola/Iceland trifecta … That was an all timer.
Which talent or natural gift would you most like to have?
Gills or wings
Who are your heroes in real life?
Luke Skywalker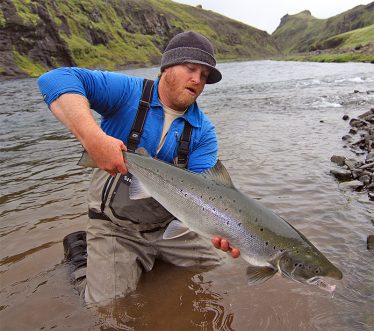 What is your fly fishing pet peeve?
Low Holers
What do you most value in your friends?
Trust and loyalty
If you were to die and come back as a person or a thing, what would it be?
Osprey. They can fly, and they go fishing a lot.