The steelhead rivers of the Kenai Peninsula of Alaska harbor fantastic runs of fresh steelhead in the fall months, providing a wonderful and diverse Alaskan steelhead experience. These rivers are gorgeous and super fishy, from small little coastal creeks, to big water that you will float… and all are extremely productive fisheries. Add to that the uniqueness that these are likely the furthest north latitudes that you can honestly target steelhead. We fish the fall season, when chromers begin to enter their natal streams in September, and continue to pour in and move upstream until late October.
We've been there, understand these travel details, and no-one is better suited to walking you through the process, and getting you to this amazing place on schedule. Tackle, flies, clothing, itinerary, whatever – we're happy to talk you through what to expect. Feel free to call us at 800-669-3474, or email travel@theflyshop.com, and one of our travel specialists will respond promptly.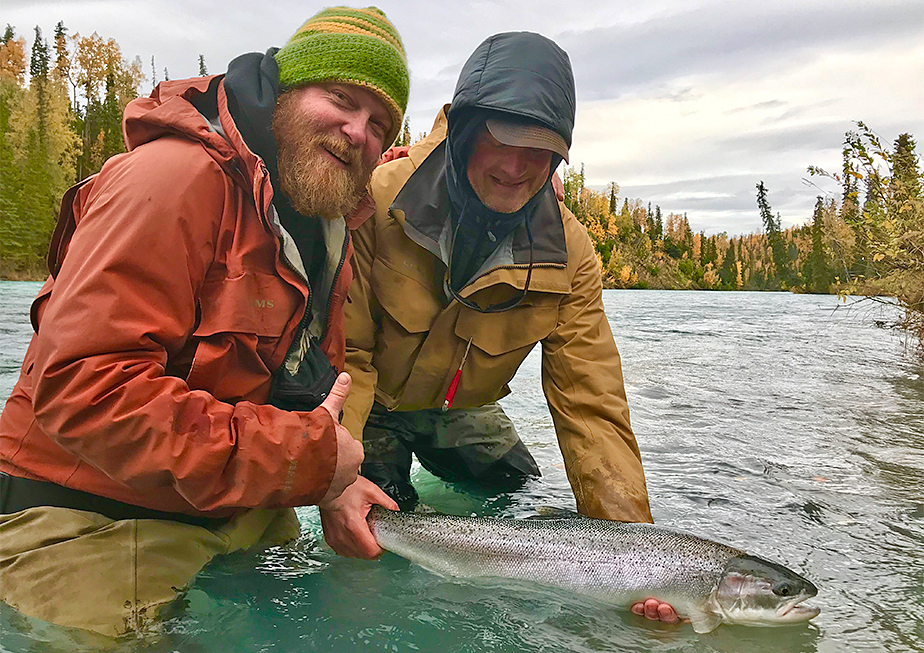 Reservations & Rates
$6,895 plus 3% tax ($206.85) ~ 6 Nights Lodging, 5 Days Fishing w/1 Day Heli-Fishing
Inclusions
Accommodations and meals at lodge, daily guided fishing, 1 day of Heli-fishing, round-trip ground transfers between the Kenai airport and the lodge, non-alcoholic beverages, rods reels and flies
Non-Inclusions
Airfare to and from the Kenai airport, 3% tax, alcohol, fishing licenses, gratuities, additional helicopter flights, waders and wading boots
Travel Insurance
The Fly Shop® is not in the insurance business, but we recommend Travel Guard coverage as a service with a desire to see your best interests protected. It is impossible to know when an unfortunate situation (loss of luggage, fly rods, illness in the family, or an accident) may occur. However, such things can and do happen, and this insurance can provide a means of recourse against non-refundable financial losses.

• Travel Insurance Information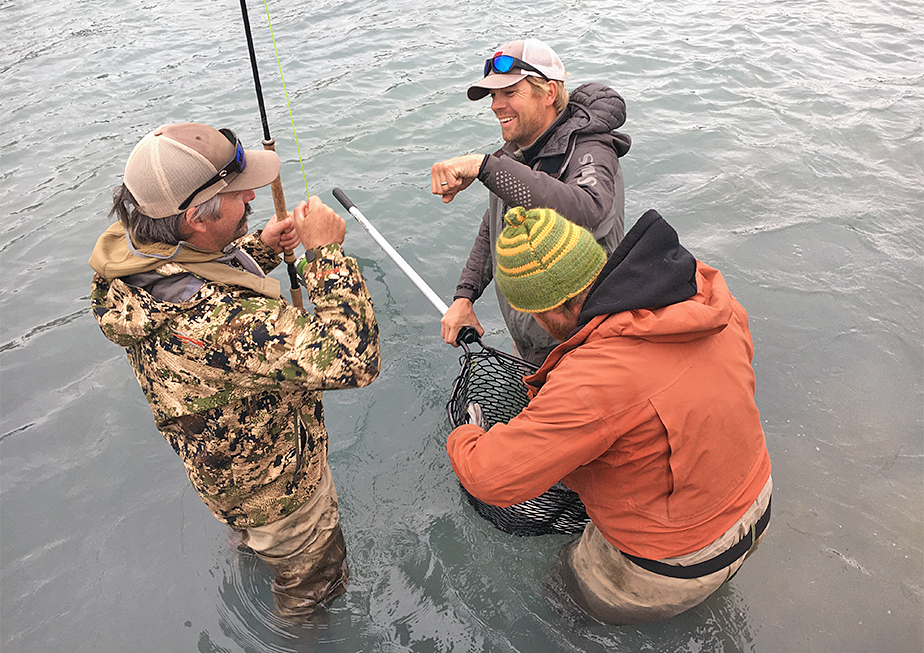 Seasons at Alaska Steelhead Company
Alaska steelhead season operates for 1 thing… Steelhead in the Fall! Steelhead season runs from early September through late October.

Fall in Alaska can be up and down in terms of weather. You want it to rain some, to bring in new fish and stir up the ones that are there already, but too much can ruin a steelhead trip. The rivers of the ASC though are some of the most stable we have ever come across. The main river comes out of a lake, glacial fed… it is virtually unblowable, a very special thing on a steelhead trip and the best trip insurance you could ask for. And the color of the water is just like the Caribbean! Absolutely gorgeous!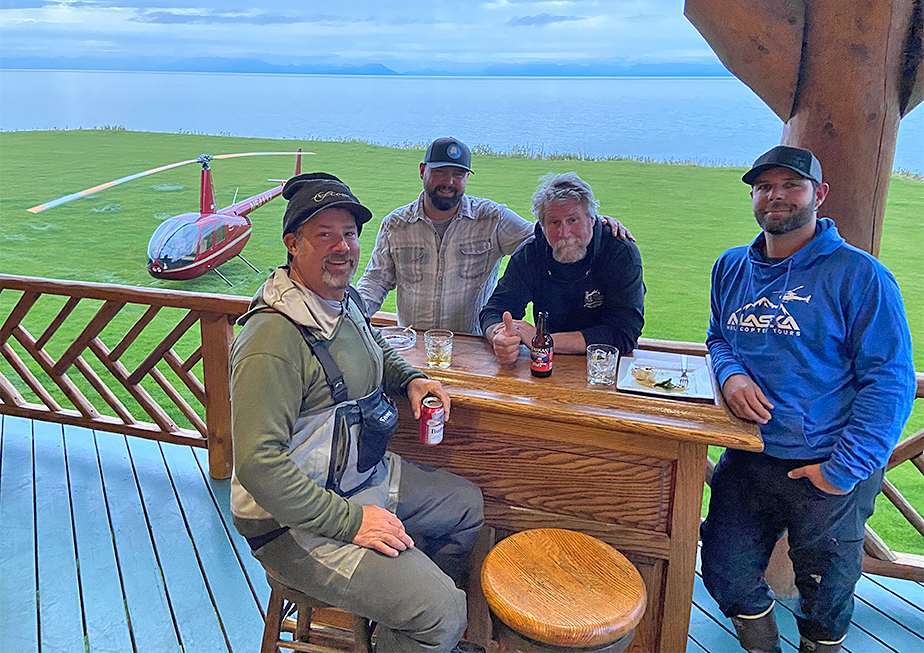 Getting to Alaska Steelhead Company
Travel logistics to the ASC's Lodge are simple. The day before arrival to the lodge - Fly to Anchorage, Alaska and overnight.

Day 1:
Flight to the Kenai Airport from Anchorage, via Ravn Air. The base rate calls for a relaxing afternoon arrival for a 6 night / 5 day angling package. Early morning flights allow you to get a full day of fishing in on arrival day, making it a 6 night / 6 day package.
Read More
Days 2 to 6:
Enjoy the excellent steelhead fishing, beautiful scenery, and unmatched hospitality that is the everyday standard with the Alaska Steelhead Company. Your days will be spent fishing out of the lodge daily, by drift boat, walk and wade, or helicopter.

Day 7:
Early morning departures from Kenai back to Anchorage will allow most North Americans to get home the same day. Or, you can choose to fish the last day, making it a 6 night / 7 day package, and then take an evening flight out of Kenai, then a red eye home, or overnight in Anchorage again that night.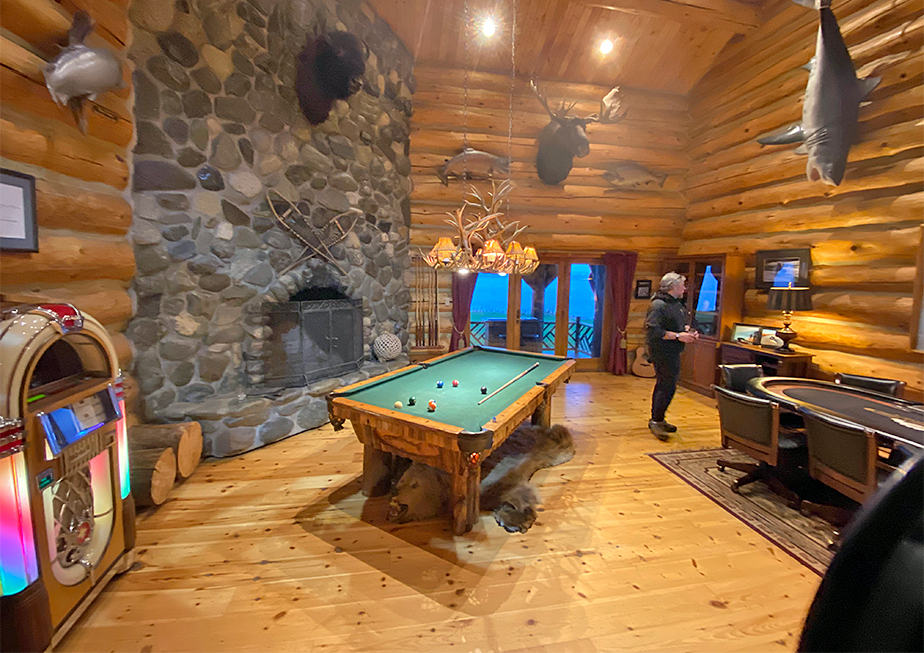 Lodging at Alaska Steelhead Company
The Alaska Steelhead Company's accommodations, called Deep Creek Lodge, are absolutely stunning. The lodge is perched high up on the edge of a giant bluff overlooking the Cook Inlet, and right at the mouth of Deep Creek, the lodge's home river. The views from the lodge on a clear day are spectacular, a panoramic of Chigmit Mountains and Mount Iliamna a 10, 000 foot volcano. The lodge is beautifully appointed, with the main building being local river rock and raw log cabin style construction. Anglers eat around a large round table in the dining room, with a bar in the common area, with comfortable couches set around a stone fireplace in the high ceilinged living room. For some added entertainment there is
Read More
a pool table, poker table and jukebox as well as an exercise room on the second floor, or jump in the hottub to loosen the muscles after a long day of casting. Double occupancy cabins are set adjacent to the main lodge, with ensuite toilets and shower, and king beds. Single occupancy may be accommodated if available.

The lodge can accommodate 12 anglers a week.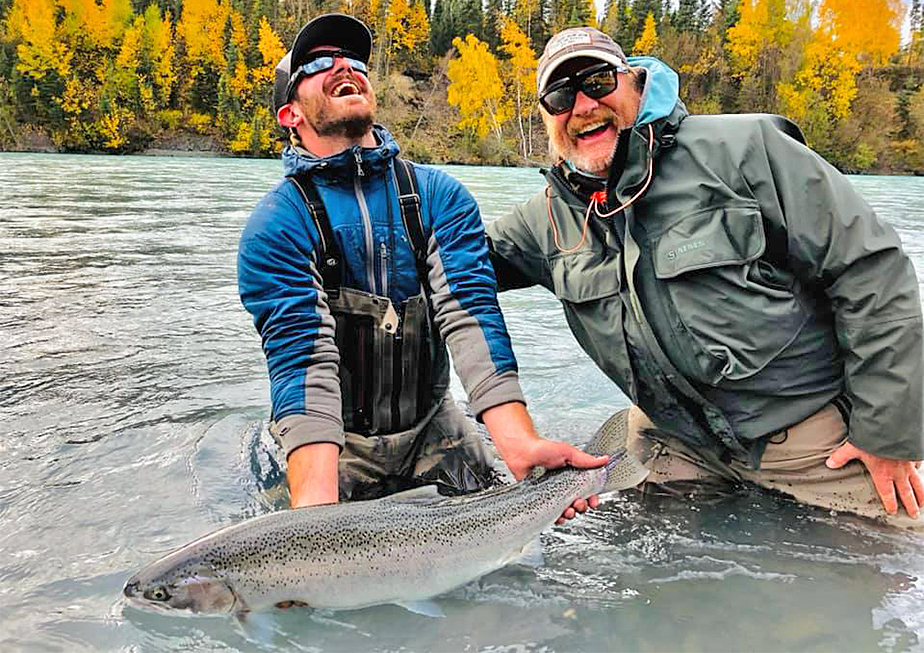 Fishing at Alaska Steelhead Company
Anglers arise early each morning, eat a hearty Alaskan breakfast, then wader up and jump into their guide's truck and tow their drift boat to their float beat, or just head out to walk and wade some remote stretches of water… or jump into a helicopter right on the front lawn and fly into the middle of nowhere to discover some of the river's hidden secrets! Two anglers per boat and guide, except the head guide takes 3 in a power drifter. Guests will move from pool to pool throughout the day, covering
Read More
as much water as possible, getting out to wade and swing through each run, or fishing nymph rigs from the boat. The rivers are exceptionally friendly to swing with either single or double-handed rods, and it's not unusual for anglers to experience a few hookups before lunch. Sink these are fairly shallow rivers. Large Intruder-style patterns are favored, and the tight-line grabs can be unforgettable. After taking lunch on the river, fishermen will cover more water in the afternoon, returning to the lodge and a delicious dinner in the early evening.
What Makes This Destination Special and Unique?
• The Alaska Steelhead Company has a ton of water to choose from each day, allowing the guides to adjust for ever changing conditions. Some rivers will fish well in low water, but when it rains hard they may blowout… Many steelhead fisheries would be hamstrung by this, but the Alaska Steelhead Company has an ironclad guarantee! They have a river that flow from below a lake, making it impossible to blow. This will insure you will be swinging your fly over sea-run missiles, each and every fishing session, when others would be blown out.

• Alaska Steelhead Company's lodge is one of the nicest lodges on the planet, hands down. The lodge itself is an absolutely magnificent building, built for luxury, atop a 300 foot cliff overlooking the Cook Inlet, three active volcanoes and the mouth of their home steelhead river. It is over the top, a stunning location that you will never grow tired of. The level of service and world-class accommodations assures you will be well rested, ready to attack the steelhead waters of the Kenai Peninsula of Alaska.

• The Alaska Steelhead Company is located just an hour's drive from the Kenai airport, making this a very easy destination to get into and out of. Easy access to the lodge insures you are never delayed in starting or ending your steelhead adventure. And it is in the USA! No customs, no ravel restrictions, no passport required - easy travel!

• The guides of the Alaska Steelhead Company know every inch of their main rivers, but are still exploring more as they expand their range with via helicopter! This ensures that you will spend plenty of time in water that the guides have landed thousands of steelhead before, but also gives you the opportunity to go find undiscovered secrets! It's the best of both worlds, bank-on steelhead waters and a chance to discover a new fishery.