Northern California's Spring Fly Fishing Planner
by Bryan Quick
Who isn't encouraged by the rainy weather we are getting of late this winter?  Right now we are up to our eyeballs steelheading on the Trinity, Klamath and coastal rivers.  We also are looking forward to the spring when the temperatures warm, the days grow longer, and we put away the heavy rods.  Spring brings great fishing in the north state, and here are a few of our favorite places to go and things to keep on your radar.
Often the first waters to drop into shape are the ponds and lakes in Northern California. The Callibaetis will wake from their winter slumber and these first hatches will have the largest insects emerging all year. When trout see these bigger insects after a winter of eating teeny, tiny midge pupae, they will crush these mayflies and often catapult out of the water chasing them down. The best way to find these early season hatches is to find the shallow coves and flats where the water warms earliest.
Gearing up For Stillwater:
Lewiston and Baum Lakes

These two lakes will fish year 'round, but in the early spring is when the big mayflies begin coming off and you can chase the fish down by watching the rise forms as they cruise looking for the hatching insects.  After that, get ready with your #14-16 Parachute Adams and lead the fish far enough where you won't be casting behind them. Baum Lake can also have some Green Drakes coming off later in spring on a cloudy day.
Rock Creek Lake and Lake Christine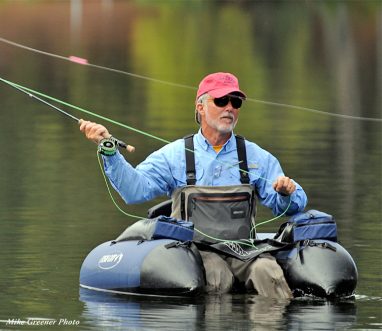 Rock Creek Lake and Lake Christine are sister lakes and will likewise see the Callibaetis coming off in early April.  These two lakes will also see good action in early spring on Damselfly and Dragonfly nymphs.  When you get the colors and retrieve right, you can have a phenomenal day.  The abundance of these nymphs in this watershed will have the trout keying on them exclusively at times.  And the midge hatches in the mornings can be epic, tie on a Griffith's Gnat or Skittering Midge before you go to bed, and when you're sipping your coffee out on the deck in the morning you'll be ready.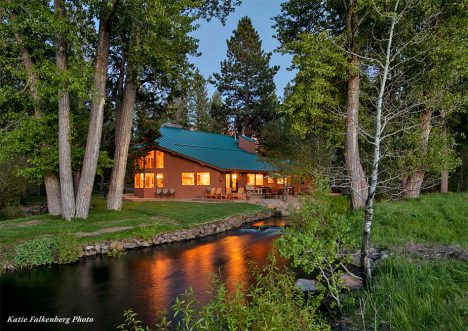 Antelope Creek Ranch
Who doesn't like fishing BIG flies?  The creek on Antelope Creek Ranch is one of the few Private Waters with a good Salmonfly and Golden Stone hatch in early spring.  We often see the adult insects on the screens of the lodge next to the creek and the rainbows will regularly crush Chubby Chernobyls in the peak of the hatch.  High-sticking a Rubberlegs in drop-offs and undercuts is also a fun way to spend an afternoon on the creek.  And the two lakes will have plenty of action with Callibaetis coming off in the early season too.  Fun stuff.
Streams
The quintessential dry fly streams, Fall River and Hat Creek, can receive a lot of pressure in the spring.  We have some alternatives for you that can be a lot of fun, but whose hatches may not be as prolific or predictable as Fall and Hat.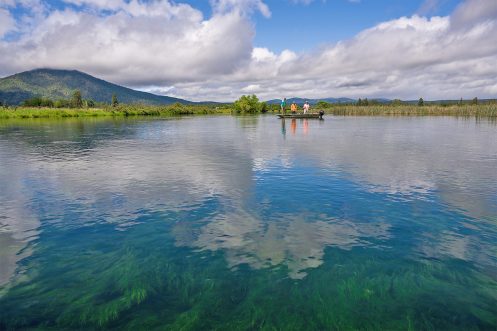 Battle Creek has a legendary Salmonfly hatch each spring on this Private Waters property.  The problem is being able to fish the creek when it's on.  Early season can have high water making it next to impossible to fish, on low water years the creek will warm and the hatch will be over before the season opens on the last Saturday in April.  If you can go, though, watch out!  You won't need super sophisticated setups or flies, a #6 orange Stimulator or Chubby Chernobyl will get the job done here.
The McCloud River has quite a bit of character, is one of the most beautiful streams you will ever be on, and has a couple of good hatches to look for in the early spring.   The first is the Salmonfly hatch which can vary in timing due to the weather and flows on the river.  Below Lake McCloud, you should expect it to be happening in mid April if the flows are low and the temps warm.  However, if there is a cloudy, rainy day in April – June, you should be on the lookout for the second good hatch:  Green Drakes. We should mention that above the lake in the Middle Falls & Fowlers  section you can have great dry fly fishing just about any day in the spring. If you want to check out something really cool this spring, make a visit to Bollibokka. For the first time in over 100 years this private stretch is available to the public for a day use angling fee from mid-November through March. If you like fishing a wild river with a storied history and feisty rainbows, give us a call (800-669-3474) and we will give you all the details of how you can reserve a special day in an incredible place.
We are crossing our fingers and toes in hopes that we receive ample rain and snow this year. And unless we have more than normal quantities this winter, the Lower Sacramento River releases won't ramp up until late April. When you have sunny days in February through March and flows below 4,000 CFS, this means heavy Black Caddis hatches. The Pale Morning Duns begin to pop off in force as well. The Sac is an incredible indicator fishery year 'round but March to May are the best times on this river to look for fish in the shallows.  This is the time of year that we are able to put away the heavy nymphing rigs and chase fish near the surface with dry droppers. A day on this great river in good weather in early spring with insects coming off all over the place is about as good as it gets.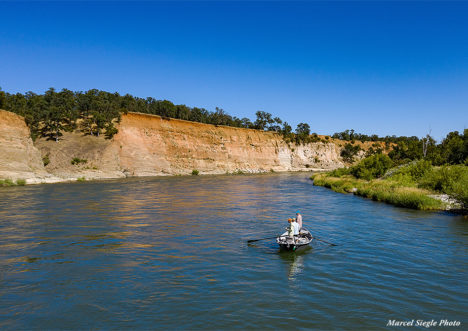 Gearing up for Stream Fishing
With abundant hatches of large mayflies and stones, spring in Northern California is a great time, if not the best season, to chase trout.  We've been guiding these waters for more than 44 years, and there isn't anybody who knows these Northern California trout fisheries better.  If you would like to book a day on one of our Private Waters, or a day with a guide, you can contact Bryan or Chris in Outfitters or give us a call with any questions you may have.  (530) 222-3555 | (800) 669-3474.