I am a Gemini. I enjoy foggy morning sunrises on coastal rivers, long walks down gravel bars with friends, single barrel bourbon … Oh wait, wrong bio.
My father was a fighter pilot in the Air Force when I was born, so the list of places I have lived is long and short lived when I was a tyke. After he retired from service, we spent my grade school years in Iowa where I grew up playing hockey and spending my summers at hockey camp in Minnesota and chasing walleye and musky. The year before I started high school, I was thrust into culture shock when my father changed jobs and we moved to New Jersey (exit 352). It was here, spending weekends in the Poconos and Catskills, that my dad introduced me to fly fishing. Like most teenagers in the 80s, I would rather chase the big-haired beauties at the local arcade than spend time in the woods with pops, and it wasn't till I took a semester off of college and spent eight years in Breckenridge, Colorado that I truly fell in love with the sport.
It was my father however that encouraged me to pursue a career in fly fishing shortly after I completed my first summer guiding in the Rockies when he told me (in his ultimate wisdom) that if I never figured out what I wanted to do with my life, sooner or later I'd just be doing it. It was this statement that made me realize that I was enjoying my time as a guide and set out to make a living doing so. I actually moved to California as a sales rep for a rod and reel manufacturer and quickly realized that if you weren't selling Scott, Ross, Sage, or Simms you better not be a commissioned only sales rep in this business.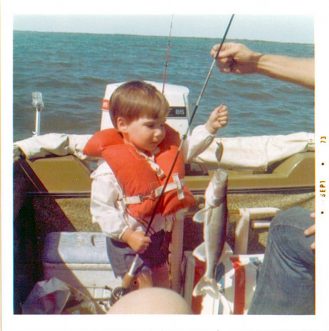 From my time in Colorado, I worked my way through the Federation of Fly Fishers (now Fly Fishers International) instructor program and became a certified casting instructor. Casting a fly rod has always been a passion of mine since my days in high school watching my dad defy gravity with a little wimpy pole while I chucked bait with a spinning rod. As I was peddling my goods throughout California, I came across The Fly Shop® shortly after they had started working with Mel Krieger in developing their Fly Fishing Schools program. Being that Mel was the architect of the casting certification program, I was thrilled to be offered a chance to help teach the schools that he and The Fly Shop® were then offering. I learned a ton from Mel and was there at the beginning of what is now arguably the best fly fishing-themed camp for kids in the country. Since then, I have become Master Certified and Two-Hand Certified as a casting instructor and I am an emeritus member of the Fly Fishers International Casting Board of Governors.
After a guiding career that spanned two decades, I now find myself sitting at the desk booking the young hot shot guides at The Fly Shop® as well as teaching all of their school programs and managing FishCamp™.
Q&A with Chris King:
How did you get started in fly fishing?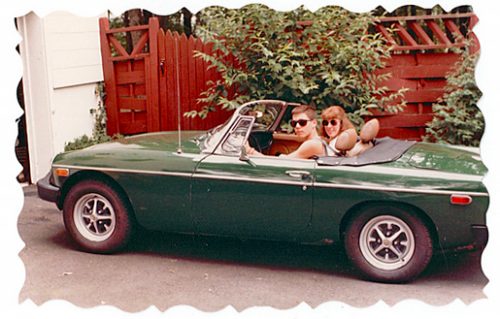 My start in fly fishing was a lot like learning how to drive a standard transmission. When I was 17, we traveled back to Iowa from New Jersey to see my grandmother. While we were there, we drove by a car dealership and saw the most beautiful British Racing Green 1980 MGB. I had all of my money saved up from paper routes as a kid to working nights in the bakery during high school to spend on a car and this was the one. My father drove it back to New Jersey while I rode shotgun and froze my ass off because he insisted on having the top down for the entire drive. Once home, it was time to learn to drive a stick. Dad hopped in the driver's seat, and I was in the passenger seat. With the car running he said "hold the clutch down, put in first gear, and while you give it gas, ease your foot off the clutch." We rolled down the road a ways while that little 4 banger wound up to the high pitched bell sound it was so infamous for, and he said, "take your foot off the gas, push in the clutch, put it in the next gear and ease the clutch back and gas down at the same time." We drove about 30 more yards in second gear when he stopped the car, got out, and said, "You're up." We got out of the car and I walked around to the driver's side and hopped in. He walked to the passenger side and shut the door. I asked "What are you doing?" (As he was still standing on the road beside the car.) He chuckled under his breath and said "I'm not going with ya." At the time, it reminded me of all those weekends where he would hand me a fly rod and say, "You go down stream, I'm going up stream. Good luck."
What does fly fishing do for you that keeps you coming back for more?

When you are standing in a river waving a stick, everything else goes away. The pursuit of fish with a fly rod is one of the few things I've found that requires all of your attention. From deciphering the current hatch of insects, to tying the right number of feathers on a hook to represent it, to the perfect cast, followed by a precise mend to allow a natural drift or swing. Nothing in the world occupies your thoughts like fly fishing. For me, when I'm fishing, the world disappears.
Favorite fish to pursue?

Like so many others, I feel that steelhead on a swung fly is the ultimate challenge in fly fishing.
What fly fishing destination is on your bucket list?
Since watching the 3M VHS tapes from Lani Waller back in the late 80s, the Babine has always been on my radar. I have visited B.C. several times, but to date (including this year due to cancellation of a week I had reserved stemming from Covid travel restrictions), the Babine has eluded me.
Favorite fly rod and why?

My dad's Winston "Stalker." This rod haunts my dreams like water haunted Norman Maclean. It is nestled in a beautiful red felt bag with a woven green and gold label. It has a German silver reel band slide and a cigar shaped grip. It is painted tobacco brown with red thread wraps, and was made with love in Montana. I have had the pleasure of fishing this rod over the years and fish or not, it is a joy to put together in the morning and cast all day.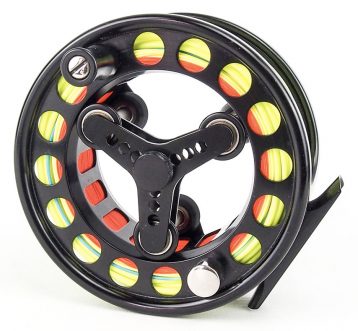 Favorite reel and why?

My favorite reel is my Loop 3w. This reel was the original large arbor reel. It has a tension drag system where you have the same pressure with the incoming line and outgoing line. It is a little different, but extremely light and I have fond memories of steelhead screaming line off of this reel, and it gives me great pleasure and anticipation to string it up each day I use it.
Favorite fly and why?

A traditional steelhead wet that is a cross between a Lady Caroline and a bronze mallard Spey. It is my go-to summer steelhead pattern, and I tattooed it on my leg, so I always have it with me.
What is your greatest fly fishing extravagance?

Rounding the corner on 50 years on this planet, when I had my custom Willies drift boat built, I spared no expense. From the diamond plate accents on the front and back to the Tempress Navi seats and the walk-around front box and rower's seat. This boat has been a joy to fish out of every adventure I have taken it on.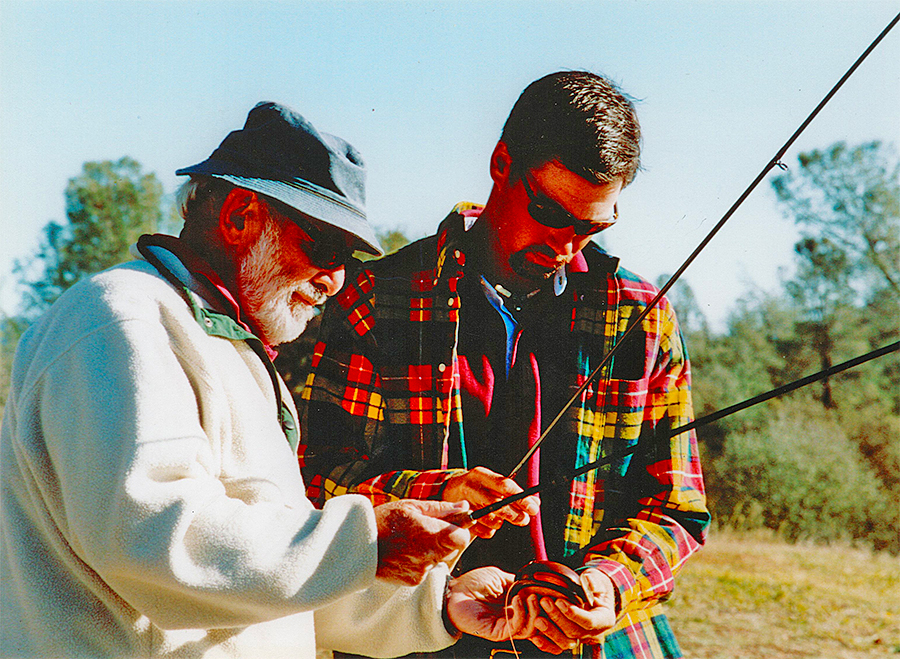 Which living or non-living fly fisher would you want to spend a day fly fishing with?

I would like to spend another day with Mel Krieger.
Who are your favorite writers?

Steven King
What single issue in fly fishing do you feel has the greatest adverse potential?

Elitism. Because we fly fish, or prefer dry flies over nymphs, or only swing flies for steelhead does not make us better humans. We choose to fly fish our way because it brings us joy. We should all appreciate the joy that fishing brings to each and every one of us, no matter the method we choose. In the end we are all anglers and on a mission to fool a fish into eating our offering. Live minnow, $15 rhea feather tube fly, it's all the same to me.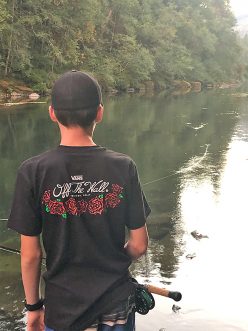 What is the most memorable fly fishing trip you've taken?

This past year I took a trip to the North Umpqua River with my wife and two children. I have long had a love affair with this watershed, and I was able to share it with my 13 year-old son. Watching him learn the double Spey and skating flies across some of my favorite runs on the planet was to date the best fishing trip I have been on. Over the course of the few days that we were there we had great success having hooked up with three fish on skaters and four swinging wets on a tip. The most memorable of these was one evening in a glassy spot over some deep bedrock ledges where I skated up a little six pounder that went screaming down river in front of my boy cartwheeling out of the water all the way. As I tried to run to the bank I once again climbed the ranks of the North Umpqua swim team with a face plant right in the drink. As I stood up to continue my sprint down river after the fish I stuck my rod straight into a tree. Now the line is heading out the tip of the rod, through the tree, and down the river to the fish. As I struggled to get what was now the backing out of the branches, the fish finally threw the hook. Although we never got a good look at that awesome critter, and we had no picture to prove that it even happened, my son looked at me a short time later at the campfire and said, "Dad, that fish was sick!" He gets it …
Which talent or natural gift would you most like to have?

I would like to truly understand what my wife means when she says, "I'm fine."
Who are your heroes in real life?

Those that serve
What is your fly fishing pet peeve?

Leaky waders
What do you most value in your friends?

Comic relief
If you were to die and come back as a person or a thing, what would it be?

American Dipper