Five (5) Reasons Chile Should Be the Next Country You Visit to Fly Fish
By Mike Mercer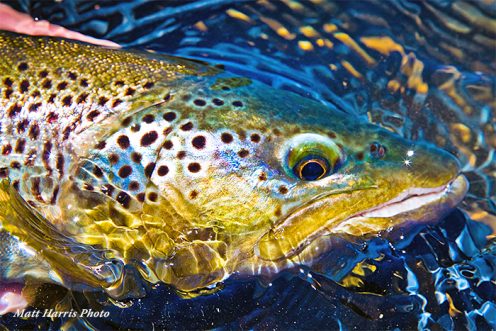 1. Fishing with Dry Flies and Streamers
If you enjoy catching big, beautiful trout on large, easy-to-see dry flies, you are going to fall in love with Chile. Almost everywhere we fish in Chilean Patagonia, both the beastly, hook-jawed brown trout and the acrobatic rainbows prefer sizes #6 – #10 foam attractor and terrestrial dries. Prefer. If this strikes you as unusual, realize that most streams in Chile, Patagonia have precious little aquatic insect life. Consequently, these burly trout have come to understand that in order to keep their piggish figures, they need to keep their eyes glued skyward for the droves of grasshoppers and beetles (from the hummingbird-sized Cantaria behemoths all the way down to dozens of specimens the size of your fingernail) that find their way to the water daily. Oh, and because there are also baitfish in most rivers, the streamer fishing is absolutely outstanding … but because the dry action is so epic, few ever bother to tie on the requisite subsurface patterns.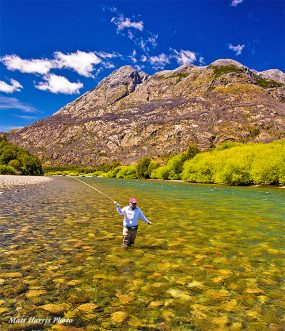 2. Natural Beauty
Imagine combining the most stunning geographical assets of Montana, Costa Rica, and Switzerland … then taking away almost all the people. What you'd be left with is a place very closely resembling Chilean Patagonia. We have been sending people to this magical place for three decades and, just behind describing their amazing fishing experiences, the most common thing we hear from our clients is, "I had no idea it was going to be so beautiful." Depending on the lodge you visit, you may find yourself immersed in a coastal tropical rainforest complete with moss-draped ancient forests, dangling lavender fuschias, and ferns the size of a small sedan; or, backdropped by the spectacular Andes range in all its craggy splendor, in the lush "foothills" (they'd be called mountains anywhere else) with their hidden hanging valleys, fields of colorful lupine, small subsistence farms nestled improbably beneath spectacular, Teton-like massifs, and … water. Everywhere, water.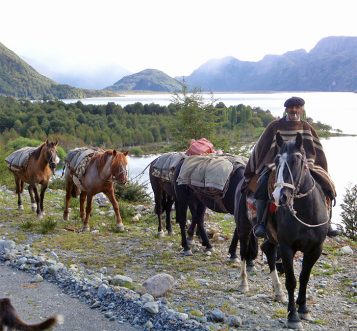 3. Experiencing Patagonian Culture
When we first began exploring the southernmost extremities of Chile 30-plus years ago, all the roads were dirt, and gauchos on horseback were a far more common sight than other automobiles. While in the past decade a few paved roads have begun finding their way into this wilderness, so much else remains the same once the pavement ends. The gauchos – or huasos, as they are known in Chile – are still prevalent in the backcountry, still magnificent horsemen, and are recognized by their colorful woven ponchos, leather leggings, shiny spurs and rowels, and dark berets, called boinas in Patagonia. Local woodcutters are found walking lonely backroads, primitive axes slung over shoulders; children sometimes still ride horses to school; oxcarts make an occasional showing; and the way of life for the residents here reflects a time far removed from much of the rest of the world. While it may only rarely be possible to step back in time culturally, much of Chilean Patagonia comes pretty close. And wonderfully, Chileans welcome American visitors.
4. Great Lodges 
Many of the fly fishing lodges here marry the best of modern comforts with the rustic charm of the surrounding countryside. Lodges and cabins are often crafted of local timber and river rock, outfitted with high-quality beds and furniture, and feature inordinate amounts of glass, allowing guests to take in the full breadth of the surrounding natural grandeur. And the food! The third most common thing we hear from returning guests are breathless accounts of the incredible meals experienced, nightly extravaganzas ranging from the best of local Chilean fare to a once-a-week asado (a traditional Patagonian barbeque), all complemented with the finest Chilean wines and of course Pisco Sours, the national cocktail of Chile.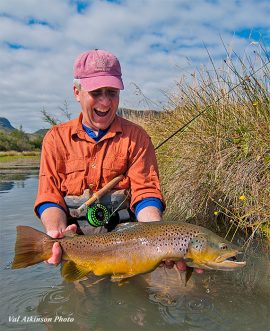 5. Quality and Quantity of Water
Though trout are not native to Chilean Patagonia, it was certainly a place custom-made for their eventual incursion. If you have a favorite type of water to fish, you will find it here. Picture-perfect spring creeks flowing through meadow grasses, plunging mountain cascades, wide freestone rivers — the place has it all, and then some. And while many anglers roll their eyes at the thought of traveling to the ends of the earth to fish stillwaters, we invite you to keep an open mind. Some of these smallish lagunas hold outsized brown trout, fish with huge shoulders, thick bronze flanks, and a willingness to eat the same large dries as their river brethren. Many a confirmed stream angler has become a convert to these hidden gems, spending at least a day or two on them during their stay. But make no mistake, it is the sheer quantity and quality of creeks, streams, and rivers that set Chile apart and cement its reputation as being among the best wild trout destinations on Earth.
Our Choices Of The Best Chilean Fly Fishing Lodges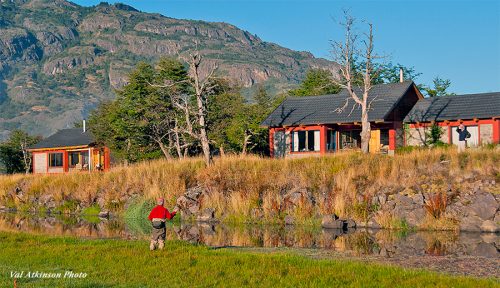 El Saltamontes Lodge – 
El Saltamontes is Spanish for grasshopper (the local favorite trout food), and this classic Patagonia fly fishing lodge ranks among the world's finest dry fly destinations. Imagine a private 5,000-acre ranch with more than eight miles of the first catch-and-release stream in all of Chile (the Nireguao River), limited to only 10 guests per week. Now imagine that freestone river loaded with 9,000 wild brown and rainbow trout per mile that feast nearly exclusively on millions of grasshoppers infesting its grassy banks – a trout fisher's paradise. And that is not considering the miles of small tributary streams that feed the Nireguao, each of whose miniature riffles, pools, and grassy undercut banks hold some amazing surprises. In addition to the homewater, the lodge's strategic, remote location gives access to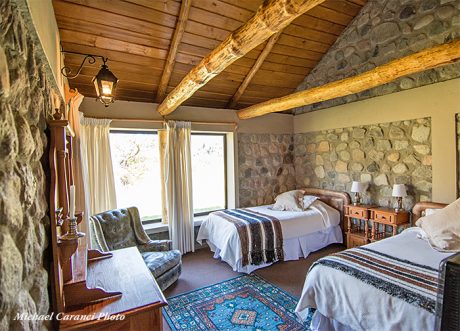 numerous other nearby and seldom-fished Patagonia rivers, streams, and mountain lakes. While this lodge has made its reputation on the quality of its walk and wade stream fishing, there are also a few local rivers that guests can choose to float, if desired. Throw in extremely comfortable streamside cabin lodging, gourmet food, the best asado in Patagonia and a seasoned outfitter and crew, and you have an understanding of just how special a place El Saltamontes truly is. Get yourself on the 2022 calendar and discover how El Saltamontes has been making fly fishing dreams come true for nearly 30 years. Contact us soon, as Saltamontes only has a short 12-week season, and space books quickly.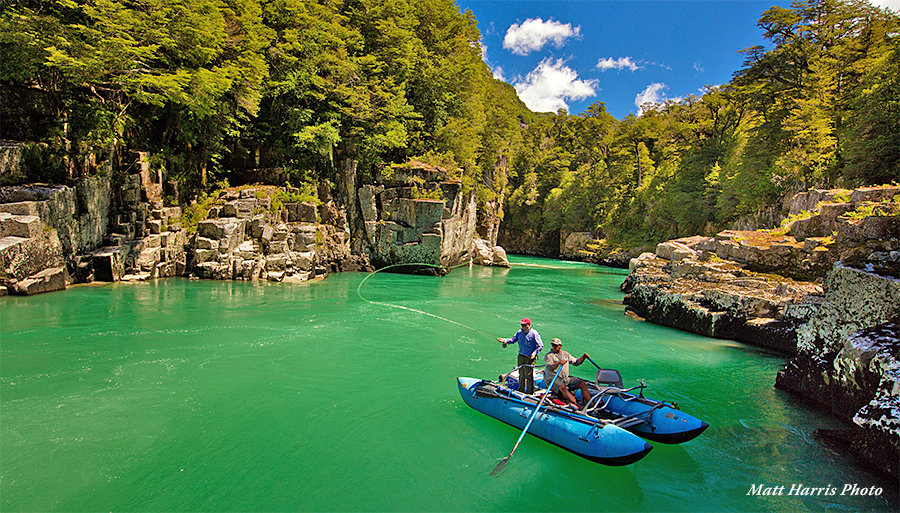 Patagonian Basecamp Lodge –
"PBC" opened its doors to traveling anglers 15 years ago, and in that time has established itself as among the elite fly fishing lodges of Patagonia. Located in one of the least fished and most spectacularly beautiful regions of Chilean Patagonia, owner Marcel Sijnesael has built his reputation by exploring and pioneering remote rivers accessible only via floating. Using a combination of state-of-the-art inflatable catarafts and jet boats, his guides are able to access and effectively fish rivers tucked into deep canyons of the Aysen region, waters filled with large brown and rainbow trout. Guests often fish huge size #2 – #8 dry flies here, casting them alone or with nymph droppers to the endless current seams, riffle drops, and forested riverbanks. The main lodge, the "Basecamp," is about as far from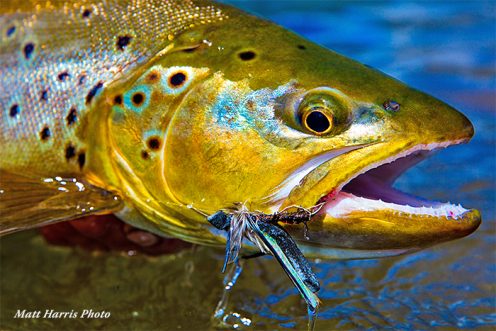 camping as can be imagined, with comfortable private rooms and cabins, a glass-walled great room overlooking the Rio Palena, and dedicated mudroom where guests suit up every morning and shed waders at the end of each fish-filled day. In addition, for those wanting a night or two away from the main facility, the lodge has uber-remote outcamps located on wilderness sections of rivers and with comfortable amenities that can only be described as "glamping". Marcel's wife, Carolina, is in charge of the evening meals at the lodge, and they are spectacular combinations of local and international fare and truly memorable events paired with the best Chilean varietals. PBC has an extended early season friendly to those desiring to fish in the region's productive November and December time frame, as well as the typical Patagonia fishing months of January through March.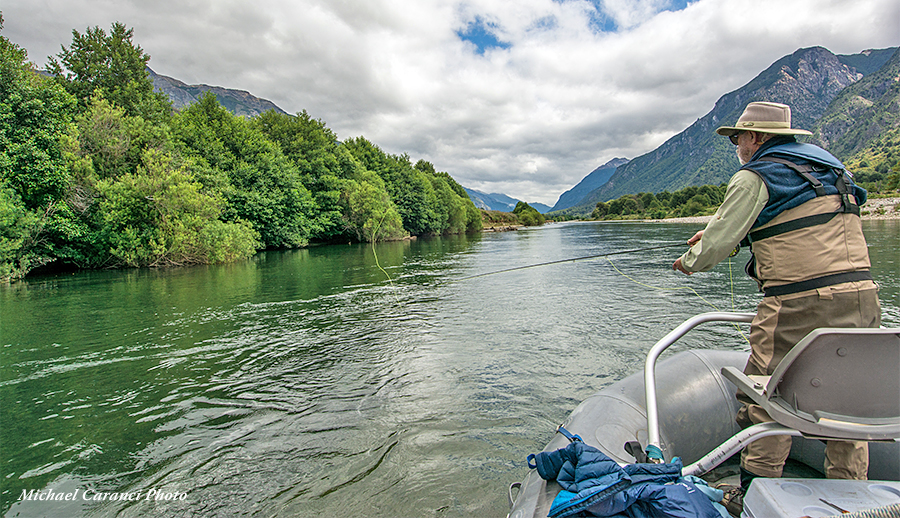 Trouters Patagonia –
Trouters is a small operation taking only 6–8 anglers at a time, accommodating them in the relatively new La Reserva Lodge built on the outskirts of the mountain town of Coyhaique. Owner and head guide Nico Gonzalez got his start as the first Chilean guide at venerable El Saltamontes Lodge over 20 years ago. Moving on after a few seasons there, he became the guiding force in exploring and developing the vast array of fly fishing options surrounding Coyhaique. Nico and his hand-picked Chilean guide staff know the region better than anyone, and in addition to being excellent and patient instructors, they are just wonderful companions to spend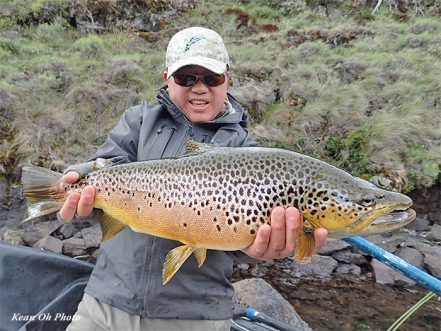 time with on the water. This region has a wide diversity of fisheries within a relatively short drive, including everything from smaller streams in the high-desert steppe country near the Argentine border, to the larger rivers of the coastal rainforest. They also are one of the few operations specializing in the trophy brown trout lagunas of Cerro Castillo … a bit further drive from the lodge, but these smaller lakes offer a great chance at hooking the brown trout of your dreams. Being such a small lodge, their fishing program remains quite flexible, from November through April. While they tend to float more than walk and wade, they are happy to accommodate your preferences, either way. Nico and his wife Ilsie are consummate hosts, making guests feel like family, and lodge meals are largely local cuisine, and superb. Trouters are somewhat unique in welcoming guests for any length of stay, with no set arrival or departure days, making them both a great stand-alone trip or a wonderful few day addition to one of the other week-long lodges in the area.
Chile, Patagonia, is our favorite Southern Hemisphere winter trout fishery. Easy to travel to and within, safe and pro-American, spectacular countryside, wonderful people and culture, it seldom disappoints and continues, after three decades, to show us something new about ourselves and why we love fly fishing and traveling. It's a trip that should be on every fly fisher's bucket list.