Recently I had the opportunity to join a small group of friends at Eleven's Louisiana Redfish operation aboard the Outpost Mothership.  It was a absolutely great experience, and a program that The Fly Shop® is excited to offer its friends and clients. It's location is easy to get to from anywhere in the US and the operation was top of the line on both the fishing and outfitting. They ran a tight ship, no hiccups anywhere, in any aspect of the trip. They were 100% pros, just what we look for in an outfitter. 
Getting there was easy. My friend Bryan Wise and myself caught an early flight out of Sacramento on Wednesday morning, staying at the Hilton in Sacramento the night before. A quick layover in Phoenix and we were in New Orleans at 2:30pm. A $40 Uber had us at our hotel, the Wyndham in the French Quarter, with plenty of time to enjoy an evening on Bourbon St. The Wyndham is in the ideal location, we could walk everywhere. It was super reasonable and plenty comfortable. It was nicer than the Hilton at the Sacramento Airport, and cost less than half, $82 a night. 
Obviously, there are not many places that can compare to The Big Easy for a place to layover for an evening. One night is not enough to see it all. The food is incredible with endless dinning options. With COVID and Thanksgiving we were definitely limited, but I got to see a few of the highlights. Here is a list of the top places in the French Quarter that were recommended by multiple friends and family that have spent time there. I'm going to hit them all next time, when the place is going full tilt!!
**Acme Oyster Bar – Oysters, Crawfish, Po-Boys                 
**Carousel Bar – Hotel Monteleone
**Jean Lafitte Bar – Oldest bar in the FQ                               
GW Finns – Famous 5 star restaurant
Cochran restaurant – 5 star dinner. Deli lunch                     
Cafe Du Mond – Beignet's Jackson square
Johnny's Po-Boys – St Louis St, Po-Boys!                               
Central Market – Muffuletta 
Mr B's – Royal St, Mint Julep, shrimp n grits                       
Lucy's Retired Surfers Bar – Great atmosphere
3 Legged Dog – Crawfish boils                                                 
Deanie's seafood – Oysters and Crawfish
**(Highly Recommended)
Crawfish season is from January through July. Prime time is March through May. Farmed crawfish are available outside of this window, but no one was offering boils with these…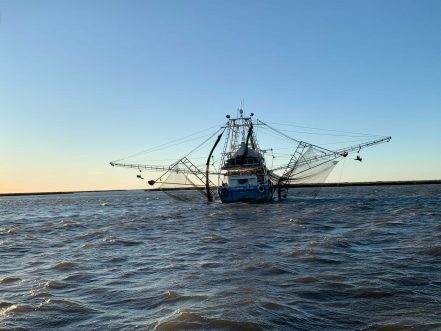 We hit Acme Oyster House for dinner Wednesday night, it was amazing. Acme was one of the top places that came highly recommended from multiple people. We strolled right in at 6pm and sat right down. SUPER disappointed to find out that crawfish were out of season! No fresh boils!!! We split a half dozen raw oysters, and a half dozen baked oysters, with butter, garlic and some cheese… not Parmesan, but similar… they were incredible! Went with a fried crawfish Po-Boy sandwich for dinner… frozen crawfish, but I had my heart set already! It was all amazing! When we got out of there they had at least 30 people standing in line to get inside, waiting on the sidewalk. Famous for a reason – Excellent food!
We had to go get a taste of Bourbon Street so after dinner, we hit a couple bars, got into some hurricanes and daiquiris, got some beads thrown at us… It was awesome, I'd love to see it going full tilt, without the 'Rona playing defense. Our hotel was right in the mix, 1 block over and one block down to Acme. We didn't go further than 5 blocks from home and found plenty of trouble. No Uber's, everything right there. The next day was Thanksgiving and the place was pretty dead, all the good restaurants locked up. I did make the 1 mile walk down to the famous Jean Lafitte's Bar, the oldest bar in town, built between 1722 and 1732… 45+ years older than the Declaration of Independence! It was awesome, a must do deal in the French Quarter. Apparently, you haven't been to Bourbon St if you haven't hit Lafitte's for a Purple VooDoo Daiquiri. It was worth the walk.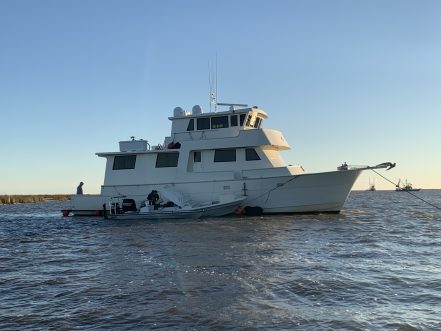 Friday morning we had a ground transfer arranged by Eleven, to transfer us from our hotel to the marina. Split between the 4 of us it was only $75 each, total there and back. They picked us up at our hotel at 10am, and it was about an hour and a half from the hotel to the marina near Dulac, a place called T-Irv's. This is absolutely the way to go, hassle free and cheap…we were looking into renting a car, or Ubering, any other option would have been more expensive and a much bigger pain in the A, especially on the way out. The transfer is handled by an independent company, pay in cash, not in advance. Eleven arranged the times and locations and the vehicle was very comfortable, a large SUV, perfect for all 4 of us and all our luggage. And they were on time and on schedule.
Once we arrived at T-Irv's, around 11:30am, the guides were there waiting to rock and roll. We all arrived dressed to fish, and after a quick fishing orientation on how to play the game down there, we hopped in the 2 skiffs and headed straight out to fish a long half day. The Captain of the mothership, great guy we called LR, threw our big bags in the supplies panga to deliver straight to the mothership. I'll get to the fishing in a bit… 
The mothership is a 61' Hatteras named the "Outpost" and very comfortable accommodating only 4 anglers, which is max occupancy for the program. All 4 anglers get private single occupancy rooms. 2 rooms downstairs with a shared bathroom/shower, 2 upstairs with a 2nd shared bathroom/shower, same level as the galley. There were 3 staff on board at all times as well, LR the Captain, Amber the hostess and David the chef. All were outstanding. The bridge was up on the 3rd story, where the staff stayed, we didn't go up there. The galley was perfect, the bar surrounding the kitchen so we could watch David work his magic. We all just ate right around the bar. There were a couple more tables that the staff ate at, or guests relaxed at during happy hour, after fishing. A big flat screen with satellite service hung on the wall so we caught all of the football games, college and NFL. The back deck was the outdoor hangout. After fishing, there was a long happy hour, 5pm until dinner at 7pm giving us plenty of time for a warm or cold shower, depending on the weather, and then everyone headed to the galley to tell stories, show off pics of the day, talk with home, watch football, and take advantage of the fully stocked open bar. They had it all. The ice machine was always full, fresh lemons and limes cut each evening for cocktails, beers on ice in the cooler. David's hors d'oeuvres, like fresh Cajun shrimp with cocktail sauce, boudin sausage and Cajun pulled pork sliders put it over the top.
The onboard internet access via WiFi was spotty. We did have some cell service though, so I could text and make some calls. I got through to some people with a few texts, although some nights it wasn't happening. This might be something to keep in mind for those guys that NEED to plug in… 
The fresh water on the boat was excellent, a reverse osmosis system. No fresh water was ever carried and delivered from the mainland. Just make your own from the salt. Drinking water and shower, all directly out of the sea. 
The daily schedule was standard. Days are shorter this time of year, but we were out on the water for a solid 9 hours straight. 
6:00am    Coffee 
7:00am    Breakfast 
8:00am    Boats running 
1:00pm    Lunch on the water. No break, eat when you can. 
4:30pm    Return to the mothership 
5:00pm    Happy hour
7:00pm    Dinner
The program has 2 half days of fishing on entry and exit day, 3 full days in the middle, 4 nights on the mothership. One night in NOLA on the front end, none on the back. On the way out, I was back at the Sacramento Airport and in my truck at 9pm, after fishing 4 hours that morning. Pretty sweet! It was so easy to get to and get to out of there.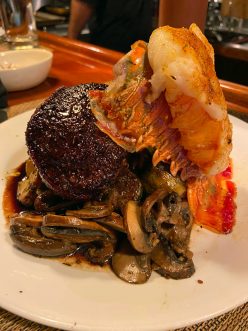 The food on the boat was amazing, some of the best I have ever had on a trip, very special. David was a master chef, he used locally sourced seafood, and everything else for that matter, where possible. Presentation was phenomenal, picture worthy every time. And it was awesome to sit and get to watch him prepare each dish. His blue crab with crawfish stuffing was a highlight. The finale of steak and lobster was over the top. Breakfasts were standard, eggs, bacon, fresh fruit, muffins or croissants, OJ. Lunches were standard as well, but the local famous twists, like muffulettas or Cajun shrimp wraps reinforced the Louisiana vibe. Lunches were different everyday, all the sandwiches were great. Salads in Tupperware everyday as well, like bacon potato salad, chicken salad, macaroni… always a full bag of snacks, like chips, Kind Bars etc. Boat coolers were packed with water, sodas, seltzer's and beers on ice. No complaints about food. Like I said, the best ever! 
The mothership never moved, stayed on the same anchorage all week long. It was a central location, right in the heart of the fishing grounds. We ran 20-40 minutes everyday to get to where they wanted to be each morning, and again in the afternoon. Not too bad for run times. The guides went South, East or West, based on the wind, which affected tides and water color. Would have been 1 hour plus run times with a land based operation, so it worked for us having the mothership anchored right in the heart of it all. It didn't need to move.
The Guides were excellent, all Florida boys who guided around 6 months in the Keys for tarpon, then spent 5-6 months down in the Mississippi Delta chasing these redfish. They were excellent on the pole, had good eyes and were patient.
I loved both the guides I fished with, true gentlemen and talented at their game. Their skiffs were next level, all the hot new stuff. The GPS map electronics were a huge deal, that place is a labyrinth and all looks the same! The terrain had no distinct identifying features for navigation! I would be lost in 5 minutes without the GPS system. The 2 sickest boats were Chittum Skiffs, they were so epic, I'd never seen one before. One was some new carbon fiber tech hull, like $150,000, smoothest ride ever. The elevated casting platforms and lean bars were excellent, I want them on every skiff I ever fish from, ever again! One guide, the one with the new carbon fiber boat, had a ridiculously cool full cage deal up front. You were up on an elevated platform, but fully encircled in this thing, and could sit on the back lift gate. It was also surrounded by a built in mesh "stripping basket". It was next level. The Guide said the cage alone cost $5G's, but it was the sickest setup ever. Another feature I loved, the skiffs all had 6" rubber spikes all around the bow. Great line managers in the wind. Loved them. 
Our weather was crazy, but I would expect that is not entirely abnormal. It is a fall/winter fishery, and we already had to reschedule after hurricane Zeta shut us down a month ago. Just is what it is down there this time of year, and that is when the big boys are around. We arrived in NOLA, Louis Armstrong New Orleans International Airport (MSY) to a crazy storm. Our luggage got stuck out on the tarmac for an hour as they shut down the bag handlers while lightning bombarded the airport. I had a bolt touch down about 50 yards away from me in the parking lot, it set off every car alarm in the lot! On our Uber to the hotel, NOLA was straight up flooding. Water up to the doors on sedans, cars getting stuck, businesses sandbagging their doors. There were streets with 3 feet of standing water. Our driver said it happens, that it would drain off in an hour, and I was surprised as hell that she was right. By the time we checked in to the hotel and got settled, showered and went back out for dinner, it was mellow out and the streets had already drained completely. The rest of the week stayed crazy with on and off rain and wind. Our 2 best weather days were actually our entry half day and exit half days, sunny and light wind. On our middle day we got blown off the water twice, retreated back to the mothership due to lightning and rain like I have only seen in the Amazon. It was Biblical. Our first whole day was lighter rain and light wind, no sunlight. The middle day was the nightmare and pretty much unfishable. The 3rd day was sunny, but blowing sustained 30-40mph out of the north… Cold! 
The guides wanted North winds, which blew the water out of the delta. Southerlies flooded it by keeping the water from draining off. We caught fish in both. The day it blew 40mph from the North the mothership got grounded, it got so low, not going anywhere until it flooded again! That was a little excessive… We were only in 6ft of water when it was normal. The tides were small, maybe only 1ft swings, but I saw the wind flip it probably 4 feet?! A hard wind out of the South had the grass line 1 foot under water, 40mph out of the north had 3ft of mud showing below the grass line. Gnarly. 
Crazy thing though was that we still saw fish and got shots in all conditions, even rain and wind with no light. On my best day of fishing it was cloudy and spitting rain all day. 
With conditions like that, air temps swinging from 75° to 35° and wet with windchill, good layering and good rain gear is critical, you have to be ready for extremes. Our first day was warm, I wore normal flats wear, sunscreen and buffs, light base layers only. I was not prepared for the next days when Mother Nature decided to get after it. I read the Eleven pre-trip, heard some stories… still wasn't prepared. You need winter steelhead level rain gear and layering. Waterproof pants or even full on bibs are mandatory. High water boots are a good idea. The guides wore Extra Tuffs and bibs. I was rolling in Crocs! HAHA! I had a high cut wading jacket that left a gap between my jacket and my pants and I was soaked everyday…those jackets are worthless without waders. They always worked fine for the warm squalls we see in the Yucatán, but this is a cold sustained rain this time of year. On top of the poor choice of jacket, I almost made an even more serious mistake… At the last minute one of our guys texted us to bring rain pants. He was already down there, fishing a few extra days on the front end, and taking a beating without good rain pants. I wouldn't have thrown in waterproof pants at all without that heads up as I've never needed them for any other saltwater trip… I grabbed my hunting camo zip-up rain shell pants at the 11th hour, absolute lifesaver. I wore them all day, 3 days in a row. Even when it wasn't raining they were great for wind blocking, especially when running in the skiffs. I can't be more serious about this. I could see guys getting in trouble and ruining their trip, showing up with light gear, like they would do on a normal saltwater trip.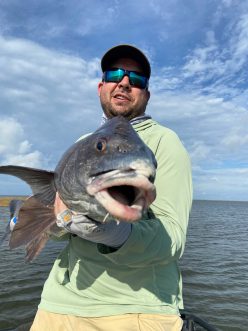 Tackle was super easy. First off, they provide everything. Guys do not need to bring anything at all. I felt stupid going on a trip without a rod, so I packed 1 rod and reel… I never ended up taking it out of my bag. They had good gear, GLoomis and Nautilus. 9wts and 10wts were preferred, for wind and big fish. Full floating lines with about 8-9ft fluoro leaders, 40lbs for half, blood knotted to 20-30lbs. Super straight forward. They were pre-rigged and stayed in the guide boats at the end of the day. No fussing with any of it on our end at all. I never even saw the guides tie a knot, no changing flies, nothing. 1 rod out all day. When switching with your partner on the bow, he hands you the rig already stripped out. It was the simplest tackle situation I have ever seen, in any fishery ever. Australia's Cape York was actually just as mindless, but it was my rig.
Flies were all weighted streamers. 2/0 jig hooks with lead barbells, then just your standard synthetic baitfish type of pattern,  4 inches long, sparse, some flash. Simple like everything else! Same style as we tie for stripers really, but we threw a purple and black one and another that was drab reddish-brown and olive with rubber legs. Those were literally the only 2 flies I saw all week. Guides said it was a great place for clients to tie their own and get fish on them. They said the fish do not care, they eat everything! "There are no refusals!" HaHa! 
The actual fishing techniques were a little different than your normal flats fishing. Shots were often fast and ultra close. The guides gave us a quick crash course at the dock before we first got in the boats, to make 2 really important points: 
1.) First, only carry 3 feet of fly line out of the rod tip on the bow, ready for the 12 foot shot, right next to the boat. Way different then the 15 to 20 ft of fly line overhang we want on when on the nose for permit. The water is dark in the marsh, and in 3 feet of water you can't see them until they are right there… then you need to have fast twitch reflexes, quick to splat it on them, before the boat spooked them. They wanted it close to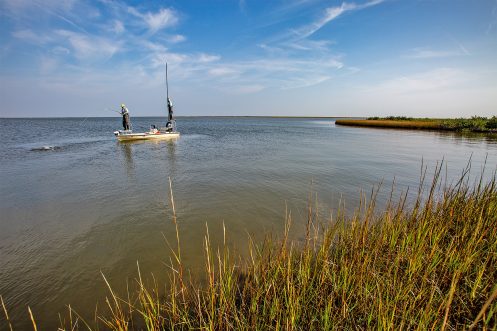 the fish, 1ft in front. Any further and they wouldn't see it, or just wouldn't move for it. Put it right on them! Let it sink for a second, then move it, 1 or 2 short strips, if you didn't move him or spook him, either with the fly or the boat being on top of them, pick it up and slap it down again. If they see it and aren't spooked, they'll attack, and the spat of the fly gets their attention. They said "there are no refusals". With some light you could see them out a bit further, if they were shallow, or floating up in the water column. If they were moving in flat water with less wind, you could see the push from way out. The best though is when the water is low and they'd be "crawling"…  hunting up in the shallows with their entire back out of the water, dragging themselves along through the mud with their pec fins. Guides wanted you to cast at everything you saw. Shots are free. Shapes or color. Usually an orangish white… "I saw color!" – splat! No good saying, "what is that?", and then watch a fish explode away from you when you are too late…
2.) The second important thing they wanted from us was to understand that we the angler were in charge of the "20° in front of the boat, within 20ft". Like 11 to 1 on the clock, twice a rods length… Yeah, I know that is actually 60°… just watch in front and close. You needed to see those sneaky ones, laid up, but deep… so I guess they'd be laid down… That was the guide's blind spot and they focused further out. I got a lot of those short shots without them ever calling it out. "There he is!" Slap, strip, boom! Saw lots of "smoke", dust clouds from fish that bailed before you ever knew they were there. Frustrating… Shots were maybe fast and fleeting, but getting those split second opportunities was often the difference between hooking a monster or not. It was nothing like spotting tailers, adjusting the boat for the wind and casting angle, and then making 40-80′ shots. Very unique in that regard – there was no setup time.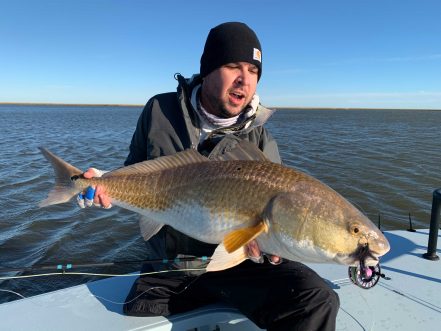 Species:
Redfish – 8 to 40lbs. These are obviously the main event, not too smart, but wary enough. If they didn't spook and the shot was close, they'd pound it. The eats were what it was all about. Fast, viscous, explosive, splashy, noisy, attack eats, and super exciting to watch. Especially since they were often under 20ft away when they jumped on it! They would run pretty well, clear your line fast, but mostly bulldog fights and shorter bursty runs, vs long sustained ones. I never saw backing, but the guides said it happened from time to time. 20 pounders took 10-15 minutes maybe… good sport. "Bull Reds" are defined as 20lbs and bigger. Dinks and up to 15 pounds are called "slot fish". 15-20 lbs are just "tweeners". 
Black drum – 8 to 40lbs. The secondary target species, but dumb as a box of rocks and slower. If they were just sitting there, they would often not react at all to the fly, motionless until the boat spooked them. If they were tailing, or even just moving, they would eat. Drop it to the bottom in front of them and twitch, they'd tip and eat. We actually saw these guys tailing frequently. Never really spotted a red's tail tipped up while eating. The Black Drum's were pretty sluggish. No runs. Spin up your slack, because they weren't going to clear it for you. We didn't hook any real big boys, but a 15 pounder was only a 5 minute problem, if that. I'm sure there are some that show some heart…
Sheepshead – 3 to 8 pounds. I wanted one bad. "Prison permit" they called them, because of the black and white barring and the fact that they were super spooky and picky. I got 10+ good shots, all gave me the fin. Way more luck and skill to get one vs the Red's and Black Drum. They also wanted it on the bottom, let it sink, watch them tip, twitch… I had a few almosts. Usually you'd want a separate rig if targeting sheepies, an 8wt with a crab or shrimp. But the guides said they get them pretty consistently on the 2/0 streamers and there just is no time to change rods… and if you were really looking for them and had a dedicated sheep rig, you know you'd miss a shot at a 40lbs Bull Red. 
Alligator Gar – 2 to 5+ feet!! We only saw 1. No shot, deep, the guide almost poked him with the pole before he noticed him. He moved a lot of water on the peace out! They get them though! They show up just around Thanksgiving, same with the black drum. Non-existent earlier. Water temp deal I guess. Needs to be colder they told me.
Blacktip shark!! – I landed a 3 footer! Not a target species, fought like a sock, I landed it in under a minute. He smoked the fly though! I was stoked! I think it was my first shark! I've hooked a few, never got one in…
Tarpon – Negative Ghostrider. Guides said it was ridiculously random to see them.
Catfish and Seatrout – Cookie cutter 10 inchers. We hammered them off the back transom late night, under the boat lights. Lead head plastic rubber jiggy worms, or whatever you call them. Every other local angler on the water was targeting the seatrout exclusively. Killing them all for the grill. No one else on the water cared at all about sport fishing for reds! I can't wrap my head around that. 
We were all packed up and on the skiffs at 7:45am on our exit day. Left our big bags on the mothership. We charged hard, got a solid 3+ hours of fishing in before getting to the marina at 11:30am. Our bags and our shuttle were there waiting for us. A quick deck change from fishing gear to flying gear and we were in the truck headed for the airport. We made it in plenty of time to catch the 3:40pm flight out of MSY. A fast running connection in Phoenix and on to Sac. In the truck home by 9pm, bed by midnight. It felt like I was cheating.
I really enjoyed this trip. Liveaboards are just super fun, and this operation excelled. Extremely well executed on all logistics, very comfortable accommodations and an excellent staff, on the mothership as well as the guides. Food was out of this world. And the fishing was super fun… the "land of the giants" in the Mississippi Delta, south of New Orleans, may be the best trophy redfish fishery on Earth… and these guys have a ton of water all to themselves. The fact that it is so easy to get to makes it all the more appealing… and you get to hang out on Bourbon St.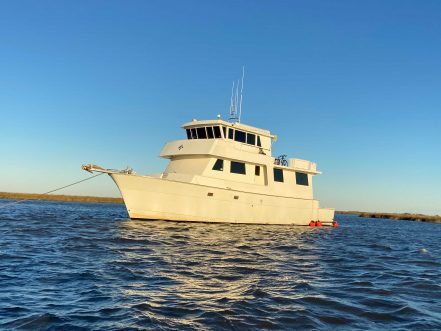 What makes the Louisiana Bayou Outpost Mothership so appealing?
Redfish are aggressive eaters and don't have great vision. Most casts are between 10 and 40 feet, which makes this ideal for fly anglers of all ability levels. One back cast, put it on their nose, and set the hook. This is an ideal fishery for those anglers looking for less technical fishing, and a target rich environment for fish that regularly push the 20 pound mark, with trophies up to 30 and even 40 pounds!
The advantage of a mothership program is mobility. The Outpost Mothership is able to go anchor in the heart of the best waters, at any point in the season. This gives anglers quick and easy access to the best of the marshes quiet bays, meandering creeks, ponds and channels, where big redfish forage for food in shallow water. Run times to the and from the daily fishing venues are kept short and that means more time fishing, and less time boat riding.
The Outpost mothership offers remote angling in the Louisiana bayou, a vast wilderness area covering roughly 20,000 square miles of shallow bays, canals, channels, bayous, and mud flats. There are virtually no other anglers targeting the trophy redfish here. Anglers will have the unique opportunity to target trophy redfish in "The Land of the Giants", and have them all to themselves.
All anglers are accommodated in single occupancy rooms. No need to share a room with another guest, and no need to bring ear plugs to insure a good night's sleep. You'll get a good night's rest and be fresh each morning, ready for a full day's fishing.
The outfitter provides all rods reels and tackle, you don't have to carry a thing! This allows you to travel light and not worry about hauling your own gear, or purchasing a bunch of flies and equipment you may only use once a year.
Fishing with the Outpost Mothership in the Louisiana Bayous is a unique and  world-class saltwater fly fishery without you ever having to leave the country. Easy travel, no language barriers, no passport required – this is a great trip for anglers that don't want to travel internationally but want to get away from it all at a world-class destination. And you get to enjoy New Orleans on the way in, world renowned for its extraordinary food, music and nightlife! 
If you are interested in fishing for redfish in Louisiana, please contact Justin Miller at justin@theflyshop.com
All the best fishing,
Justin Miller and The Fly Shop® Team
justin@theflyshop.com
(800) 669-3474 • (530) 222-3555