Gear Review:  Skwala Sol Wading Pant & Sol Tactical Hoody
Right before I hopped on a plane to Brazil to target some ridiculous jungle monsters, I received two new Skwala products to try out. I had heard great things about Skwala's new waders, jackets, and cold weather layering pieces, but no one had tried out the lightweight, hot weather, sun gear yet. I was going to be the guinea pig… and I was not disappointed!
The jungles of the Brazilian Amazon are not a comfortable place… It is always hot with the sun, humidity and heat relentless in their attack. And I'm a ginger, so sun protection is mandatory for my survival in that environment. I took two new products with me that promised to protect my jellyfish-like complexion from head to toe. The SOL Wading Pant and SOL Tactical Hoody were extremely comfortable, in extremely uncomfortable conditions.

SOL Wading Pant
I absolutely loved the Sol Wading Pant. They were the most comfortable "flats pants" I have ever worn. Technically, we were not on the flats, but one could argue we were in rougher conditions in the jungle than in the salt, and it is the same wardrobe in both games.
The pants have an amazing cut, perfectly form fitting but with tailored lines that allow for maximum flexibility. I never felt them binding up, even when they were wet. That is usually a difficult task for most flats pants. These pants are not all baggy and billowy, while a lot of other flats pants I've worn get their range of motion by adding material and making them more spacious, but that leads to drag in the water, heaviness when wading, and the wind flapping them around like a loose sail when you are standing on the nose of a skiff. The contoured cut of the SOL Wading Pant puts them above the rest.
The material they used in the construction of the SOL Wading Pant is super innovative. They are four-way stretch for maximum comfort and mobility, and they have a grid-type design, with micro holes in the grovers, making them extremely cool in the hot weather and allowing them to dry very quickly.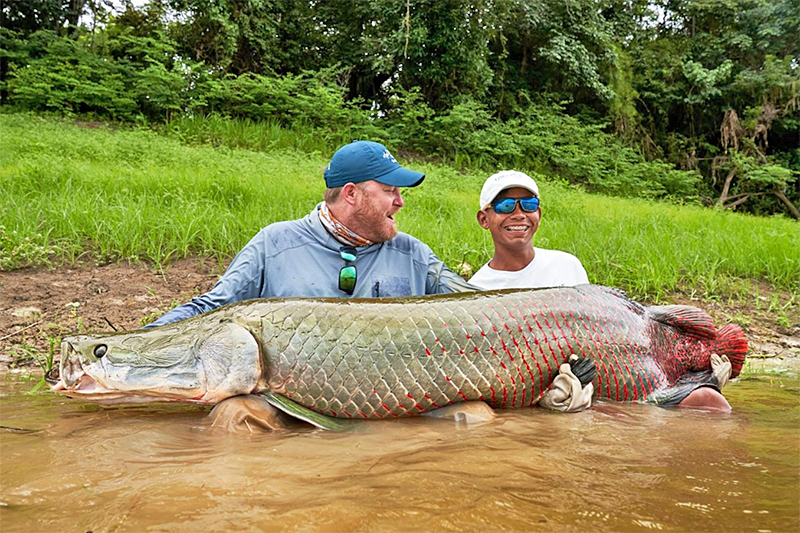 Skwala put a lot of effort into making the SOL Wading Pant the most technical flats pants in all of fly fishing, but they also made them look amazing as well! You can wear these pants out to dinner or even to the office – some offices, I guess – but I suggest you wash all of the mud and fish slime off of them first. I made an absolute mess of these pants, crawling around in the clay mud shallows wrestling arapaima to shore. I took the pants into the shower each evening, ran some shampoo through them, and they were as good as new. I would have worn them to the office the next day, for sure…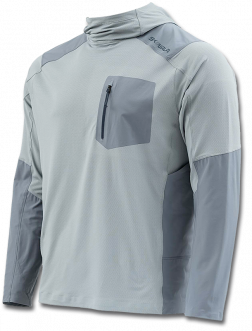 SOL Tactical Hoody
This hot weather shirt is super innovative. At first I was like, "How much can you improve on a stinking shirt?" Well, a lot apparently. The SOL Tactical Hoody had a bunch of features that I haven't seen in other shirts until now. This product was extremely well thought out.
The first thing I noticed when I put the shirt on was the comfort. The material they designed for the SOL Tactical Hoody has a light and airy jersey knit feel all over the torso and upper arms. The forearms and shoulders are made from a far more durable and water repellent material that does not absorb water. Spending 10 straight hours in sweltering humid jungle heat though, you will make them get wet, but with a quick boat run, it was amazing how fast they would dry out. In some of the worst heat we would encounter, this shirt still felt cooler than other shirts I have worn. And when it got really bad, we would go for a quick swim to cool off and the shirt was fantastic as it dried and cooled you off. It was by far my favorite tech shirt in the jungle.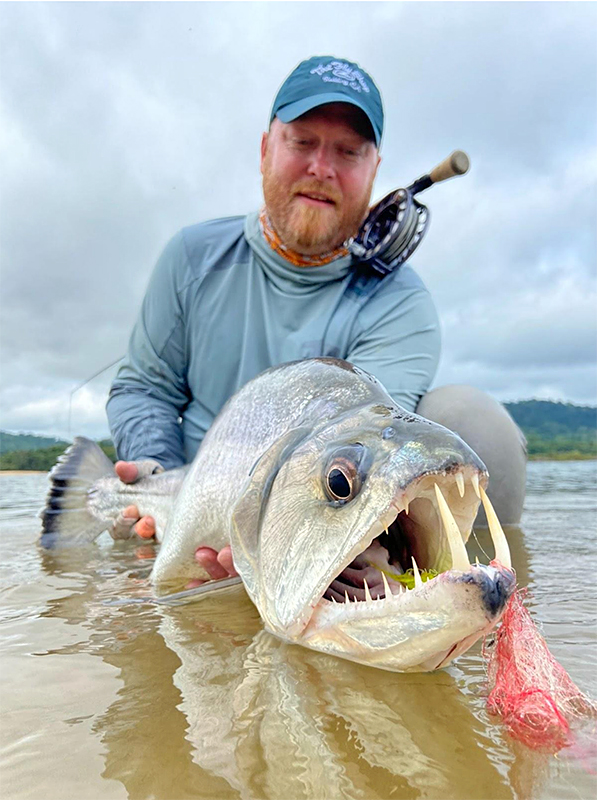 The hood was one of my favorite features. Again, light and airy. It provided great side protection from the sun on your face and protected your entire neck at all times. No sunburn stripe where your buff just doesn't quite reach the collar line of your old hoodless tech shirt. I have fished in other hooded tech shirts that were tight and constricting. The SOL Tactical Hoody was the most comfortable that I have ever worn.
The other innovative design feature on the SOL Tactical Hoody is the deep side pockets. There is no other shirt on the market with anything like this. They run from just under your armpit all the way to the bottom hem. Nothing is falling out of these pockets. At first I was skeptical, but I tried them anyway and ended up loving them! You wouldn't want to put your raincoat and a spare reel in there, but they were perfect for a small little fly box and a spool of tippet, maybe a lighter and lip balm… and your phone in a pinch. It's perfect if you were going on a little wade mission out of the boat, and way better than the pockets on your pants, where your stuff is guaranteed to get soaked.
And maybe the most important feature of the SOL Tactical Hoody is its 50 UPF rating. This means only 1/50th of the sun's harmful UV rays can penetrate through it. A normal shirt only has a 5 UPF rating! Needless to say then that this shirt is not messing around with its level of protection. You are not getting burned through this bad boy.
Conclusion:
I was very impressed with the performance of both SOL warm weather pieces. The SOL Wading Pants are the best fitting and most comfortable flats pants that I have ever worn, and the innovative SOL Tactical Hoody was extremely comfortable in the stifling heat and humidity of the Amazon rainforest. Both pieces kept me as cool as one could hope for in those conditions and were very durable in these rough conditions despite their light feel. They were also so easy to clean in the shower each evening and throw right back on the next morning. I can't wait to put them both back in action in the saltwater this spring! They are now at the top of my tropical destinations wardrobe. Outstanding Team Skwala!
Justin Miller
International Travel Specialist
The Fly Shop®